On Sunday, Everyday Reading will turn fifteen.
Last week, while we were in Austin, I drove the girls past the first house we bought, a tiny little two bedroom home where I opened my laptop and wrote the very first post on this blog (it was this post, if you're curious!).
(I do think it was accidental genius to start my blog on Halloween because it's so easy for me to remember!)
Our life in Austin feels like another lifetime ago, but Everyday Reading has been part of my life, day in and day out, for all of those fifteen years, as I went back to grad school, had all four of my babies, moved about one million times, and went from a 21 year old college student to a 36 year old mom.
In celebration of fifteen years, I'm sharing the 15 most popular posts from the last 12 months (I've done the same for the last three years –  if you're curious, here is the 2020 post, the 2019 post and the 2018 post!).
Some of these popular posts are perennial favorites and are zero surprise to me, while I was completely caught off guard by a couple of them – I had no idea they were plugging away in the background all this time!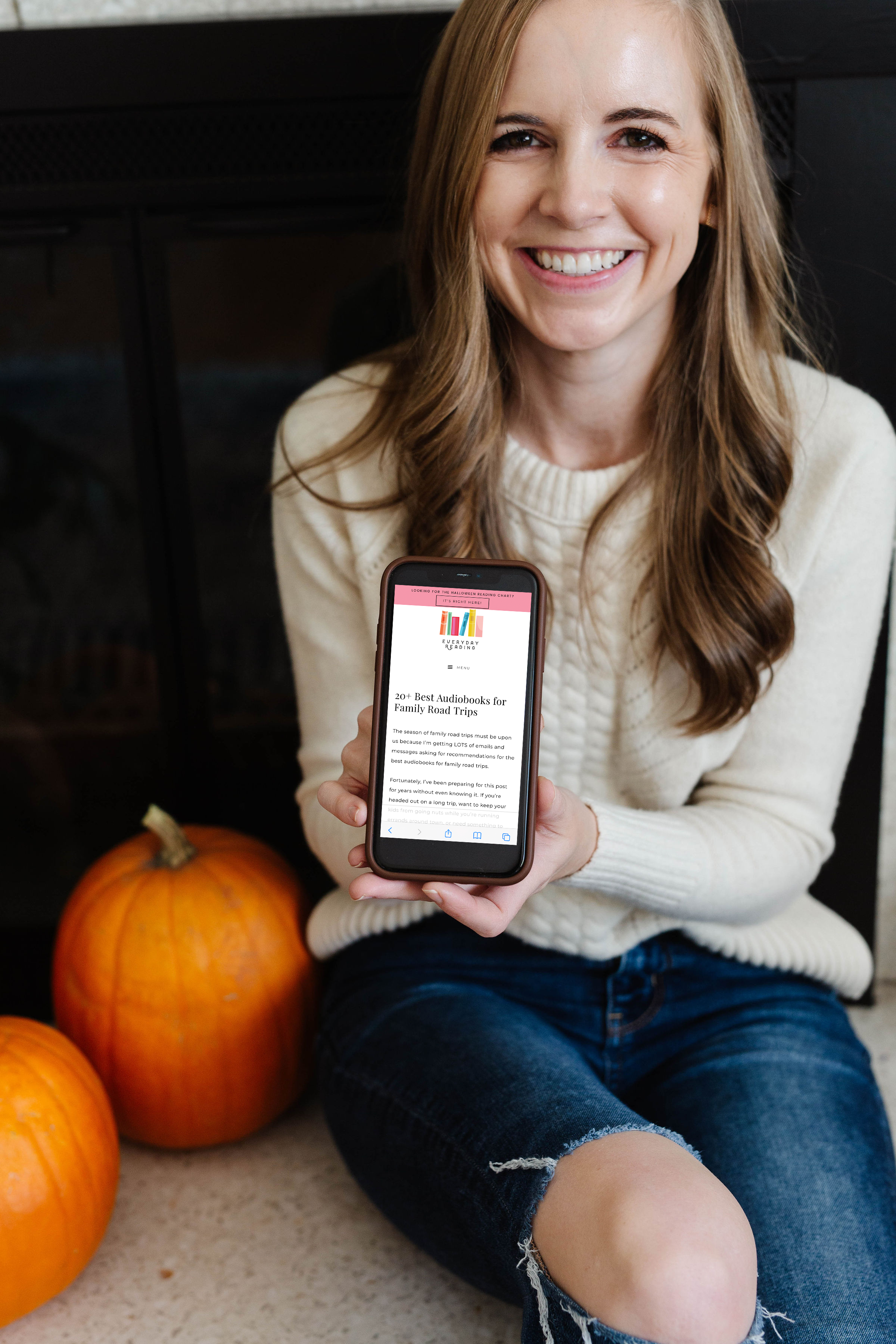 The 15 Most Popular Posts on Everyday Reading This Year
How to share an Audible book with a friend
This post has been a top performer for the last couple of years, but I'm betting that this is the last year of its reign because Audible actually got rid of the ability to share an Audible book with a friend like this, so at some point I expect this post to tank. In the meantime, I'm grateful for all the traffic it's sending and apologies for the fact that it's not at all useful anymore.
30 Chapter Books to Read Aloud to Preschoolers
This was the number two post last year also (and the #1 post the year before that!). It makes me so happy to see this one do well because it's truly such a magical thing to dive into the world of reading aloud chapter books with your littles.
How to Host Anything: 16 Tips for having a party
After I just talked a whole lot about having people over last Sunday on Instagram, it's fun to see that this post is still going strong. I truly think inviting people into your home is the #1 easiest way to make friends and it doesn't have to be complicated.
29 Books to Read with Your Book Club
I know all too well that stress of trying to pick the perfect book for book clubs (I'm up to my eyeballs in these choices right now for the 2022 Everyday Reading Book Club!) and I hope this post relieves a little of that pain for people.
20+ Audiobooks for Family Road Trips
This one barely made the top 12 list last year and then skyrocketed this year! We listened to Ribsy as we drove from Dallas to Austin this month and I was reminded all over again at the delight in listening to something all together. It is straight up magic.
The 2021 Reading Log
This makes me SO happy because I'm truly obsessed with this gorgeous seasonal reading log that Carrot Top Paper Shop. It's just so pretty and such a fun way to track your reading!
Banana Muffins
In 2018, these little muffins were my #1 my popular post and even if reading posts have knocked them off their pedestal (which I'm delighted to see!), they're still holding their own. There are SO MANY raving comments on this recipe and if you haven't tried them yet, now is the moment! They could not be easier.
The 2021 Summer Reading Guide
Amazingly, the Summer Reading Guides, although very popular, have never made the top posts of the year list! How fun to see that this year, it finally snagged a spot. If you haven't checked it out, there are SO MANY good books on there.
10 ways to use up buttermilk
I wrote this ridiculously opinionated post about how much better buttermilk is than any faux substitute nearly a decade ago and it's just still really really popular. And let the record show that I still believe strongly that real buttermilk is the WAY TO GO. (This post also reminds me of the old days of blogging when you just wrote pointless posts about whatever you happened to be thinking about at that very moment).
20+ DARLING Book Character Costumes
This might be one of the most fun posts I've ever written. I put it together on a whim in October 2018 during Halloween season and have been blown away by how popular it's been. I just LOVE this one. It's been going crazy again this week leading up to Halloween!
The 2021 Everyday Reading Book Club List
The Everyday Reading Book Club is just one of my VERY favorite parts of Everyday Reading and I'm so glad to see so many of you joining along this year!
20+ Excellent Beginner Chapter Books
This was a new post last year and just skyrocketed this year. It's all about books like Mercy Watson and The Princess in Black – beginning chapter books with full-color illustrations and fun stories. Perfect for first read-alouds or first solo chapter book reading.
The 2021 Summer Reading Chart
This space themed summer reading chart was SO fun and people absolutely LOVED it. For good reason, too – it was so interactive and full of special extras. It's still available for free!
15 Children's Books About Winter
This post was BY FAR the biggest surprise on this list. I had no idea anyone was even seeing this post, let alone tens of thousands of people looking at it. That's one of the fun things about blogging – you never have any idea what posts will take off!
12 Graphic Novel Series for Kids
Ah, this was another delightful surprise! We love graphic novels around here and I'm so happy to see this post with some of our favorites reaching so many parents and teachers.
I can't believe I've been sharing here for FIFTEEN YEARS and it's all thanks to you – I so appreciate you being here, whether you pop in once a year or every day!
IF YOU LIKED THIS POST, YOU MIGHT ALSO ENJOY THESE ONES!