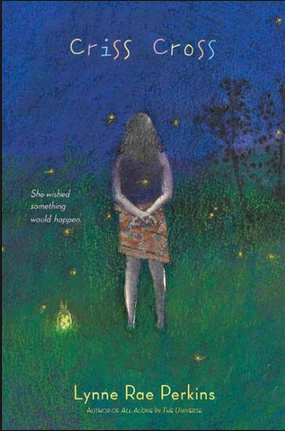 My dad's sister read all of the John Newbery Medal books a few years ago, which I've always thought was pretty cool, and since then it's been a goal of mine to do the same. I've read quite a lot of them so far, and I'm hoping to get through a large quantity of them this year, not least of all because children's literature tends to be much faster reading then adult reading and in order to make my goal of a book a week, I'm certainly going to need to do some quick reading.
criss cross by lynne rae perkins
Criss Cross is the book that won the 2006 Newbery medal, and it certainly fit the criteria of quick reading. Despite being 337 pages long, it is an extremely fast read, and I finished it in the course of a long afternoon. From a few short blurbs I read about the book Criss Cross, I was expecting a magic book, something along the lines of Edward Eager or E. Nesbit, but it's not. Instead it's a book about very normal life for several teenagers over a summer.
The source of my confusion comes from the first chapter, where Debbie, a 14-year-old girl, wishes on her necklace (one with her name on it) that something different would happen to her. Something good, something that doesn't hurt anyone or cause natural disasters and, most importantly, soon.
Good things do happen, but nothing really out of the ordinary, and bad things happen too. Mostly this Criss Cross novel is about these teenagers, their dreams, and their interactions with one another. The plot is gossamer, with more emphasis on how these people view themselves, each other, and the world around them, rather than a plot with a definite beginning and end. The chapters are written in varied forms: question/answer, side by side plotlines, haikus, lyrics, etc. The text is sprinkled with pictures, both photographs and drawings, to illustrate the story.
There were several elements of this Criss Cross book that thoroughly charmed me. For one, the original necklace that Debbie wishes upon finds its way through the hands of all the characters until it returns to Debbie. That sort of plot device has always pleased me – the idea of an inanimate object making its rounds, putting a bit of itself into each owner in turn (much like the pants in The Sisterhood of the Traveling Pants books). Second of all, the book references other books, without really giving many details. If you know the book being discussed, you'll find it clever and interesting. If not, you probably won't even know you missed something. When one of the girls sees a light blue Mustang, she mentions to Debbie how it reminds her of Nancy Drew and how whenever there is "statue or a painting or a look alike person, it always looks like Nancy. It never looks like Bess or George." Debbie's response cracks me up:
"And they never mention Bess without saying that she's 'pleasingly plump,' or George without saying that she's boyish and athletic and has short hair, just so you don't forget that Nancy is the beautiful one with the perfect figure and the 'titian' hair. I'd like to read a book about Bess and George solving a crime while Nancy is in the hospital with a broken leg."
In the end, the best way to describe Lynne Ray Perkins Criss Cross book, I think, is summed up the summary of the book on the Newbery page: "With seeming yet deliberate randomness, Perkins writes an orderly, innovative, and risk-taking book in which nothing happens and everything happens." It's an enjoyable book, excellent for the writing, rather than the storyline.
If you liked this review of criss cross, you might also like these books: