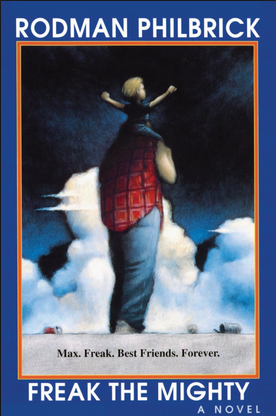 Last Sunday, Bart called his Mom and during their conversation, she mentioned that the City of Provo was sponsoring a program in conjunction with the school district and the library called "ProvoReads!" where they are encouraging everyone to read "Freak The Mighty." The website blurb I read states "The program is designed to promote literacy, to broaden and deepen an appreciation of reading, and to foster a sense of community by bringing people together reading a common book." Bart's mom asked if I'd read the book, and, since I hadn't, I checked it out on Monday and finished it on Tuesday.
I really like the idea of this program. Unfortunately, I was horribly disappointed in the Freak the Mighty book. Why do these kinds of programs so often choose a book that will likely fail to set imaginations on fire and inspire a love of reading? There are so many wonderful, beautiful, uplifting, magical children/YA books out there, that it breaks my heart when so much effort goes into promoting a book that I find to be none of those things.
freak the mighty
The story begins with Max, who is a huge kid (age 12 or so) and somewhat mentally challenged. He lives with his grandparents because his mom is dead and his dad is in jail for murder (what a lovely opening premise, yes?). Max looks very much like his father and his grandparents are worried that he'll turn out to be a slightly insane, murderous guy like his dad.
One day, a new family moves in next door. It's a single mom and her son, Freak (really Kevin) who is Max's age and he's tiny. He has some sort of birth defect that keeps his body from growing much at all and he's got metal braces on his legs. He's also incredibly bright and loves to read. After a bit of a rocky start, Max and Freak become friends. Because they are both tormented by other kids, they become a team of sorts, with Max as the body and Freak as the brain. Freak enjoys making up adventures for them to go on (finding buried treasures, being King Arthur's knights, etc) and Max begins to learn to read and, to some extent, enjoy reading.
Of course, Freak isn't very healthy because his body is so crippled and small, but he tells Max they are going to make him a robotic body and replace his real one with it. Max is worried about this, because he's afraid Freak might die in the process. He also has other reasons to fear, especially because it looks like his dad is going to be let out on parole and might come looking for his only son. (Of course the dad comes for him – you couldn't expect anything else from this book. And of course, there will be attempted strangulation and a gun. Reading is fun!)
The book just had sort of a creepy overall feel to me (much like I felt about Flowers for Algernon, although worse – just depressing). I didn't really connect to any of the characters (and frankly, I felt a little like Freak was using Max, although I'm pretty confident that wasn't what was intended), and I was just glad when it was done. I took the Freak the Mighty book back to the library as soon as I could just so I wouldn't have to look at it anymore. I probably would have not felt so strongly against it if it wasn't for the ProvoReads! program.
Provo, why couldn't you have picked a better book for such a good program? Call me if you want suggestions for next year.
If you liked this review of the Freak the mighty book, you might also like these books: