Whew, okay. Am I ready for this?
I think so. (Please let this be the last post I ever ever write about Shabby Apple).
About eight weeks ago, I was looking at my blog stats and I noticed that my original post about my deep unhappiness with all things Shabby Apple was my most viewed post of any on my blog over the past year (which, considering I wrote it a third of the way through the year, was fairly impressive).
I mentioned this on Twitter, linking to Shabby Apple (which I'd done on numerous occasions before), and went on my merry way.
Then, the next day, I got an email from the husband part of the husband-wife team that own Shabby Apple and I almost fell over in surprise.
Apparently some employee had forwarded along my tweet which linked to my posts and they'd seen it.
He told me how successful Shabby Apple had been over the last five years or so and how many repeat customers they had, and then how that probably didn't matter to me when I had had such a frustrating experience and to call him at my convenience.
Y'all, a letter from the owner! I felt both excited and kind of like throwing up. Because confrontation? I hate it.
We actually had a nice conversation the next day, where I explained how frustrating it was that the policies were all over the place ("we're helpful with gifts!" "Wait no, anything over thirty days we absolutely do not accept!" "I'm sure we can help you!" "Sorry, there is nothing we can do") and how I was not very happy with the dress itself (unlined, weird fit, etc).
He suspected it was probably a fluke bad dress (which I absolutely do not agree with because my complaints about it were the exact same as the others on the website) and also that the dress was made to fit someone more curvy than I am (I also disagree with this because I tried the dress on one last time before I sent it back and it fit MUCH better now that I'm not nursing and am back to my real-life flat-chested self).
He said they'd pick out a new dress for me and send it on and requested (although it was up to me) that I send back the other dress so he could see if it was a fluke dress.
My new dress came a week or so later and they'd sent me this one which I totally hated on the website, but, when I put it on wasn't half bad.
I'd originally thought I quite liked this one, but apparently it doesn't come in my size, and the thought of another trip the post office for another dress that might not fit/look decent/need to be returned just made me feel tired, so I decided to keep this dress.
And, you know what? I like it. It actually does the things they say their dresses are supposed to do – I don't have to wear anything under or over it, the length is decent, and it's a nice mix of dressy and casual. I don't necessarily love that it has an elastic waist, and I find the sleeves a little tight (I can't reach very far before the underarm catches), but I'll definitely get wear out of it.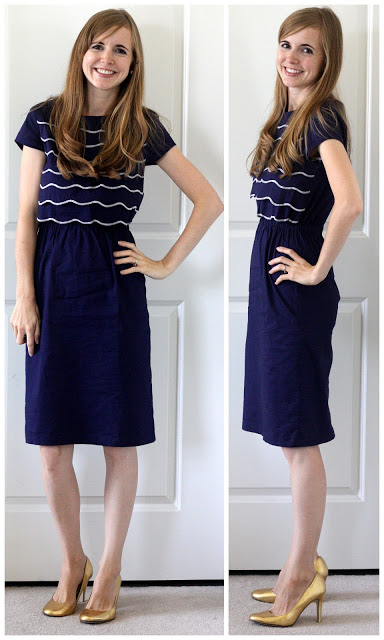 I tried really hard to get a good front view of this dress and I feel like they were all deeply unflattering
Is it my favorite dress ever? No. Would I personally pay $86 for it (plus taxes and shipping)? HAHAHAHAHA. No. Of course I would not.  But then, I'd be hard pressed to ever pay more than $40 for a dress, so I'm not exactly Shabby Apple's target audience.
Am I planning to buy anything else from Shabby Apple? No. There's pretty
much no chance after this whole fiasco that I would ever send them my
own money. I still think their dresses are just far too expensive for
the quality and I think their customer service is sorely lacking. It'd take more than one exchanged dress (mind you, this was not a free dress) to make me forget my own horrible experiences, not to mention the fifty or more other commenters who had similarly poor experiences.
But I'm glad to have a dress I can finally wear (with my gold shoes, no less!) and to no longer feel full of rage when I walk into my closet and see my $100 unlined sheer-topped dress. And it's nice to have this whole unpleasantness behind me, even if it did take them seven months to respond. But, really, let's not quibble.