I remember that in my last pregnancy photo in 2010, I said something about how I needed this baby to be born because I was running out of clothing I hadn't worn in my weekly photos.
This time around, I'm pretty much running out of clothing, period. I don't know if I'm just carrying this baby MUCH lower or what, but the number of clothing items that still fit me is shrinking to an alarmingly small number.
And I've still got five weeks to go (or more, if this baby also decides she doesn't care for her due date). Happily, I had an ultrasound on Wednesday and she was measuring right on track, whereas Ella was always small. And they estimated she is currently clocking in at 5.5 lbs. And the 3-D ultrasound pictures, which I will spare you, showed some preeeeetty chubby little cheeks.
I love my chubby-cheeked little girls (also, this picture of me in 2008 reminds me that it took me about 24 years to lose my own chubby cheeks, so they come by it naturally).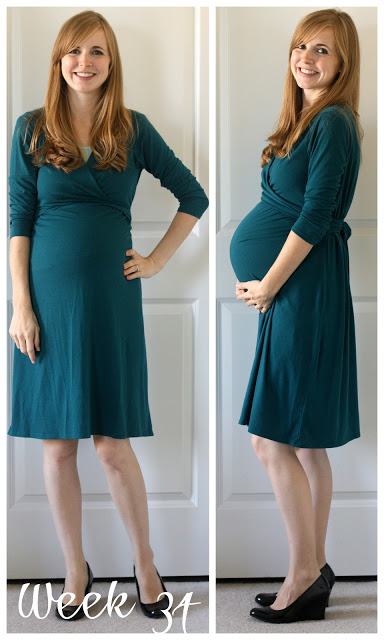 AND, Merrick is having her baby today, so that's exciting times – can't wait to see pictures of a new little nephew. Crossing my fingers that everything goes smoothly.
I'm also pretty happy that this time around I'm only five weeks behind her instead of three MONTHS like in 2010.