I love giving books as gifts, but it's also one of those things that is fraught with anxiety because, what if they already own it?! What if they hate it? What if they think books are lame gifts? (If that last one is the case, I can't help you there).
This year, I'm planning on doing a series of 5-10 books in several different categories that I would not hesitate to give as gifts. I've tried to steer clear of really obvious choices like Goodnight Moon or The Hunger Games. If you're thinking of giving a book, you're probably the kind of person who is already familiar with those titles. These books will mostly be just a little less wildly popular, but just as fantastic (I think). I'd love it if you'd share in the comments your own suggestions!
And, so, without further ado, here are six of my favorite board books, all of which I own and which Ella has given the stamp of approval (which means that they have chewed corners):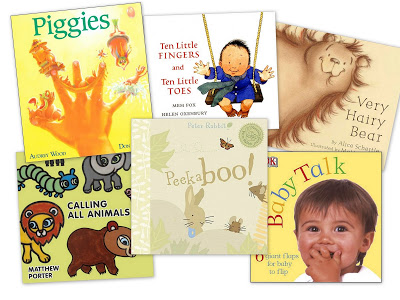 board books for toddlers
Piggies by Audrey and Don Wood. This continues to be a favorite. The illustrations of the human hands with the fat, smart, long, silly, and wee piggies doing all sorts of silly things make me laugh every time. I've never read this without noticing at least one new thing.
Ten Little Fingers and Ten Little Toes by Mem Fox and Helen Oxenbury. I love Helen Oxenbury – Ella often requests We're Going On a Bear Hunt (mainly because she loves the dog), and this is another lovely book. The text rolls right off the tongue and the babies are sweet and diverse.
Very Hairy Bear by Alice Schertle and Matt Phelan. This book has been out for a while, but the board book edition published only recently. It took me a while to get the feel for the rhythm of the text, but now I love it. The illustrations of a bear through the various seasons (catching salmon, eating blueberries, getting honey from a hive, hunkering down for hibernation) are lush and colorful. 
Calling All Animals by Matthew Porter. Bart's parents gave this to Ella for her birthday and she loved it (as she loves all things that involve animals. I love the retro feel of the illustrations and the clever text – each page shows an animal and then gives one of the names that the whole group of that animal is called (a sleuth of bears, anyone?). This book went missing for a while and when we discovered it under the seat of the car, Ella carried it around for an hour. 
Peter Rabbit Peekaboo! by Beatrix Potter. This book includes several of the most famous Beatrix Potter characters, each hiding behind a flap – Ella loves pulling the flap open to reveal the animals before I have a chance to finish reading the text on the page. There are also multiple other things to find on each page and as she gets older, I think she'll continue to like this book as a kind of I Spy.
Baby Talk by Dawn Sirett and Victoria Blackie. Ralphie gave this to Ella for her birthday, telling me that her little girl loved this book more than any other. And so does Ella. She'll open the flaps over and over again, exclaming "baby!" on each page. Each of the six flaps shows a baby and then under the flap shows a close-up of the baby with one large word underneath ("mama" or "yum-yum" for example).
And if you'd like a printable copy of this list that you can take to your library or screenshot on your phone for easy access, just pop in your email address below and it'll come right to your inbox!
Any other fantastic titles to add?
if you liked this post about board books for toddlers, you might like these other posts: