One of the foods I like most in this world is a cheesy rice casserole. Especially as leftovers. Preferably for breakfast.
But cheesy casseroles generally get made by dumping in a bunch of canned soups which makes me fear for my sodium levels. Also, I shiver in the face of that much trans-fat.
Heidi, from 101 Cookbooks, to the rescue (her out-of-print book Cook 1.0 is one I check out from the library every couple of months. I love it). A casserole that is cheesy and delicious and less likely to kill me!
We ate this mushroom rice casserole on (the only) rainy day of the summer and the minute the calendar flipped over to October, I made it again (despite the fact that it was still 95 degrees outside).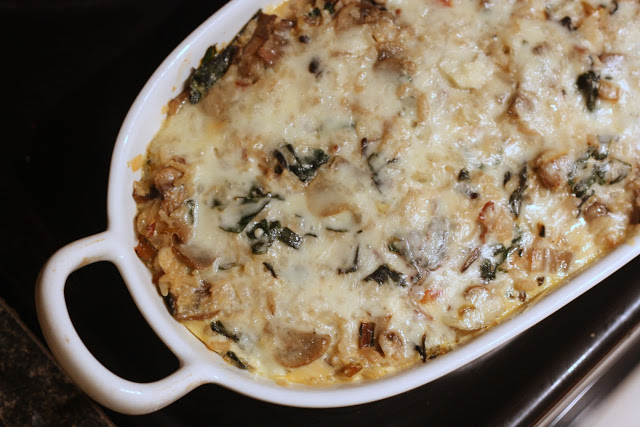 RICE AND mushroom casserole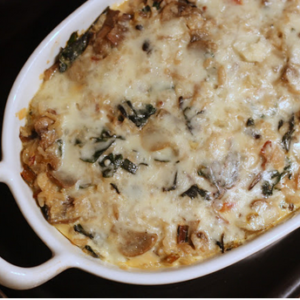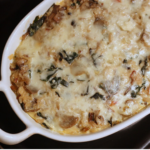 Rice and Mushroom Casserole
This Mushroom Rice Casserole isn't your standard casserole of dumping in all ingredients. It's VERY delicious and is a regular meal around our house!
Ingredients
1/2

cup

uncooked brown rice

1/2

cup

uncooked wild rice

1

TB

olive oil

8

ounces

mushrooms

brown or white cleaned and roughly chopped

1/2

onion

finely chopped

3

cloves

minced garlic

1

bunch spinach or chard

roughly chopped (if using chard, separate the stems from the leaves and chop the stems like onions)

2

eggs

1

cup

crumbled queso fresco

you could use another semi-soft cheese like feta or even fresh mozzarella or goat cheese

1/2

cup

sour cream

1/2

teaspoon

salt

if you're using feta, you may want to skip the salt entirely

1/2

tsp

pepper

1/2

cup

shredded cheddar cheese

1/2

cup

shredded Monterey Jack cheese

1/3

cup

Parmesan cheese
Instructions
Put both rices in a medium saucepan with 2 1/2 cups of water and a pinch of salt. Bring to a boil, stir once, cover and reduce heat to low. Let cook about 45 minutes.

Preheat oven to 350F degrees. Grease a baking dish (somewhere in the 9x9 range is a good size. I use an oval pan that's about 6 x 12).

In a large skillet over medium-high, heat olive oil. Add mushrooms and stir every few minutes until the mushrooms have released their liquid and are slightly brown. Add onions (and chard stems if using them) and cook for another 5 minutes or until they are translucent. Stir in the garlic, cook for 1 more minute and remove pan from heat.Add spinach or chard leaves and cook 2-4 minutes until wilted.

In a large mixing bowl whisk together the eggs, queso fresco, sour cream, salt (if you're using it) and pepper.

Add the cooked rice and the mushroom/onion mix and stir until well combined. Spread half of this mixture into prepared baking dish.

Sprinkle 1/4 cup cheddar cheese and 1/4 cup Monterey Jack cheese over the rice mixture and then pour the rest of the rice mixture on top of that.

Sprinkle with remaining cheddar and Monterey Jack cheese and finish it off with the Parmesan. Cover with foil and bake for 30 minutes.

Remove foil and bake for another 20-30 minutes more.

Serve hot.
if you liked this mushroom rice casserole recipe, you might like these other recipes: