We like pizza in our house (especially since I got a pizza stone – I think I can say that it is the best gift I have ever gotten). And this zucchini pizza recipe is our absolute favorite. It is amazing.
Landen made it the day we came back from our Dallas trip and when I mentioned to Bart that this was the meal waiting for us at home, Bart said, "So we should stop and get dinner beforehand, then?" We were a little skeptical.
We were also deeply, deeply wrong.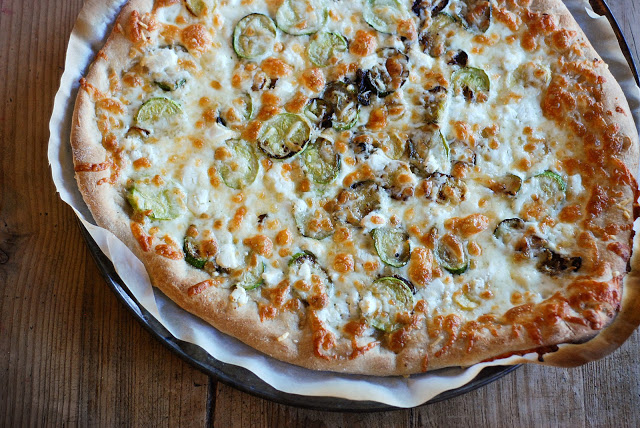 You may have noticed that my food photography skills increased by 1000x overnight. That's because Ralphie took this picture.
zucchini pizza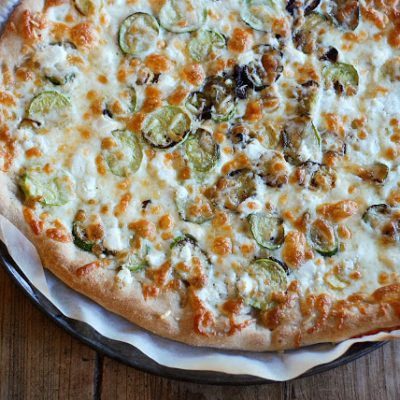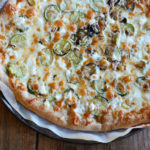 Zucchini Pizza
This pizza is delicious, healthy and downright amazing!
Ingredients
1/2

batch pizza dough (see recipe linked below)

this is now the only pizza dough I make. It is fantastic if you make it a day ahead, but it works great if you make it and immediately use it

Olive oil

1

tsp

minced garlic

2

medium zucchinis

sliced into 1/4 inch rounds

1/4

teaspoon

salt

2

cups

grated mozzarella cheese

2

ounces

crumbled goat cheese

2

T

Parmesan cheese

1/2

T

dried oregano
Instructions
Preheat oven to 500 degrees so your pizza stone has time to get nice and toasty.

Meanwhile, mince garlic with a large heavy knife, then mash to a paste with a pinch of salt using flat side of knife. Transfer to a small bowl and stir in 1 tablespoon of olive oil.

Stretch

dough

with your fingers into a 12- by 10-inch rectangle on a large baking sheet and rub with 1 teaspoon olive oil. Cover dough with plastic wrap.

In a medium bowl, toss zucchini with 1/4 tsp salt and 1 tablespoon olive oil, until evenly coated. Place on a baking sheet in a single layer and let cook in the oven for 5-10 minutes until lightly browned (you can flip the slices over halfway through if you'd like, but this is a big old pain and I've stopped doing it).

Roll the pizza dough out and brush the top with 1-2 tablespoons of olive oil. Sprinkle the minced garlic evenly over the crust.

Sprinkle half the mozzarella cheese on the pizza, lay the cooked zucchini slices on top of that (like pepperoni! But less likely to give you a heart attack), then cover with the remaining mozzarella cheese. Sprinkle on the goat cheese, then the Parmesan cheese, and finally the oregano.

Put the pizza on the pizza stone (I roll my pizza out on a silicone liner, but you could use a pizza paddle or parchment paper too), and cook for about 8 minutes, or until the crust is brown around the edges and the cheese is bubbly.

Let cool for a few minutes, slice, and serve. Marvel that a zucchini pizza is now your favorite pizza.
if you liked this zucchini pizza recipe, you might also like these other recipes: