What would constitute a perfect day for me? Things on sale, a nap, tasty food, books, new friends and old friends, and chocolate.
Why, hello, Saturday. Thanks for stopping by.
This past Saturday included all those things.
I got up in the freezing dark, dressed quietly and went outside to meet some friends, only to realize that I'd just assumed it was cold because it was dark and it was actually about 70 degrees. We headed over to a nearby community garage sale and I picked up a little push bike/car for Ella for a buck, a huge bag of foam blocks for 50 cents, and a set of animal fridge magnets for $2 (originally the seller was asking the outrageous sum of $5; I made Bart make the lower offer because not only am I cheap, but I'm a wimp). Bart and Ella joined me part-way through and we had a nice morning together.
Then, back home where Ella went down for a nap and Bart and I realized that, hey, we could go for naps too. So everyone snoozed for a while.
When we all woke up and realized we'd like some lunch, we headed off to Austin's 2nd annual Gypsy Picnic, where more than 40 food trucks were assembled along the river. Ella was in heaven, screaming "da! da!" every time a dog passed.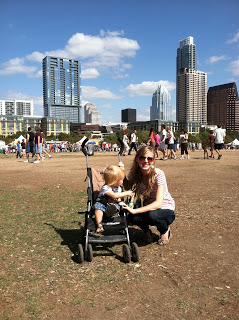 We had a fried avocado taco from Torchy's Tacos, a quite unimpressive jerk chicken sub from Snarkys, some excellent and large eggrolls from Fresh Off the Truck (Ella was a fan too), and wrapped the whole thing up with two frozen bananas from Bananarchy. One was dipped in peanut butter and rolled in crushed oreos, the other was dipped in chocolate and then covered in toffee bits. Ella didn't mind having some of those either.
Ella was losing steam, so Bart dropped me off at the Texas Book Festival and took Ella home for a nap.
I headed into Sarah Dessen's panel where Elizabeth, Jennie, and Jonna had saved me a seat. They were all in town for The Blathering and I was so happy to get to meet them (technically, I met Jennie for all of thirty seconds this spring at BEA). I sat by Elizabeth and after years of online friendship, it was so fun to get to know her in real life. Also, it is so ridiculously easy to talk to someone who has similar (or similar-ish) taste in books. There may have been a few snarky comments about some of the books we both found completely terrible.
And then (good heavens this is getting long), Kay, my library mentor, met up with me and we visited for a little while while she waited for her ride. Oh, how I love her.
Bart picked me up, we went home to have dinner, and then I headed off to babysit for Ralphie's kids (which meant a strenuous evening reading on the couch).
Minutes after I arrived back home, Landen and Adam showed up with molten chocolate cakes and ice cream. Obviously, we invited them right on in.
And then, an hour later, collapsed into bed in a chocolate coma.
That Saturday is going to be hard to beat. But I'm willing to make a valiant effort every weekend for the rest of my life.