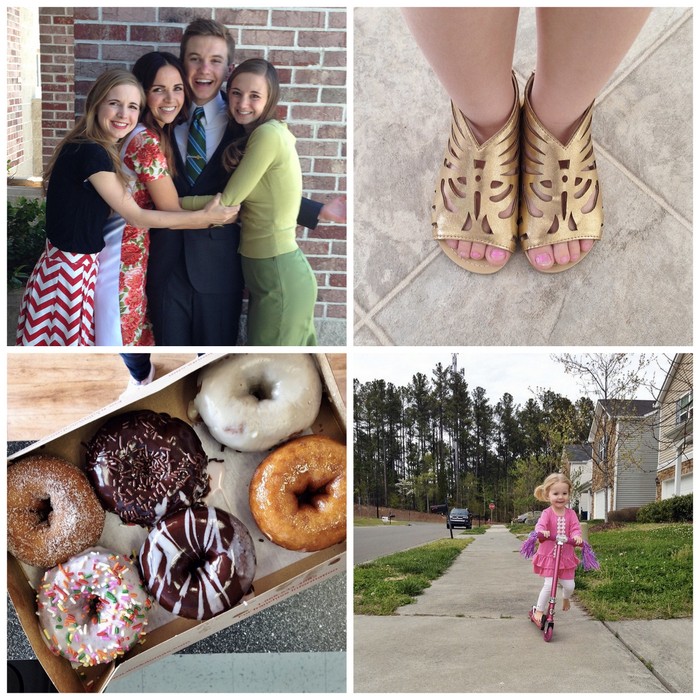 . . . Ani, standing in her crib in snuggly pajamas. At 2 a.m., screaming bloody murder for no reason.
. . . my breakfast. Of gummy vitamins. That I ate in the car when I noticed the bottle roll out from under the passenger seat.
. . . the car we bought over the weekend. And the dead battery I discovered only after I'd packed everyone up and was ready to head out.
. . . me at the park on a sunny morning with my two darling children. Where I smashed my head on a low-hanging metal rung so hard that it still hurt 12 hours later.
. . . a selfie. With all my makeup cried off by 10 a.m. because it was such a wretched, frustrating morning.
. . . registering the car at the DMV (it tells you what a truly abominable day this was when the 15 minutes I spent in there by myself were the highlight of my day).
. . . going out for lunch as a family. And then giving up after twenty minutes of Ani trantruming and asking for our order to go, and Ani bawling and thrashing in the carseat while Ell and I waited for the kitchen to box it up.
. . . Ella zonked out in the carseat on the way home from lunch with her arms above her head, looking mega cute. Completely oblivious to Ani screaming her lungs out right beside her the entire trip while Bart and I tried hard not to lose our minds.
. . . working during quiet time. In the basement of a friend's house, sitting on the floor, because most of the time being a work-at-home-mom is not very glamorous (no beautifully-styled Pinterest worthy desks today, folks).
. . . going to the park as a family before dinner. Where Ani stepped in dog poo with her bare feet.
. . . all the children peacefully sleeping in their beds. While Bart and I did laundry from five suitcases.
. . . an artsy photo of my crossed fingers. That today will be 100% better than yesterday.
(All the photos at the top are from my Instagram feed over the last few weeks, which is clearly only a tiny, totally edited slice of life)