Almost two years ago, I followed a link from one of my favorite blogs and ended up on Andrea's blog, For the Love Of.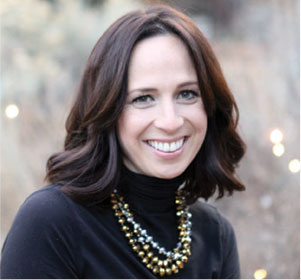 After reading a few posts, I suddenly noticed that she had an identical Disney Baby button on her sidebar and abruptly realized she was a Disney Baby blogger too.
I'm nothing if not extremely attentive.
Since then, I've loved following Andrea's blog (this DIY seed bead necklace is one of my favorites), and I was even more thrilled when she really dived into healthy and whole-food living last year, first with her instagram account, Gwyneth Made Me Do It, which spun off into a Babble column by the same name.
She posts great recipes (hello, dark chocolate shortbread cookies), and talks about the realities of trying to fit whole foods into a life with young (picky) children and a world hooked on processed foods.
In January, I finally got to meet her for real, and she is every bit as delightful in real life.
And when I heard about her dad's 200 library cards? I knew we were kindred spirits.
I've always loved to read, for as long as I can remember. I think I must have inherited it from my dad, who proudly owns over 200 library cards from libraries all over the state of California. 


While I've always loved the way a book could transport me to another era or place, I know appreciate books for their ability to center and ground me. As a person who makes their living online and via social media, it's easy to get lost in the glow of the phone and the computer screen. When I'm reading though, I tend to be much less distracted, and more focused overall. I love how books serve so many different needs.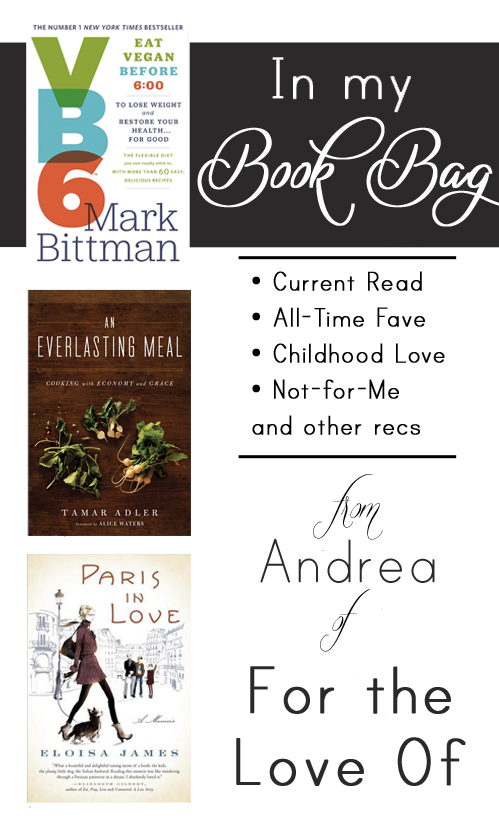 Childhood Favorite: Anything by C.S. Lewis, in particular The Lion, The Witch and The Wardrobe. I can't wait to read the series with my children, who, come to think of it, are probably ready for it now.
Currently Reading: I have a few books going right now. The Body Book by Cameron Diaz has been one I pick up and down as my mood sees fit. It's actually chockfull of information, much of it scientific and clinical, so I read a couple of chapters at a time. I'm also reading An Everlasting Meal by Tamar Adler, which is a book about food, but even more about cooking. I absolutely love it, but it's not a book you necessarily breeze through in a weekend. I am taking my time with this one, soaking it up and highlighting a ton. It really romanticizes cooking, while at the same time offers very practical tips and advice that has really changed many of my processes in the kitchen. I can't recommend it enough.


Comfort Reading: I actually loved Paris In Love by Eloisa James, because it was light hearted while also being very touching. It made me appreciate myself as a women more, and made me laugh quite a bit. But because I've been on such a food kick the last year, another greatly comforting book for me, related to food, is Animal, Vegetable, Miracle by Barbara Kingsolver. Makes me want to move to a farm and grow as much of my own food as I can.
A Book Everyone Else Seemed to Love, But I Didn't Like/Get/Finish: A few people recommended The Kind Diet by Alicia Silverstone, but I just can't get into it. I really dislike it in fact. I found the writing to be choppy and juvenile, and the research a little misleading.


A Book on My To-Read List:  Vegan Before 6 by Mark Bittman. I love his NY Times columns and completely respect his views and writing on animal ethics, food culture and our wacked out food system here in the US. I also really want to read Grain Brain by Dr. David Permutter. I am resistant to the belief that gluten and whole grains can be destroying our bodies, but I've read some compelling reviews on this book, so I'm curious and want to have an open mind.


Book I'm Most Likely to Recommend to Someone Else: A few friends have asked what they need to read to understand factory farming and how the animals we eat are raised in this country, so I always recommend Eating Animals by Jonathan Safran Foer. It's heavy and gruesome, but also very eye opening. It did not turn me or my family into vegetarians, but it did make us committed to sourcing our meat and animal products in a more ethical and humane way. If a friend is just looking for something fun and lighthearted, I loved Where'd You Go, Bernadette by Maria Semple. A fun and quick book that's perfect for summer pool side reading.
Thanks, Andrea!
P.S. You can check out other posts in this series here.