When I mentioned last week that
I was in a cooking rut
, I wasn't kidding. It's taken me four months to get together another set of recipes I've made and loved.
But these recipes were worth the wait. All of them were total hits.
Also, four main dishes, one bread recipe, and only one dessert? I'm like a paragon of healthy eating over here.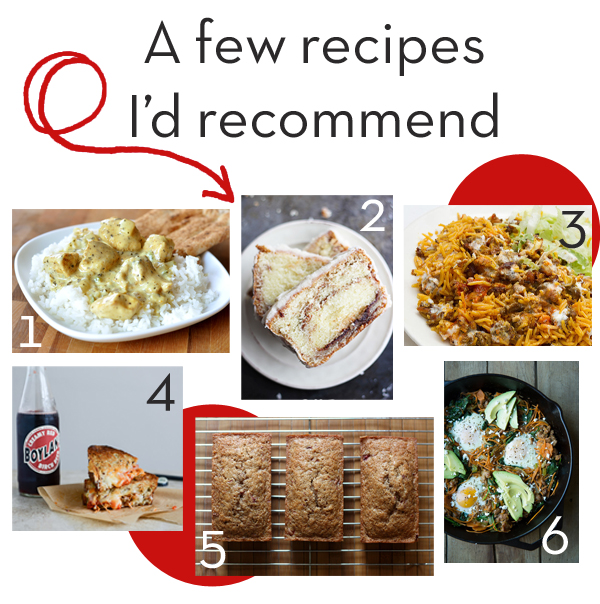 1. Basil Chicken in Coconut Curry: This is a long-time favorite in our house. It's so quick and easy, I always have the ingredients, and it's always delicious. That Mel. She never lets me down.
2. Cinnamon Roll Pound Cake:  Our friends Jessica and Nate invited us over for a Chinese New Year dinner in January and I brought this for dessert (it was one of those afternoons where I didn't have time to run to the store and had to figured what I could make with the ingredients I already had on hand). It was delicious and both of the women there emailed me later for the recipe, mentioning they were planning to make it for breakfast. THAT is when you know you've found the right friends.
3. Halal Cart Style Chicken and Rice with White Sauce: I made this for dinner while Bart's parents were in town, after RA had raved about it multiple times. It was even better than I expected, and worth the effort of preparing multiple components. Seriously. Make this.
4. Mini Meatball Grilled Cheese: I don't like meatballs all that much, but Bart is a huge fan of meatball sandwiches, so I figured this would be a hit. The meatballs themselves were so good I barely could restrain myself from eating them all while I was assembling the sandwiches. And then the sandwiches themselves were phenomenal.
5. Strawberry Cinnamon Bread: Is it uncool of me to have one of my own recipes on here? I'm going to pretend it's fine. This is one of my all-time favorite recipes, and I just made it yesterday with the first batch of strawberries I've bought this year. We had four families over for breakfast before General Conference and all three loaves were GONE. It's a serious winner.
6. Sweet Potato Breakfast Skillet: This was another meal I made when Bart's parents were here in December and it was delicious (with some guests, you don't want to make new recipes, but Bart's parents are some of the most adventurous eaters I know, and always a good audience for a new dish). I don't always like sweet potato recipes because sweet potatoes take FOREVER to cook, but shredding them solved the problem and made this a super quick dinner.
(P.S. More recommended recipes!)
(P.P.S! We're going to Chicago this week with the girls. If you have recommendations of things to do/eat/see in the city, I'm all ears!)