I got this
utility vest
a few months ago. I immediately took off the faux-military patches (I'm pretty sure I wasn't fooling anyone, anyway) and wore it a couple of times.
I liked it enough that it survived the
closet purge
, but it was a close call.
Then, when I put it on a few weeks ago, I realized that the main problem was that it was too long. Twenty minutes later, I'd cut off about 3 inches and hemmed it up.
Suddenly, it was my favorite thing in my closet. I couldn't believe what a difference that hem made.
Now I've been wearing it non-stop and feeling ridiculously relieved that I didn't toss it out.
Here are five ways I've worn it!
how to wear a utility vest
1. With Colored Pants and Stripes
Because the olive green is so neutral, it's a great time to pull out the colored pants. I think it would look fantastic with red pants too, but I don't own any (and it looked wretched with my coral pants).
And the striped shirt adds some nice pattern but isn't overwhelming because you can only see the sleeves.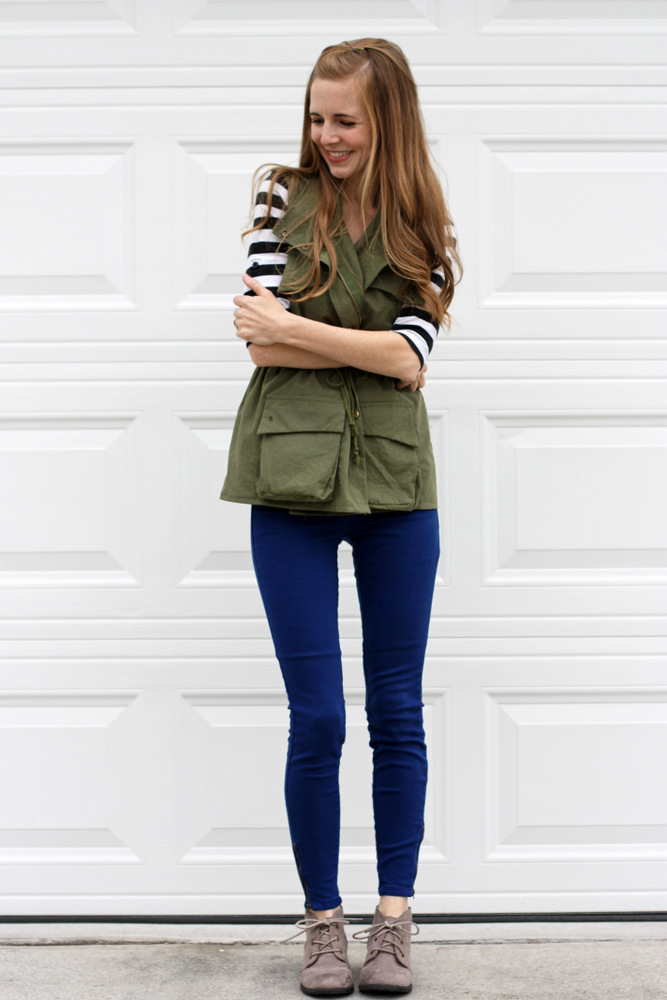 2. Dressed up with Heels
I love the contrast of the very casual vest with a few more dressy items, like a blouse and some heels. (Also, I bought these heels on a total whim at Ross on mega-clearance, and they are the best. I feel happy every time I wear them).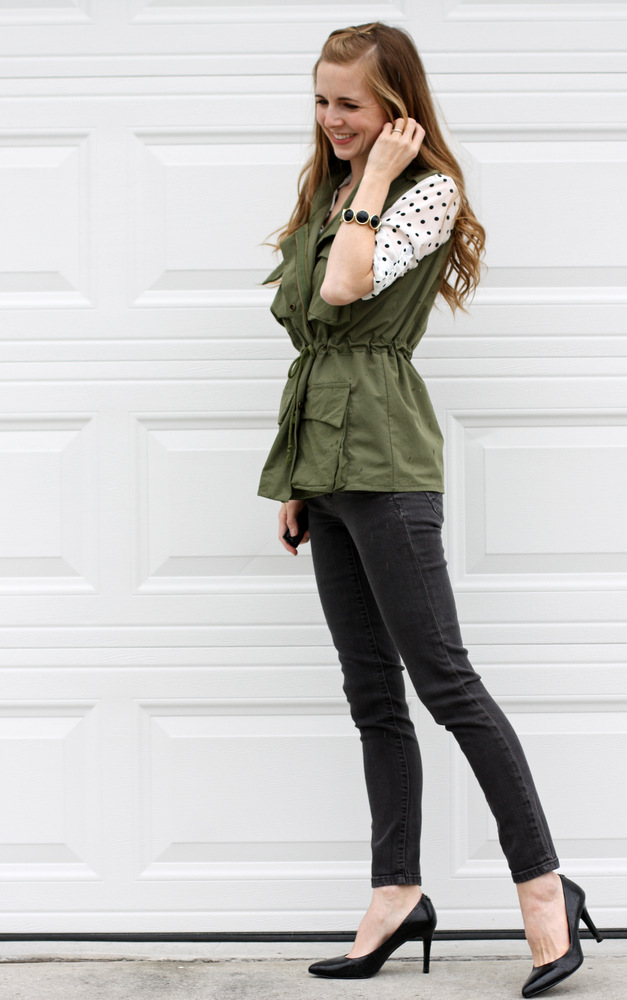 Blouse: c/o Oasap // Jeans: Aeropostale // Heels: BCBG // Bracelet: c/o Persunmall


3. With a Pencil Skirt
It was actually this outfit that made me realize my vest was just too long. Thank you, pencil skirt.
I've finally come around on the stretchy pencil skirt as an everyday piece of clothing. Pretty much planning to wear them all the time this summer.
Also, there is NOTHING these oxfords don't go with. Seriously, I can't stop wearing them.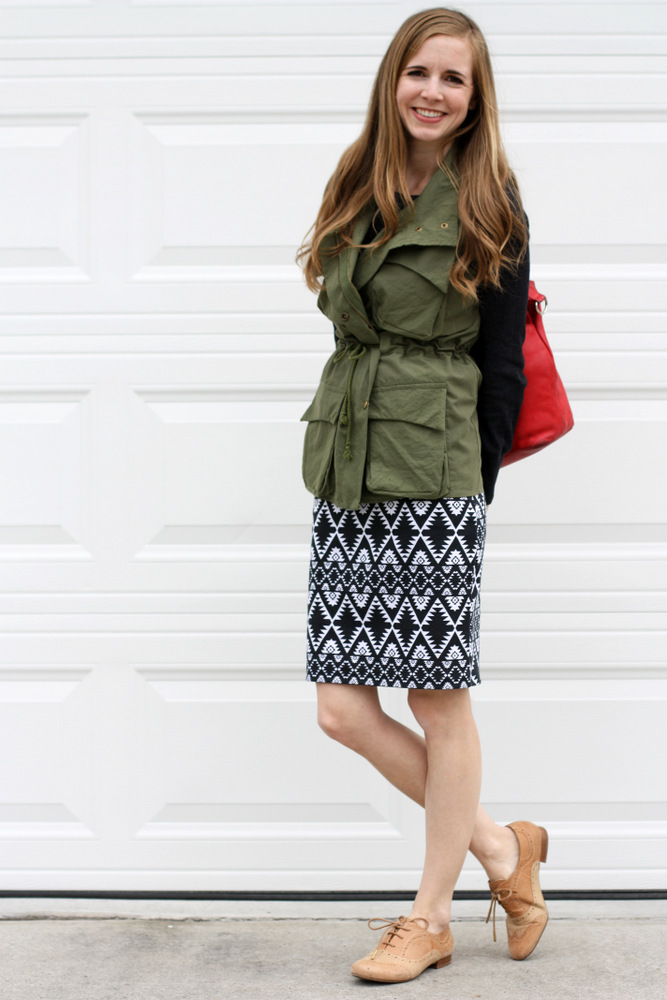 4. With jeans. Obviously.
The bright sweater makes a nice contrast against the vest, and the white studded shoes add a little texture and pattern. I've worn this outfit about 3 times in the last month.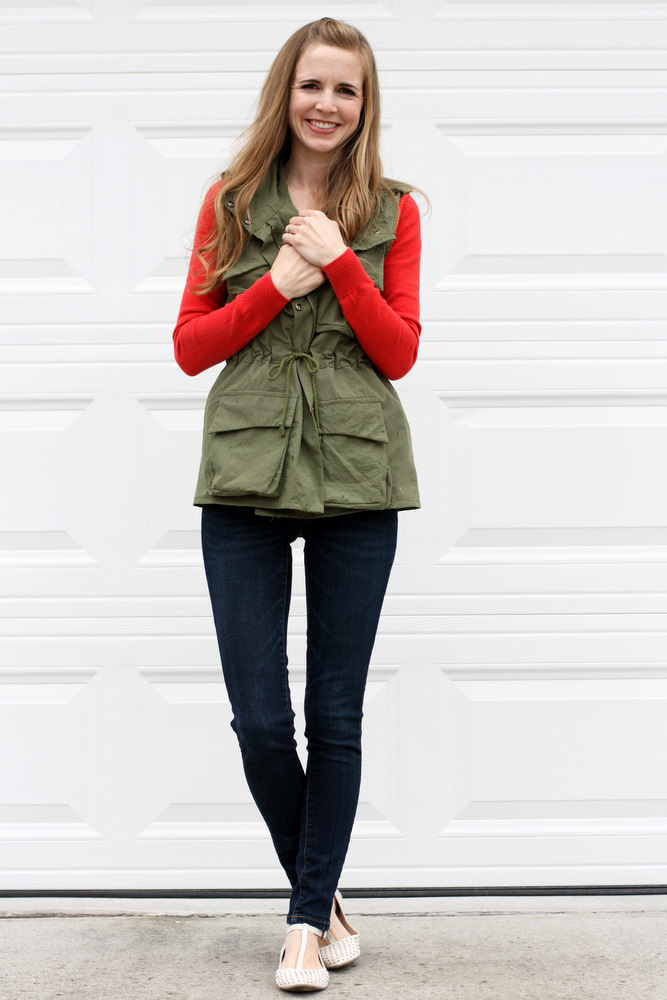 5. With a Big Skirt
This was one of those outfits where I thought, "Is this actually going to look good in real life?"
But then it did! This was the only one, though, where I felt like I really needed the belt to cinch the vest in and keep it from looking sloppy.
And I never say no to a chance to wear these red shoes. I need to make a note to Bart to have me buried in them.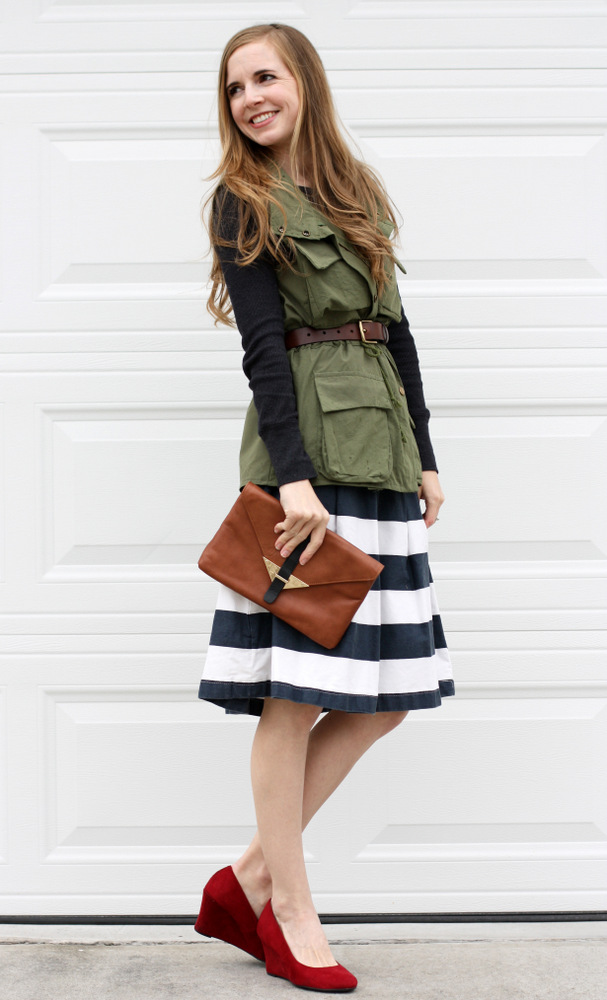 P.S. The exact vest I have is out-of-stock now, but I was at Old Navy this weekend and noticed they have one too (plus it comes in multiple sizes instead of the infuriating "one-size-fits-none all" that mine is).
if you liked this post on how to wear a utility vest, you might also like these other posts: