If you've been here a long time, you know that I LOVE jeans.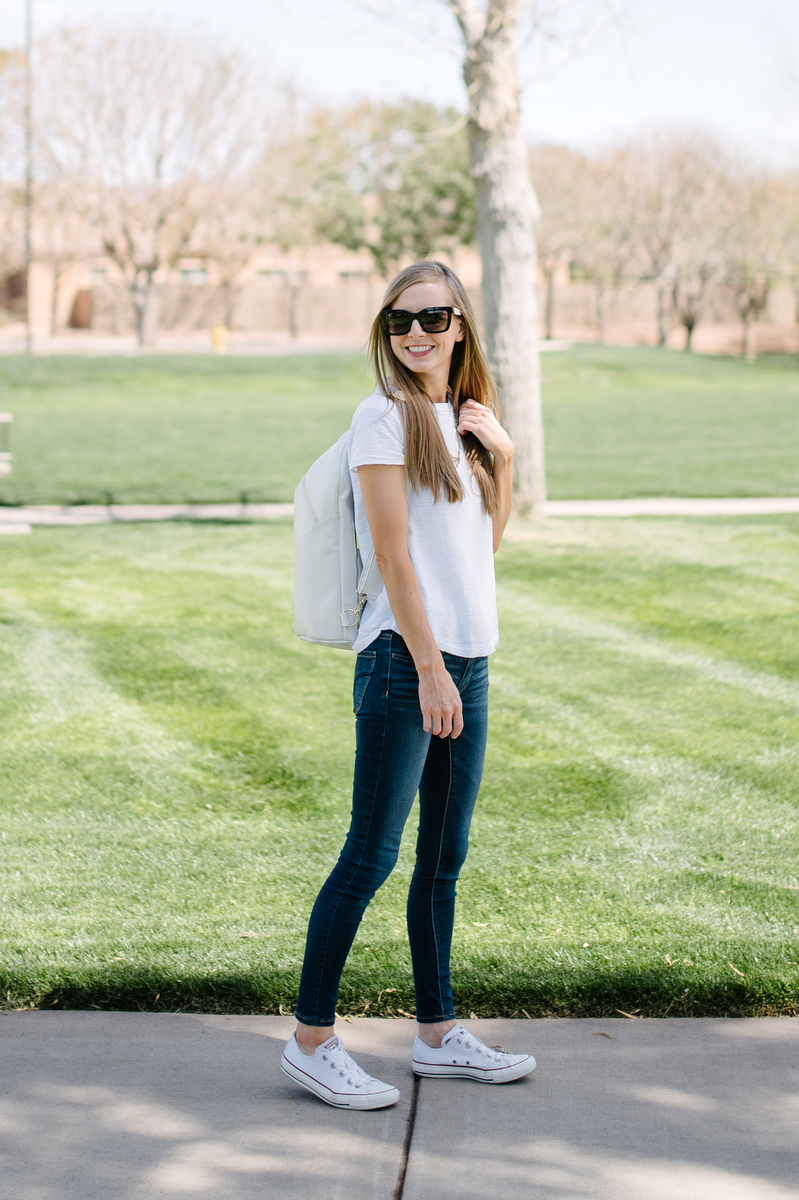 I pretty much wear jeans 5-6 days a week, all year long (even when it's 117 degrees here in the summer).
When I was pregnant with Star, I bought my first pair of designer jeans (these DL1961s)and I never looked back.
After I wasn't pregnant anymore, I bought a pair of regular DL1961 jeans and I still wear them all the time, nearly three years later.
I also snagged some Madewell and Frame Denim pairs on thredUP and loved them both.
When I was pregnant with Tally, I purchased two pairs of AG maternity jeans even though the price tag made my eyes bulge out a little.
And then they were worth every penny because I wore them every day for six months until she was born.
Basically, I was convinced I was never going to buy a pair of non-designer jeans again.
But then, on a whim, I bought a pair of American Eagle jeans on thredUP and when they came . . . I liked them a whole lot.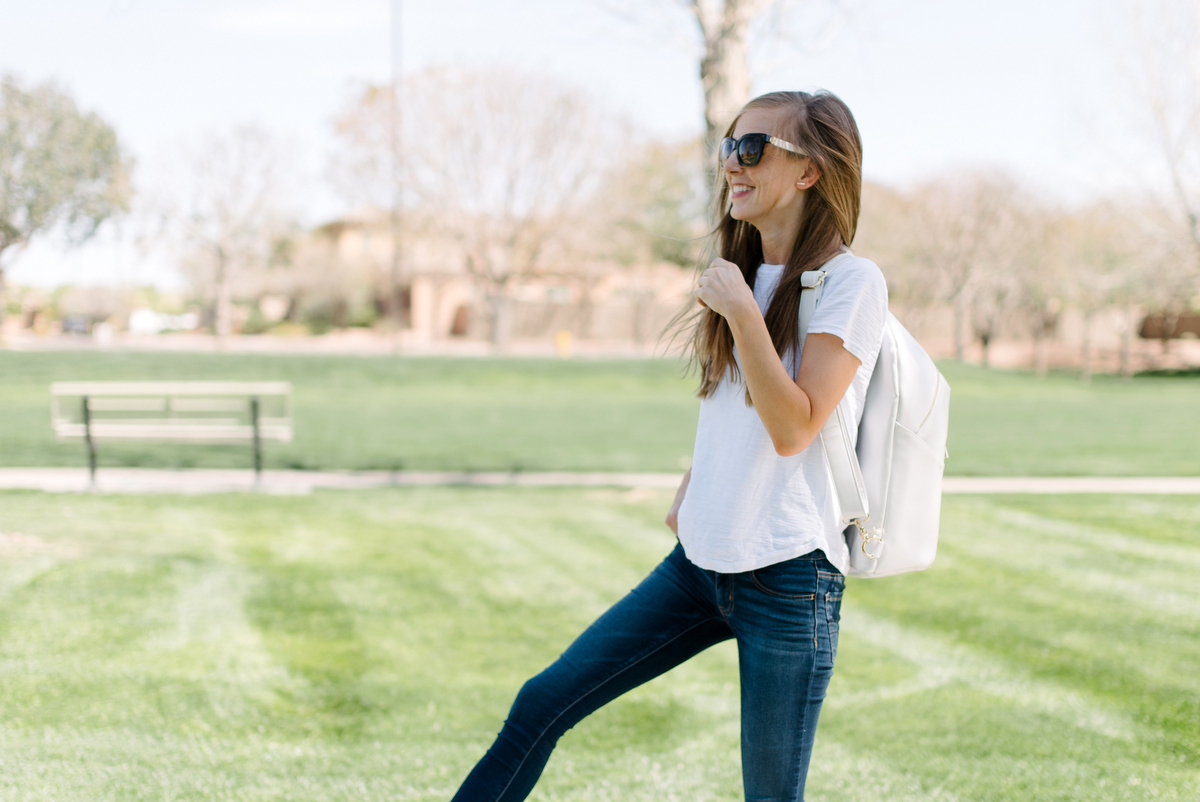 And then I bought a second pair of American Eagle jeggings and despite the fact that I have multiple pairs of jeans that retail for nearly $200 in my closet, these American Eagle jeans are the ones I reach for the most often.
I LOVE them.
And then I got ANOTHER pair of the jeggings, this time in a high-waisted style.
You guys, I am ALL in on the American Eagle jeggings.
And of course, this wouldn't be Everyday Reading if I didn't tell you all about why I love them so much.
Why I love my American Eagle Jeans
When I was flying a couple of times last week, I reached for my jeggings because they are so comfortable. Even my pajamas are only about one step more comfortable than the American Eagle jeans.
I love the massive variety of washes they have – from colored denim to high-waisted to distressed denim. Pretty much you name it, they have it.
I've been unsuccessfully looking for a pair of white denim for the last three years and never found a pair I really liked, but I'm ordering a pair of these Bright White jeans and I'll keep you posted on how I like them.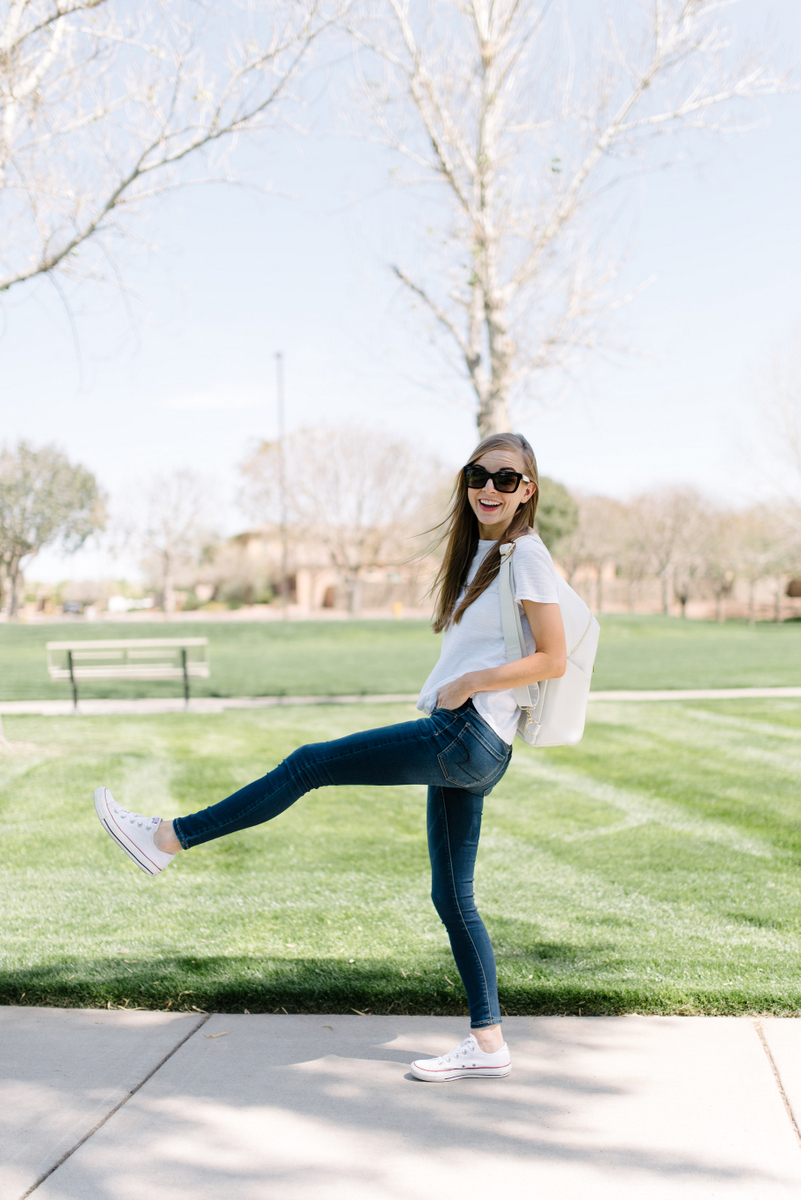 Of course, the most important part of a pair of jeans for me is that I don't have to think about them while I'm wearing them – I don't want them to sag out or need constant adjusting or hitching up – and the American Eagle jeans do their job here perfectly.
The regular American Eagle jeans are pretty good about not losing their shape, but the jeggings are insanely good. I can wear them indefinitely assuming none of my children decide to wipe their sticky hands all over my lower half, which is a big assumption to make.
I also think they run pretty true to size – I generally wear a 24 or 0, but my first two pairs were 00, and my newest pair of high-waisted ones that are a 0 and they fit great too.
Also the pair I'm wearing in this post are a Short version, which I really like, although I'd probably like them just a HAIR longer. I'm just under 5'4″, so if you're not as short as I am, definitely go with the regular length.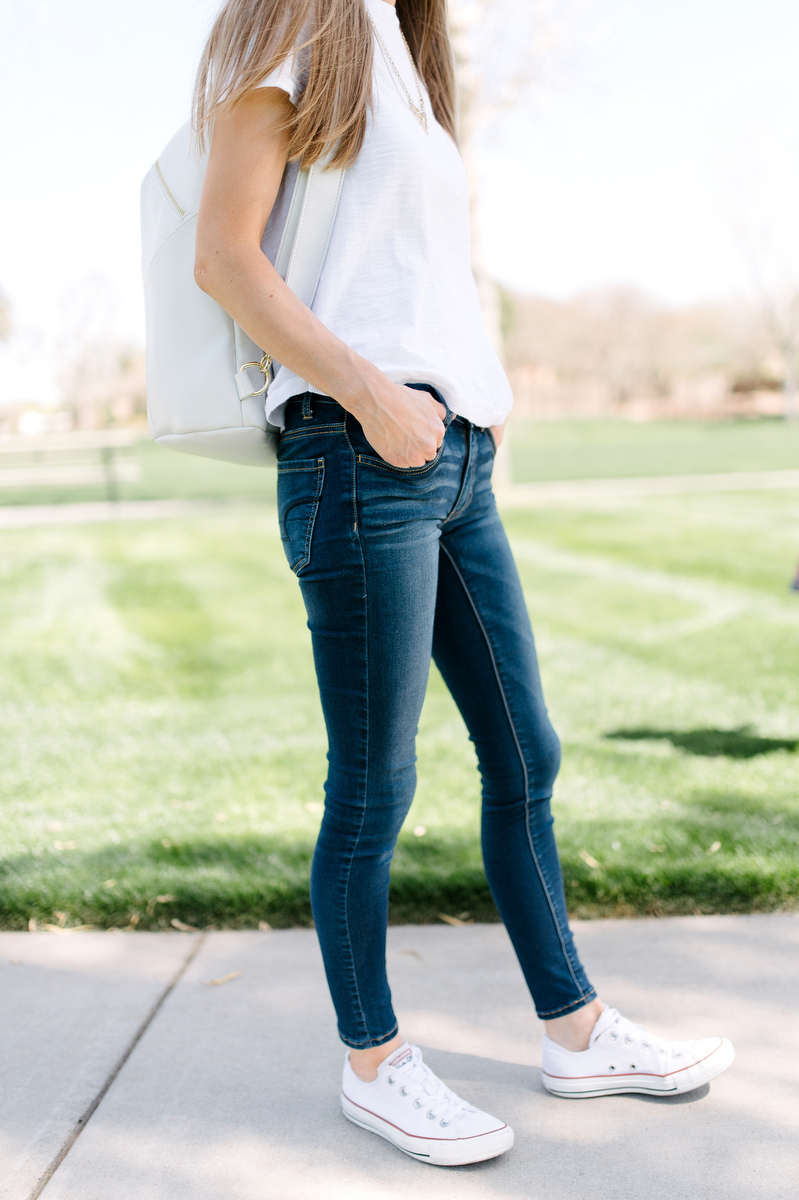 And I really love that they're about a quarter of the price of my favorite brands like AG jeans or DL1961 and about half of what Madewell runs.
Most of American Eagle jeans cost between $50 and $60 per pair and they are often on sale for Buy One Get One 50% plus free returns, so it's a low-risk buy (and since basically every mall in America has an American Eagle Outfitters, you can probably just go try them on in person). These jeggings I have on are currently $37 (apparently there is a big sale going on right now) and the high-waisted pair is just under $70.
I know that jeans are totally individual and what looks great on one body doesn't look great on another body, plus brands can vary massively from style to style.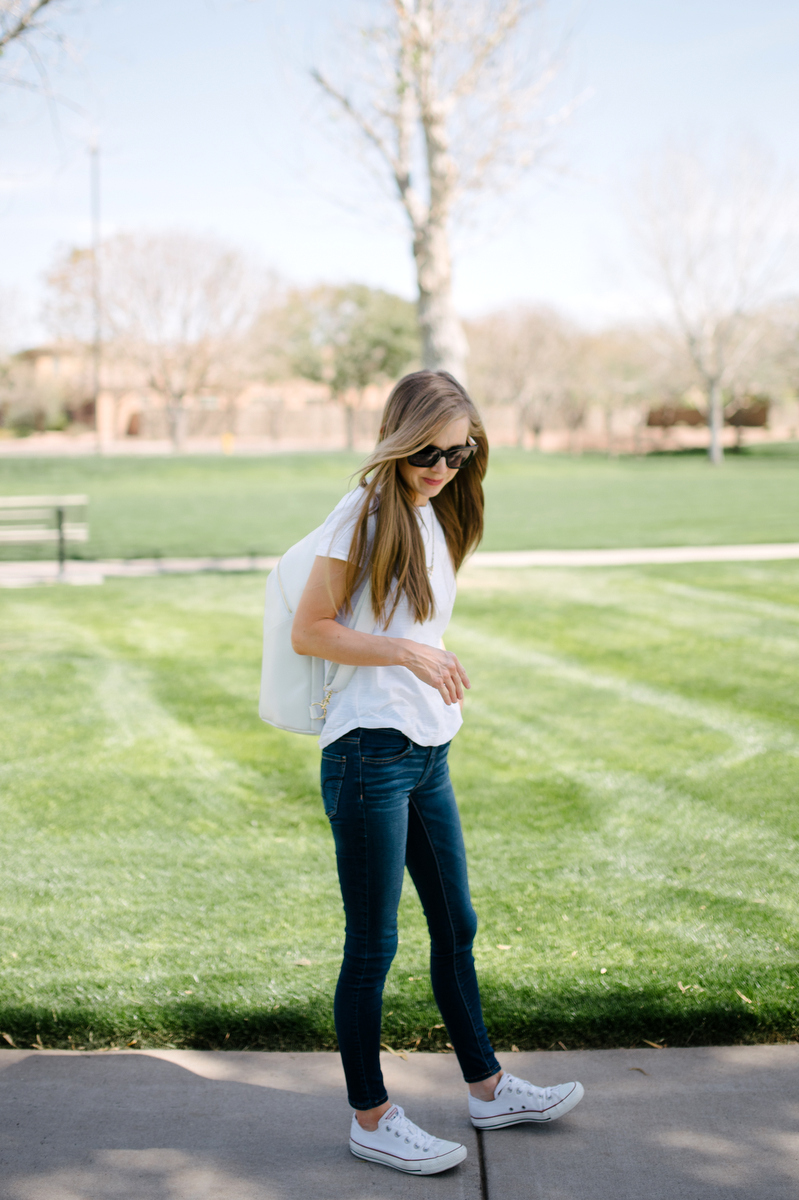 JEANS — WHITE TOP — SHOES
BACKPACK ($30 off through Sunday night!)
But if you're looking for a reasonably priced pair of jeans that have the same sorts of qualities that designer denim has, American Eagle jeans are a good place to start.
And if you have other recommendations for great denim that doesn't cost over $100 a pair, I'd love to hear!
Photos by Christie Knight Photography