Things are a little hectic at our house as we prepare for a move, so looking at this very calming photo of my clean bedroom makes my heart rate slow down a bit (also, I love that you can't see any cords behind it, thanks to my beloved five dollar cord covers).
Here are four things I'm really loving this month (you'll notice that moving is NOT one of them).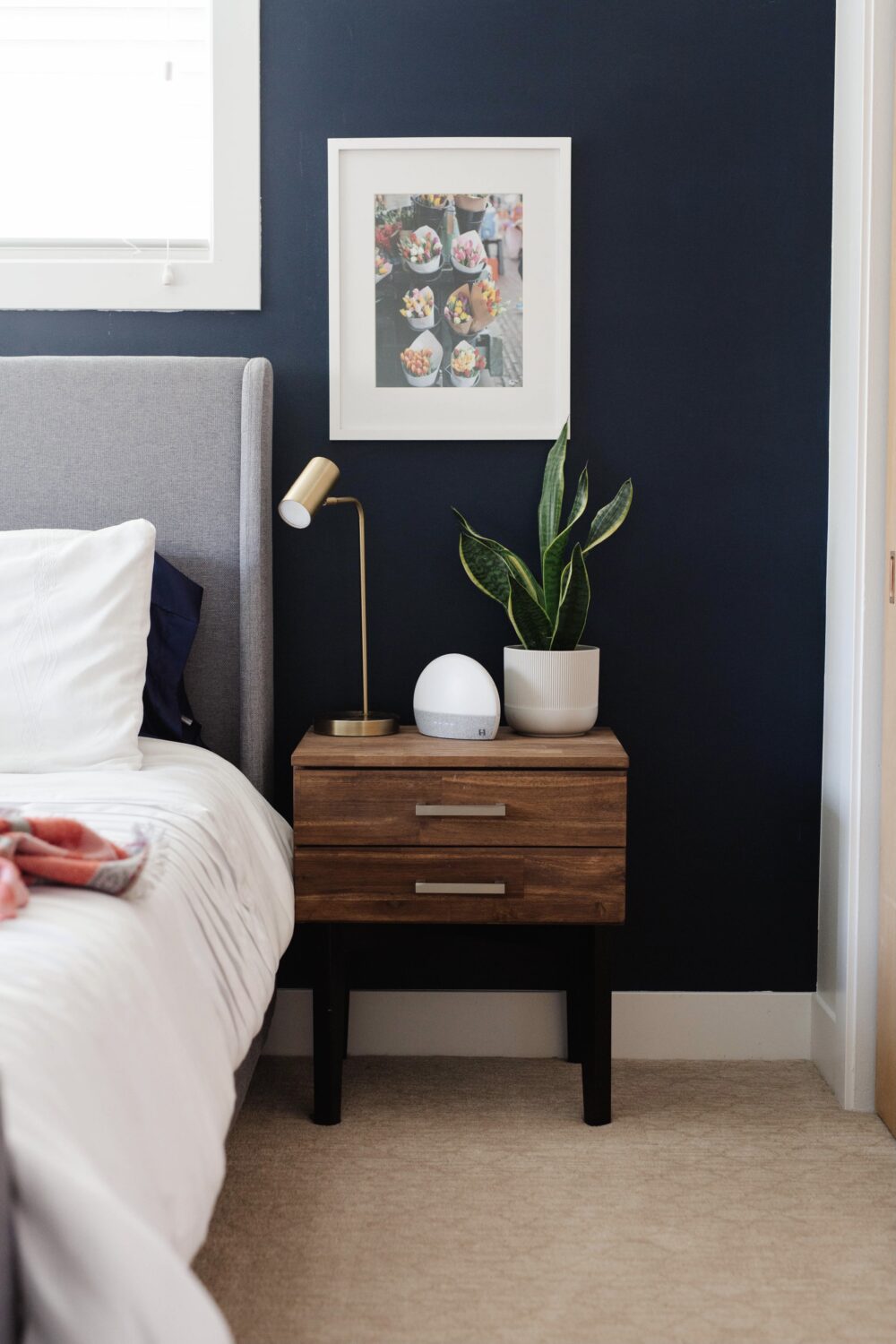 FOUR Favorite Things for APRIL
Cord Covers
These are pretty much my favorite thing ever. I inherited a massive distaste for visible cords from my dad (I remember him buying a bunch of velcro zip ties when I moved into my college dorm and carefully bundling all my cords together behind my desk so there weren't a million cords showing) and these cord covers are FIVE DOLLARS and super long (I cut one up and used it to conceal my TV cords, my bedside table cords, and the cords on Tally's bedside table). They come with adhesive already applied too, so you just peel off the tape and stick it right to your wall. They're also paintable, so you can make them blend in with any color of wall! Can you tell I love these so much?
Daily Sunscreen
My sister Merrick introduced me to this sunscreen last summer and I was an instant convert. It goes on clear and acts as a primer for your makeup and provides excellent protection. Definitely a necessity as we start living outdoors again!
Facial Cleaning Brush
I've been using this facial brush for a couple of months (I did some sponsored Instagram stories with them earlier this year) and I'm hooked. Originally, I was using it at night, but I kept forgetting so I finally put it in the shower and now I use it several mornings a week and I feel like my skin has never looked better. I've always struggled with dry skin and this does such a good job getting rid of rough, dry spots and my makeup goes on like a dream afterward. It's only $30 and worth every penny!
Verso Super Eye Serum
When I did an unboxing of my most recent FabFitFun box, I joked about how FFF must be REALLY worried about my eyes because I feel like I've gotten one million eye serums. But then someone sent me a message raving about it and I figured I'd try it out because . . . why not. And it turns out it's LEGIT. I think it's the first time I've used anything with retinol and now I know why people love it so much – after a week, my crow's feet were NOTICEABLY lighter. It's crazy expensive, but I'm hopeful that I can snag some for a steal at the next FabFitFun Edit sale.
What items are you loving right now? I'd love to hear!
 IF YOU LIKED THESE April FAVORITES, YOU MIGHT ALSO LIKE THESE POSTS TOO!