The other day it was brought to my attention that there have not been pictures of the child on my blog in many moons. And. . .this is true. In fact, the last pictures of Ella on the blog (aside from the one of us at the Gypsy Picnic) were in early September, after we returned from our trip to Dallas.
One of the reasons that pictures are becoming more scarce is that anytime I whip out the big camera, I end up with about thirty pictures that look like this:
So there is that.
But, to satisfy the one person who noticed her absence, here is my darling child in all her only-her-mother-cares glory:
 Ella was mega-grumpy this day, so Bart took her to the pool after work, while I finished dinner. Bless him.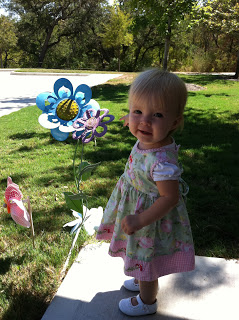 Our neighbor has these funny little fake flowers and we cannot walk by without Ella stopping to touch them.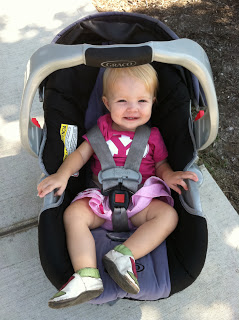 Dressed up for the BYU game (we didn't have the heart to tell her that BYU lost and probably will continue to do so many many times over the course of her life).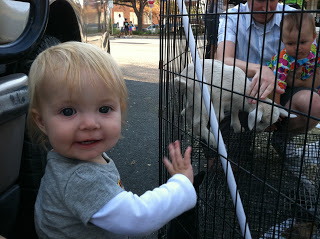 At a little petting zoo by the library. Ella was enthralled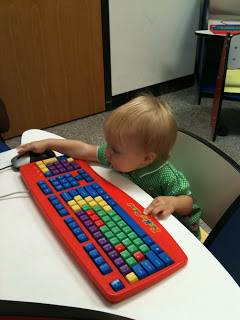 Ella's favorite thing at the library. There are three of these little computers and she climbs up and down all of them.
A little exploring at the new downtown plaza.
Trying on new shoes at Target. She was so hilariously excited about them and kept pulling pairs off the shelf for us to put on her.
 Last week, about thirty seconds before she pitched forward and scuffed up her whole face.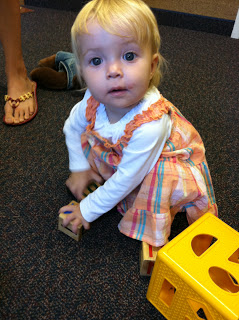 Bart is a nursery leader at church now, which means Ella can go with him. This is a happy day for everyone.
I love this little girl.