Last weekend, while the girls were on their fall break, we took a weekend trip to Zion National Park.
I'd been to Zion quite a few times when I was growing up, since it's only a few hours away from Las Vegas, but it'd been at least 20 years since I'd gone. Bart isn't certain if he'd ever been to Zion National Park before and our girls had never gone.
So we felt basically like newbies.
It turned out to be a FANTASTIC weekend and we all had a great time.
(It's really important to me to get to know the area we live in – I don't want my children to grow up somewhere and never have been to the places nearby that people come in from all over the world to visit).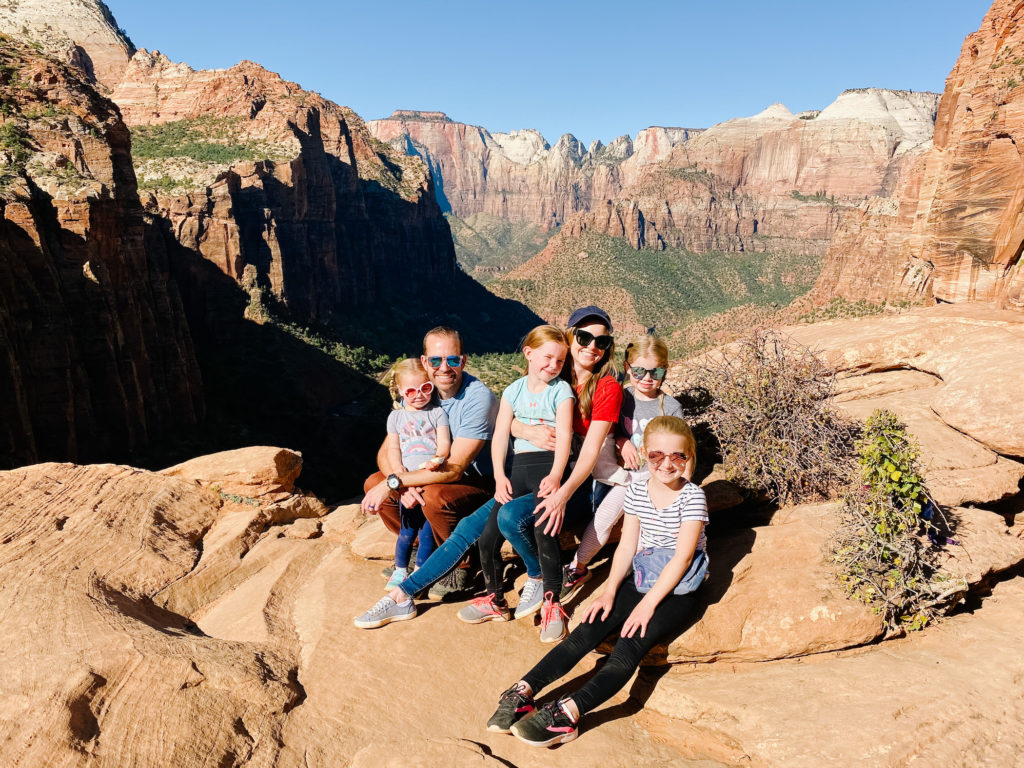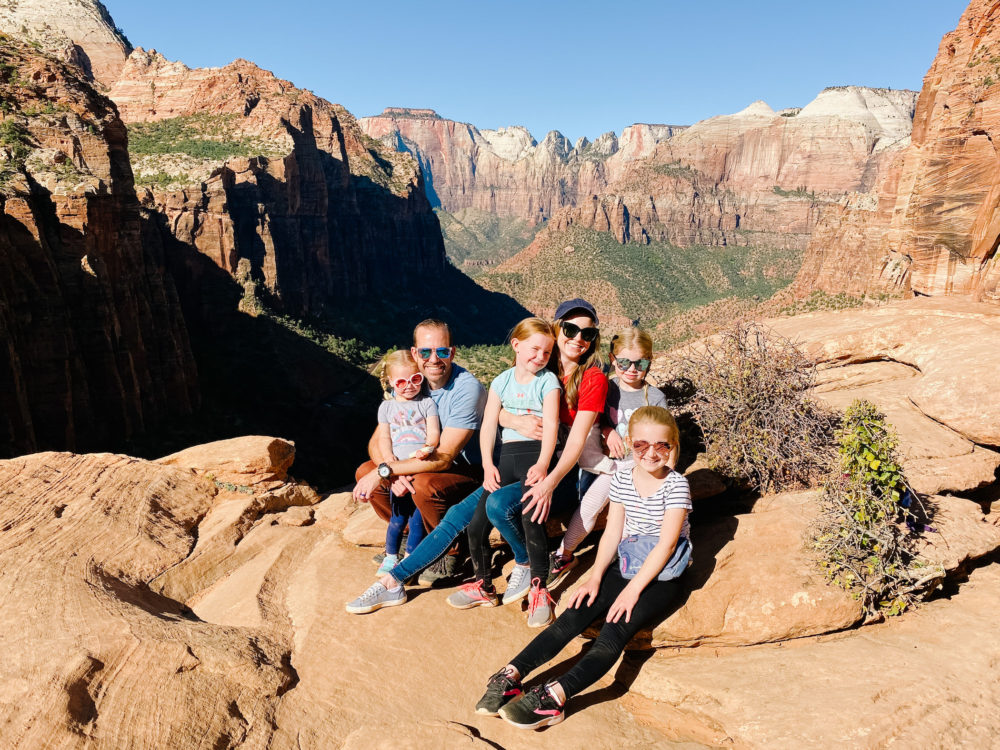 Zion National Park Hotels
We stayed at Cable Mountain Lodge, which we booked through Hotels.com. We mainly picked it based on price and good reviews, but now that we've stayed there, I think it's the BEST place to stay in Zion and can't imagine choosing a different location if we came
It's in the same parking lot as the entrance to Zion National Park which means you don't have to drive into the park or fight for parking (which is very limited – the lots filled up first thing in the morning and people were parking along the side of the road for nearly a mile out of the park). Being able to leave our car in
We booked a one bedroom condo and it was perfect for our family of six. Bart and I had our own room with a king-size bed, there was both a pull-out sofa and pull-out chair in the living room and a queen-size wall bed in the kitchen area, so all the girls were able to sleep in real beds.
The kitchen had a table and chairs for four (we brought in the chair from the bedroom desk and the end table at meals so everyone had a seat) plus a full-size fridge and freezer, dishwasher, sink, microwave, and stove (there was no oven).
We stopped at the grocery store in Cedar City on our way down and bought food for the whole trip with plans to eat out one night, which was really convenient (since Zion National Park was fairly busy while we were there, it was nice not to have to fight crowds for meals and we could be really flexible about our meal times and snacks).
Cable Mountain Lodge also had a lovely pool with stunning views of the mountains (there's nothing between the hotel and the park on that side, so it's a completely unobstructed view), plus a picnic area with a grill, which we used on Sunday night.
All in all, for having picked it fairly randomly, I couldn't be more happy with it and would highly recommend it to anyone looking for a place to stay in Zion National Park.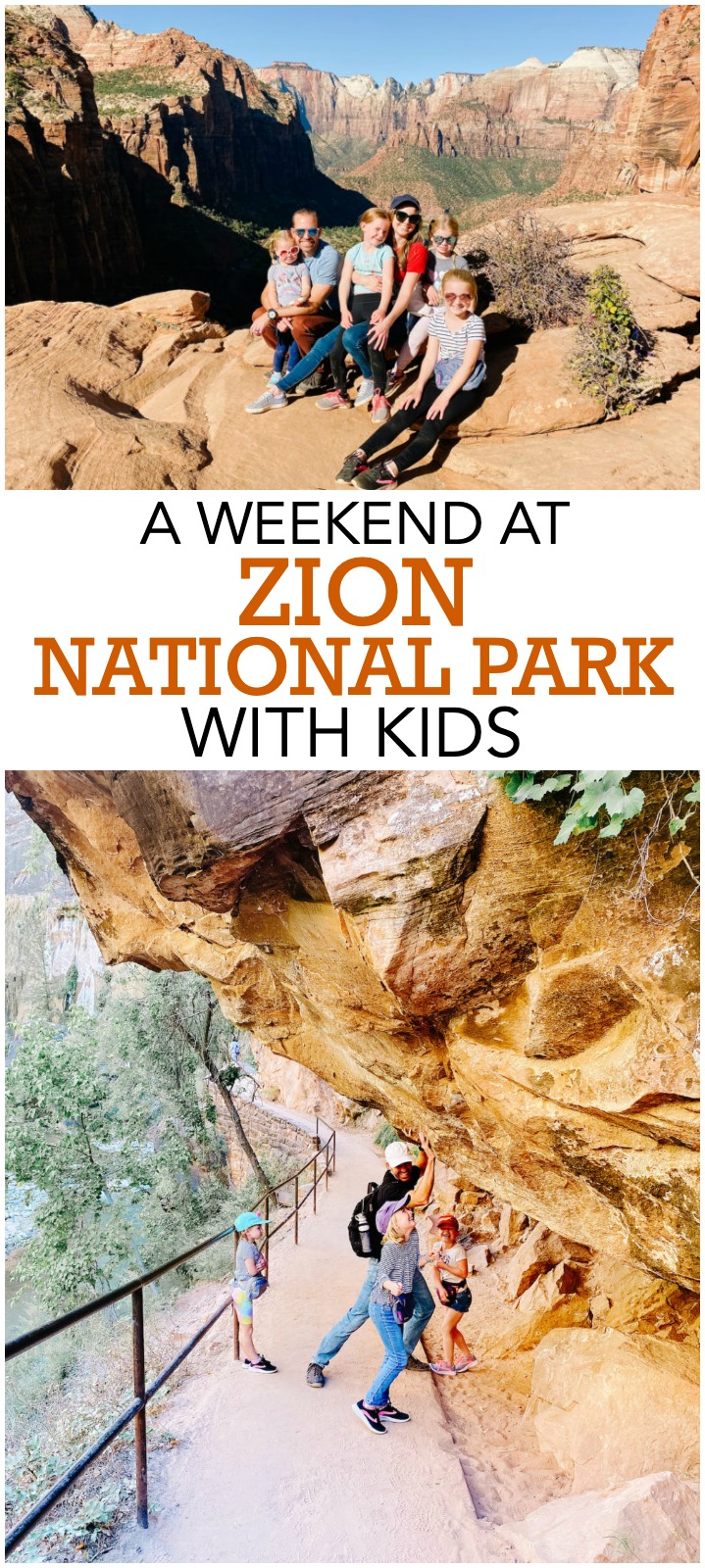 Gear for Zion National Park HIKES
There are some LEGIT hikes in Zion, including the Narrows and Angels Landing. But we were not doing hikes like that with our little crew, so our need for any sort of special gear was basically non-existent.
We all wore regular tennis shoes and clothing (I wore jeans on all the hikes and my girls wore jeans, leggings, or shorts).
Bart brought his backpack along with water bottles and each of the girls has a little fanny pack that they carried snacks in (and then, naturally, I ended up wearing multiple of those fanny packs on some hikes). We took along G2G bars, beef jerky, applesauce pouches, string cheese, dried fruit, goldfish crackers, and nuts. We didn't do any hikes that actually required us to have snacks, but snacks at the top of the trail are very incentivizing to little legs.
Southern Utah is also HOT and sunny, so we had plenty of sunscreen, plus hats and sunglasses for everyone.
zion national park shuttle
A word about the shuttle system for Zion National Park.
In a typical year, the shuttles run from mid-February through Thanksgiving, and then through the Christmas–New Year's holidays and are free.
Right now, thanks to COVID, they've implemented a ticketing system to keep the shuttles from being too busy (usually the shuttle buses hold around 100+ people. Currently, they max out at 33).
Tickets are $1 per person and for a certain hour-long time slot.
They release shuttle tickets in two batches. The first batch is released at the beginning and middle of the previous month (e.g. tickets for November 1-15 are released on October 16th and tickets for November 16-30 are released October 31st). Naturally, I wasn't planning nearly far enough ahead to make this happen, so we were at the mercy of the second group of tickets which are released at 9 am MT on the day before (e.g., tickets for November 4th are released at 9 am on November 3rd).
You'll want to create a free account beforehand so that when they open at 9 a.m., you can grab them without delay. We tried for tickets for two of the days we were there and successfully got them both times, but they are gone LITERALLY within 2-3 minutes, so set an alarm to make sure you don't miss them.
The majority of hikes in Zion National Park are accessible via the shuttle system which means that if you DON'T have tickets, you'll either have to hike or bike in several miles along the main road to get to the first hikes, hire a private shuttle (around $20-40 per person), or hike a few of the non-shuttle hikes.
(Also, make sure you have your ID with you when you board the shuttle. They didn't check them on Friday but on Sunday, they were apparently having issues with people buying the tickets and selling them for $20 each, so they wanted to verify that the name on your ticket was actually you. I'd left my wallet in the car, but they let us get through with Bart's ID since we have the same last name).
And you'll need to wear a mask in line and on the shuttle (they had a huge box of them if you'd forgotten yours).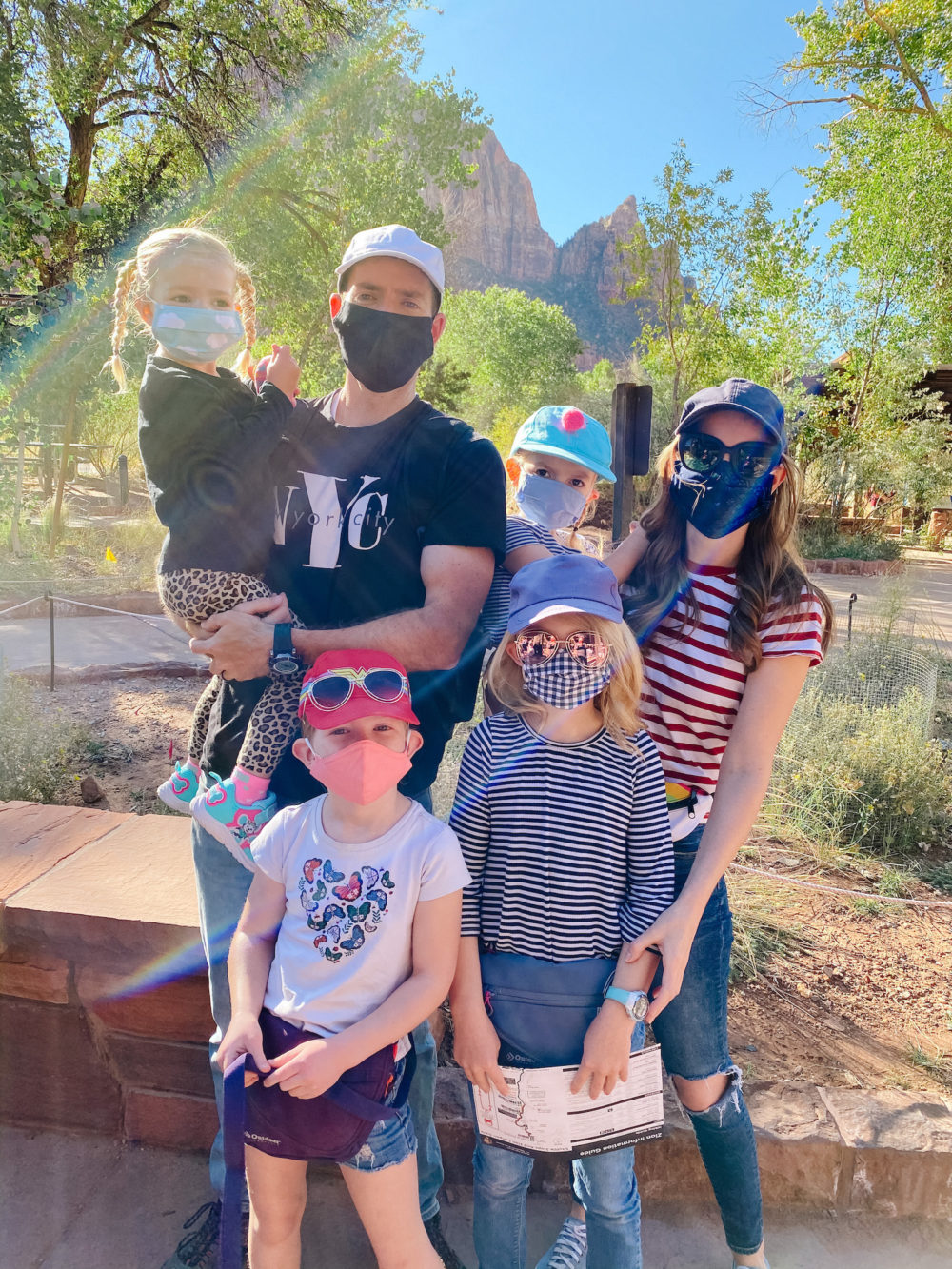 Did I know any of this until the night before we left? No I did not.
Our Zion National Park Itinerary
Thursday
I got online a few minutes before 9 a.m. to grab shuttle tickets for the following day and was, happily, successful in snagging six of them for the 10 a.m. – 11 a.m. slot.
We left Provo around 11 a.m. and stopped in Cedar City to stock up on food for the weekend.
We arrived in Springdale and checked into our hotel around 4:30 p.m.
We unloaded our groceries and got straight into our swimsuits and went for a swim. The pool is heated, but it was still too chilly for Bart or me to want to be in for long and we mostly hung out in the hot tub, while the girls popped between the two.
We ordered dinner from Thai Sapa across the street from our hotel, which Bart picked up and brought back for us to eat at the hotel.
We watched a byuTV show as a family for about 30 minutes and then put everyone to bed.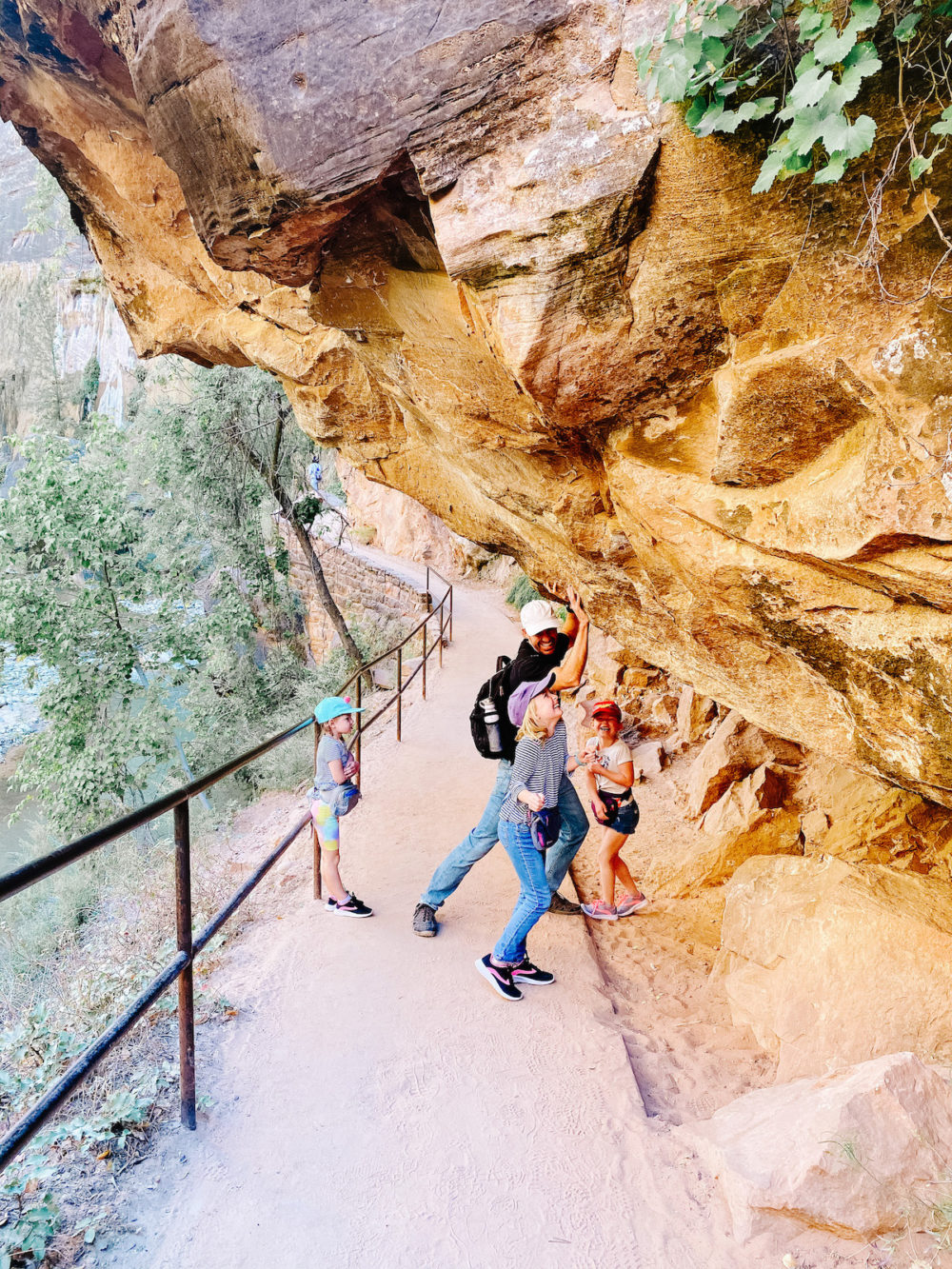 FRIDAY
We got up around 7:30 a.m. and had breakfast, cleaned up the beds in the living room, got everyone dressed and ready, and packed snacks and water bottles for everyone.
We headed out to catch the 10:00 a.m. shuttle. We weren't very clear on where Shuttle Stop 1 was, but after a few questions, we were pointed in the right direction. We bought our 7 day pass for $35 that let us go in and out of the park either on foot or by car as much as we'd like, and got our tickets scanned at the shuttle stop (the connectivity in the park is extremely dicey, so they recommend you download your tickets or screenshot the QR code before you go in if you're using digital tickets instead of printed ones).
We took the shuttle all the way to shuttle stop 9 at the Temple of Sinawava and did the Riverside Walk trail which is about 2.2 miles roundtrip and a very smooth, easy path. It runs along the river and goes to where the Narrows begin, so you see lots of people heading out to hike the Narrows or heading back after hiking it. The views are stunning. Because it was fairly early, the whole trail was in the shade and the little girls were FREEZING. As we got near the end, we went down by the river into the sun and ate snacks and warmed up there before finishing up the trail. By the time we got back on the trail, everyone was sufficiently warmed up and no one had any trouble on the way back down.
We took the shuttle back to the Visitors Center and had lunch at our hotel.
Bart took the two big girls on a one-hour horseback ride (this is the only horseback riding company that is allowed to do riding inside the park). I stayed back with the little girls and they watched a movie while I did some work. When the movie was done, Tally had dozed off, so Star and I played some Cover Your Assets until the rest of the family got home.
We woke Tally up and headed back out to the pool for a swim and then came back and ate dinner in our condo.
We watched about half of Zootopia as a family and then put the girls to bed.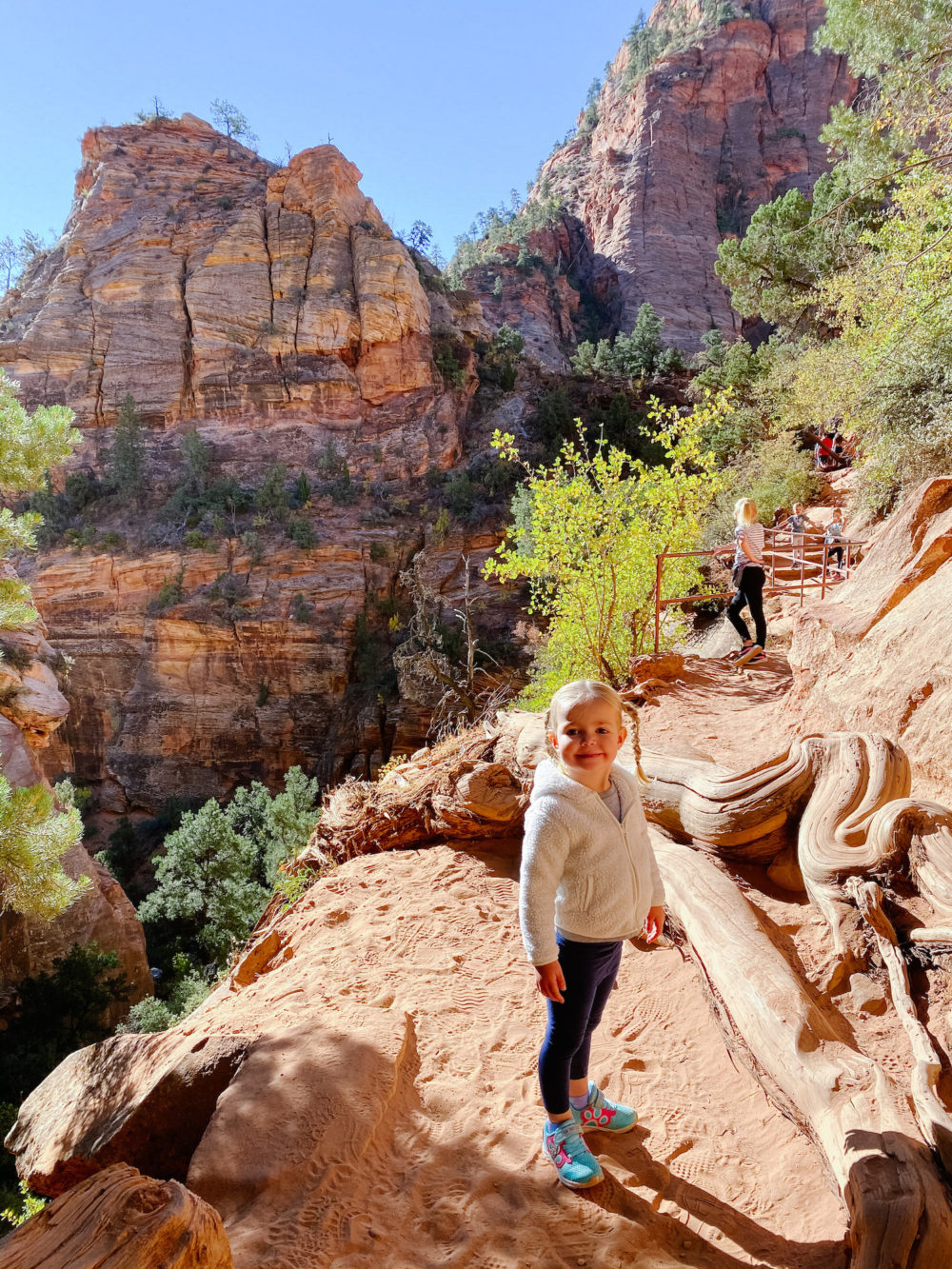 Saturday
We got up around 7:30 a.m. and got ready for the day. We hadn't tried for shuttle tickets this day because my parents were meeting up with us and we weren't sure what the timing would be. I DID hop on at 9 a.m. and grab shuttle tickets for Sunday at 11 a.m. I went over to Zion Outfitters to see if they had bikes available to rent (it's right at the entrance to the park and a 2 minute walk from the hotel, so that was very convenient. During COVID, they aren't taking reservations – it's just first come, first serve). All the bikes were gone, but they said that half-day rentals should start coming in around 12:30 or 1:00. We decided we'd do Canyon Overlook in the morning and try for bikes in the afternoon when my parents arrived.
We entered Zion National Park through the South Entrance and drove through the Zion-Mount Carmel tunnel. We parked along the side of the road and hiked Canyon Overlook, which was by FAR the most popular hike with my girls. It had spectacular views, lots of clambering up rocks and stairs and stone steps and bridges and basically it felt custom-made for my children – instead of complaining like happens on some hikes, they kept thanking us for taking them on this hike. It's not long – only one mile round trip – but feels a little longer than that because it's not a paved path and has some good elevation gain. We spent about 30 minutes at the top, taking in the views, snapping photos, and eating snacks. This hike is almost all in the sun, so even at 10:00, it was plenty warm.
We drove back to the hotel and I went back to the bike rental place to see how it was looking. So far, only one adult bike available. Bart had some work to get done, so the girls and I changed into our suits and went for a swim. Then we came back to our condo and had lunch just as my parents arrived.
While we finished lunch, my parents went to the bike rental place and successfully rented four adult bikes, two kid bikes, and a double bike trailer.
We loaded up and biked the Pa'rus Trail which starts right near the entrance and doesn't require the shuttle to access. It's also all paved, so it's perfect for riding (it's a 3.3 mile round-trip ride). We stopped on the way back near a small dam and climbed around by the waterfall and skipped rocks.
We returned our bikes and my parents headed out and we finished watching Zootopia.
I took the girls for another swim before dinner while Bart grilled hamburgers. We took them back to our condo and had dinner there, then the girls and I headed to Springdale Candy Company where they got milkshakes and ice cream cones which they ate at the outdoor tables. We got home, got everyone ready for bed and I read aloud to the girls.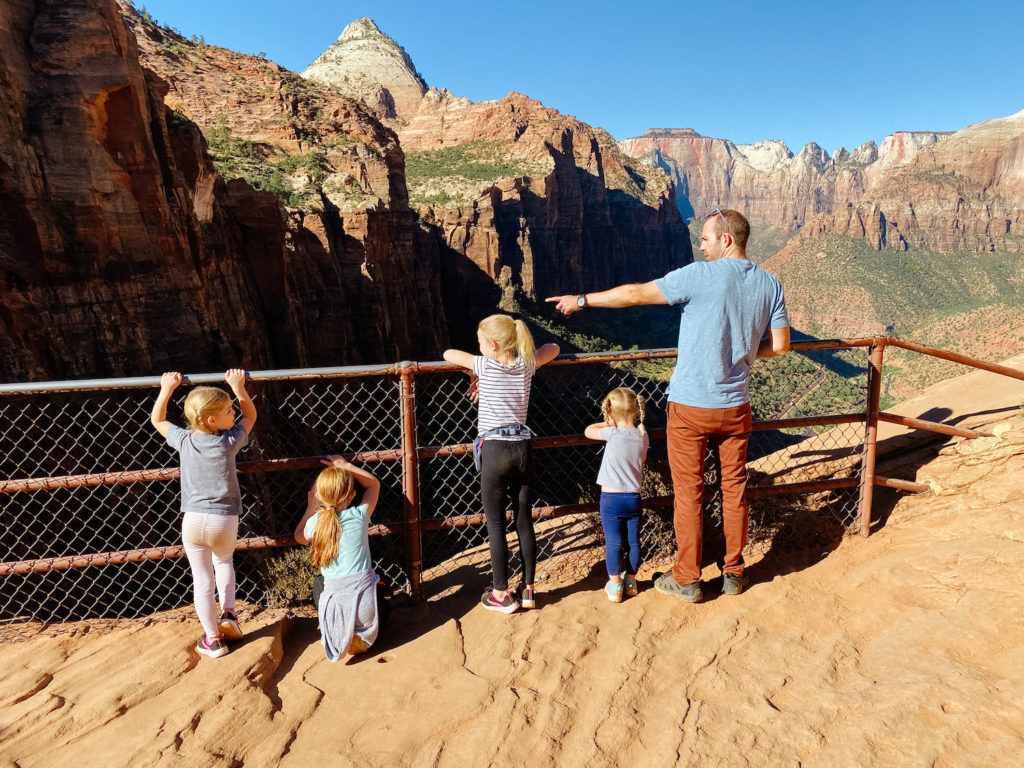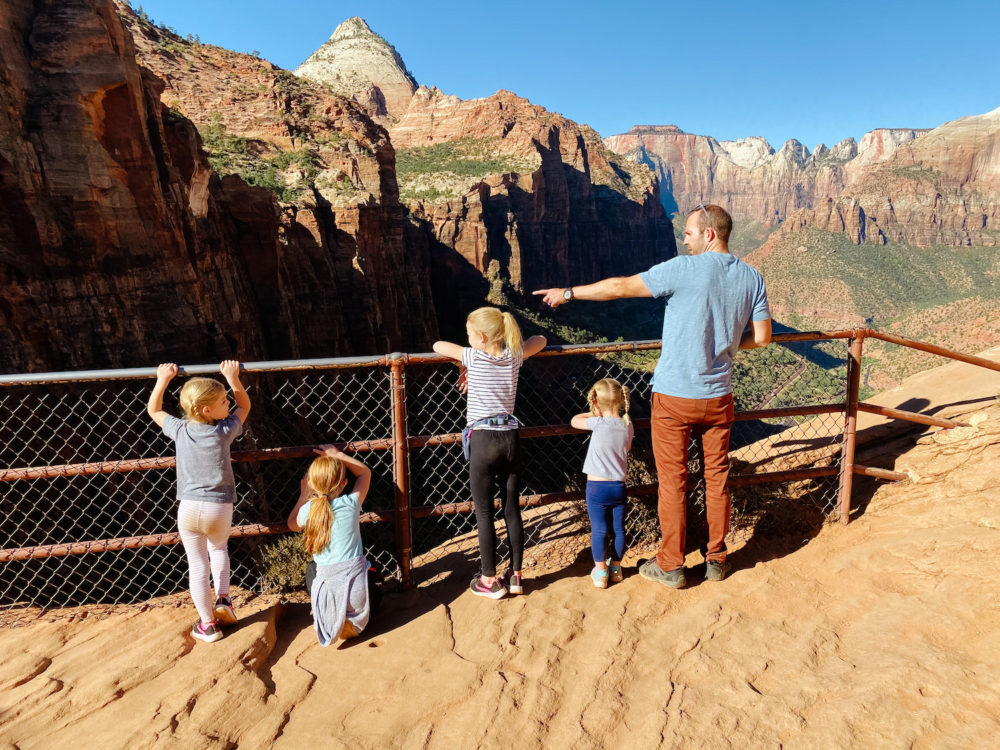 Sunday
We had breakfast and packed all our belongings and food up, loaded up the car, and had a quick family church before checking out.
We caught the 11:00 a.m. shuttle which had ZERO line (we'd waited in line about 30-40 minutes on Friday to board the shuttle) and took it to Zion Lodge so we could hike the Emerald Pools trail. (The maps had said the lower trail was closed, but we'd heard from some families at the pool that this was no longer true).
This trail was mostly in the shade, which was good because it was a pretty warm day. We hiked the Lower Emerald Pools trail (about a 1.2 mile hike round-trip) and then took the stairs up to the Middle Emerald Pool and had some snacks before hiking back down.
We took the shuttle back to the Visitors Center, headed to our car at the hotel parking lot and drove home in time for dinner and bedtime.
It was such a great trip and I can't wait to go back. Any questions about visiting Zion National Park? Happy to answer any questions!
If you liked this post about our trip to Zion National Park, you might like these posts too: