We went to a little Halloween party on Saturday evening which gave us an excellent excuse to stuff Ella into her costume early.
I was planning to make her a costume, but then I was at Old Navy and this costume was $4.67 and. . . I just bought it. I do not regret this in the slightest.
Also, when I've tried it on her before, she won't keep the hood or mitts on for very long, but it was quite chilly on Saturday night and she wore it for nearly two hours without complaint (and Landen took all the pictures; I am very grateful).
The house next to the one we were at had two dogs, which meant Ella spent the entire night calling out for us to take her over to look over or through the fence.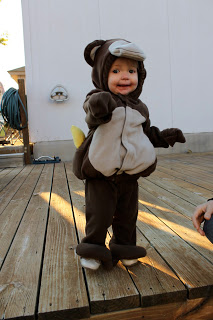 "Da? Da?"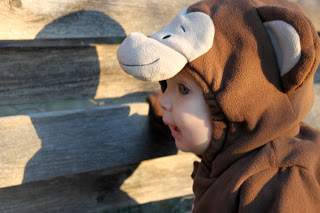 Finally where she can see the dogs
With Adam, who is one of Ella's favorite people in the entire world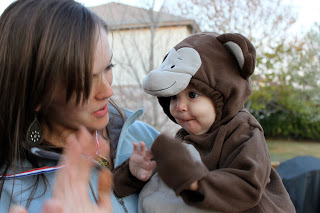 This little facial expression kills me
Halloween as an adult with a child is SO much better than being an adult without a child because I get harassed about not dressing up much less. And really, that is a Halloween blessing.