Yippee! This is one of my favorite posts of the year.
I love collecting really awesome gifts that don't break the bank, but don't look like you went shopping at the dollar store either (not that I'm saying anything bad about the dollar store – it's my favorite place to buy Ella puzzles to do doing quiet time).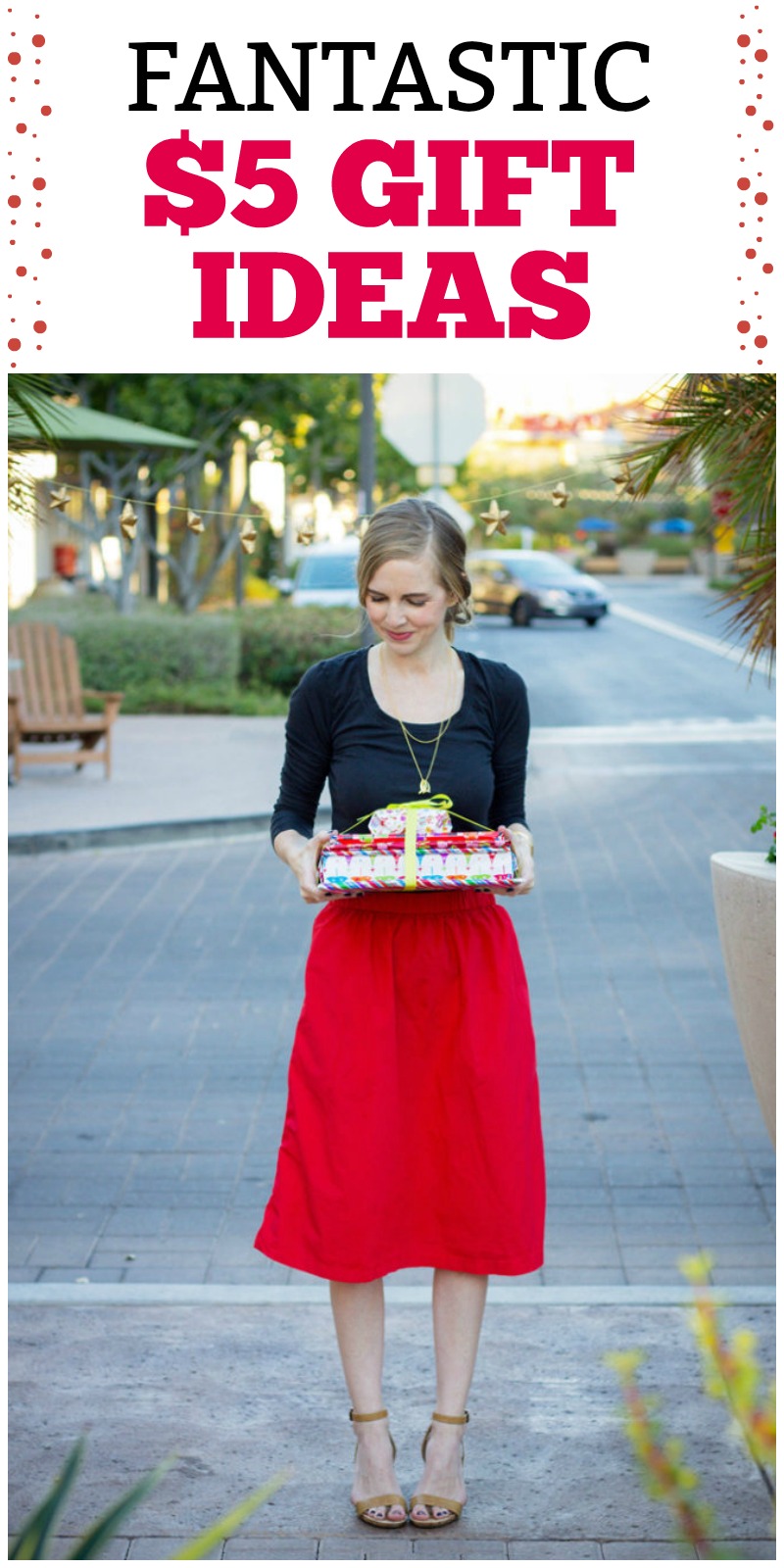 Here are twenty gifts under 5 dollars for adults and kids this year (if you need more ideas, check out the 2013, 2012, and 2011 guides too. I looked back at them last week and it was quite tempting to pat myself on the back because there are some seriously good 5 dollar gifts on those old guides too):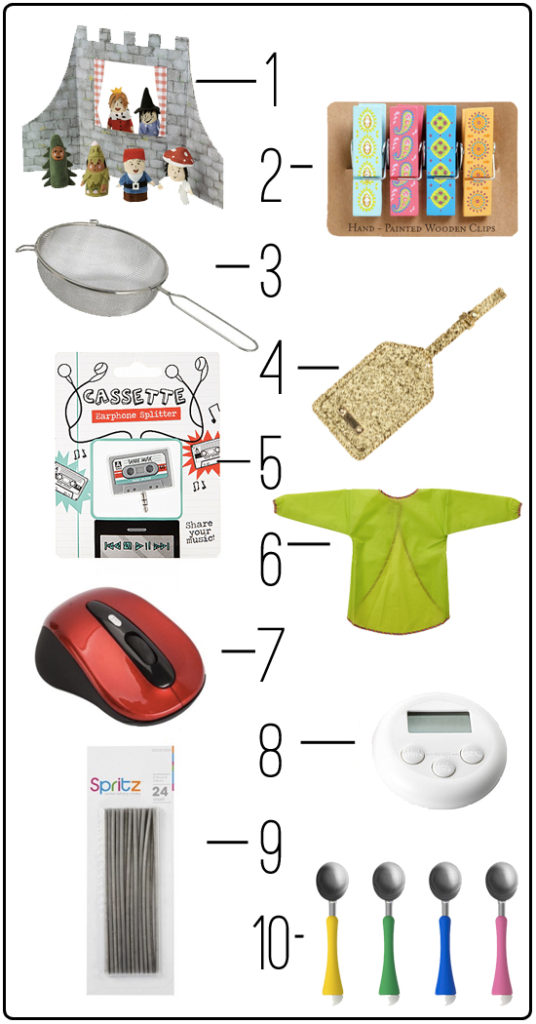 gifts under 5 dollars for adults and kids
1. Finger Puppets and Theater ($5.99) – When we lived in Texas, my sister Landen made some little finger puppets with Ella and she still talks about them more than a year later. I love this cute little set with the stage to go along with it.
2. Colored Wood Clips ($9.99 for 300) – I like these kinds of clips way better than paperclips, and they're just a fun addition to any desk and are easy to split up for gifts. If you're feeling extra kind, clip them to a cute notepad or set of cards.
3. Strainer ($4.99) – I use mine ALL the time and often wish that I had two.
4. Luggage Tag ($4.95) – If you travel a lot, this is a fun way to spice up your luggage. And make it easier to spot at baggage claim.
5. Headphone Splitter ($4.80) – We have a splitter that we use all the time when we're traveling, but it's not nearly this fun looking.
6. Children's Long-Sleeve Apron ($4.99) – Lunch time or craft time, this thing is a life saver for your messy toddler.
7. Wireless Laptop Mouse ($8.99) – For those of us who hate working on a trackpad, this little mouse is perfect for stuffing in your laptop bag.
8. Digital Timer ($7.99) – This flat has no timers and I'm constantly missing having one. This one comes in three different colors and has a magnetic back.
9. Sparkler Candles ($4.79) – We bought these for Ella's birthday cake this summer and at first I thought they were totally lame (they just kind of burn for ten seconds or so) but once they started sparking, they were fantastic.
10. Ice Cream Scoop ($3.99) – You can never own enough ice cream scoops. Also, trying to scoop ice cream with a regular spoon just means you end up with bent spoons (yes, every rental house we've been in for the last six months has had wimpy spoons).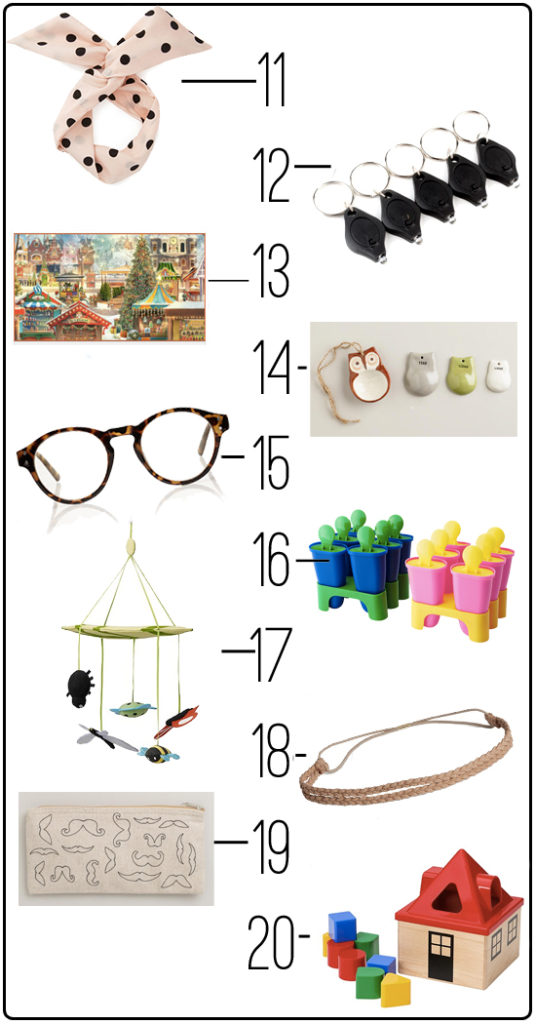 11. Ribbon Hair Tie (2 for $5.46) – These would make the perfect little stocking stuffer and they really add such a cute touch to a basic ponytail.
12. Mini LED Flashlight Keychain ($8.99 for 3) – They're so cheap, you can get one for everyone's stocking (or two for everyone's stocking if you don't have ten children).
13. Digital Christmas Market Advent Calendar ($5.00) – Every year, Bart's parents send us this digital advent calendar and every year it's a highlight for me. It's so cute and sweet.
14. Copper Measuring Spoons ($4.99) – You can never have too many measuring spoons and you can REALLY never too many cute measuring spoons.
15. Tortoiseshell Eyeglasses ($7.98) – I frankly don't get the appeal of fake glasses, having gotten my first real pair some two decades ago, but if you've harbored a lifelong dream of wearing glasses, here's your chance to wear some.
16. Popsicle Molds ($2.49) – Great for summer popsicles or rescuing the last bits of smoothie.
17. Mobile ($4.95) – How could you not want to hang this up immediately?
18. Braided Headband ($3.95) – My creativity with my hair is limited, so this is the perfect solution for me.
19. Canvas Pencil Case ($4.48) – I can't get enough of pencil cases – they're just so dang useful.
20. Shape Sorter ($7.99) – My girls both love playing with this every time we go to IKEA (which we basically treat as our personal play room when we live near one).
If you have other ideas for gifts under 5 dollars for adults and kids, you know I want to hear them. Or check out my other $5 gift guides for even more ideas.
If you liked this post of gifts under 5 dollars for adults and kids, you might also like these posts: