We have dinner together as a family pretty much every single night.
Both Bart and I grew up in families that highly prioritized family dinner (in fact, when I was in high school and worked lots of evenings at Cold Stone Creamery, my mom would OFTEN bring me over hot dinner on a plate so I could when I had 5 minutes to spare – also, my mom BELIEVES in real dishes, so it was always brought on an actual dinner plate, never a paper plate).
So having family dinner as part of our routine has seemed normal to us from the earliest days of our marriage.
But even so, sometimes you just do. not. want to make dinner.
And even doing take-out will take longer than throwing together something quick (not to mention cost you at least $20 and usually more like $40).
So I have a list of quick dinner ideas that I turn to when whatever is on the menu just sounds like WAY too much work and I want something I can toss together that everyone will eat.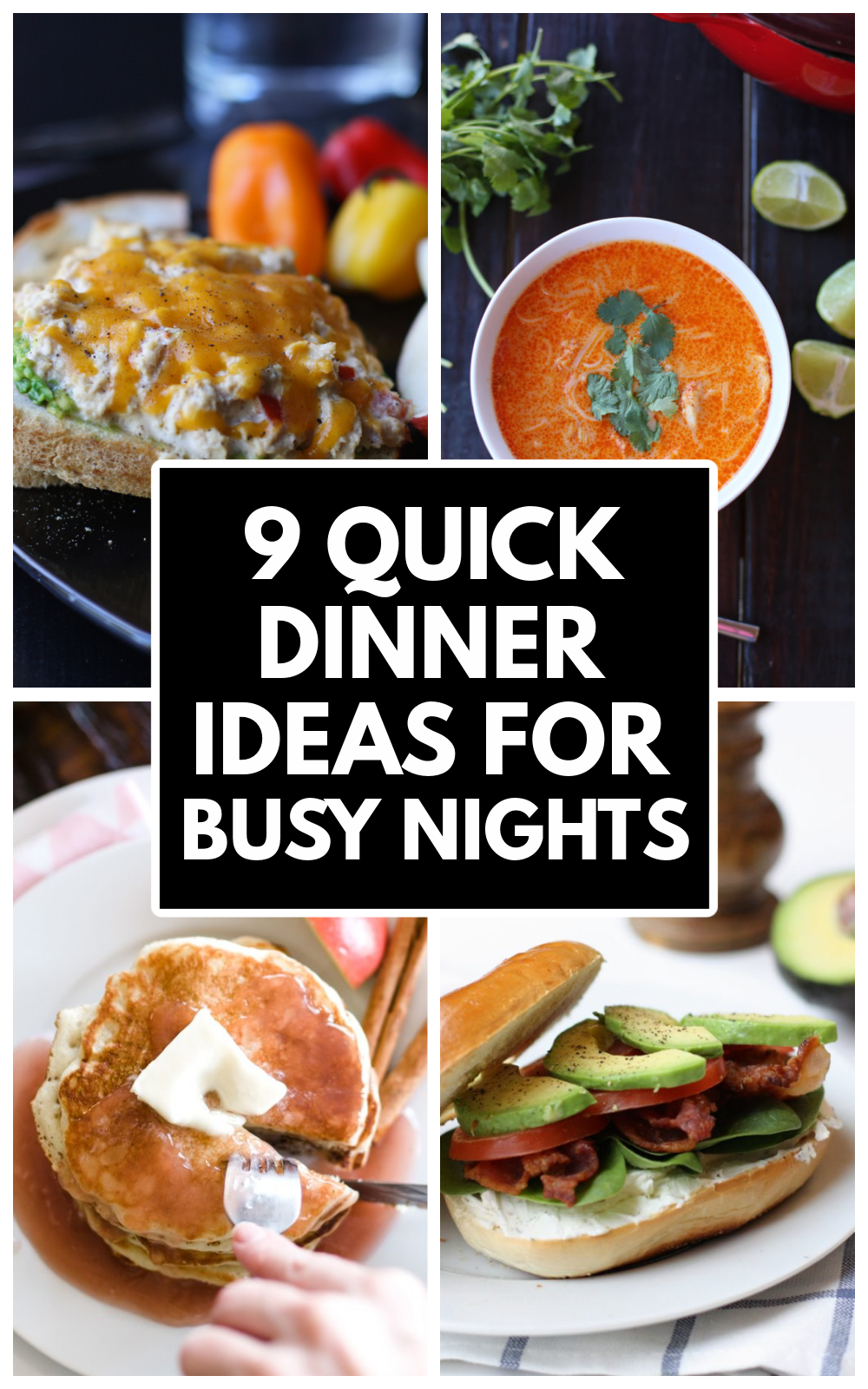 9 Quick Dinner Ideas for Busy Nights
15-minute Thai Noodle Soup
This is absolutely my GO-TO quick dinner recipe. It truly takes only 15 minutes, it's so good, and every person in my house will eat it. I usually serve it was a side of naan bread and everyone finishes dinner happy.
Pancakes
I know that, in some households, pancakes are not considered a real dinner. Happily, my household is not one of them and everyone will happily scarf down pancakes for dinner. Also, these are the best pancakes on the planet.
Tuna Melts
Tuna melts are a go-to in our house. Bonus points if you have some good sourdough bread to make them with.
Potstickers
Trader Joe's is my favorite place to buy these (they're $2.99 for a good-sized bag) and we are all fans. It is absolutely vital that we have sweet chili sauce to dip them in.
Scrambled eggs, toast and smoothie
I mean, we aren't talking fancy here. But it's hard to go wrong with some cheesy scrambled eggs, some buttery toast and a good strawberry banana smoothie.
Curry Sauce with chicken and Rice
I always buy a few of these curry sauce pouches in my Thrive Market order and when I need a quick dinner, I chop up some chicken, toss it in a sauce pan with the contents of two of these pouches and then serve over rice. So quick and easy and really really good.
BLT Bagels with avocado
I LOVE sandwiches for dinner and putting it on a bagel makes it feel extra fancy.
Chicken tacos
These are so basic, but the number one quick dinner my girls ask for. I always make the tortillas you cook yourself and bake some chicken while I cook those. Add some shredded cheese, chopped lettuce, salsa and sour cream, and you're good to go.
Egg McMuffins
When I was a junior in high school, I made myself an Egg McMuffin virtually every single morning to take to school with me (which is kind of hilarious because I didn't even really LIKE eggs until I was about 25). Now they're a staple at our house and I make them often.
What are your favorite quick dinner ideas? I'd love to hear!
If you liked this list of quick dinner ideas, you might like these posts too: