In the last year or so, after a life time of being a very poor gift giver, I decided I wanted to be at least one step better about giving gifts.
But I obviously don't want to just be giving gifts that take up a bunch of space, and I've come to really love consumable gifts that you can use up instead of having to find a permanent home for.
One of my goals this past year has been to use up things instead of saving them for an unknown "special" date. And it's been so gratifying to use up and enjoy nice skincare samples, my favorite nail polishes, special chocolates, or pretty notepads.
In December, when all of this was on my mind, I asked on InstaStories about favorite consumable gifts to give or receive and I got so many good ideas that I thought now would be a great time to share them all.
Whether you're looking for Valentine's Day ideas, birthday or teacher gifts, or just a nice thing to brighten up a friend's day, any of these forty consumable gifts is likely to be well-loved.
I also would appreciate a note telling me not to hoard the gift, but to use it up and enjoy it soon. But maybe that's just me and my hoarder tendencies.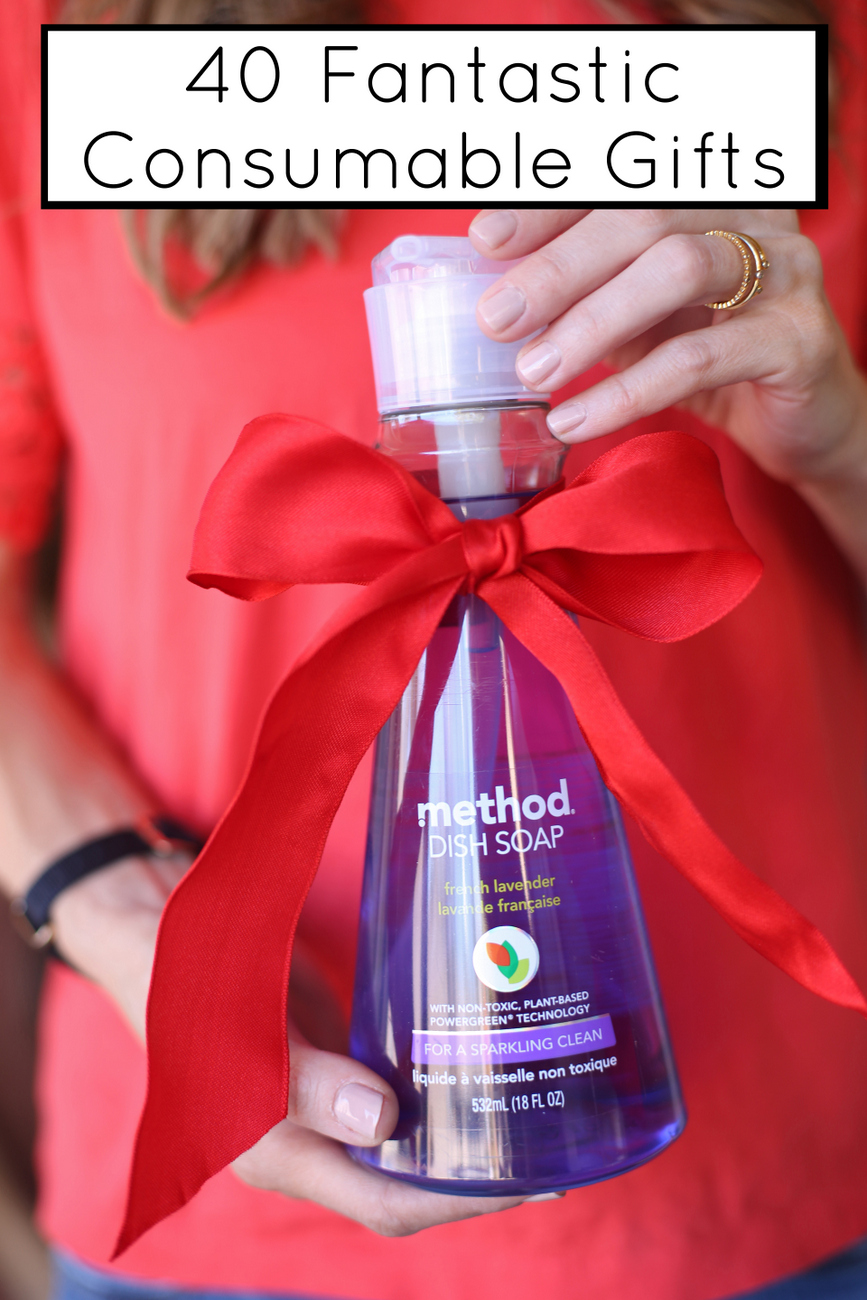 consumable gifts
Wrapping paper. I love pretty wrapping paper and there's nothing quite as satisfying as a beautifully wrapped gift. Maybe I'm just getting into gift-giving for the wrapping? I'll never tell.
Books. Well, duh. Some of my favorite gift books to give are The Curated Closet or Scandinavian Gatherings. 
Car Wash Certificates. I love getting my car washed. It just feels so nice to have a clean car.
Notebooks or Notepads. Basically, there is no such thing as too many notebooks (I'm sitting at my desk right now with three notebooks next to me. Plus a notepad).
Diary. I am a particular fan of the 52 Lists for Happiness journal or this gorgeous edition of the popular Line a Day journal.
Personalized Cards. Why is it so fun to have stationary with your name on it? You can order a bazillion styles here with anyone's name. My mom LOVES this gift (I actually think this InstaStories recommendation was from her).
Movie Theater Gift cards. We got four of these last year, and it feels so luxurious to go to a movie and NOT HAVE TO PAY. If you want to go all out, add a gift certificate for some popcorn or drinks too.
Candles. I've really drunk the candle koolaid this year and having one burning in my office while I work or in the kitchen while I do dishes just makes my life feel a little more luxe. And many people also recommended the wildly popular Volcano Candle from Anthropologie (it comes in a mini version that's much more affordable!) or the Wilderess candles (which I'd never heard of).
Special Face Mask. I am admittedly a face mask novice. So if you have any recommendations, I'd love to hear them!
Diapers. As a mom, basically someone showing up with a big pack of Pampers diapers and wipes is like my idea of heaven.
Craft kits for kids. This is a gift for my children AND a gift for me because it keeps them entertained all afternoon.
Toilet Paper or Paper Towels. Glamorous? No. Useful and appreciated? Absolutely. Just don't get the cheapest ones available. Nobody wants single-ply.
Sugar scrub. I'd never used a sugar scrub until this year when I got this one and I finally see why everyone is so nuts about them. My skin has never looked or felt better. And it smells amazing. If you're more of a DIYer, this chocolate sugar scrub recipe looks amazing.
Lotion. I've always secretly thought of this as a kind of lame gift, and then my friend Cheryl gave me this really amazing Limoncello scented bottle for my birthday and I just finished it off and I loved it every day.
Washi Tape. I have to hide this from my girls or they use it all, but I love it for wrapping a gift or hanging something pretty on my wall.
Lip Balm. There are a million options out there, but Bart just gave me a sample of this Kiehl's Lip Balm #1 that he got at some work event and I'm a complete convert. It's not greasy, it doesn't give you those horrible white lines around your lips, and it makes all my lipsticks or lip colors go on so smoothly. Now I see why it has 700+ five star reviews.
Tissue Pocket packs. Who doesn't need these in the winter? Or. . .all year long.
Nail Polish. I love a new nail polish and I especially love the Essie Couture line. Sally Hansen's are also really good if you're looking for something for just a few dollars.
Cuticle Oil. My hands get so dry in the winter, but it literally never occurred to me to get cuticle oil until someone recommended it on InstaStories.
Argon Oil. I love this oil for my hair, especially when it's cold or dry. So basically all the time.
A fun drink. I'm pretty much a water drinker, but sometimes a bottle of some fun drink (I love all of the Trader Joe's sparkling juices) is just the prettiest and nicest little gift.
Dry Shampoo. I am a dry shampoo convert and I use it almost every day. My hair doesn't get very oily at all (even after a week of not washing it), but it helps like crazy with the flatness of my hair.
Nice Pens. I admit I know pretty much nothing about nice pens, but I love those blue Bic pens and have tried to avoid using anything else for the past ten years. Although this year, I discovered the Project Life journaling pens and they are like a dream.
Paper goods. How useful is it to have some pretty paper plates or cups for a party or just a quick picnic?
Gum. I personally am not a gum chewer (even thinking about it makes my jaws ache), but most people LOVE having a few extra packs.
Pencil Grip Kwik Stix Solid Tempera Paint. I'd never heard of these paint sticks, but. . . holy cow, they look awesome. This is what I'm getting my girls for Valentine's Day.
Bath Bombs. This is the other thing I'm getting for my girls for Valentine's Day. They love baths and I think they'd get a huge kick out of this.
Hand Soap. One of the people who recommended this on InstaStories said, "I just visited two friends' homes and used the bathroom, only to discover they had empty soap dispensers!" I love the pretty shape and great smells of the Method hand soap.
Theater tickets. Live theater is one of my favorite things and my parents gave us gift certificates to go see a show later this year. Simple and fun and something to look forward to!
Bubble Bath. I LOVE the Tubby Todd bubble bath – my girls use it and it smells amazing.
Dish Soap. I've always bought the cheapest dish soap and then every time we take pictures in my kitchen, I have to hide the hideous bottle of neon-blue soap that lives on my counter. For Christmas, Bart bought me three bottles of Method dish soap and it makes me happy every single time I use it.
Mascara. I always use my mascara about four times longer than they recommend because I never remember to buy a new tube. This $7 mascara is my current favorite – it's just so darn good!
Downy Unstoppables. Have you used these? You just pour a little bit in with your laundry and it makes all your laundry smell like heaven.
Refrigerator Notepads. These are just so useful, aren't they? My mom gave me one almost every year in my stocking for several years and they always got used up.
Paperwhite Bulbs or Amaryllis. Fresh flowers that you grew yourself? Sign me up. Everyone promises they are really very very easy.
Wax Melts. Does Scentsy still even exist? We have one of their burners from years ago, and I still love using it in my bathroom downstairs. Getting a new scent for a few dollars is a fun little boost.
State Park Gift Certificates. If you live near-ish a state park or travel to them, this is such a fun gift idea!
Fun cooking ingredients. I got a bacon-smoked salt a few years ago with a recipe for potato salad and it was so delightful to make a regular dish into this much cooler version.
Counter Spray. A couple of years ago, my mom gave all her friends counter spray for Christmas and it was a massive hit. And
Big Sexy Powder. This is one of my favorite hair products. I've been using the same tiny bottle since. . .2014 and it's still going strong (is it magic?).
And if you have other ideas, I'd love to hear them!
If you liked this post on consumable gifts, you might also like these posts: