The best places to buy affordable gold stud earrings, all from places with free shipping and free returns!
We'd had a hand-me-down one for Ella for a couple of years and she LOVED that thing. I figured Ani would enjoy having her own and it would also reduce the fighting over it.
I wanted it to be a five-minute task, but then every stroller I looked at had at least a review or two that said "This was cheap and poorly made!" or "I bought this for my granddaughter and it lasted less than a month."
Half an hour and one headache later, I shut down the Amazon window without buying anything. The next day, I stopped in at Target and bought the single doll stroller they had in the toy aisle. I didn't read any reviews and it's held up great for the last nine months (and the girls play with them ALLLLL the time. Definitely worth the $10).
I just sometimes get overwhelmed by all the reviews online.
On the flip side, when I read a blog post that's something like, "Button Up Shirts under $50," I think "Have you worn any of these? Or did you just do a Google search and grab the 10 cutest ones? Do they fit true to size? Did they hold up in the wash?"
I want to know more than "Here's a cute shirt I found online."
AND, when Bart and I were buying a few new appliances for the house (a fridge and a washer/dryer set and a dishwasher), we got a month-long subscription to Consumer Reports, where we quickly discovered that almost without exception the fridge or washer they recommend was a really expensive one. I could have guessed that the $2200 washing machine would be better than the $700 one.
What I want to know is, if I'm looking to spend between $500 and $1000, what is my best option.
(I guess I should say that one of my best money-saving tricks is that I'm easily overwhelmed by too much information or options and I end up just buying nothing instead because it's too stressful for me).
All of that said, I wanted to start reviewing items here occasionally that I'd actually tried out, that weren't outrageously priced, and that people actually buy reasonably often, from clothes to food products to appliances.
So! Here's the first one, with gold stud earrings. I wear gold studs 99% of the time and have a couple of pairs I really really like and just rotate between them. I like that they give any outfit a tiny boost, but they don't look like I think I'm doing something more glamorous than going to the mail box or picking up milk at Winco.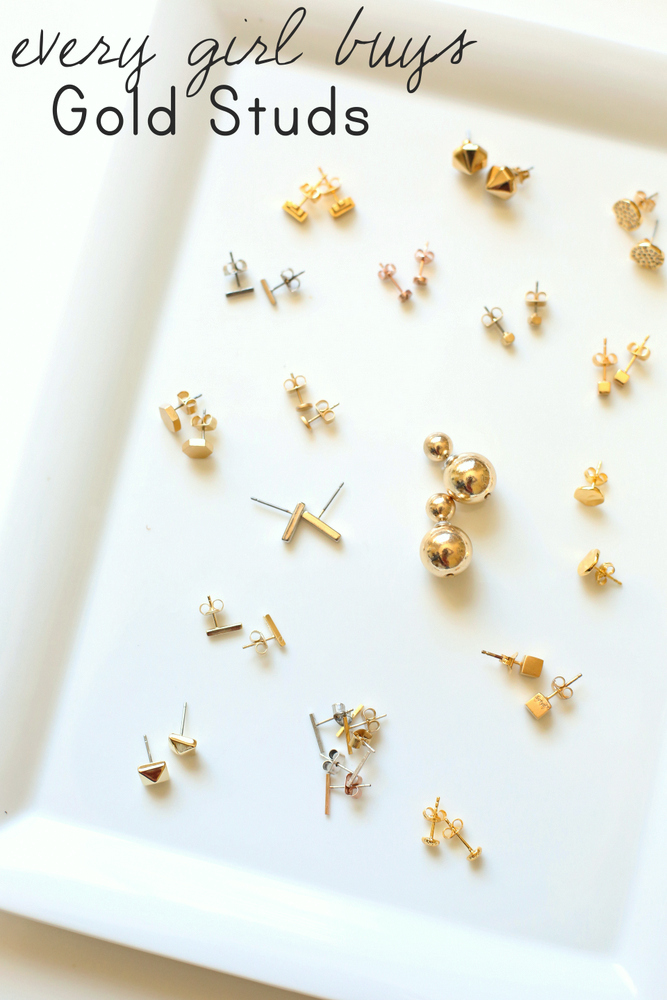 I tried out 18 pairs for this post and while at first I wondered if I'd have anything to say, it turns out I had lots to say (you're probably looking back at the previous ten paragraphs and wondering how I could ever fear this).
All of these earrings are from places with free shipping (with no minimum order – the bane of my existence) and with free return shipping too. And all of them are under $50.
I looked at some from Forever21 or similar places, and although they have some fun pairs of gold stud earrings, the shipping is basically never free, many of them have a zero return policy on jewelry, and because they're made of really cheap materials, lots of people have trouble with them irritating their ears.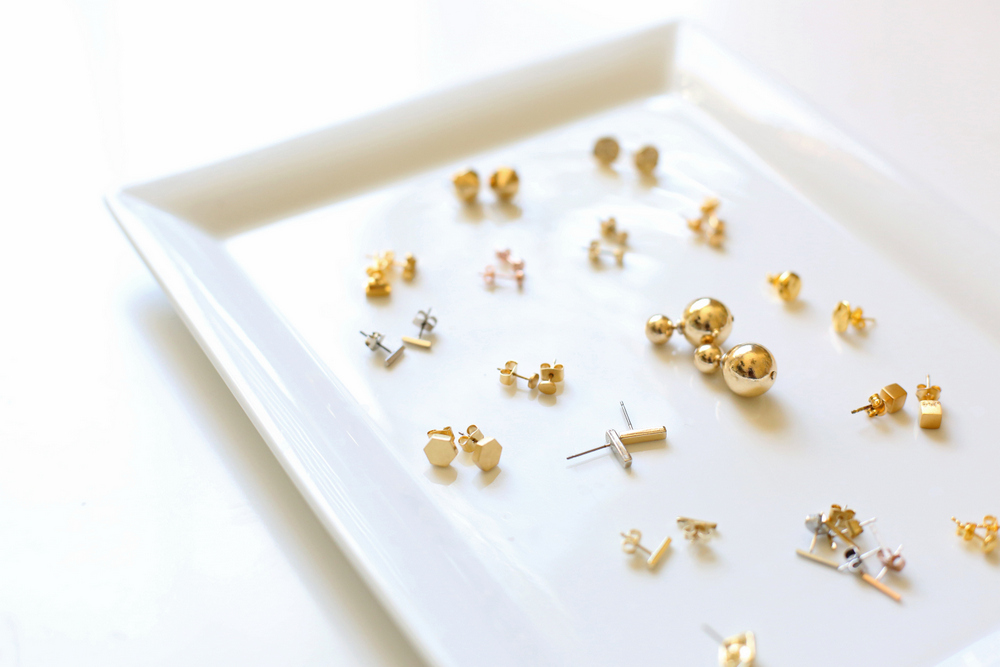 By the way, I always take my earrings out before I go to bed because I sleep on my stomach and the backs feel like they are jabbing into my head, and I don't put them on again until after I've showered and put on my makeup and done my hair. So my earrings tend to hold up really well – I have a pair of 50 cent ones from Claire's nine years ago that I have worn HUNDREDS of times that still look very decent.
Here are my picks and why: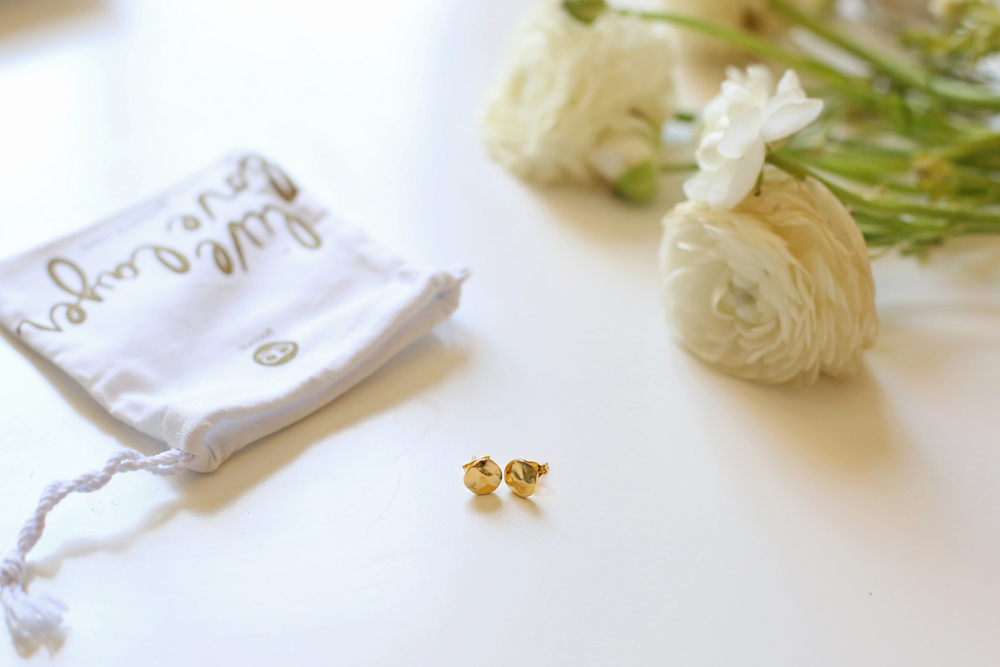 The best affordable Gold Stud Earrings
Overall Winner 
Gorjana Chloe Earrings
$35 from Nordstrom
I'd never heard of Gorjana jewelry before I started using Rocksbox and now I am a huge fan. Every single thing of theirs I've seen is beautiful, well-made, and a perfect mix of classic and trendy. These are the perfect size for gold stud earrings – small but not too small – a nice shiny gold, and the subtle wave makes them more fun than a flat gold pair. If you like something just a little flashier, I also love the Aurora earrings by Gorjana which are very similar, but just a little bigger and have pave diamonds on them.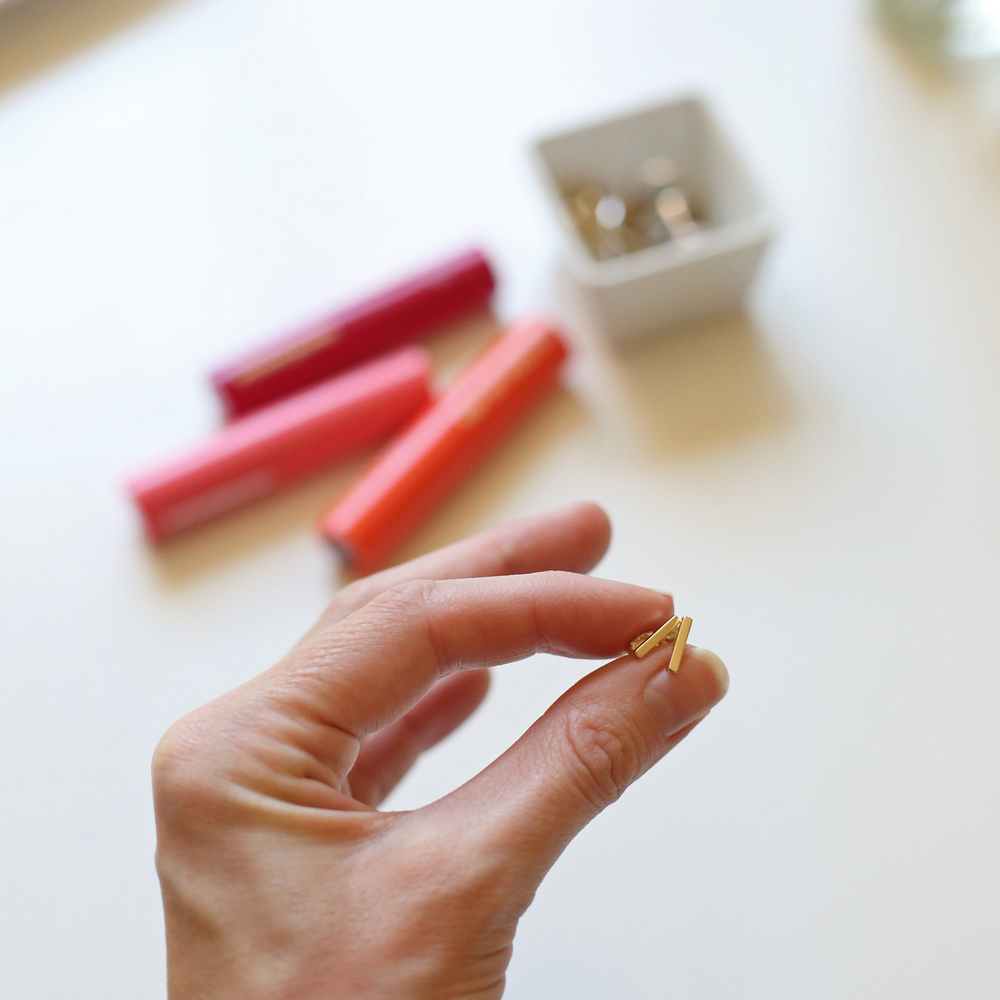 Runner Up
Shashi Bar Earrings
$36 from ShopBop
Seriously this is a very close call. I've loved the staple earring trend ever since Cup of Jo mentioned them in March and then my friend Jessica had a pair soon after that she wore ALL the time.
I finally got a pair of these gold stud earrings this fall and I love how tiny and delicate they are. The Shashi pair is my favorite because they have a nice gold color (the Gorjana Taner Bar are a little less gold – more silvery but in a "the gold plating hasn't lasted" sort of way), although they also come in rose gold and silver.
Nordstrom makes a pair too, which are only $18 and they're pretty nice, but they're also a little chunkier. For some people, that might be a selling point if they want something a bit more visible, but my personal preference is for smaller.
I also tried the mix and match staple stud earrings from Madewell (you get 5 – 2 silver, 2 gold, and a copper/rose gold one – for $32), but they seemed super flimsy to me. I could barely get them off the package without bending the post, so those were an immediate pass for me. My second favorite pair of the staple earrings were the Argento Vivo ones for $38 – they had a little bit sharper/more defined edge than the Shashi ones and a great color.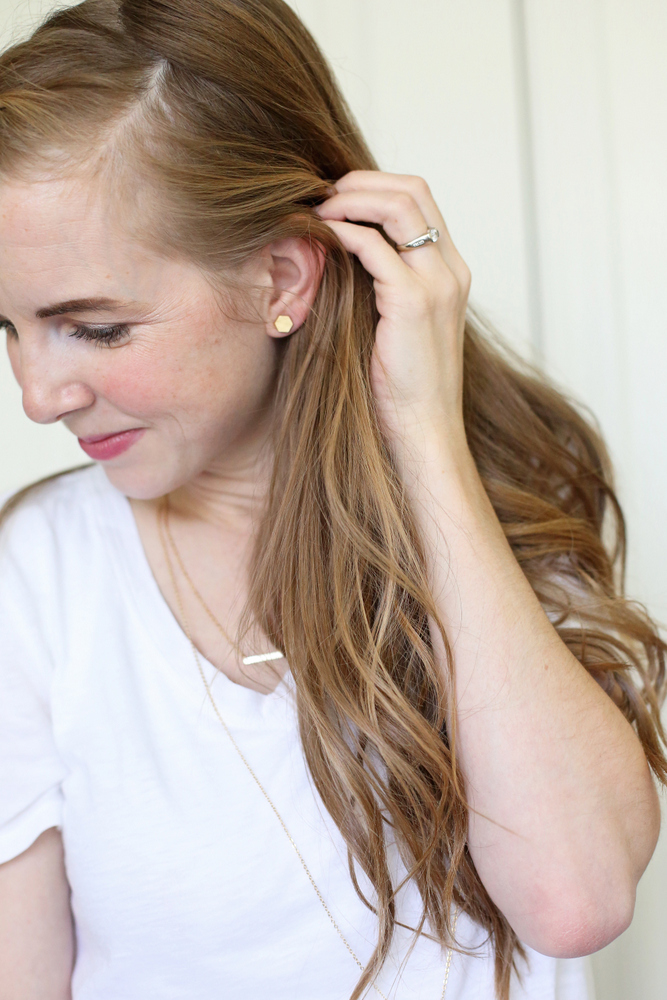 Best under $20
Shape Study Earrings
$18 from Madewell
I really loved these ones – they were a great size and the hexagon shape made them just a little unusual without being over the top. These were a brushed gold instead of a shiny gold, so they aren't as flash either. Unlike the Madewell staple earrings, these were solid (no flimsy posts!) and light to wear. I loved the casual laid-back vibe of these ones. Also, would you believe this is the first item I've ever bought from Madewell? (And if you don't mind going JUST over $20, I loved these teeny hammered gold Gorjana studs for $22; they also come in rose gold and silver).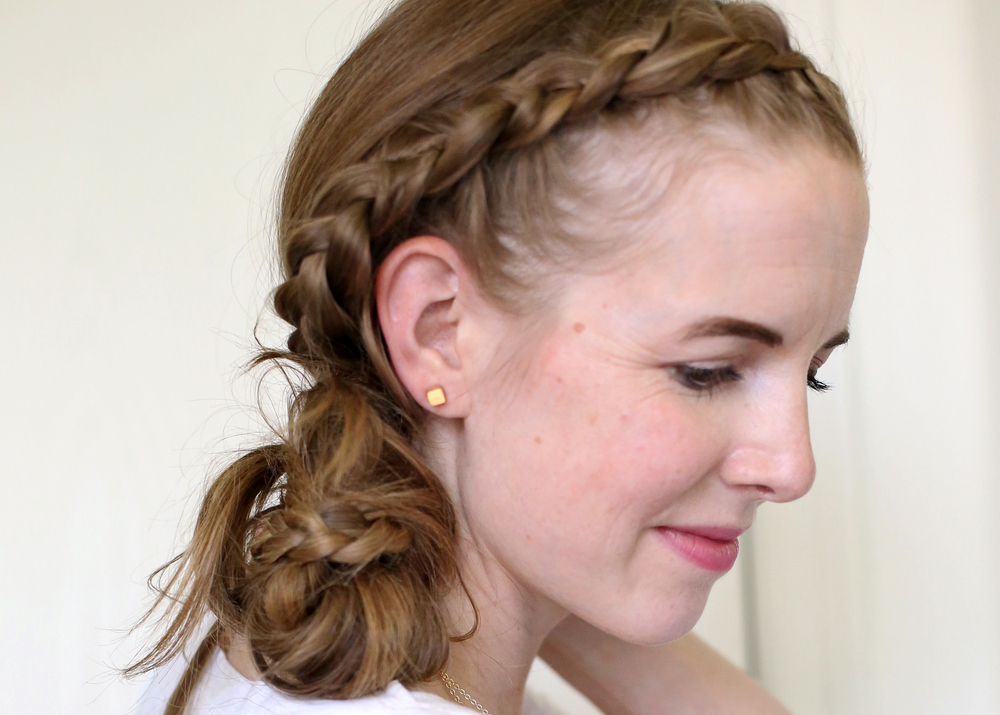 If You Want Dimension
Satya Cornerstone Stud Earrings
$38 from Nodstrom
My personal preference is for a fairly flat stud so that it doesn't snag my hair as much and my babies don't grab at them, but if you like something that has a little more dimension and has a bit of 3D pop, I REALLY loved the Satya Cornerstone earrings. They had a nice heft, and the brushed gold had an expensive look. The Gorjana Zoe gold studs are similar, but slightly cheaper at $30 and also are shiny gold instead of brushed. And the Staccato Studs from Madewell are only $18 and a similar idea, although instead of being cubes, they are more like . . . I don't know enough geometry terms to describe them, but more like a cube with the corners cut off (very technical term there). They have the same brushed gold as the Satya Cornerstone earrings and they are a bit smaller than the other two.
Dishonorable Mentions
Small Pyramid Stud Earrings from Nordstrom ($18) – These felt and looked cheap to me.
Rebecca Minkoff Pyramid Stud Earrings from ShopBop ($19) – I realized when I was trying all these earrings that I don't really love pyramid or triangles; they just seem like an awkward shape, and these ones seemed kind of big and clunky.
Shashi Double Ball Stud Earrings from ShopBop ($36) – These were HUGE! And they had a textured gold which was cool looking but also seemed to be chipping brand-new out of the box so. . . no.
If you have other favorite sources for gold stud earrings, let me know!