I default to blue jeans.
I'm a stay-at-home-mom. I'm an American. And it's (kind of) fall.
IT IS MY RIGHT TO WEAR BLUE JEANS.
But still. It's nice to have a few other options in your closet, especially when, like me, you actually only own one pair of blue jeans you really like.
I ordered this pair of leggings, assuming they'd be your standard thin, stretchy leggings (my plan was to wear them as pajamas, as I'm slowly trying improve my pajama wardrobe so I don't feel badly about putting them on the minute the girls are in bed (aka, 7:01 p.m.)), but these leggings are actually more like a cross between leggings and dress pants.
They're fitted, but not skin-tight. They're definitely NOT see-through. And they're stretchy-ish, but not so much that they are all stretched out around the knees or bum at the end of the day (I wore them twice last week, although after the second wearing, they didn't look so hot, thanks to Ani smearing an enormous handful of soggy graham crackers down the leg).
Also, super comfortable. When I put them on the first time, I remembered how amazing it was to wear maternity jeans after trying to make-do with regular jeans for a couple of months. A pair of pants that fits and is comfortable? The best. (Although don't put them in the dryer. They will shrink).
And it means I get to pull out my denim jacket, much to Bart's consternation.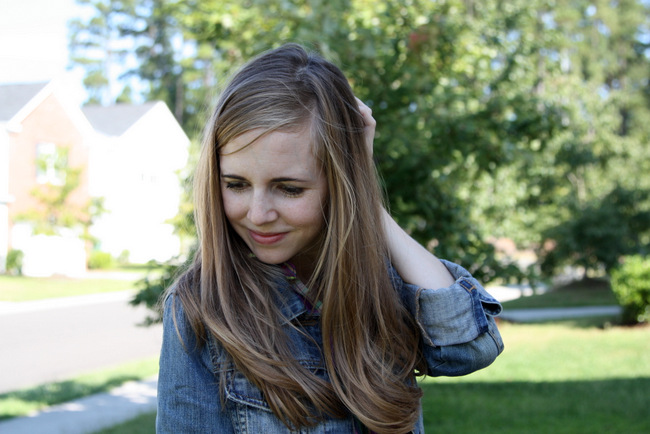 Check out what pants Merrick and Landen are wearing this fall: