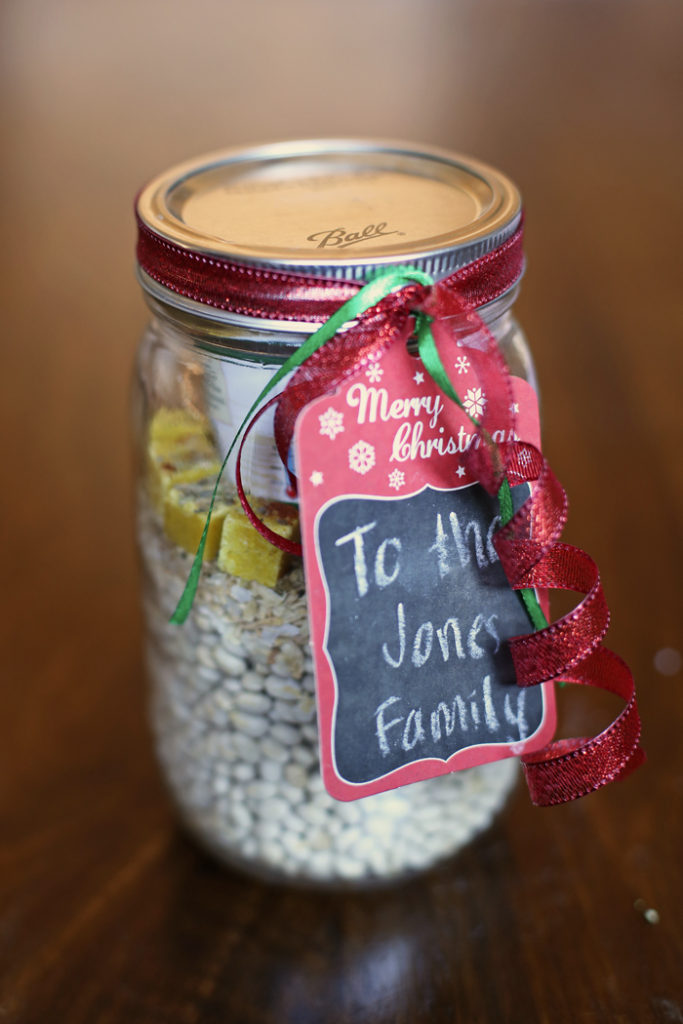 I'm writing this while eating a chocolate chip granola bar, so clearly I love treats as much as the next person.
But I know that by the end of the holiday season, I am just a little bit tired of the never-ending stream of goodies.
Four years ago, when I did my very first $5 gift guide, one of the items on there was "Dinner in a Bag."
All this time later, I thought it might finally be time to sit down and figure out how that might actually work out and how I could make it as a neighbor gift.
I mean, a plate of cookies is nice and all, but a jar that can sit on your shelf until a crazy day during the holidays and then you can just dump it in the crockpot and have dinner ready to go? That seems a lot more useful to me.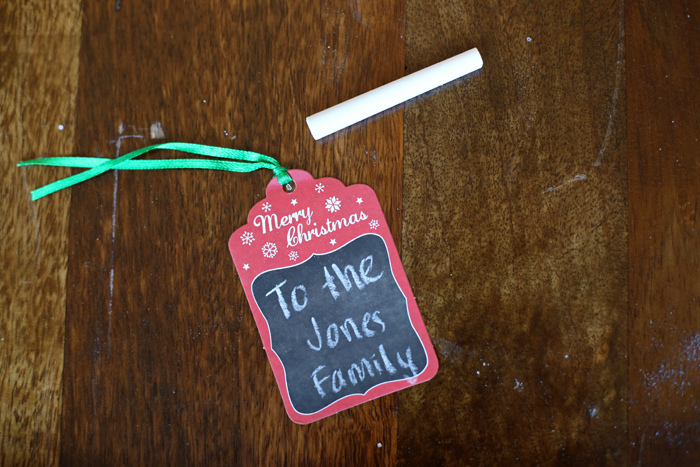 I was in Big Lots with my two littler girls the other day checking out the holiday selection (how cute are these little chalkboard tags? and how not cute is my handwriting?), and I noticed that they have a huge array of spices and when I saw cases of mason jars, I thought, "This is my moment to make this project happen."
After one of the helpful employees pulled down the mason jars from a high shelf (and was suitably impressed by my balancing of that case on the stroller), I pulled up my recipe on my phone, grabbed the ingredients, and had my jars all assembled at home before it was time to pick Ella up from school.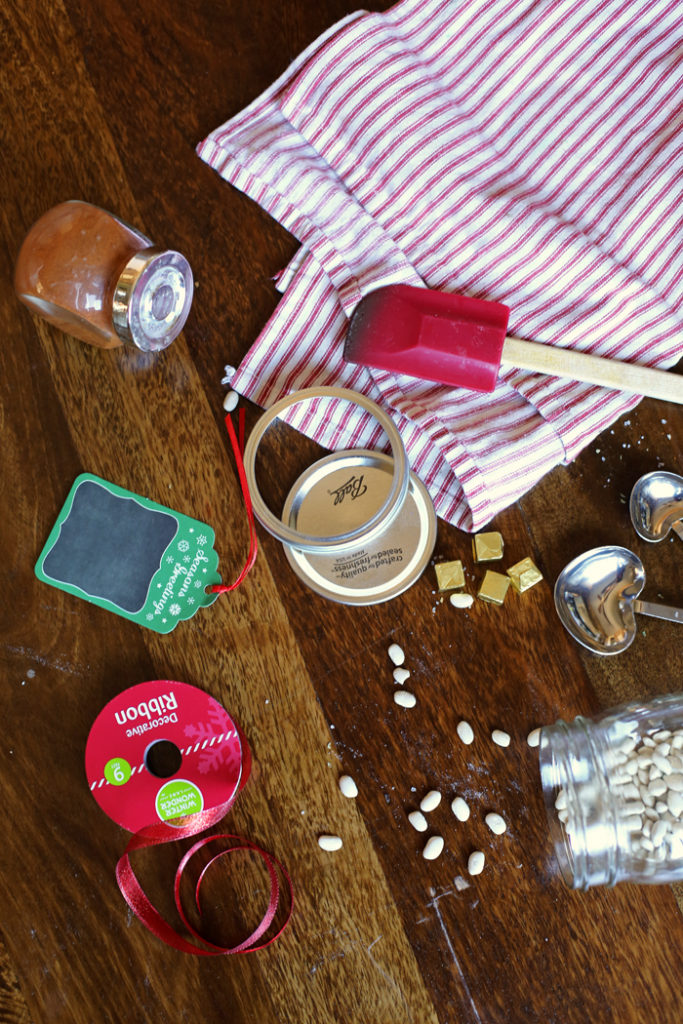 Done and done.
I went with this White Chicken Chili recipe which as been one of the most popular recipes on my blog for the last four years and still is one of our family favorites.
You can put basically everything in the jar and all your recipient needs to add is some water, a couple of chicken breasts, and some sour cream at the end.
So easy, useful, and doesn't break the bank. What more could you ask for?
(Someone to do the dishes after dinner, is what).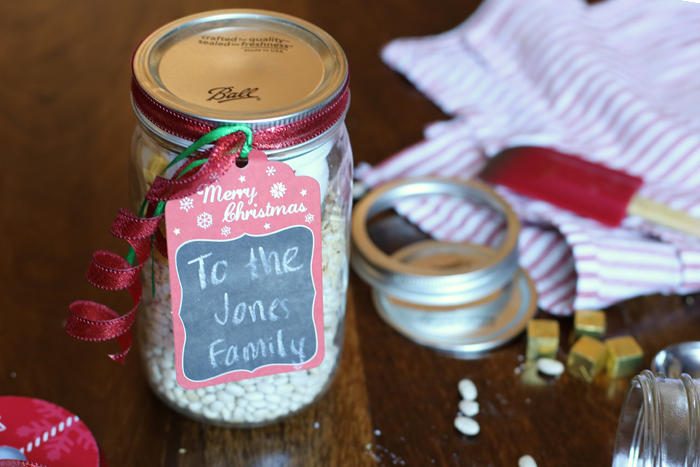 Here's how I made them. For each jar, you'll need:
A wide-mouth quart mason jar with lid
1 pound dry white beans (I've also used Great Northern beans  and navy beans and both work well)
1/3 cup dried minced onion
1 tsp garlic powder
1 teaspoon salt
1 teaspoon ground cumin
1 teaspoon dried oregano
1/2 teaspoon pepper
1/4 teaspoon cayenne pepper
4 cubes of chicken bullion
1 can (4 oz) chopped green chilies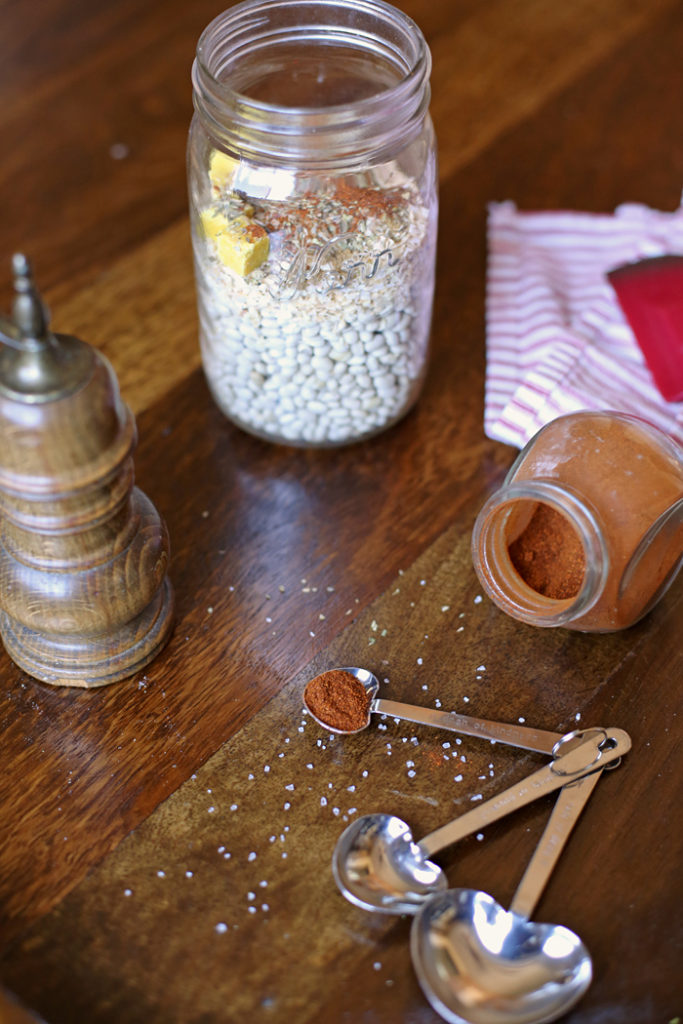 Sort the beans to make sure there aren't any rocks or dirt. Pour into the jar. Sprinkle on top of the beans the dried onion, the garlic powder, salt, and spices. Add the bullion cubes (I unwrapped mine so that you could just dump the contents of the jar in), and place the can of chilies on top.
Put the lid on, add a ribbon or two, and a cute tag. On the back of the tag, write "Open the can of chiles and put it and the other contents of the jar in a crockpot. Add 4 cups of water and 2-3 raw chicken breasts (frozen is fine!). Cook on low for 8-10 hours. Shred the chicken, stir in 1 cup of sour cream, and salt to taste. Enjoy!"
Plus, you can make these now and wait until closer to Christmas to actually deliver them. Basically feel like a rockstar to be so ahead of the game.