I don't know what it is about s'mores, but I basically can't get enough of them.
I wrote a little ode to them last summer, when we were trying to squeeze as many s'mores parties at our apartment complex pool as possible, and I can't tell you how many times I've made s'mores in the microwave (I know. Embarrassing).
When we moved away from Texas, a few of my sweet friends threw us a s'more-themed goodbye party. They know me so well.
Last weekend, when we were prepping for our first meeting of our couples book club, I was planning to just make chocolate chip cookies.
Then, as we were pulling into the grocery store parking lot, I said to Bart "I think I'd rather do s'mores chocolate chip cookie bars instead"
And I did.
And they were delicious.
(By the way, in the interest of full-disclosure, I just used a tube of pre-made chocolate chip cookie dough because sometimes you care a lot about making things from scratch and sometimes you are just in a giant hurry, and people are going to be knocking on your front door in just over in 95 minutes.
So if you want to go that route too instead of making your own dough, know that I won't judge you one tiny bit
Next time, I'll make a double batch of my favorite chocolate chip cookie dough).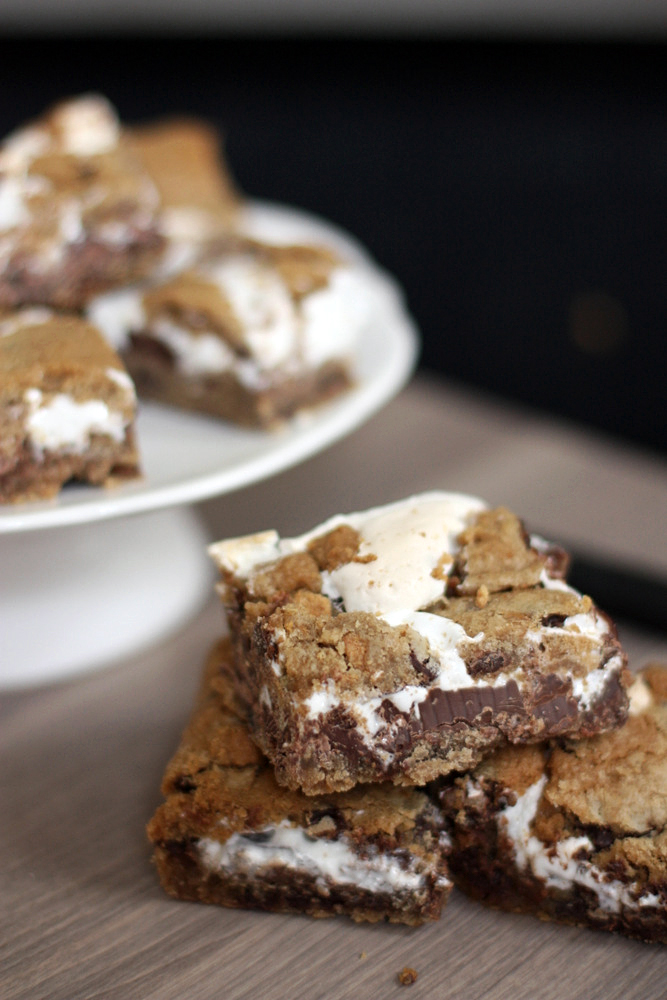 chocolate chip s'mores bars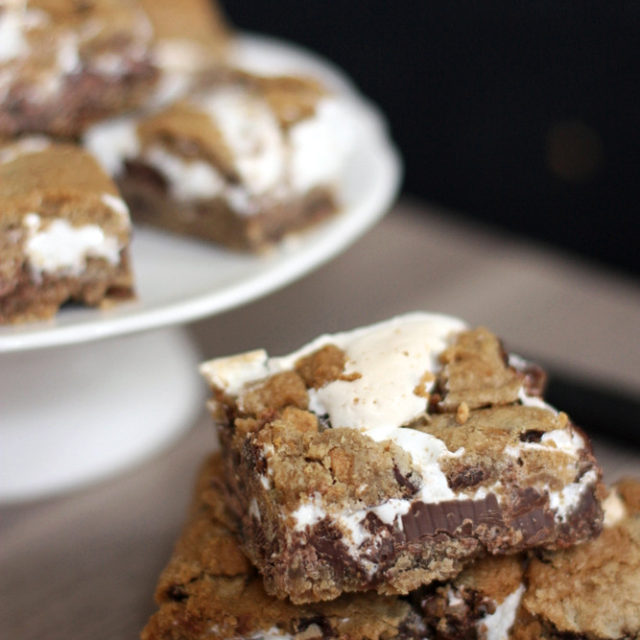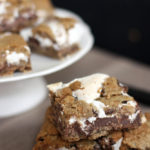 Chocolate Chip S'mores Bars
These are so good, I always want to double the batch.
Ingredients
A batch of chocolate chip cookie dough that makes 2 dozen or so cookies

a double batch of the recipe linked below is perfect

5

whole graham crackers

crushed into gravel-sized crumbs

1

7-oz jar marshmallow fluff

3

full-size Hershey chocolate bars
Instructions
Preheat the oven to 350 degrees. Line a 9x9 pan with tinfoil, leaving enough overhang that you can use it as handles to pull out the bars after they bake.

In a stand mixer, mix together the

cookie dough

and graham cracker crumbs (I put my whole graham crackers in the mixer first and let it run until they were crushed, than added the cookie dough. It. . . . definitely made a mess, but it was also fast).

Divide the dough in half and press one half of it into the bottom of the pan. Place the chocolate bars on top (I broke mine into squares and spread them evenly across the cookie dough).

Spread the marshmallow fluff over the top of the chocolate with a spoon (I sprayed my spoon with cooking spray to keep the fluff from sticking to my spoon).

Tear off a long sheet of plastic wrap and place the other half of the cookie dough on one side. Fold the free end of the plastic wrap over the top and, with a rolling pin, roll the dough into a square the size of your pan.

Carefully remove the dough from the plastic wrap and place the dough on top of the marshmallow fluff.

Bake for 30 minutes, until the top is golden brown. Let sit for about 45-60 minutes before removing from pan and slicing.

Eat the leftovers by yourself for breakfast the next morning. Regret nothing.
if you liked this chocolate chip s'mores bars recipe, you might also like these other recipes: