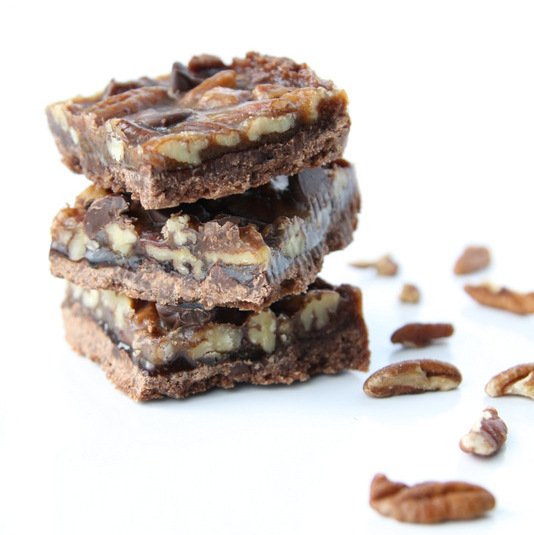 Bart isn't the world's biggest fan of pecan pie. (I don't think it's so much that he dislikes it as much as he'd always choose something else).
But he is the world's biggest fan of chocolate, so I knew if I added chocolate to some pecan pie, he might be willing to take one for the team and eat some.
I wasn't wrong.
And let the record show that I was more than happy to take one for the team too.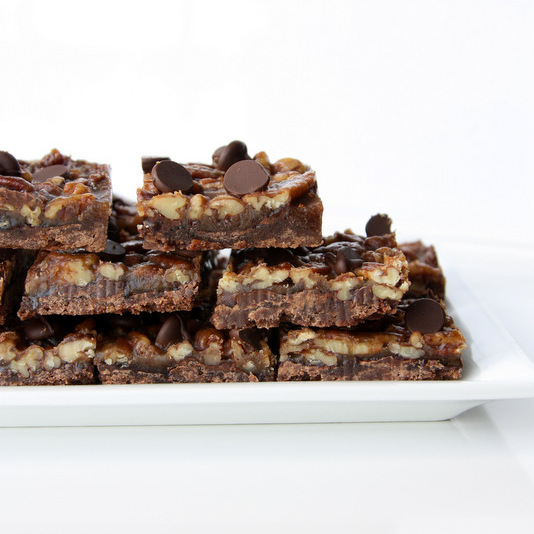 chocolate pecan pie bars
Chocolate Pecan Pie Bars
A spin on classic pecan pie with a chocolate crust and chocolate chips sprinkled on top.
Ingredients
CRUST:
1 3/4

cups

all-purpose flour

1/4

cup

cocoa powder

2/3

cup

powdered sugar

3/4

cup

butter

chilled

1 1/2

cups

chocolate chips

I used semi-sweet
FILLING:
1/2

cup

butter

1

cup

packed light brown sugar

1/3

cup

honey or light corn syrup

2

tablespoons

heavy cream

2

cups

chopped pecans
Instructions
Preheat oven to 350 degrees. Line a 9×13 pan with foil, leaving extra hanging over the sides so you can use it as handles to lift the bars out afterward. Spray the foil well with cooking spray.

In a food processor, mix the flour, cocoa powder and powdered sugar. Add the butter and pulse just until it forms a coarse meal. Press it into the bottom of the baking pan, going slightly up the sides (a 1/4 inch or so).

Bake for 15 minutes, then remove and immediately sprinkle with the 1 1/2 cups chocolate chips. Put it back in the oven for a couple of minutes until the chocolate chips are melted then remove and spread the chocolate smoothly across the crust. Put it in the fridge to cool while you prepare the filling.

In a medium sauce-pan over medium-high heat, stir the butter, sugar, honey and cream together until melted. Simmer for one minute, then add the pecans. Pour over the cooled filling, spreading for even coverage and then bake for 20 minutes.

When the bars are done, sprinkle the last cup of chocolate chips evenly over the top and then let cool completely in the pan (you can put them in the fridge to speed them up). Remove from pan, slice into bars, and serve.
if you liked this recipe of pecan pie bars, you might also like these other posts: