If I had to secretly choose a favorite post of the entire year, it might be the $5 gift guide.
I love a good deal, so it's a fun challenge every year to find 20 gifts under $5 (or really close to $5. . . I give myself a bit of leeway) and something actually worth giving!
Whether you need stocking stuffer ideas, a little gift to go along with a gift card for a teacher, something small for a neighbor,members of your book club or cheap gifts for coworkers under $5, I hope you'll find JUST the perfect thing on this list!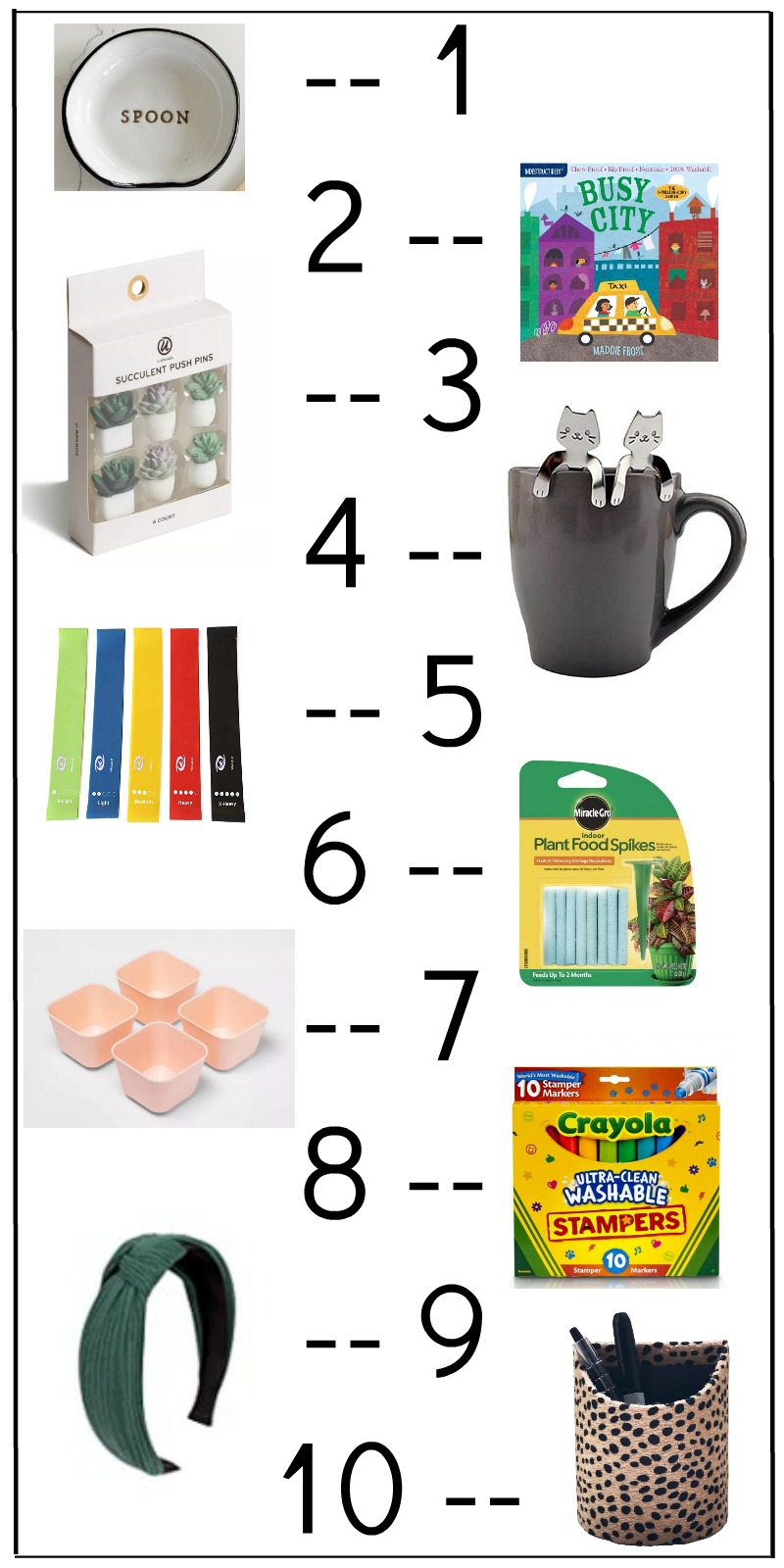 gifts under $5 (or really close to $5)
1.Spoon Holder ($2.99) My mom had a spoon rest when I growing up and it's just so nice to stir something without then putting the dirty spatula or spoon right on your counter.
2. Indestructibles book ($5.95) These books are one of my favorite things to give as gifts for babies – they're virtually indestructible! You can even run them through the washing machine and they'll be just fine. Plus, they have so many options and have such fun illustrations that my girls have loved looking at.
3. Succulent Push Pins ($5 for 6) How cute is this set of push pins? Way better than a bright red one. Perfect for the plant lover in your life or someone who wants a plant they won't be able to kill.
4. Cat Spoon ($3.59) If you have a tea drinker in your life, these cute metal spoons are perfect for hanging on the edge of your mug and stirring in your favorite sweetener.
5. Resistance bands ($4.99 for five) If winter means you're exercising indoors, these bands are super affordable, have great reviews, and take up virtually no room at all!
6. Plant Food Spikes ($3.97) My mom turned me on to these plant food sticks that you just push into the dirt and then your plant gets plenty of nutrients for several months without you even having to think about it. I have them in ALL my plants.
7. Small storage trays ($2 for 4) These little trays come in different sizes and are perfect for organizing kitchen or bathroom drawers so everything isn't rolling around and getting lost in a jumble. Plus, they come in several colors!
8. Stamper Markers ($9.49 for a pack of 10) Definitely getting these for my girls this year – I remember them from my growing up and they're going to have a BLAST with them. I'll probably buy two packs and give them each 5, tied up with a ribbon in their stockings.
9. Knotted Headbands ($12.99 for 10) At $1.00 each, this is the perfect gift to grab for all your girlfriends!
10. Magnetic Pencil Cup (2 for $12.99) I'm always scrambling for a pen in the kitchen and this is the perfect, cute way to keep them in reach on the fridge! This might be my #1 favorite thing on this year's $5 gift guide.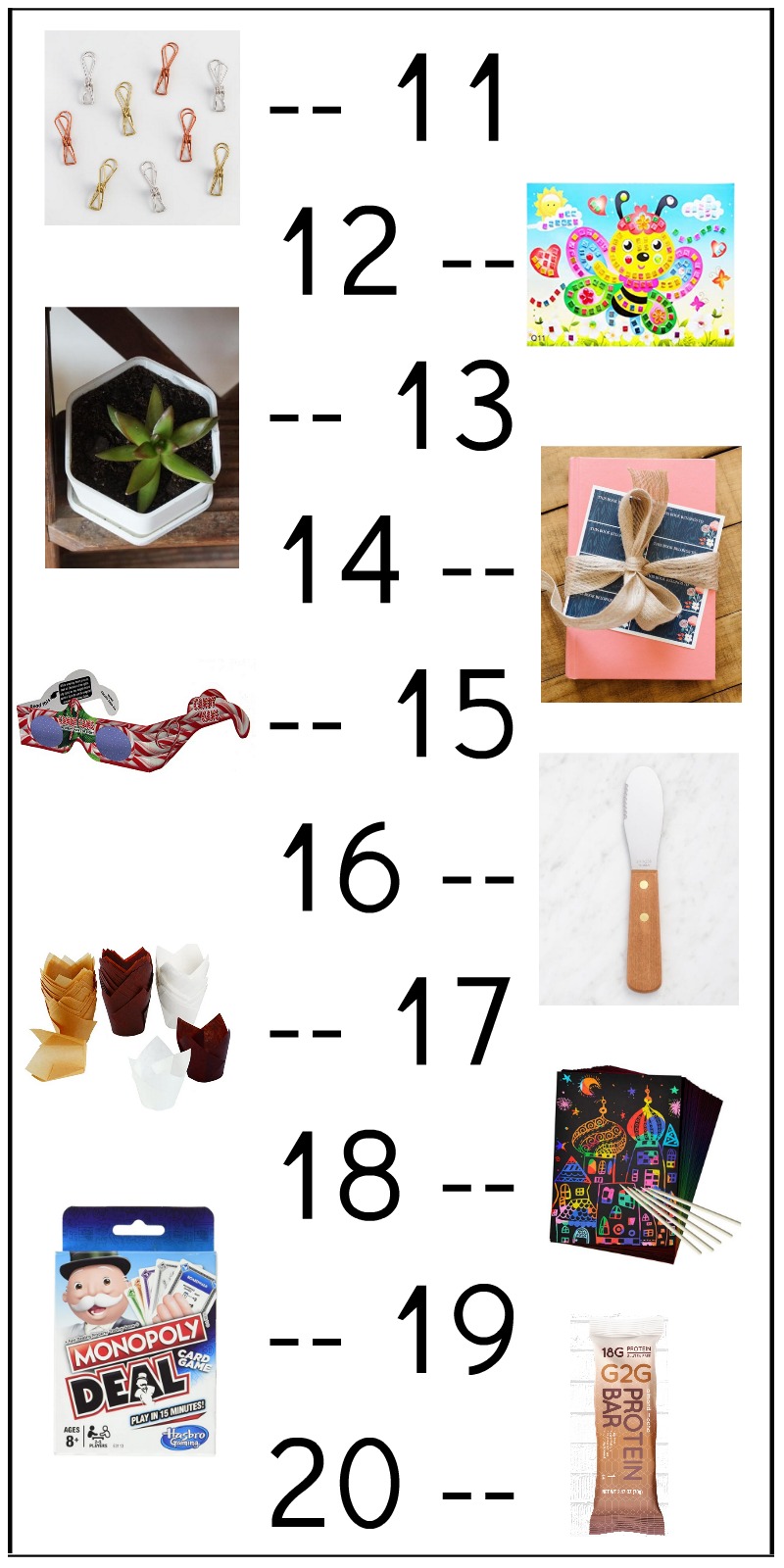 11. Vintage Wire Bag Clips ($4.99 for a set of 9) I hate a bag without a clip to keep it shut. These ones are super affordable and so darn cute! (I keep a little bowl in my pantry to hold my unused bag clips so I can grab one whenever I need one).
12. Mosaic Foam Sticker Art Kits ($11.99 for 12) My mom bought some of these for my girls a few years ago and they were CRAZY popular at our house. Divide these up among a couple of kids and keep them all happy for the afternoon!
13. Mini hexagon plant pot ($4.99) I've definitely made the transition into crazy plant lady this year and I feel GREAT about it. So I'm always on the lookout for fun little pots like this one. And obviously if I get this, I'll need another plant to go in it.
14. Customized Book Plates ($3.50 for a set of 24 stickers with the code EREAD50) These are such a fun personalized gift that cost so little! They're great for any book lover in your life, for a teacher or the members of your book club. Just whip up a few and add them to your Christmas card order! Here are detailed instructions about how to make them.
15. 3D Holiday Light Glasses ($17.95 for 10). Have you seen these before? You pop on these little cardboard glasses and look at Christmas lights and it turns them into shapes – think penguins, candy canes, snowflakes and more. They are surprisingly awesome!
16. Mini Spreaders ($3.96 for a set of 4) These are the kinds of things you never think about needing until the moment you REALLY need them. I'm asking for these in my stocking this year.
17. Tulip parchment muffin liners ($12.99 for a set of 150) This is the quickest way to make any muffin look like it came straight out of a high-end bakery case! I love love love making my muffins in these and if there is a baker on your list, this is a no-fail gift.
18. Rainbow Scratch Paper ($12.99 for a 50 pack) My girls LOVE scratch paper and this set is super affordable.
19. Monopoly Deal ($5.97) I will never play regular Monopoly because . . . well, you know why if you've ever played Monopoly before. But this 15 minute card-only version? Yes. Sticking this in Ella's stocking this year.
20. G2G Protein Bar ($17.84 for 8 with the code READ) I've tried a lot of protein bars in my time and these are HANDS-DOWN my favorite. I have one almost every day, either as part of my lunch when I'm working or as an afternoon snack. My number one flavor choice is the Peanut Butter Coconut Chocolate, but all of them are excellent.
You can also see all the previous $5 gift guides right here if you want even more ideas!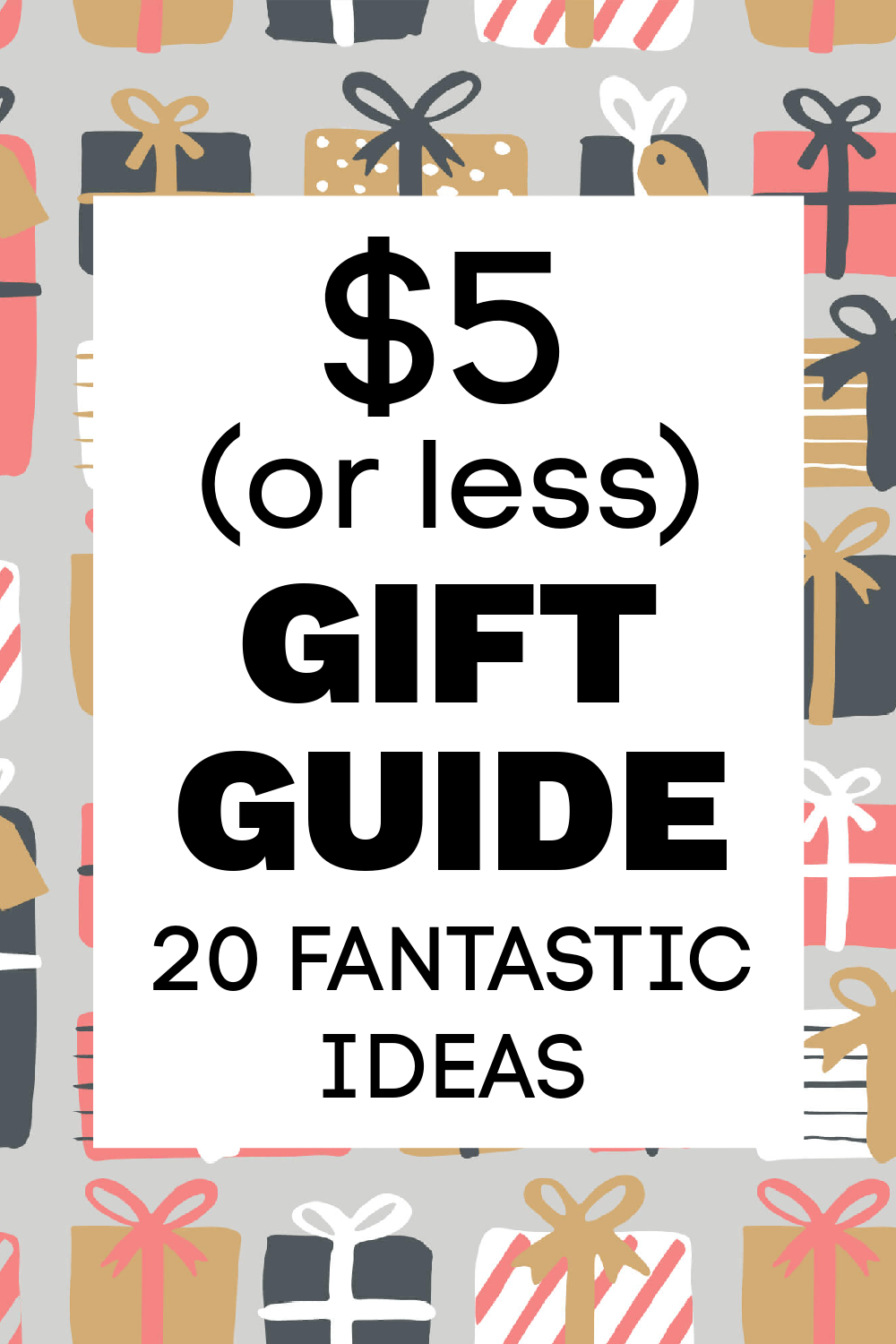 If you liked this post about gifts under $5, you might like these posts too: