So, hmm, what have we got here? Three real dishes and three desserts. A perfect ratio, if I do say so myself.
Seriously, all these recipes are ridiculously good. What more is there to say, but go forth and make them.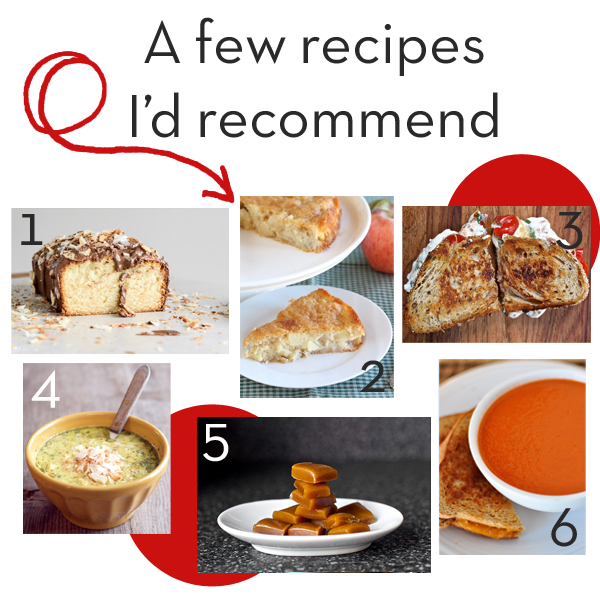 1. Almond Joy Poundcake: This is the best poundcake I've ever made – the texture was phenomenal. Also, I love anything flavored even remotely like an Almond Joy. I used a 1/2 teaspoon of almond extract in place of the Amaretto.
2. Four Apple Cake: I can't believe I haven't mentioned this recipe before. I've made it tons of times and it's always fantastic. Also, you can pretend it's healthy enough for breakfast. Obviously, that's what I do.
3. Lasagna Grilled Cheese: I don't even LIKE lasagna all that much (this recipe is an exception), and I ate this every day for a week, until I ran out of bread. If you've got some ricotta that needs using up, this is a delicious way.
4. Coconut Chicken Curry Soup: I pinned this forever ago and then, when I was in a mega-hurry one night, dug it up from my Main Dish board, realized the pin went nowhere, Googled like a librarian, and found the real recipe. And it was delicious. And quick.


5. Apple Cider Caramels: This one is a tiny bit cheating because I didn't actually make them myself, but a friend did and oh. my. word. Best caramels I've ever had. I've lost my taste for apple cider as I've gotten older, but I couldn't have eaten the whole pan of these (and maybe I did. I'll never tell).
6. Classic Tomato Soup: What would one of these lists be without a recipe from Mel's Kitchen Cafe? Bart and I both agreed this was the best tomato soup either of us had ever had. I made it when I was frantically trying to figure out what to make for lunch when one of my dearest friends from high school and her husband were coming over and I hadn't been to the grocery store since we got back from vacation. I used half fire-roasted tomatoes and half regular. I recommend this course of action. Also, my house smelled amazing for the rest of the day.
P.S. Here are previous recipes I've tried and loved.