A little over a year ago, I wrote a post (a far too long post) about how much I love love love cookies. And at the end of it, I mentioned that I was on the quest for the perfect chocolate chip cookie.
Friends, that quest has come to an end.
And I know, all too well, that the Internet is full of recipes claiming to be the best chocolate chip cookie ever and then you make them and they are flat and ugly and only somewhat tasty and you weep and move on to a new recipe, hoping that this time, life will finally reward you for your endurance (this is why I have an entire Pinterest board dedicated to cookies).
So, let me go on record as saying that MY quest for the perfect not flat chocolate chip cookie has come to an end.
And I hope that maybe for one or two of you, this might help you too find Chocolate Chip Cookie Nirvana. For the rest of you that find this a recipe that fails you again, my prayers are with you as you continue your search.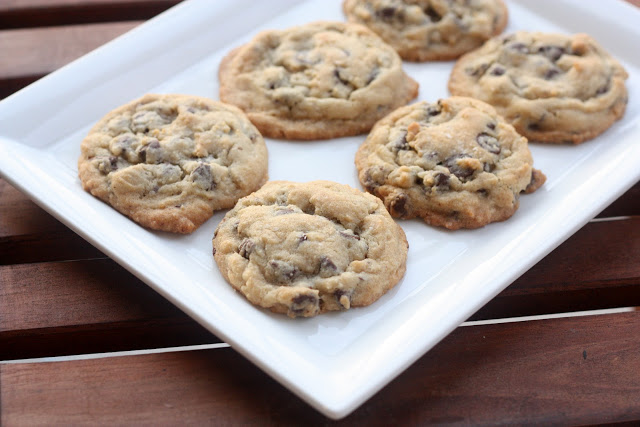 Also, I have so much to say about this before I share the actual recipe.
First, I did try that New York Times recipe finally, and it was really good. But 1) I don't want a cookie that requires at least a day of forethought and 2) these cookies were better.
I made these yummy chocolate chip cookies three times in one weekend and the first time they were tasty but ugly as . . .something ugly (you know those chocolate chip cookies that are totally flat with the chocolate chips sticking up like little tumors? That's how these cookies turned out). I tried them again the next night and they were perfect and then I had to try them one more time to see if I could repeat my success. I do it for you. And then I made them several more times in the weeks since then. That might not have been for you so much as it was for me.
I also halved the original recipe from Natalie's blog because I generally just want to make about a dozen cookies (seeing as there are only two of us – obviously I only make cookies after the child is in bed because who wants to share?).
And I did a ridiculous amount of reading about chocolate chip cookies to see if I could figure out the flat cookie problem the first time around. The main thing seemed to be the flour (I added a little bit to keep them from being so flat) and the temperature of my oven. Natalie said she cooks hers for 6 minutest but, whoa boy, mine weren't even CLOSE to being done at that point. I upped the temperature which helped the chips melt more and helped them cook through without making them crispy on the inside.
I ALSO read that you should add the chocolate chips to the wet ingredients and THEN add the dry ingredients so that you don't over-mix the dough. Who knew?!
And yes, this recipe uses shortening which I am morally opposed to. But I'm more morally opposed to living a life without a fail-safe chocolate chip cookie recipe. So, something had to give.
For the record, my perfect chocolate chip cookie is NOT flat, completely set, but not crunchy on the outside, and soft, but not goo-ey on the inside. And a lot of chocolate chips. This is that cookie (for me!).
Whew, if you read all of this, you deserve more than a recipe. You deserve a dozen of these cookies delivered to your doorstep.
And if you ever wonder, "Why are my chocolate chip cookies flat?", I hope these little tips can be of service!
yummy chocolate chip cookie recipe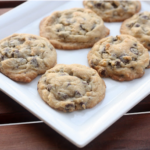 Chocolate Chip Cookies
Servings
12
to 15 cookies
Ingredients
3

scant T butter

I use unsalted, softened

3

scant T shortening

If you're doubling the recipe, go with 1/3 cup each of butter and shortening

1/4

cup

packed light brown sugar

1/4

cup

granulated sugar

1/2

teaspoon

vanilla

1

small egg

1

cup

chocolate chips

3/4

cup

+ 2 T flour

1/2

teaspoon

baking soda

1/2

teaspoon

salt

if your butter is salted, just use slightly less salt

Kosher or sea salt
Instructions
Preheat oven to 375.

In a stand mixer, beat butter and shortening together until combined (about a minute). Add sugars and beat another minute or two. Add vanilla and egg. Beat again (I know, so much beating here. . . ).

Mix in the chocolate chips.

Add the flour, soda, and salt. Mix JUST until combined. It will look over-floured for a few seconds, but should come together fairly quickly.

Scoop golf-ball size spoonfuls of dough onto cookie sheet, sprinkle each ball with a pinch of kosher or sea salt and bake for 10-11 minutes (mine are 11 minutes, every time).

They should be light-colored and puffed when they come out of the oven, but dry-looking (not shiny or wet). Let cool on the pan for about 5 minutes then transfer to cooling rack.
Recipe Notes
(adapted from Nat the Fat Rat)
if you liked this yummy chocolate chip cookie recipe and tips on how to not make a flat chocolate chip cookie, you might also like these other recipes: