I belong to this little cooking club that meets about every six weeks or so. We rotate hosting and when you host you choose a theme (so far we've done recipes from Smitten Kitchen, mini foods, and Hawaiian foods). Everyone brings a dish that fits that criteria and we basically sit around, talking and eating.
Obviously, it's my favorite thing ever.
When we met for the Hawaiian themed one, Bart was out of town and I was trying desperately not to make an extra grocery trip, which meant. . . "What can I make out of my pantry that could be vaguely construed as Hawaiian?"
And thus, these Coconut Scones with Almond Glaze came to be. Which turned out to be ridiculously, fantastically good.
The dough is fairly sticky and I used about six bazillion handfuls of flour as I rolled them out (you could avoid this by just cutting them into squares or wedges with a pizza cutter but I was going for small since I needed enough servings for a large group), but all was forgiven when these coconut scones were, perhaps, the best scones I've ever made. And I've made a lot of excellent scones, if I do say so myself (which, clearly, I do).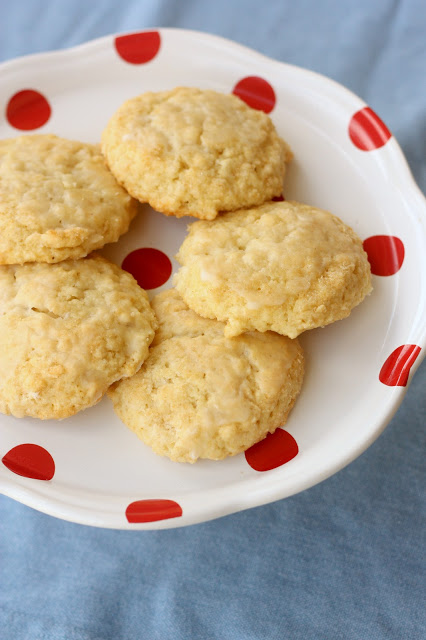 coconut scones with almond glaze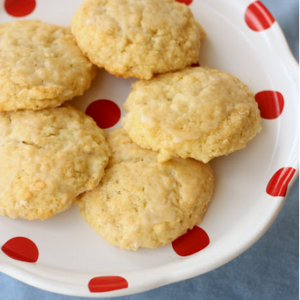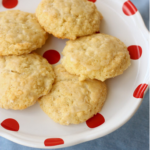 Coconut Scones
If you are looking for a fantastic scone recipe, look no more! These Coconut Scones with Almond Glaze are something to write home about and I can't wait to make another batch!
Servings
20
2-inch round scones
Ingredients
Scones
1

cup

shredded unsweetened coconut

2

cups

flour

½

cup

sugar

1

tsp

baking powder

½

tsp

baking soda

½

tsp

salt

8

Tbs

cold butter

diced

1/3

cup

coconut cream and milk

scrape off as much of the cream from the top as possible. Then fill your measuring cup up the rest of the way with the coconut milk

1/3

cup

half-and-half

1

egg
Glaze:
½

cup

powdered sugar

1/8

tsp

almond extract

2

T

coconut milk
Instructions
Preheat the oven to 350 degrees. Line a sheet pan with parchment paper or a silicone liner or. . .nothing at all.

In a food processor, pulse the coconut until it's fairly fine (it doesn't need to be tiny, but it's more pleasant to eat when the pieces are pretty small). Add flour, sugar, baking powder, baking soda, and salt and give them all a quick whirl to combine.

Add the butter and pulse until the butter is the size of peas.

In a small bowl, whisk together the coconut cream/milk, half and half, and egg.

Pour the liquid mixture onto the dry ingredients and pulse until you have a wet dough. Don't overmix.

Transfer the dough to a lightly floured surface and gently form a 1/2-3/4 inch thick disc and cut into six to eight wedges or pat the dough out into a square (same thickness) and cut into squares or into rounds with a biscuit cutter.

Put scones on the baking sheet (they'll spread a fair amount, so give them some room).

Bake for 18 - 22 minutes, until they are slightly browned on top.

For glaze, whisk together the powdered sugar, coconut milk and almond extra until smooth. Drizzle glaze over warm scones.

Serve warm or store in an airtight container for a few days (I found that a quick run through the toaster made the day or two old scones just lovely again).
Recipe Notes
(Note: it's best if you put your can of coconut milk in the fridge for a couple of hours beforehand because the cream will separate more easily. But . . .if you don't, just try not to shake the can too much when you take it out of the pantry and hopefully much of the cream will have separated).
(adapted from Heather Christo Cooks)
if you liked this coconut scone with almond glaze recipe, you might also like these other recipes: