There are about 275 recipes on Everyday Reading currently.
And every one of them is something we really enjoyed and I thought was worth sharing.
But then there are the recipes that I use all. the. time.
These fifteen are ones that I pull up weekly or at least monthly.
Some of them I don't even actually pull up because I've made them so many times I've memorized them.
These are the recipes that I anticipate my children will remember when they are grown up, something that reminds them of their childhood and their mom.
I love every darn one of these recipes so so much.
Be warned that ahead there are a LOT of superlatives ahead – I can't help it when I talk about these recipes because they are my absolute favorite. They are the ones that never ever let me down and that I've made dozens or hundreds of times and they're just as good on time 78 as they were the first and second time.
They don't make me wax poetic because I'm not a bit of a poet, but these recipes require all the gushing I can muster (and you'll see that I can muster QUITE a bit of gushing).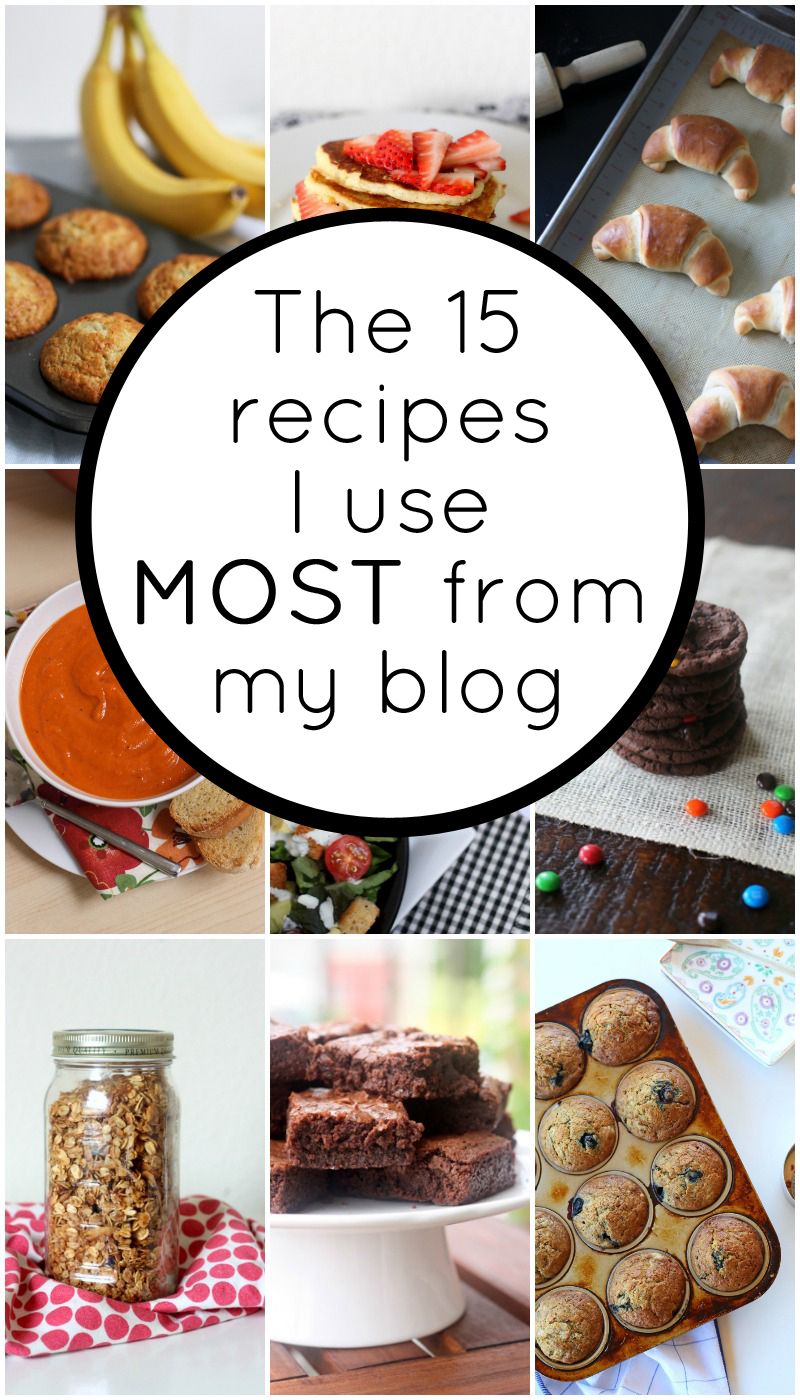 Absolutely Best-Ever Chocolate Chip Cookies
It's hard for me to make very many other cookies because these are just SO good. After years of chocolate chip cookies that were flat or totally crunchy or cakey or otherwise disappointing, all my hopes and dreams came true with this recipe. And I've gotten so many emails, comments, and DMs telling me that they made yours come true too. Seriously, the best.
Saturday Night Pancakes
These pancakes. All other pancakes pale in comparison. They are the perfect pancake. (The recipe says 6 tablespoons of butter, but I usually just do 4 and they are still insanely good). Seriously, who could ever go back to a boxed mix after this? This is a recipe people mention to me all the time that they finally tried and now understand why I love them so much. Also, we now always make a double batch.
Everyday Banana Muffins
This is hands-down the most popular recipe on my blog, and for good reason. These are SO easy to make and they are ridiculously good. No unusual ingredients, perfect for using up a couple of brown bananas, and they look, smell, and taste incredible.
Daily Breakfast Granola
I make this probably every week or two because when it's gone, it's a tragedy. I eat a bowl of yogurt with this granola, mini chocolate chips and cashews almost daily and it's the perfect snack or semi-dessert. I've never had a better granola, store-bought or homemade.
Perfect Banana Blueberry Muffins
I've probably made this recipe more than any other recipe on the planet. Starting in 2008 or so, we've almost always had a batch in our freezer and I actually don't even look at the recipe anymore because I have it completely memorized. They are SO good and even ten years later, I'm not even remotely tired of them.
Coconut Buttermilk Syrup
Basically, Bart doesn't even want to eat pancakes or waffles if we don't have this syrup. I'd never bought coconut extract before this recipe, but now it's a staple. It's only five ingredients, and it comes together fast and everybody loves it.
Chocolate M&M Cookies
If the chocolate chip cookies are my favorite, these are Bart's and I can't blame him. They are DIVINE.
Cinnamon Chocolate Chip Cake
Whenever I need an easy dessert that will delight adults and children, this is the dessert. It takes about 5 minutes to get in the oven, and it is insanely good. This is the cake I usually pick for my birthday because nothing else comes even remotely close. Seriously. Best. cake. ever.
Perfect Baking Powder Biscuits
Almost every time we make soup, I make these biscuits. They're quick and easy and they are just SO darn good. The Barefoot Contessa never misses.
My Favorite Brownie Recipe
After I made these brownies for the first time, Bart said, "Don't ever make another brownie recipe again." And I'm pretty sure I haven't. These are the best brownies of all time. I probably make them once a month or so and they are just fab every single time.
All-Time Favorite Dinner Rolls
After YEARS of making dinner rolls that were dense or overly bready or flavorless or doughy or just basically terrible in some way, my sister Landen introduced me to this recipe and I've not made another roll recipe since. Whenever we're having people over, I know that these rolls will guarantee that every child will eat at least SOMETHING and I can make a reasonable bet that one of the grown-ups will say, "These are rolls just like my grandma used to make." And they are hard to mess up, so if you've had poor luck with yeast and rolls before, try this recipe.
My Favorite Waffle in the World
We got many lovely wedding gifts, but for sure one of the very best was a killer waffle iron that is still going strong 12 years later. And over the years we've made many waffles, but now we only make these ones because they are the best waffles in the land. Seriously. So good. Light and crisp and perfect. Down with thick, bready waffles.
Fire Roasted Tomato Soup
I think lots of tomato soup tastes like a bowl of ketchup or a bowl of tomato sauce. This is not that kind of tomato soup. This stuff is like heaven in a bowl. Add a grilled cheese sandwich on sourdough and . . . rainy day nirvana. Or any day nirvana.
The Greatest Pizza Crust
We have pizza most Friday nights and this is the pizza crust I always use. Every time we go to Grimaldi's, Bart says "their pizza isn't any better than yours!" Which isn't true, but it's very nice of him to say so and I owe it all to this crust and a pizza stone.
Homemade Ranch Dressing
No comparison to the Hidden Valley version which I can't really even eat any more. I also never actually look at this recipe because I've made it so many times, and every time, it just makes any salad a thousand times better. Or anything that needs ranch dressing.