If this particular list looks a bit heavy on the snack-y type recipes, you might correctly surmise that I was doing a lot of these while Bart was in the middle of busy season and I had many many nights home alone while small children slept. The peanut butter pretzel truffles are rather hard to explain away as non-desserts, but the cookie dough blizzard and truffle squares? Legitimately non-desserts. At least in my book.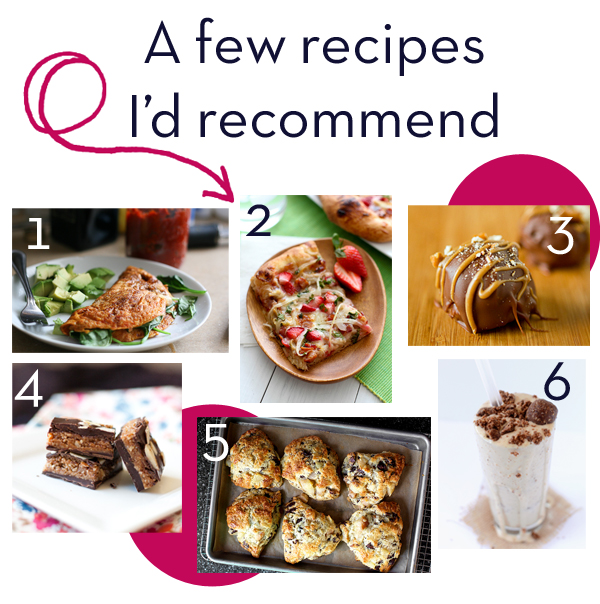 1. Sun-Dried Tomato and Spinach Omelet: I have spent most of my life disliking eggs, but the older I get, the more I seem to like them. And this was the best omelet I've ever had. Even Ella, who also is not much of an egg eater, scarfed down the tiny square I gave her and asked for me. I gave her a little more, but it was a sacrifice on my part. I was wary of the balsamic drizzle on top, but I put my faith in Natalie, and it was not a mistake.
2. Strawberry Balsamic and Bacon Pizza: We had people over for dinner so I needed to make two pizzas instead of the usual one, which gave me an excuse to make one of those pizzas a weird one. And whoa, this pizza was insanely good. The sauce is a balsamic reduction mixed with strawberry jam – I could have eaten it plain. Bart, who tends to worry about these kinds of unusual combinations, gave it high marks.
3. Pretzel and Peanut Butter Truffles: I do not care for pretzels plain very much, but put them in a recipe and I'm hard pressed to resist. I just dipped the tops of these in chocolate so they were much less cute, but also much easier. And you know me. . . I like easy.
4. Nutty Cinnamon Chocolate Truffle Squares: I made these about five times in the last month (although after the
first time, I stopped doing the bottom layer of chocolate because it was
too sweet for me and also it kept cracking off. Easier and better to
just do a top chocolate layer. I use cashews instead of pecans, and I
try not to eat the whole pan myself.
5. Roasted Pear and Chocolate Chunk Scones: Another scone recipe. Seriously, these are the best scones ever. (Also, have you noticed I like chocolate?).
6. No-Bake Dairy & Sugar-free Cookie Dough Blizzard: For many moons, we've been using our frozen bananas to make that two-ingredient "ice cream" but this is now my preferred method for using up the frozen bananas (let's not lie – I overbuy bananas just so I never run out of frozen ones). I use vanilla almond milk and instead of bothering with making double layer cookie balls, I just throw together a quick batch of these, roll them into tiny balls, and freeze them for about five minutes.
I read over this list and feel like I am very lazy about any fussy steps in a recipe. Happily, that laziness seems to result in eating less chocolate. So maybe laziness is a quality I should continue to cultivate.
P.S. Here are previous recipes I've tried and loved.