Yes, actually, I do cook a lot of beans in the crockpot.
Bart was dubious about this one, but when he had the leftovers three days in a row, I figured it had been a success.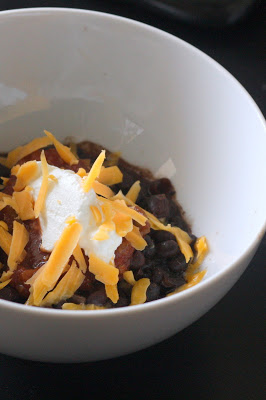 Crockpot Citrus Chili
(adapted from Annie's Eats)


Serves 4
2 cups rinsed dry black beans
½ onion, chopped
1 pepper, chopped or minced (I used a combo of red and yellow bell peppers, but you can do spicier peppers if you'd like)
4 cups vegetable broth
1½ tsp. dried oregano
2 bay leaves
½ tsp salt
2 tsp minced garlic
1 tsp pureed chipotles in adobo sauce
1½ tsp ground cumin
¼ cup orange juice
¼ cup lime juice
1 T white wine vinegar
Directions:
Pour the beans into the bottom of your crockpot. Add the chopped onions and peppers. Pour the broth over the top. Add all the rest of the ingredients and stir. Cook for 8-10 hours on low.
Serve topped with salsa, sour cream and cheddar cheese.