I grew up memorizing poetry and we've done the same with our children over the past few years (I still die over this little video of Ella reciting a few of her favorite poems).
But despite memorizing literally thousands of lines of poetry as a child, I'll admit I didn't actually love poetry all that much.
I mean, I liked the poems that I memorized, but poetry in general still seemed super intimidating to me, and I always cringed a little at the poetry units in my English classes.
Then, when I was doing my internship as a school librarian, I happened on a copy of A River of Words: The Story of William Carlos Williams and when I knew more about him as a person and some of his most famous poems, suddenly he was my favorite poet (some gorgeous Melissa Sweet illustrations didn't hurt either). Plus, reading poetry not in a vacuum, but as a regular book, made a huge difference for me.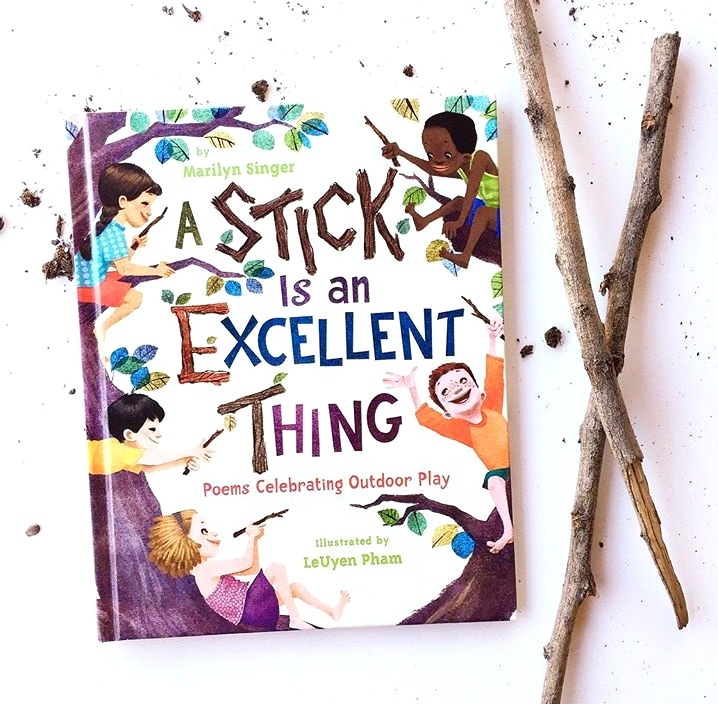 Despite all our poetry memorizing in my childhood, I don't remember reading almost any poetry books just for fun (apologies to my parents if we did indeed read hundreds of poetry picture books and I simply can't remember any of them).
I've made an effort over the past few years to check out more poetry books, read them aloud to my children, and introduce them to more poets so they're familiar and comfortable wit poetry.
Anyway, all of that is to say that with National Poetry Month (April) just around the corner, it seemed like a good time to share some of our favorite poetry books for kids. And if you have favorites of your own, I would be THRILLED to have more recommendations.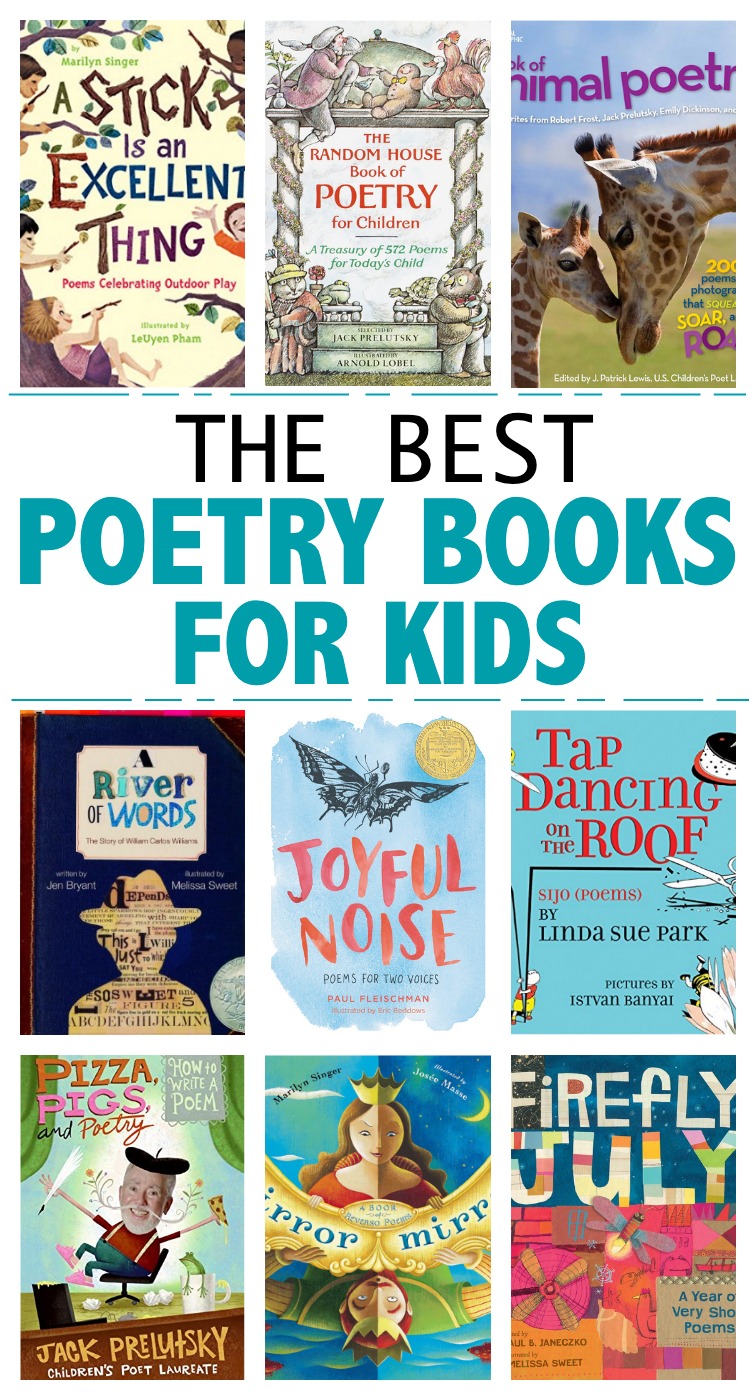 poetry books for kids
Tap Dancing on the Roof by Linda Sue Park, illustrated by Istvan Banyai.
These poems are called sijo – it's a Korean poem that is kind of like a haiku or limerick where it has a set pattern. A sijo is distinctive because of the surprise twist in the last line. When I taught a poetry unit as a librarian this was one of my favorite books to use, with so many terrific little poems in it, plus hilarious illustrations. I highly recommend this one.
Mirror Mirror: A Book of Reverso Poems by Marilyn Singer, illustrated by Josee Masse.
This poetry book is so clever – each poem tells the story of a famous fairy tale from two views and each viewpoint uses exactly the same words but in the reverse order of the other. I cannot imagine how much brain power it takes to write these, but it's delightfully fun to read.
Firefly July: A Year of Very Short Poems by Paul B. Janeczko, illustrated by Melissa Sweet.
This is a great little introduction to poetry because each poem is extremely short. Plus, it just makes me want to savor every season. Also, I already told you it doesn't get better than Melissa Sweet for me!
National Geographic Book of Animal Poetry: 200 Poems with Photographs That Squeak, Soar, and Roar! edited by J. Patrick Lewis.
My in-laws gave us this book of poetry one year when the Christmas gifts were all animal-themed and it's been a huge hit. The photos are spectacular and the poems range from very famous to ones I've never heard of. The companion poetry book about nature – National Geographic Book of Nature Poetry: More than 200 Poems With Photographs That Float, Zoom, and Bloom! – is also fantastic.
A Stick Is an Excellent Thing: Poems Celebrating Outdoor Play by Marilyn Singer, illustrated by LeUyen Pham.
This was the first poetry books that my children really embraced as a read-aloud and we have read this poetry book for children hundreds of times. And then I loved hearing their little voices around the house reciting their favorite bits.
Joyful Noise: Poems for Two Voices by Paul Fleischman.
This book won the 1989 Newbery and each poem, all about nature and bugs, is meant for two people to recite together. In homeschool one year, we each got paired with another child in our group to memorize one. I can still recite much of "Being A Bee" twenty years later, and this one is perfect for memorizing with your child and performing together.
Poetry for Young People: Maya Angelouby Edwin Graves Wilson, illustrated by Jerome Lagarrigue 
The Poetry for Young People series is terrific (I got one of them when I was a child and I still own and love it!) – each book features some of the most famous poems by a specific poet alongside stunning illustrations (each book is done by a different artist so they all have their own unique look and feel). Plus, there's an excellent introduction to the poet by the editor at the beginning. If you're looking to dive deep into some of the most famous poets, these poetry books for kids are a can't miss.
The Random House Book of Poetry for Children edited by Jack Prelutsky, illustrated by Arnold Lobel.
If you're looking for a big collection of famous and fun poetry, this one is a hit. My girls love when I read them a few poems while they eat their snacks or just during the course of the day.
A River of Words: The Story of William Carlos Williams by Jen Bryant, illustrated by Melissa Sweet.
I already raved about this one, but it's reminding me to look for more picture books about the lives of famous poets (and artists and authors).
Love That Dog by Sharon Creech.
I read this one about a decade ago (full review here) and I still love it so much. It's a short novel written in verse and imitates many different famous poems, so I think it'd make a great backbone to a poetry unit. I read it aloud to my girls a couple of years ago – you can read the whole thing in a day or two – and it is a delight. Don't miss the sequel, Hate That Cat, either.
Pizza, Pigs, and Poetry: How to Write a Poem by Jack Prelutsky.
I love this one because not only does it share Prelutsky's hilarious poems, but it tells about what inspired them and gives ideas for how to write your own poems. I read this aloud, a chapter a night, at dinner a few months ago, and my girls were in stitches. Frankly, there were some parts I could barely get through because I was laughing so much. I read this aloud to my 4th and 5th graders when we did the poetry unit and they were all massive fans too.
National Trust: Tiger, Tiger, Burning Bright!: An Animal Poem for Every Day of the Year by Fiona Waters
This is just the most gorgeous poetry collection. I LOVE Britta Teckentrup who does the illustrations and it's such a fun collection of animal poems – some that you'll know and some that are new. I keep this gorgeous volume on our end table in our living room so we can pick it up any day!
My Daddy Rules the World: Poems about Dads by Hope Anita Smith 
You'll notice that lots of poetry books for kids focus on things they already know and love (that's why animal poems are so popular with children!) and this beautiful book of poetry about dads fits right into the category of "topics children can connect with." Sweet and funny, this poetry book is an absolute winner.
And if you'd like a printable copy of this list of poetry books for kids that you can take to your library or screenshot on your phone for easy access, just pop in your email address below and it'll come right to your inbox!
if you liked this post about poetry books for kids, you might also like these posts too:
Reader Interactions