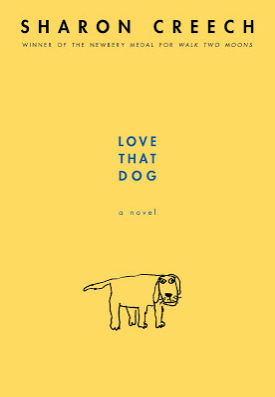 I am not much of a book-written-in-verse fan. I read Out Of The Dust when it came out and if the story hadn't creeped me out so much, I probably still wouldn't have been a big fan since the blank verse just did not appeal to me. But I loved Love That Dog and Hate That Cat. They are terrific books even if you think you won't like a book written in poetry.
I fell in love with Sharon Creech when I listened to Walk Two Moons on CD two summers ago and these two books have renewed my fervent fandom.
love that dog by sharon creech
Love That Dog is about Jack, whose teacher, Mrs. Stretchberry, introduces the class to some famous poems and has them write responses to it in blank verse and then write their own versions of the poems they've enjoyed. The whole book is Jack's responses to what they've read or listened to in class and sometimes his replies back to Mrs. Stretchberry's critiques and encouragement (which you never see, since this is only Jack's words in the book).
Jack really falls in love with Walter Dean Myers, particularly his poem "Love That Boy," and writes his own version called "Love That Dog," about his own dog, Sky, which turns out to be so much more than just a simple poem about a friendly dog.
hate that cat by sharon creech
Hate That Cat picks up the next school year where Mrs. Stretchberry is once again Jack's teacher and they focus again on poetry, beginning with some of the poems they'd studied the year before. "The wheelbarrow poem again?" Jack writes. "Did you forget we read it last year?"
He also talks about his Uncle Bill who thinks it's only real poetry if it rhymes and has long grand lines. William Carlos Williams' poems about wheelbarrows and plums are just crocks, in Uncle Bill's opinion.
This year they learn more about specific literary devices, like metaphor and simile and onomatopoeia and alliteration, and Jack begins working them into his own poems with varying degrees of success.
I laughed aloud when they read "Poem" by William Carlos Williams and Jack said, "The title is POEM (Is Mr. William Carlos Williams a little lazy?)."
I can't wait to share these books with my kids, introducing them to a grand variety of wonderful poems and poets, methods of writing, and literary devices. That makes them sound like they might be those horrible kinds of books that "disguise learning with a story" but are really painfully obvious. Sharon Creech books are nothing of the sort – discussing onomatopoeia is completely natural in context and blends right into the story.
The original poems – by William Carlos Williams, Edgar Allen Poe, T. S. Elliot and others – are in the back of the books, so you can look at them for reference.
Love That Dog and Hate That Cat are very quick reads – you can knock each volume out in an hour or less. And you should. They're worth every second.
Even if you don't like poetry, I think you'll love these books. Just read them.
If you liked this review of love that dog, you might also like these books: