You guys! There are some CRAZY good book deals this weekend.
I had to limit myself to just seven deals because I could have done twice this many. But my goal is to always keep this manageable and just share the best of the best.
Whether you want something for you or for your kids, I hope you'll find just the right thing to read this coming week.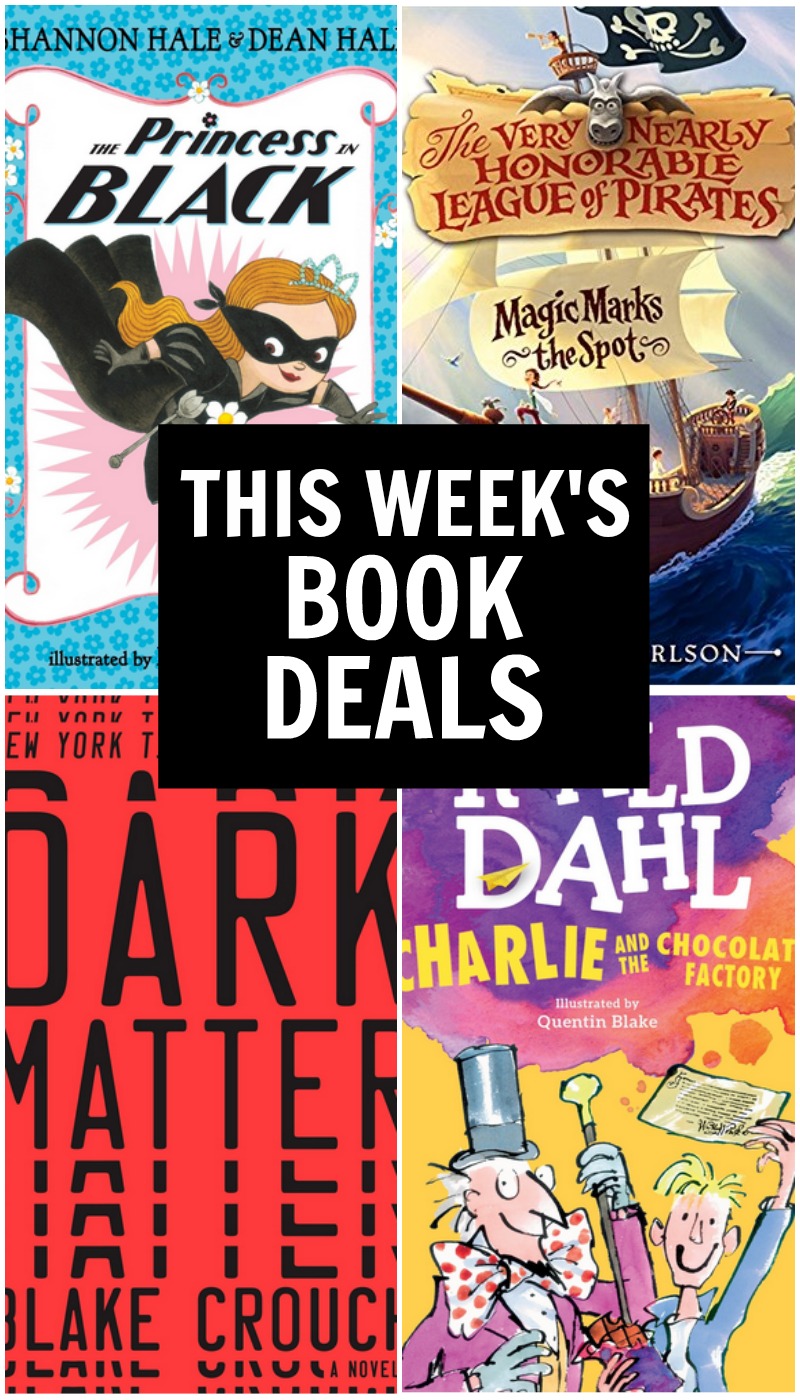 Book Deals You Don't Want to Miss This Weekend
Kindle Unlimited – FREE for 2 months
If you missed this early this week, I HIGHLY recommend you sign up – it's free for 2 months and gives you access to more than a million ebooks plus thousands of audiobooks. If the thought of a million books overwhelms you (me too!), here's a list of my favorite books that are included with Kindle Unlimited.
All Things Wise and Wonderful by James Herriot – ebook for $1.99
Are you a James Herriot fan? I'm not an animal lover at all, but I absolutely adore his books about being a veterinarian in England. I haven't read this one so I'm excited to grab it for a song!
Charlie and the Chocolate Factory by Roald Dahl – ebook for $1.99
This was one of my FAVORITE read-aloud experiences with Ella back in 2014. It's a perfect read-aloud for that preschool or kindergarten age.
Magic Marks the Spot: The Very Nearly Honorable League of Pirates by Caroline Carlson – ebook for $3.49 and paperback for $6.48
This book is so fun and Ella loved the whole series (the audiobook is fantastic, but not on sale).
The Princess in Black by Shannon Hale and Dean Hale, illustrated by LeUyen Pham – eBook for FREE
This book is SO delightful and I'm sure all of you know it already, but if you need your own copy, grab the eBook for FREEEEEEEE.
Dark Matter by Blake Crouch – eBook for $2.99
I read very little science fiction, but this one had such rave reviews that I couldn't help myself and I loved it so much I included it on the 2017 Summer Reading Guide. Then I gave it to Bart and he stayed up until 2 a.m. reading it (which I don't remember ever happening in our nearly 15 years of marriage). There is a fair amount of swearing in it, so skip it if that bothers you.
Dragons and Marshmallows by Asia Citro – eBook for FREE and audiobook for $2.77
This is the first book in this early chapter book series (each book is under 100 pages) and are a combination of science and magic. Perfect to try out for free or spend less than $3 on the audiobook version.