I've talked before about Kindle Unlimited and how it works, but I haven't talked much about Kindle Unlimited for kids.
Since tomorrow is the last day to grab the two free months of Kindle Unlimited deal, it feels like a good day to talk about all the awesome Kindle Unlimited books for kids.
If you sign up for a Kindle Unlimited subscription, you can share the books in your Kindle Unlimited library with your child to read either on a phone or tablet or on a Kindle for Kids.
There are more than 60,000 titles in Kindle Unlimited for kids (you can see the full list here).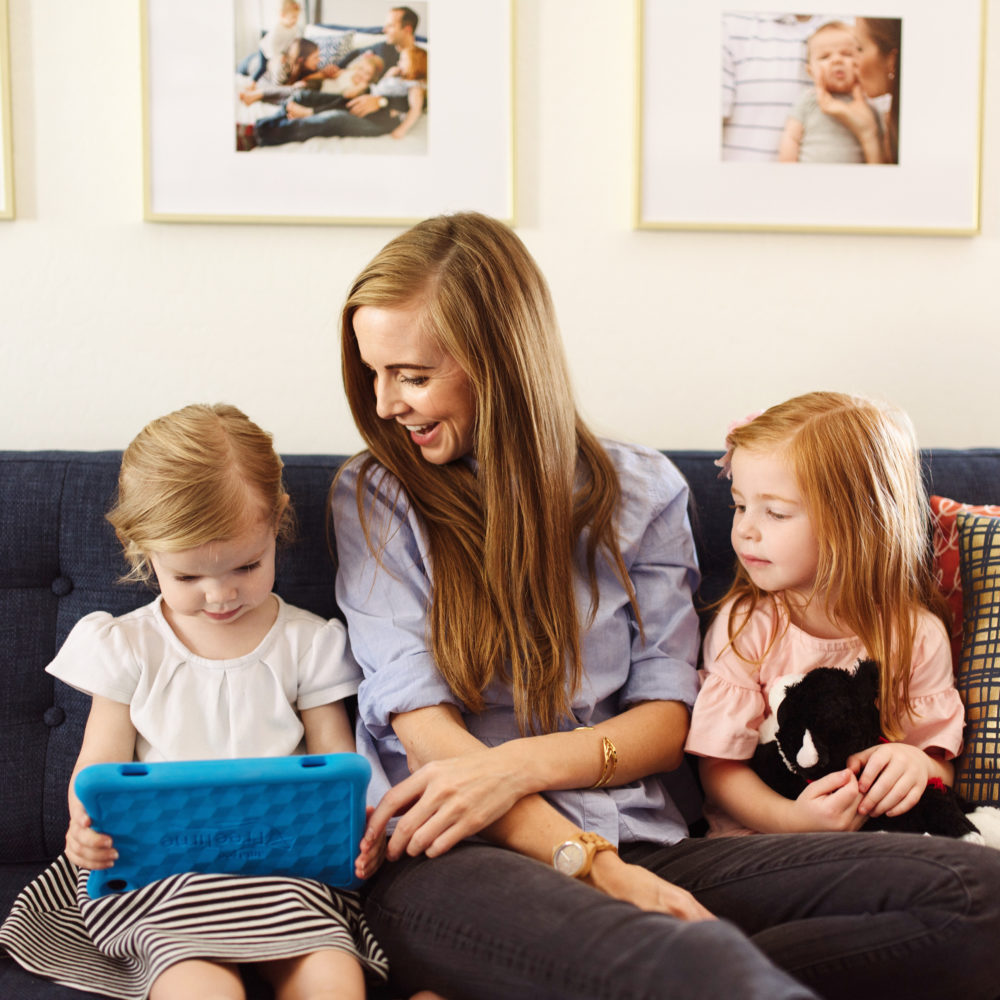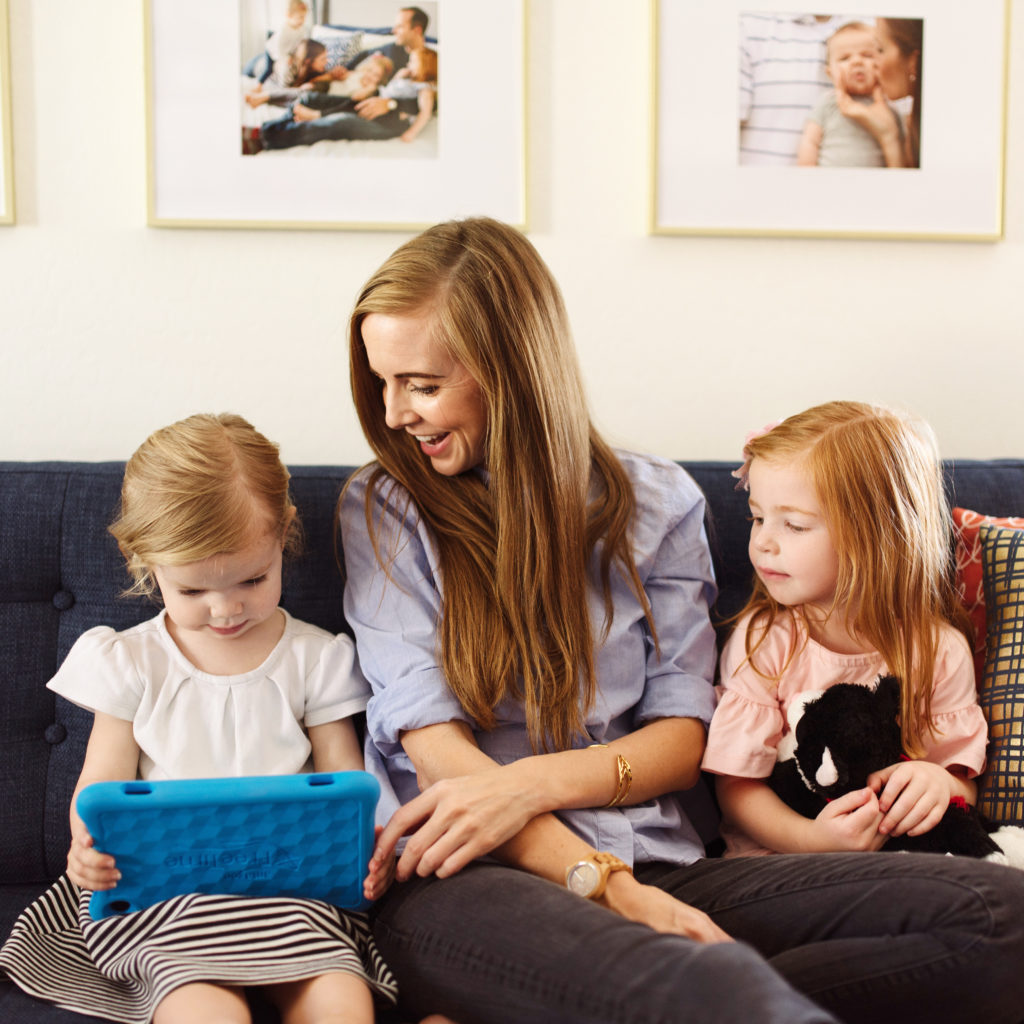 You can also see the Kindle Unlimited for Kids books broken down by level:
Now, of course mannnnnny of those books aren't worth reading, but there are a LOT of great books there and especially during this summer, with so many libraries closed and access to books harder to come by, Kindle Unlimited is a great resource (and when you get the rest of the summer free? 100% worth signing up).
Even better? Some of them have Audible narration included which means you can let your kids listen to them all summer long (unfortunately, there isn't an easy way to see which of the kids books on Kindle Unlimited have narration – just look for the little headphones symbol next to the Kindle Unlimited designation).
Note that the Kindle Unlimited library is ALWAYS changing, so while I'll do my best to keep this list up-to-date, it's possible that some books on this list will be removed from the Kindle Unlimited library at some point.
Here are more than 50 great Kindle Unlimited kid books to get you started: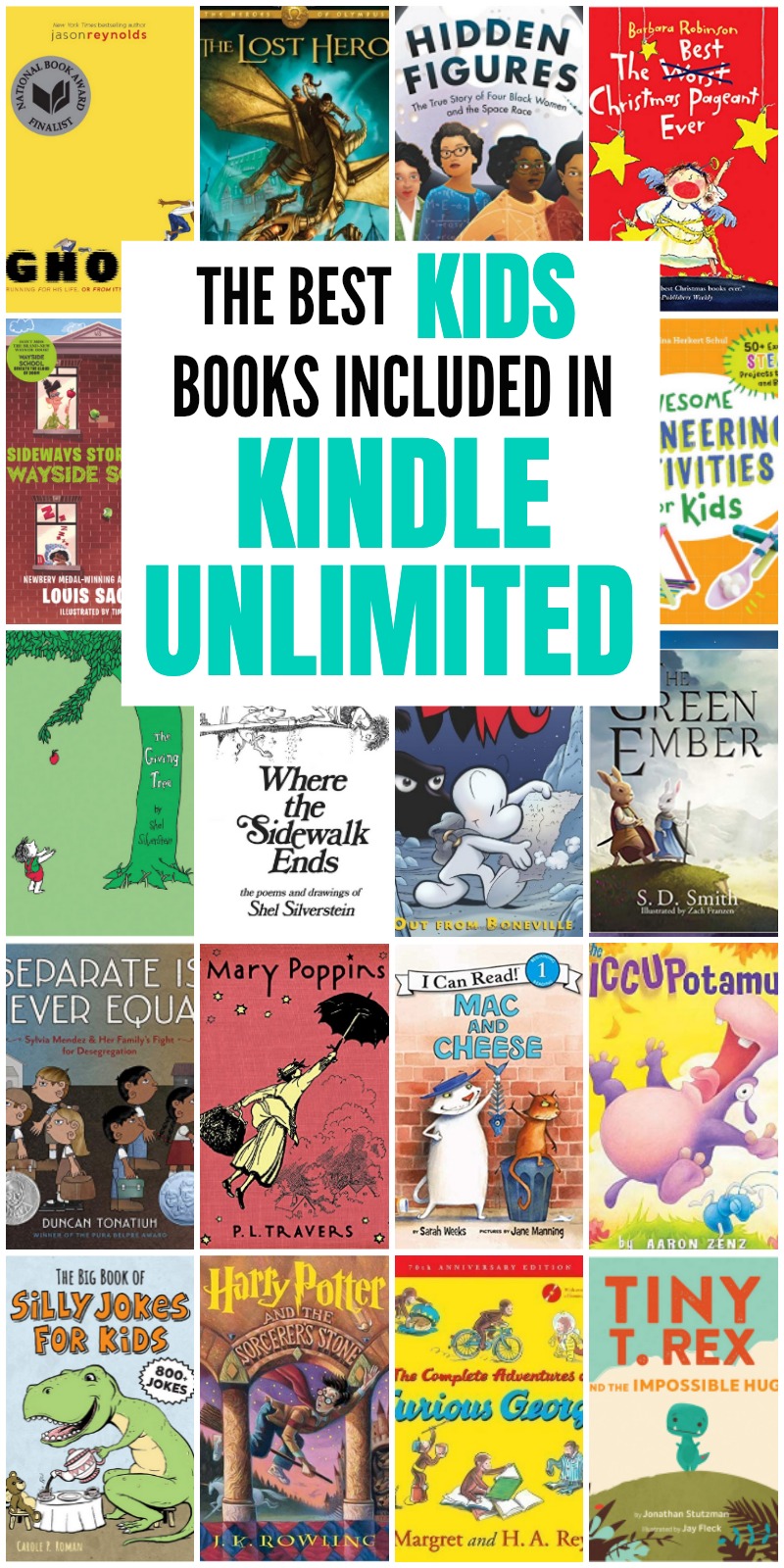 50+ Fantastic Books in Kindle Unlimited for Kids
Little Blue Truck board book by Alice Schertle, illustrated by Jill McElmurry
There's just something so delightful about the Little Blue Truck series and this is the book that started it all with a little blue truck that is happy to help out and his friends that want to help him back. It's a perfect book for the youngest little reader.
The Hiccupotamus by Aaron Zenz
I read this book long ago with my girls and it's just the perfect read-aloud picture book about a hippopotamus that gets the hiccups. I don't necessarily gravitate toward rhyming books but this one is TERRIFIC.
The Bad Seed by Jory John, illustrated by Pete Oswald
All three of the books in this funny series are included in Kindle Unlimited and my children are obsessed with every one of them.
The Giving Tree by Shel Silverstein
This one's a classic (you can decide for yourself whether you think it's sweet or if the martyr narrative makes you grumpy).
Hidden Figures by Margot Lee Shetterly, illustrated by Laura Freeman
You may have read the full book or watched the movie of this amazing true story and this picture book version lets you share the story with your younger children.
This Is How We Do It: One Day in the Lives of Seven Kids from Around the World by Matt Lamothe
I love this beautiful book about what life looks like (from school to bedrooms to chores to activities to food) for different children around the world. It's the perfect non-fiction book to help introduce your child to both the similarities and differences of childhood around the globe.
Tiny T. Rex and the Impossible Hug by Jonathan Stutzman and Jay Fleck
This is currently on repeat at our house – my children think it's endlessly amusing to watch T. Rex try to figure out how to hug his gloomy friend.
It Is Not Perfect (You Are Not Small) by Anna Kang and Christopher Weyant
All five of the books in this delightful series are included in Kindle Unlimited and they're fun read-aloud picture books!
Harold and the Purple Crayon by Crockett Johnson
It's been popular for fifty years for a reason – if your child hasn't yet been introduced to it, Kindle Unlimited is making it super easy for you to give it a read.
Separate Is Never Equal: Sylvia Mendez and Her Family's Fight for Desegregation by Duncan Tonatiuh
This beautiful true story about a young girl and her family's fight in California for school desegregation (a decade before the Supreme Court deemed it unconstitutional) is the perfect read to help your child understand some of the racial issues (and their historical backgrounds) going on today.
Caps for Sale: A Tale of a Peddler, Some Monkeys, and Their Monkey Business by Esphyr Slobodkina
This book, about a peddler who sits down under a tree for a little nap and wakes to find his hats all stolen by some mischievous monkeys, is a classic.
Mac and Cheese by Sarah Weeks and Jane Manning
If you have an emerging reader the I Can Read! books are perfect for helping build skills and keep their confidence and interest in reading growing.
Chrysanthemum by Kevin Henkes
I love all of Kevin Henkes' mouse books, but Chrysanthemum is certainly a favorite as she worries about her long, unusual name.
Red: A Crayon's Story by Michael Hall
Sometimes, no matter how hard you try you're not a red crayon. And when everyone expects you to be red, blue looks like a mistake. I love this sweet story about being true to who you are and recognizing when labels don't fit on other people too.
Shark Lady: The True Story of How Eugenie Clark Became the Ocean's Most Fearless Scientist by Jess Keating, illustrated by Marta Álvarez Miguéns
This book is just plain COOL. I mean, who wouldn't want to dive with sharks and learn all about how they live underwater?
It's Not Jack and the Beanstalk by Josh Funk, illustrated by Edwardian Taylor
This fractured fairy tale was a favorite at our house when we had it checked out from the library a few years ago.
Where the Sidewalk Ends by Shel Silverstein
At this point, Shel Silverstein's name is basically synonymous with children's poetry and even the most reluctant child can't help but crack a smile at some of his wacky poems.
Frog and Toad All Year by Arnold Lobel
Oh, how I love Frog and Toad, and I was delighted to see this classic easy reader book included in Kindle Unlimited.
Don't Push the Button! by Bill Cotter
If you have a child who loves interactive books, you can't go wrong with this one about a monster who knows he shouldn't push the button. . . but really really wants to.
Music for Alice by Allen Say
I'm a long-time fan of Allen Say and this one follows Alice, a young woman who, along with her husband, is forced to report to camps during WWII because they are Japanese Americans.
Fancy Nancy by Jane O'Connor, illustrated by Robin Preiss Glasser
These Fancy Nancy books are super popular at our house and this is the book that kicked off the Fancy Nancy empire.
The Hundred Dresses by Eleanor Estes, illustrated by Louis Slobodkin
This book is a longer than your average picture book, clocking in at 106 pages. It's not quite a chapter book, not quite a picture book, and won a Newbery Honor in the 40s.
The Complete Adventures of Curious George by Margret Rey and H. A. Rey
If you need some naughty little monkey antics in your life, this giant collection has you covered.
Out From Boneville by Jeff Smith and Steve Hamaker
I could NOT keep this graphic novel series on the shelves when I was a school librarian. It's a crowd favorite for sure!
Bedtime Inspirational Stories: 50 Amazing Black People Who Changed the World by L. A. Amber
Ever since I recommended WildLives in the Summer Reading Guide, I've been getting requests for more books that are collections of short non-fiction stories. This is a great one with perfectly sized chapters about amazing Black people that you might or might not have heard of before.
The Spiderwick Chronicles by Holly Black and Tony DiTerlizzi
This is one of the rare instances where I watched the movie without reading the book. But obviously it's most fun to do both.
Warriors by Erin Hunter and Dave Stevenson
The first three books in this series about warrior cats (who knew?) are all included in your Kindle Unlimited membership.
How to Draw: Easy Techniques and Step-by-Step Drawings for Kids by Aaria Baid
This book is perfect for a budding artist. Grab some pencils and a big stack of paper and you're good to go for a while!
Sideways Stories from Wayside School by Louis Sachar
I'm pretty sure my girls have listened to this series at least 40 times in the last year (they're included on Scribd) and I likely could recite them all at this point.
Hello, Universe by Erin Entrada Kelly, illustrated by Isabel Roxas
This one won the Newbery and follows four children in a neighborhood who are all dealing with their own struggles and come together to solve a problem.
Found by Margaret Peterson Haddix
I read this one when I was a school librarian plowing my way through the Massachusetts Children's Book Award list and loved it so much I made Bart listen to it too!
The Mouse and the Motorcycle by Beverly Cleary
I'm a lifelong fan of Beverly Clearly and I particularly love little mouse Ralph (despite the fact that in real life I hate mice more than almost anything). The whole series is included on Kindle Unlimited so you can blaze through them all this summer.
Awesome Engineering Activities for Kids: 50+ Exciting STEAM Projects to Design and Build by Christina Schul
Need something to keep your kids occupied this summer? This book is perfect with plenty of fun projects to keep them busy and learning.
Harry Potter by J.K. Rowling
These books need no introduction. Now if only the Jim Dale narration was included. . . .
The Crossover by Kwame Alexander
This basketball book told in verse is super gripping and won the Newbery a few years ago. Highly recommend!
The Fairy-Tale Detectives by Michael Buckley
Ella read this whole series a couple of years ago and then she and Ani have listened to the audio versions of them together. They're clever and funny and fantastic for young fantasy lovers.
Mary Poppins by P. L. Travers
You've seen the movie a thousand times, but have you ever read the books that inspired the Disney film? Here's your chance to read it for free! (audible narration available)
The Terrible Two by Mac Barnett and Jory John
This book about two boys trying to outprank the other is laugh-out-loud funny.
The Hunger Games by Suzanne Collins
The entire trilogy is included in Kindle Unlimited, plus has the audio so you can listen, if you'd prefer! (audible narration available)
Artemis Fowl by Eoin Colfer
This one just came out as a movie on Disney Plus (although the reviews I'm hearing aren't great) and it's the July book for the Everyday Reading Book Club, so it's a great time to read it for free!
The Lost Hero by Rick Riordan
This book kicks off Rick Riordan's Olympus Heroes series in style, so if you have a child who loved The Lightning Thief or Greek mythology, give this one a go.
Out of My Mind by Sharon M. Draper
Melody is 11 and because she has cerebral palsy, she can't walk or talk or write. In fact, most of the people she interacts with think she has very low brain function. It turns out? She's actually super smart. If she can just figure out how to let anyone know it.
The Big Book of Silly Jokes for Kids: 800+ Jokes! by Carole P. Roman
Have a joke lover? This book will keep them occupied or make you look like the funniest parent on the planet.
The Green Ember by S. D. Smith and Zach Franzen
This adventure story about rabbits is a fan favorite and all four books are included in Kindle Unlimited.
Inside Out and Back Again by Thanhha Lai
Told in verse, this memoir about fleeing Vietnam and coming to America scooped up both the National Book Award and a Newbery Honor.
A Long Walk to Water by Linda Sue Park
I've loved Linda Sue Park since I read A Single Shard years ago, and I can't wait to read this bestseller about about two eleven-year-olds in Sudan. One is a girl in 2008; the other is a boy in 1985. (audible narration available)
Ghost by Jason Reynolds
I had this National Book Award Finalist on hold at the library so I was delighted to see it was available with no wait with my Kindle Unlimited subscription! It's about four wildly different kids on an elite middle school track team with hopes for the Junior Olympics if they can learn to work together.
Bridge to Terabithia by Katherine Paterson
Just. . . prepare your tissues is all.
Anne of Green Gables: A Graphic Novel by Mariah Marsden , Brenna Thummler
I read the original Anne of Green Gables to my girls earlier this year and Ella was thrilled to discover that there was a graphic novel version too.
The Hiding Place by Corrie ten Boom
I read and loved the original version but didn't know until I was looking through the Kindle Unlimited library that there was a Young Reader's version.
Walk Two Moons by Sharon Creech
I didn't read this Newbery winner until I was an adult and then I quickly discovered why people are so in love with this book.
The Best Christmas Pageant Ever by Barbara Robinson
All three books in this series are included with Kindle Unlimited (I didn't know there WERE other books in the series until just a few months ago!).
And if you'd like a printable copy of this list that you can take to your library or screenshot on your phone for easy access, just pop in your email address below and it'll come right to your inbox!
Any other favorite kids books included in Kindle Unlimited? I'd love it if you shared!
If you liked this post about Kindle Unlimited for Kids, you might like these posts too: