Looking for a copy of this list of Kindle Unlimited for Kids books? Pop in your email address below and it'll come right to your inbox!
I've talked before about Kindle Unlimited and how it works, but I haven't talked much about Kindle Unlimited for kids.
Since tomorrow is the last day to grab the two free months of Kindle Unlimited deal, it feels like a good day to talk about all the awesome Kindle Unlimited books for kids.
If you sign up for a Kindle Unlimited subscription, you can share the books in your Kindle Unlimited library with your child to read either on a phone or tablet or on a Kindle for Kids.
There are more than 60,000 titles in Kindle Unlimited for kids (you can see the full list here).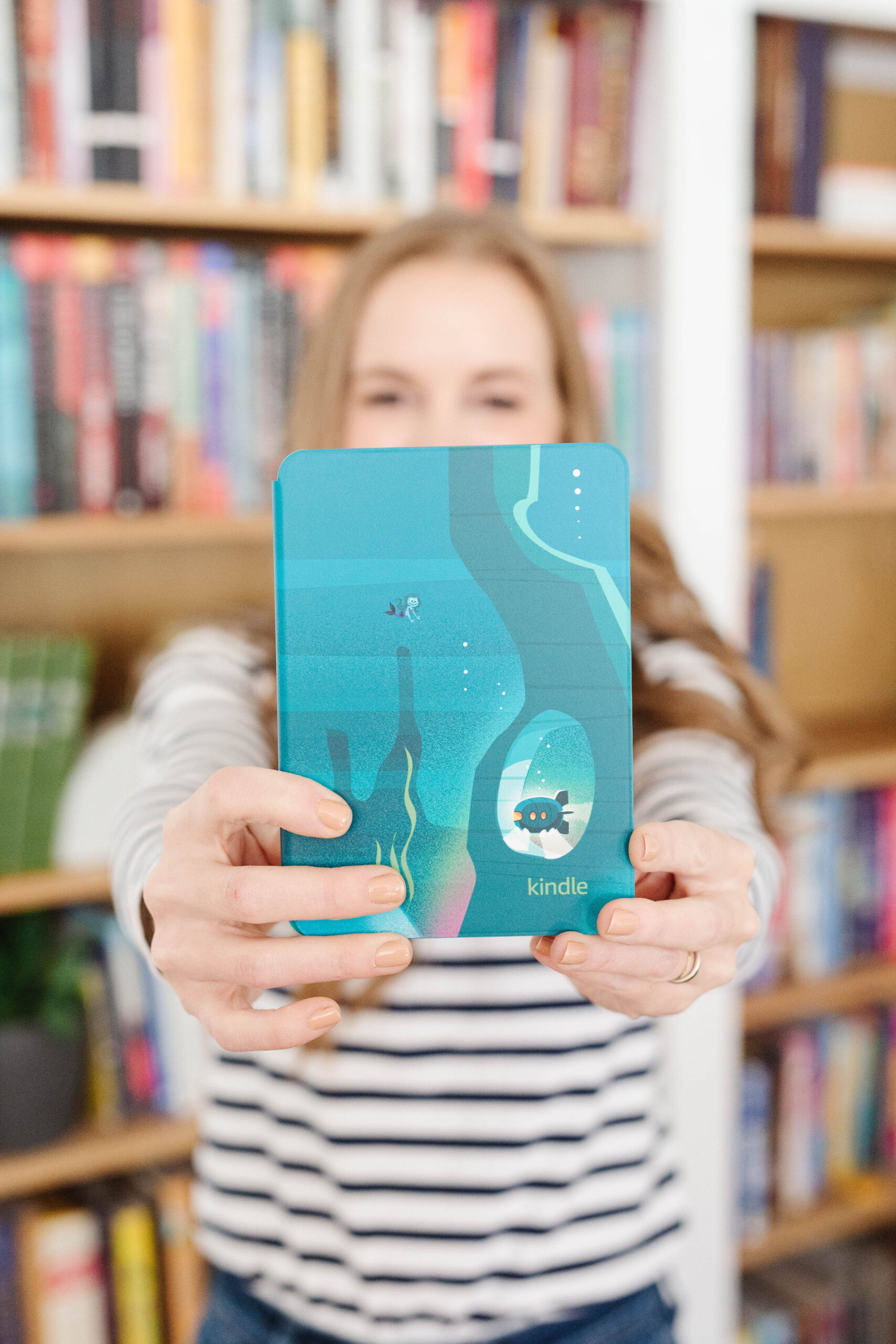 You can also see the Kindle Unlimited for Kids books broken down by level:
Now, of course mannnnnny of those books aren't worth reading, but there are a LOT of great books there and especially during this summer, with so many libraries closed and access to books harder to come by, Kindle Unlimited is a great resource (and when you get three free months right now? 100% worth signing up).
Even better? Some of them have Audible narration included which means you can let your kids listen to them all summer long (unfortunately, there isn't an easy way to see which of the kids books on Kindle Unlimited have narration – just look for the little headphones symbol next to the Kindle Unlimited designation).
Note that the Kindle Unlimited library is ALWAYS changing, so while I'll do my best to keep this list up-to-date, it's possible that some books on this list will be removed from the Kindle Unlimited library at some point.
Here are more than 50 great Kindle Unlimited kid books to get you started: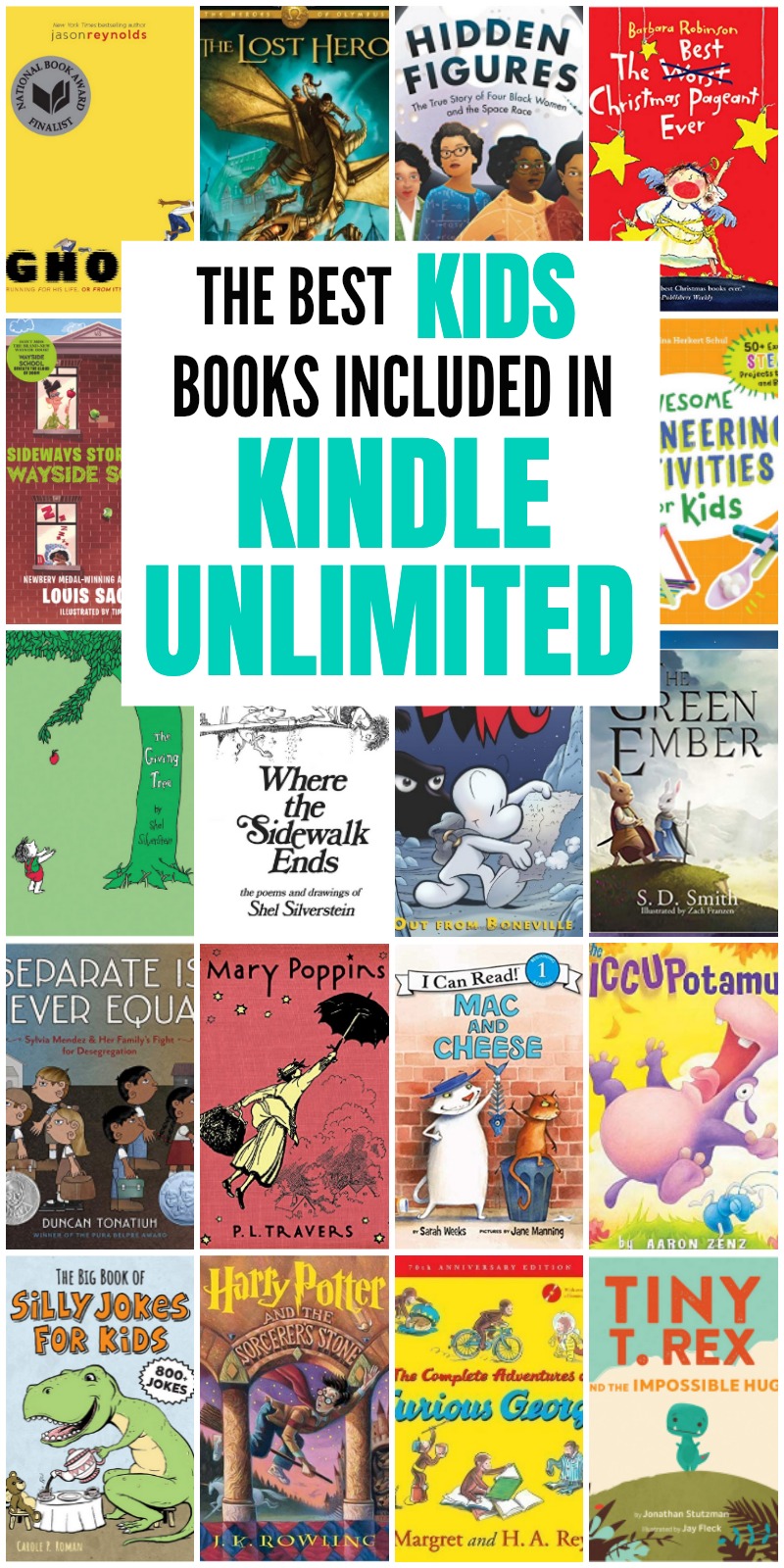 50+ Fantastic Books in Kindle Unlimited for Kids
Little Blue Truck board book by Alice Schertle, illustrated by Jill McElmurry
There's just something so delightful about the Little Blue Truck series and this is the book that started it all with a little blue truck that is happy to help out and his friends that want to help him back. It's a perfect book for the youngest little reader.
The Hiccupotamus by Aaron Zenz
I read this book long ago with my girls and it's just the perfect read-aloud picture book about a hippopotamus that gets the hiccups. I don't necessarily gravitate toward rhyming books but this one is TERRIFIC.
The Bad Seed by Jory John, illustrated by Pete Oswald
All three of the books in this funny series are included in Kindle Unlimited and my children are obsessed with every one of them.
The Giving Tree by Shel Silverstein
This one's a classic (you can decide for yourself whether you think it's sweet or if the martyr narrative makes you grumpy).
Hidden Figures by Margot Lee Shetterly, illustrated by Laura Freeman
You may have read the full book or watched the movie of this amazing true story and this picture book version lets you share the story with your younger children.
It Is Not Perfect (You Are Not Small) by Anna Kang and Christopher Weyant
All five of the books in this delightful series are included in Kindle Unlimited and they're fun read-aloud picture books!
Harold and the Purple Crayon by Crockett Johnson
It's been popular for fifty years for a reason – if your child hasn't yet been introduced to it, Kindle Unlimited is making it super easy for you to give it a read.
Caps for Sale: A Tale of a Peddler, Some Monkeys, and Their Monkey Business by Esphyr Slobodkina
This book, about a peddler who sits down under a tree for a little nap and wakes to find his hats all stolen by some mischievous monkeys, is a classic.
Mac and Cheese by Sarah Weeks and Jane Manning
If you have an emerging reader the I Can Read! books are perfect for helping build skills and keep their confidence and interest in reading growing.
Red: A Crayon's Story by Michael Hall
Sometimes, no matter how hard you try you're not a red crayon. And when everyone expects you to be red, blue looks like a mistake. I love this sweet story about being true to who you are and recognizing when labels don't fit on other people too.
It's Not Jack and the Beanstalk by Josh Funk, illustrated by Edwardian Taylor
This fractured fairy tale was a favorite at our house when we had it checked out from the library a few years ago.
Where the Sidewalk Ends by Shel Silverstein
At this point, Shel Silverstein's name is basically synonymous with children's poetry and even the most reluctant child can't help but crack a smile at some of his wacky poems.
The Complete Adventures of Curious George by Margret Rey and H. A. Rey
If you need some naughty little monkey antics in your life, this giant collection has you covered.
Out From Boneville by Jeff Smith and Steve Hamaker
I could NOT keep this graphic novel series on the shelves when I was a school librarian. It's a crowd favorite for sure!
Bedtime Inspirational Stories: 50 Amazing Black People Who Changed the World by L. A. Amber
Ever since I recommended WildLives in the Summer Reading Guide, I've been getting requests for more books that are collections of short non-fiction stories. This is a great one with perfectly sized chapters about amazing Black people that you might or might not have heard of before.
Warriors by Erin Hunter and Dave Stevenson
The first three books in this series about warrior cats (who knew?) are all included in your Kindle Unlimited membership.
How to Draw: Easy Techniques and Step-by-Step Drawings for Kids by Aaria Baid
This book is perfect for a budding artist. Grab some pencils and a big stack of paper and you're good to go for a while!
The Mouse and the Motorcycle by Beverly Cleary
I'm a lifelong fan of Beverly Clearly and I particularly love little mouse Ralph (despite the fact that in real life I hate mice more than almost anything). The whole series is included on Kindle Unlimited so you can blaze through them all this summer.
Awesome Engineering Activities for Kids: 50+ Exciting STEAM Projects to Design and Build by Christina Schul
Need something to keep your kids occupied this summer? This book is perfect with plenty of fun projects to keep them busy and learning.
Harry Potter by J.K. Rowling
These books need no introduction. Now if only the Jim Dale narration was included. . . .
Mary Poppins by P. L. Travers (free with Amazon Kids+)
You've seen the movie a thousand times, but have you ever read the books that inspired the Disney film? Here's your chance to read it for free! (audible narration available)
The Hunger Games by Suzanne Collins
The entire trilogy is included in Kindle Unlimited, plus has the audio so you can listen, if you'd prefer! (audible narration available)
Artemis Fowl by Eoin Colfer
This one just came out as a movie on Disney Plus (although the reviews I'm hearing aren't great) and it's the July book for the Everyday Reading Book Club, so it's a great time to read it for free!
The Lost Hero by Rick Riordan
This book kicks off Rick Riordan's Olympus Heroes series in style, so if you have a child who loved The Lightning Thief or Greek mythology, give this one a go.
The Big Book of Silly Jokes for Kids: 800+ Jokes! by Carole P. Roman
Have a joke lover? This book will keep them occupied or make you look like the funniest parent on the planet.
The Green Ember by S. D. Smith and Zach Franzen
This adventure story about rabbits is a fan favorite and all four books are included in Kindle Unlimited.
A Long Walk to Water by Linda Sue Park
I've loved Linda Sue Park since I read A Single Shard years ago, and I can't wait to read this bestseller about about two eleven-year-olds in Sudan. One is a girl in 2008; the other is a boy in 1985. (audible narration available)
Anne of Green Gables: A Graphic Novel by Mariah Marsden , Brenna Thummler
I read the original Anne of Green Gables to my girls earlier this year and Ella was thrilled to discover that there was a graphic novel version too.
The Hiding Place by Corrie ten Boom
I read and loved the original version but didn't know until I was looking through the Kindle Unlimited library that there was a Young Reader's version. This WWII book is such an incredible memoir about a woman who, along with her sister, is arrested for hiding Jews and survives the concentration camps.
Big Nate: Beware of Low-Flying Corn Muffins by Lincoln Peirce
A graphic novel that depicts all of Nate's goofy antics! Such a fun book and one that will be sure to make you and your kids laugh. Big Nate Aloha is also available for free!
A Wizard of Earthsea by Ursula K. Le Guin
A fantasy series originally published in 1968, it's a timeless story about Ged the greatest sorcerer in Earthsea and his journey through trials to get to his current height.
Diary of a Wimpy Kid by Jeff Kinney
A beloved graphic novel by many a kid. Tells and illustrates all the struggles of being a kid.
Number the Stars by Lois Lowry
This historical fiction book about WWII was the first chapter book I read on my own and I still love it all these years later. It's a fast read – we blew through it in about a week and it deserves that Newbery sticker for sure.
The Unteachables by Gordon Korman
A very funny book about what happens when the worst class of kids in the school is paired with the worst teacher. What could go wrong?
A Wrinkle in Time by Madeleine L'Engle. I've read this one a couple of times and the first time I loved it and the second time I was like "this book is pretty weird." I definitely don't think it's for everyone, but it's also a total classic. (Full review here)
The Last Fallen Star by Graci Kim
Fantasy is always a hit at our house and this one, from Rick Riordan's imprint, is based on Korean mythology. And a story about sisters? Also always a go to at our house. This debut novel is brimming with magic and Korean culture – it's about an adopted Korean-American girl, Riley, who feels like the odd one out in her family because she doesn't have magical powers. But when her sister, who does have magical powers, suggests a way that Riley might be able to harness magic for herself, things go quickly awry and it's up to Riley to save her sister by fulfilling an impossible task.
Measuring Up by Lily LaMotte
This book showed up on about a million lists and I put it on hold and then Ella snagged it when I picked it up, and read it and returned it before I had a chance to even crack the cover! Good thing she included it on this list so I could be reminded that I still want to read this graphic novel about Cici who has just moved to Seattle from Taiwan and is trying both to fit in at her new school AND figure out how to celebrate her beloved grandmother's 70th birthday in person.
The Wednesday Wars by Gary D. Schmidt
Oh my word. If you've been around for any length of time, you know how deeply obsessed I am with this book. I read a paper version and then went back and listened to the audio version which was absolutely amazing.  (Full review here)
Click by Kayla Miller. 
A graphic novel about Olive and her efforts to find her own click in the fifth grade. Will she be able to find where she fits in?
The Witch of Blackbird Pond by Elizabeth George Speare
A Newbery award winning book from 1959, tells the story of Kit Tyler, a sixteen year old girl navigating the difficult setting of colonial Connecticut in the 1600's.
Life As We Knew it by Susan Beth Pfeffer.
This YA trilogy, Life As We Knew It, is about the world being significantly altered by an asteroid hitting the moon is a little bit like watching a train wreck; it's horrific, but you can't look away. And you won't forget it either – the characters and the storyline are so real and so memorable, without being over the top. (full review here)
Percy Jackson and the Olympians: The Lightning Thief by Rick Riordan
I grabbed my mother-in-law's copy of this book when we were living there and I suddenly found myself without a next book to read to the girls and they are SO INTO it. Seriously, there were shrieks of despair every night when I finished for the evening. I read it back in 2008 and it's fun to revisit – I enjoyed it MUCH more as a read aloud than I did when I read it solo! (Full review here).
And if you'd like a printable copy of this list of kindle unlimited books for kids that you can take to your library or screenshot on your phone for easy access, just pop in your email address below and it'll come right to your inbox!
Any other favorite kids books included in Kindle Unlimited? I'd love it if you shared!
If you liked this post about Kindle Unlimited for Kids, you might like these posts too: