Ella is reading up a storm right now (part of this is due to the weather which means they're inside pretty much all the time and part of it is thanks to her Kindle – the other night, she read two books between the time I finished reading aloud to them and the time she went to bed).
So she's back with five more recommendations of books she's read and loved – some recently and some over the past few years.
I hope if you're looking for books for your child to read or listen to, this list will be helpful for you!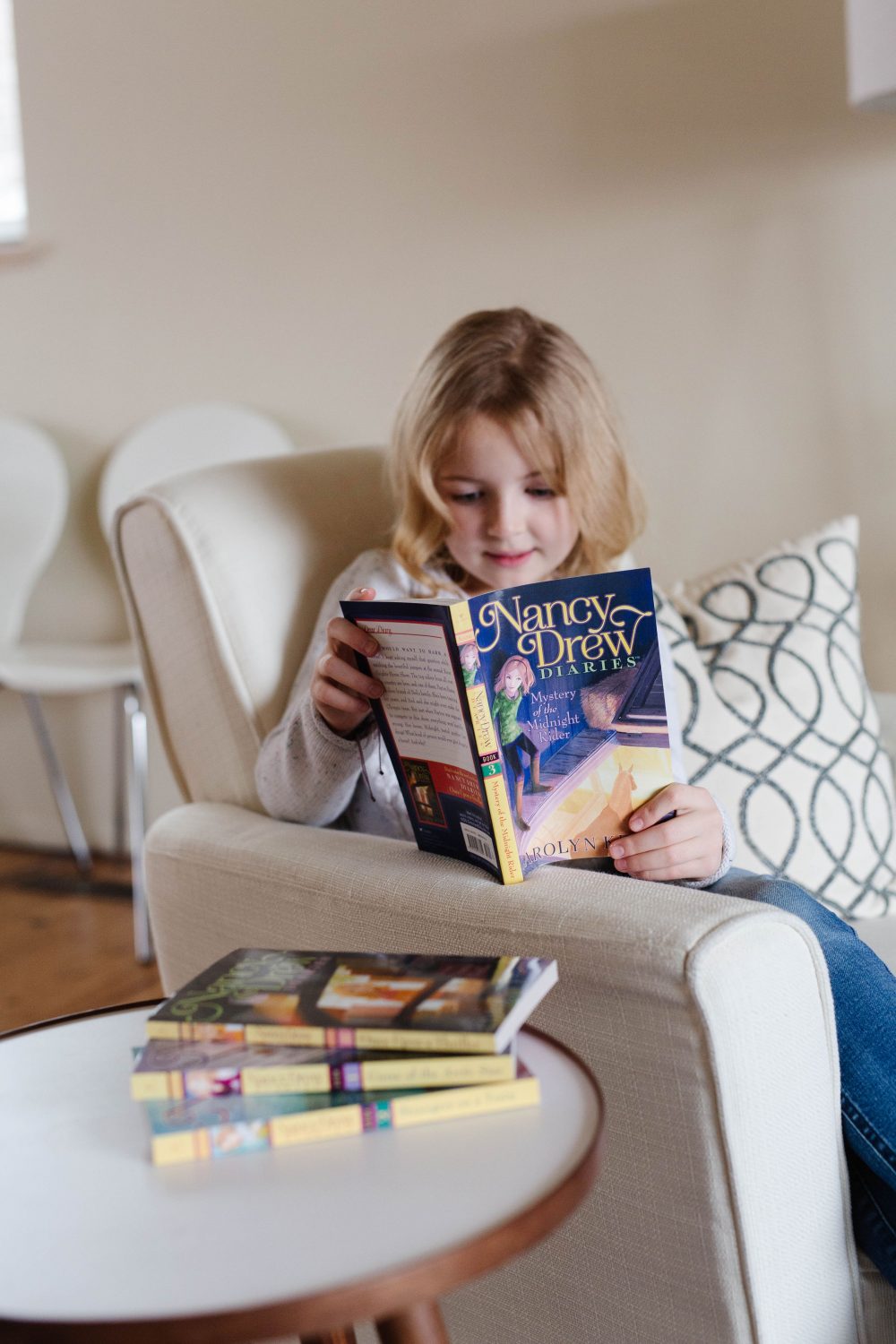 4th Grade Books to Read
Nancy Drew Diaries by Carolyn Keene
192 pages
Ella got hooked on this series because there were some included on the Amazon FreeTime Unlimited books on her new Kindle and then she discovered we had a whole set of them on my bookshelf. I grew up with Nancy Drew (my mom bought a huge set of the original yellow hardcovers from a friend for $5 or $10!) and it's fun to see Ella discover this modern version of her.
What Ella has to say: When I read the first Nancy Drew Diaries, I couldn't wait to read more of them. Nancy Drew is about thirteen in these books and she travels around solving mysteries with her friends. I like how, at the beginning of each book, it shows her writing in her diary about the mystery and then you get to read about the whole mystery.
Ramona Quimby, Age 8 by Beverly Cleary
208 pages
My three older girls have listened non-stop to every Ramona book for the past three years. There's a reason they're still so popular, all these years later. We listened to one of them on a road trip several years ago and Bart turned to me and said, "She is just SUCH a good writer." Couldn't agree more.
What Ella has to say: I have read almost every book by Beverly Clearly for kids and I've loved them all. It's fun to hear all about different kids' experiences – I like it when Ramona cracks an egg on her head and is super mad at her mom for giving her a raw egg instead of a hard-boiled egg. These books are good for all ages and all my sisters love them too.
Mrs. Piggle-Wiggle by Betty MacDonald
128 pages
I read this aloud to Ella when she was four and she's been hooked ever since. I think she's read or listened to the whole series of Mrs. Piggle-Wiggle and her magical cures for common childhood ailments every year since then. They're magical and delightful and funny and I loved them just as much when I was a child.
What Ella has to say: I love Mrs. Piggle Wiggle books and it's fun to hear all about the kids' bad habits and what Mrs. Piggle Wiggle does to cure them. I like the cure where the boy is calling everyone mean names and Mrs. Piggle Wiggle gives him magic paper that takes all the names and puts them on his ceiling so he can't stop looking at them.
The Candy Shop Wars by Brandon Mull
384 pages
Ella's best friend from Arizona wrote her a letter recently mentioning that she was reading and loving the Fablehaven series. Naturally, Ella was anxious to read it too, but when our library didn't have it checked in, we grabbed another book by Brandon Mull and Ella has been THRILLED by it. I mean, magical candy that gives superpowers? Throw in a fight against evil and Ella was ALL in.
What Ella has to say: These books were AMAZING!  I thought that the different kinds of candy with their different names suggesting what they did were super fun to listen to, like moon rocks that make you float and clean slates that erase your memory.  Ani loved them until they started getting scary so I think these books are better for a little bit older kids.  I was also happy to read a Brandon Mull book because he came to our school in an assembly and talked about his books.
Real Friends by Shannon Hale, illustrated by LeUyen Pham
224 pages
Ella read these at school and absolutely loved them. I'm a big Shannon Hale fan but hadn't read this graphic novel series which is based on Shannon Hale's experiences in elementary school as her friendships start to splinter. They definitely bring up some heavier discussion topics about mean girls and crushes and bullying – I wouldn't recommend them to much younger readers.
What Ella has to say: This was my third time reading Real Friends and it was still as good as the first time. I love that she doesn't always act like a hero and she has her own weaknesses. I like that Shannon Hale doesn't act like siblings are always perfectly nice to you or horrible to you.  I love graphic novels and this is one of my favorites. I also enjoyed the part where she tries to make friends with Jen but is resisted by Jenny.