You may have heard that Amazon is having a little sale this week (ha!) and one of thing things I was most excited about was their Audible audiobooks sale.
They have HUNDREDS of audiobooks on sale right now and I sorted through all of them. Frankly, there were many underwhelming options, but here were the five that I was most delighted to see on sale!
A few things to know about these audiobook deals:
You'll need to be an Audible member to get these deals. If you're not, you can grab three free months of Audible here – which is, in my opinion, the very best deal of Prime Day.
Do not use your credits to buy these audiobooks. At this price, it's much cheaper to use cash to buy them than to use your credits (which you should save for much more expensive audiobooks).
You generally can't purchase them in the Audible or Amazon apps. You'll need to be on one of the websites, rather than the app.
If you want to see all the audiobook deals, they're listed here!
My favorite screen-free way to listen to Audible audiobooks is on an Echo device. My girls each have one in their room and this is a great moment to snag one while they're on 50% off sale for Prime Day. They can just operate it with voice commands, set a sleep timer, and adjust the speed. (I have a whole post here about using an Echo device to listen to audiobooks).
With that out of the way, here are the five books from the sale I am most excited about: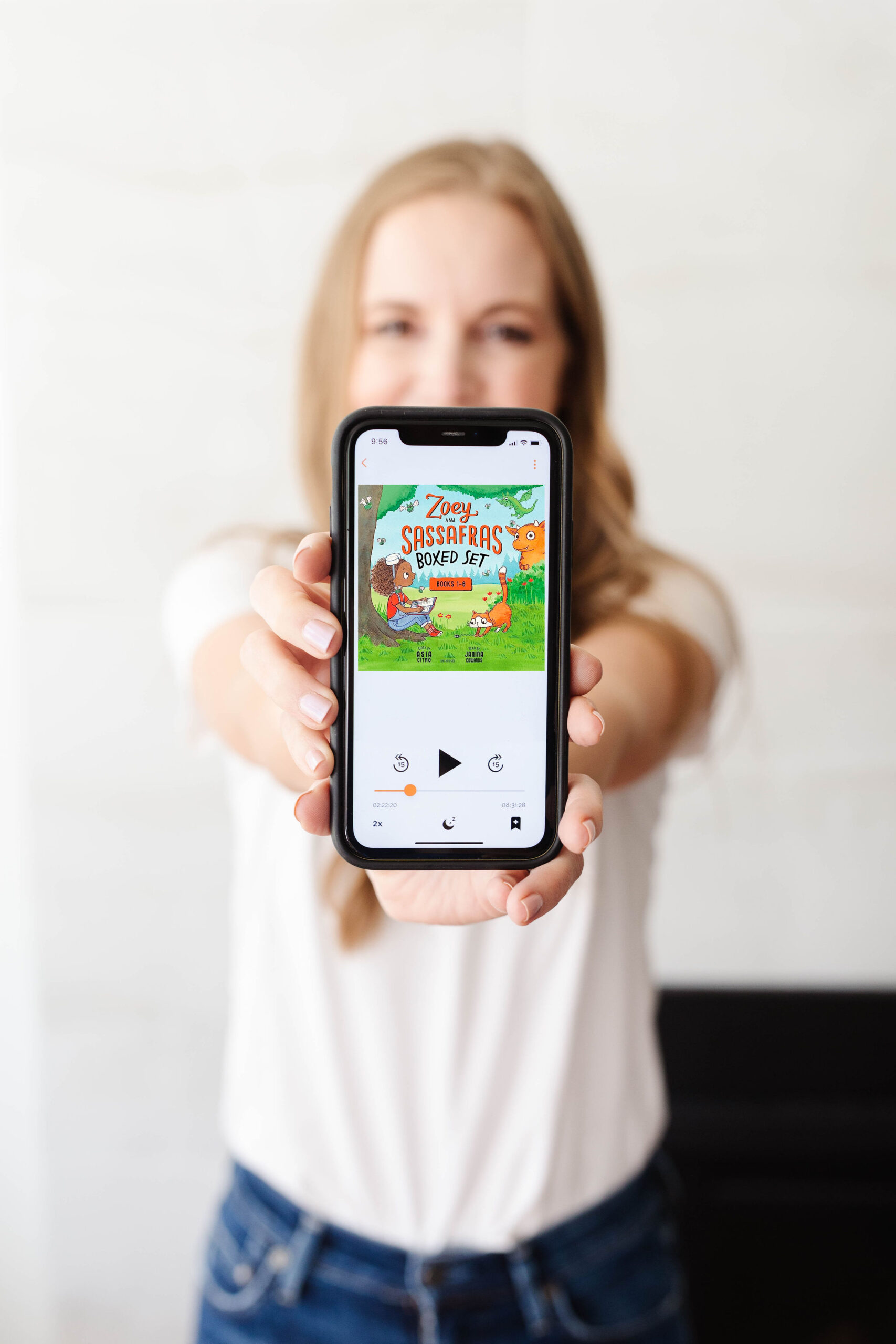 5 audiobooks for under $6
Zoey and Sassafras Boxed Set: Books 1-6 by Asia Citro – $4.99
A series with magical animals, science, and mystery? My girls were INSTANT fans of this book series where Zoey and her cat sidekick Sassafras help a magical animal using science. Plus, you can't beat this price for an entire six book set!

Happier Hour by Cassie Holmes – $4.99
This was the January book for this year's Everyday Reading Book Club and couldn't stop talking about it. I love a self-help book and this one has so many good practical tips for making your life happier, no matter what your current life looks like.
The Off Limits Rule by Sarah Adams – $4.99
Sarah Adams is a great clean romance writer and I have been loving all of her books so far. In this one, Lucy has hit rock bottom. Because of her financial situation, she is forced to move in with her brother, and in the process becomes very interested in her brothers very attractive best friend, Cooper. Cooper is everything Lucy should stay away from…but will she?
Better Than the Movies by Lynn Painter – $5.99
I was utterly charmed by this story of high school senior Liz who loves romantic comedies and has a long-time rivalry with her neighbor and classmate Wes. But then Michael, the boy she loved since she was a little girl, moves back to town and it looks like Wes is her best chance to make her own movie ending come true. There was so much funny dialogue and I laughed out loud multiple times AND maybe cried a few tears. 


Finding Junie Kim by Ellen Oh – $4.99
This is one of the titles I read for my children's literature book club in 2021. It's about Junie Kim, who interviews her grandparents for a school history project and finds out about their experiences during the Korean War. What she learns from them helps her face the growing racism at her school.

Any questions about this sale or these audiobooks? I'm happy to help!
IF YOU LIKED THIS POST ABOUT audiobooks, YOU MIGHT ALSO LIKE THESE OTHER POSTS: