Looking for a copy of this list of Audible Plus for Kids books? Pop in your email address below and it'll come right to your inbox!

A few years ago, Audible introduced the Audible Plus membership.
I have a whole post about it here, if you like ALL the details, but the thing you really need to know is that now every Audible membership includes access to the Audible Plus catalog, which is a huge selection of audiobooks you can listen to for free as part of your membership rather than using a credit.
And the Audible Plus library just keeps getting better! My kids listen to audiobooks from our membership all the time at home (through their Echo dots) or they make for great road trip family listens and it's such a great perk of Audible membership.
Here are some of my favorite kids audiobooks from the Audible Plus catalog!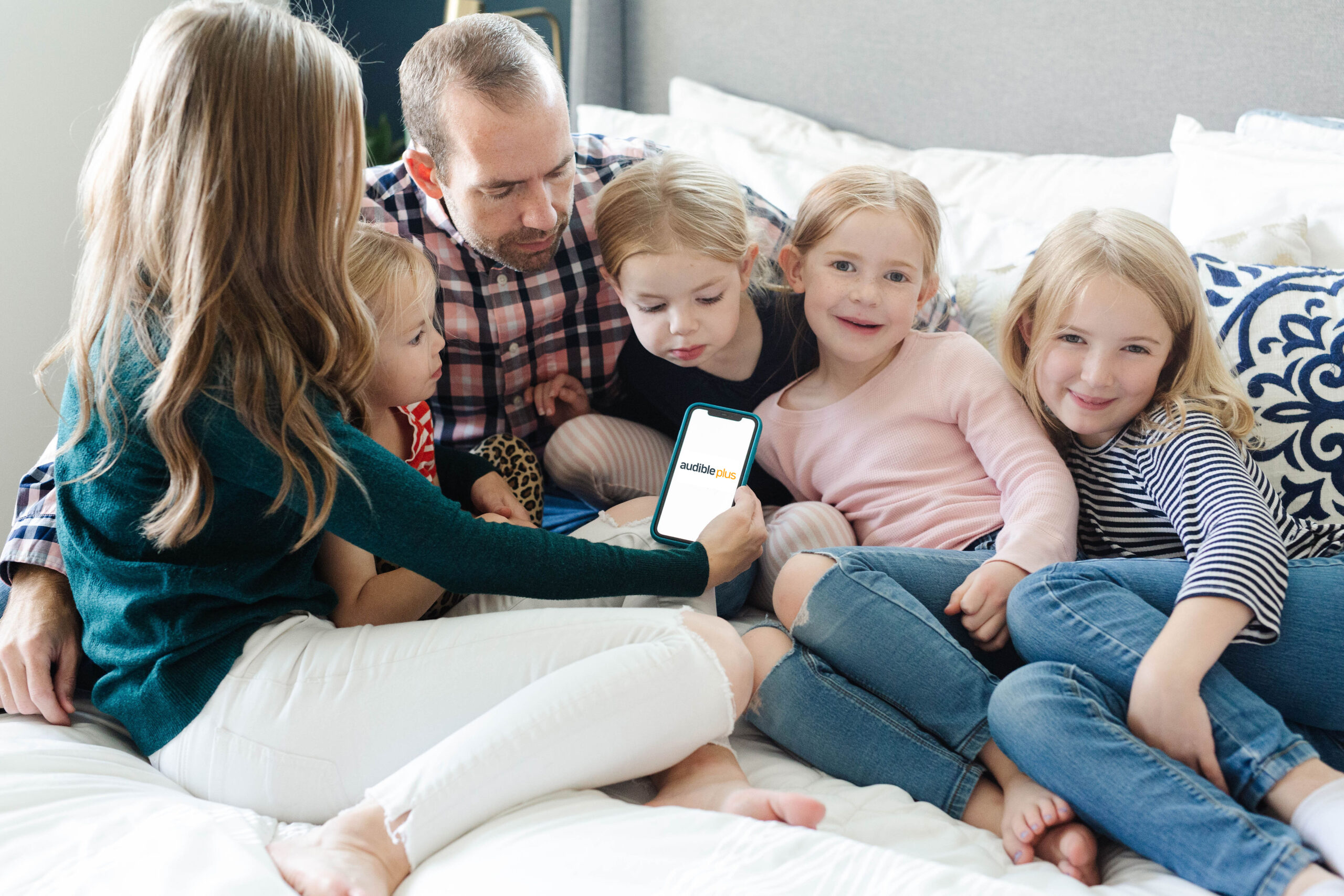 our favorite audible books for kids
Harry Potter and the Sorcerer's Stone by J.K. Rowling
I hardly even need to include Harry Potter on this list because everyone already knows how incredible Jim Dale is as a narrator. But I have to mention it anyway! (Wondering when the right age to read Harry Potter is? I wrote a whole post about how to figure it out for your child here!)

Framed! by James Ponti
Ella has loved the City Spies books, so when I discovered this mystery series by the same author, I snagged them all for Ella who blew through them in a week. This book follows Florian Bates who is the only kid that the FBI Director has on speed dial (and a kid that a whole lot of criminals want taken care of). After a move to DC, Florian and his new friend Margaret uncover a mystery that involves a major crime ring, the FBI and the National Gallery. It's up to them to solve the mystery AND get their homework done.

Anne of Green Gables by Lucy Maud Montgomery
I mean, just when you think Anne can't get better, they bring in Rachel McAdams to read it. If you love this fiery redhead, there couldn't be a more delightful way to experience the story than with this audio version. 

One Crazy Summer by Rita Williams-Garcia
This one grabbed about a million awards the year it was published. It's about three girls visiting their long-absent poet mother in California and getting swept up into the Black Panther movement. (Full review here)

The Birchbark House by Louise Erdrich
I read aloud this story about a Native girl and her family set during the 1800s to my girls and then we finished it on audio during a summer road trip. It's excellent!

The Flying Flamingo Sisters by Carrie Seim
The Flamingo Sisters, Flo, Faye and Franny, join a flying circus after their pilot parents mysteriously disappear over the Pacific. They discover a mysterious map which they hope might lead them to their long lost parents, but only if they can escape the clutches of their devious Uncle Freidrich who thinks girls should never pilot aeroplanes.

Winnie the Pooh by A.A. Milne
It's a delight to see this classic included, plus The House at Pooh Corner and When We Were Very Young.
Princess Academy by Shannon Hale
I've listened to this one multiple times and I never get over how GREAT the production is of this one (my girls loved it too) about a remote mountain town that becomes host to a competition to choose the next Princess who is prophesied to come from this town. (Full review here) 

Red Scarf Girl by Ji-li Jiang
Red Scarf Girl is an eye opening and deeply personal memoir. Jiang's book recounts the ups and downs of her difficult life and the oppression families of China faced during the Cultural Revolution.

The Goose Girl by Shannon Hale
This was the June 2020 book for the Everyday Reading Book Club and a PERFECT pick for the whole family to listen to. It's a full-cast audio performance and our whole family loves Shannon Hale's writing. All four books in the series are TERRIFIC. (Full review here)
In Grandma's Attic by Arleta Richardson
Grandma's attic is full of all sorts of keepsakes that spark the best stories from grandma. This is the first installment of this beloved series.

The Mystwick School of Musicraft by Jessica Khoury
This magical book was the first one we listened to together after we joined Audible Plus – it's delightful!

Stuck by Chris Grabenstein
You probably know Grabenstein from his very popular Mr. Lemoncello's Library books. This is an Audible original about a boy who makes a wish to never grow up and stays at age 11 as everyone grows up around him.
A Place to Hang the Moon by Kate Albus
It's 1940 in London, right in the middle of World War II when three children become orphaned. Unsure what to do, they leave their home and head for the countryside in hopes of finding a good temporary or even permanent home. This one is PHENOMENAL – one of my favorite books I've read with my children.

Wishes and Wellingtons by Julie Berry
You know I love Julie Berry (she wrote Lovely War) and this Audible Original is a really fun fantasy listen for kids. Maeve hates how strict her London boarding school is and when she's forced to sort through the trash as a punishment for bad behavior, she's delighted to find a sardine can with a grumpy djinni in it (he's less delighted to have a young girl as his master).

White Fang by Jack London
There are several other Jack London books included in the Audible Plus catalog, including The Call of the Wild.
The Terrible Two by Mac Barnett
My girls have listened to these books about the antics of two pranksters on repeat for months – if you have a child who likes humor, some slapstick, and a little naughtiness, these books are for them.

Eight Cousins by Louisa May Alcott
If you haven't read any of Louisa May Alcott's classics like Little Women or Little Men yet, this book is the perfect introduction.

Mockingbird by Kathrine Erskine
Mockingbird is about a girl with Asperger's syndrome whose brother was recently killed in a school shooting, manages to be meaningful, appropriate, and even (surprisingly) funny. I was far more impressed with this book than I expected to be. (Full review here)
Riding Freedom by Pam Munoz Ryan
Nobody does historical fiction like Ryan and this one, about Charlotte Parkhurst, follows her fight to follow her dreams in the 1800s when women had very few options.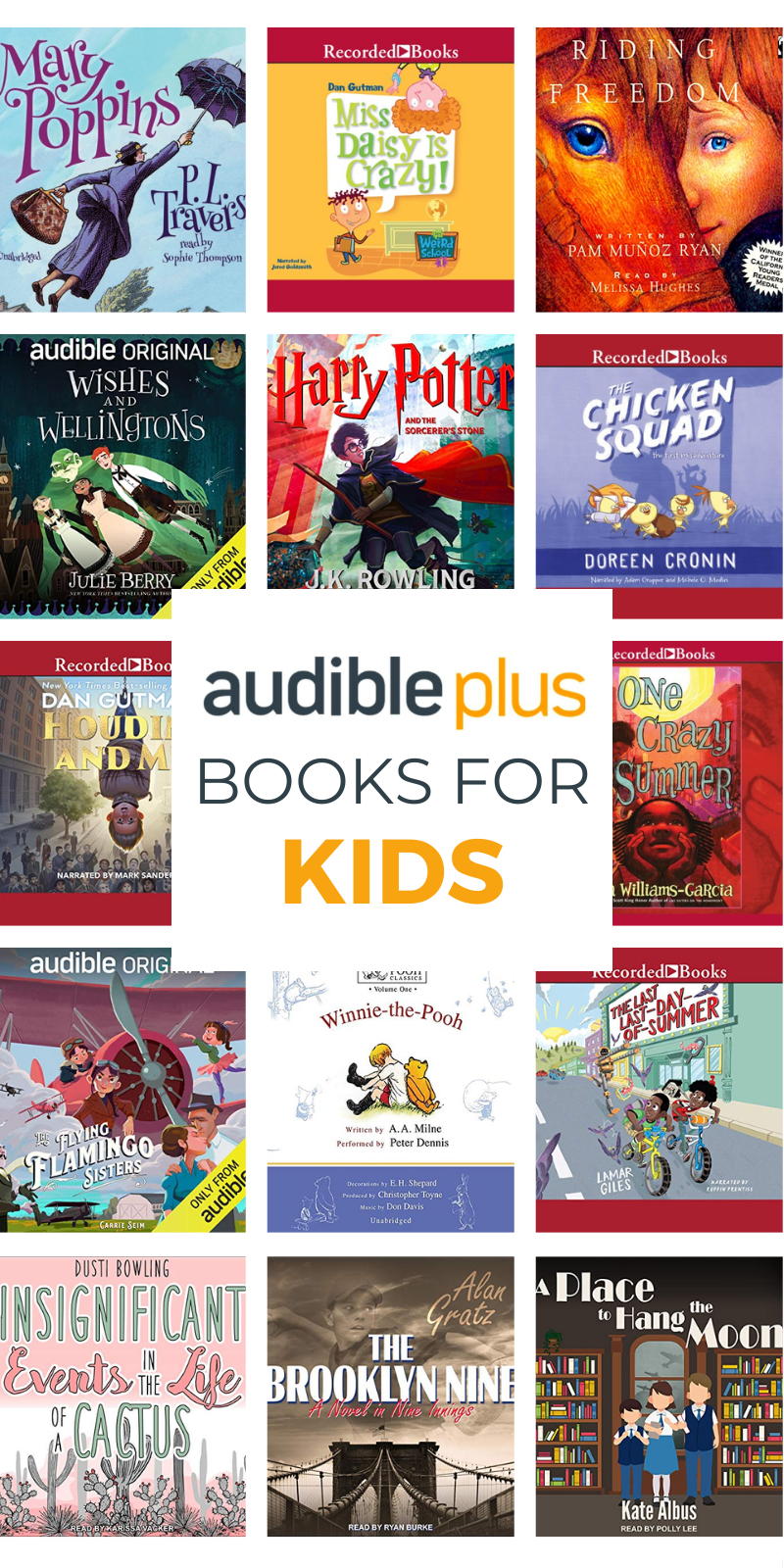 Five Children and It by E. Nesbit
I've loved this fantasy story about five normal children who find a magical creature who grants their wishes (but in the most obnoxious ways possible), since my dad read it aloud when I was a child. Her books, The Enchanted Castle, and The Railway Children are also included.
Mary Poppins by P.L. Travers
A BUNCH of the Mary Poppins books are included in Audible Plus catalog. Also, if you've never read the books, you might be surprised that she's not quite as warm-fuzzy as Julie Andrews.

Rebecca of Sunnybrook Farm by Kate Douglas Wiggin
I know this one is a classic, but I'm not sure I've ever actually read it! Now that I have free access to it, it's probably time to remedy this.

Found by Margaret Peterson Haddix
When adopted thirteen-year-olds Jonah and Chip, learn they were found on a plane that appeared out of nowhere, full of babies with no adults on board, they realize that they have uncovered a mystery involving time travel and opposing forces. 

The Brooklyn Nine by Alan Gratz
This book follows the fortunes of a German immigrant family through nine generations, beginning in 1845, as they experience American life and play baseball.

Caddie Woodlawn by Carrie Ryrie Brink
Oh my heavens, I love Caddie Woodlawn. Just as much as Laura Ingalls Wilder. I read this to the girls last year and we all loved this story about brave and strong-willed Caddie. (Full review here).

Miss Daisy is Crazy by Dan Gutman
This is a silly series reminds me of the Wayside School series. This series is geared more for beginning readers, but all the adults at Ella Mentry School are just a little bit weird…maybe REALLY weird! 

The Last Last Day of Summer by Lamar Giles
Back in January 2020, Ella and I went to our library's "Best Books" night where the librarians shared their favorite books from 2019. This was one of their recommendations, and Ella immediately came home and devoured this unique book about two boys who love solving mysteries but are stumped when a mysterious man arrives that can freeze time.

Far North by Will Hobbs
Two 15-year-old boarding school roommates are flying over the Canadian wilderness, when the engine of the plane stops. The next thing they know, they are hurtling toward a thundering waterfall. With winter quickly approaching and a forest full of wild animals, will these two boys work together to survive?
Black Beauty by Anna Sewell
Ella listened to this one and absolutely loved it (you can see it included in one of her reviews here).
Heidi by Johanna Spyri
This is not a fast-moving book, but I read it aloud to Ella a few years ago and she loved it! It's just so sweet.

Honus and Me by Dan Gutman
Joe loves baseball, but he isn't always the best at it. When he finds a valuable 1909 Honus Wagner baseball card, it takes him back in time to meet the baseball great!
Mission Unstoppable by Dan Gutman
In this fun novel, Coke and Pepsi have to evade their crazed health teacher and two guys in bowler hats by accomplishing some pretty crazy feats. Jumping off cliffs, escaping their burning school and jumping off sand dunes are just a few of the challenges they face in this thrilling tale.

Pollyanna by Eleanor H. Porter
When my girls listened to this one a few years ago, they were listening to it non-stop for weeks! I knew then, that it was time to show them them the movie!

The Island by Gary Paulsen
This one would be great for lovers of his book The Hatchet. Fifteen-year-old Wil discovers himself and the wonders of nature when he leaves home to live on an island in northern Wisconsin.
Brother's Keeper by Julie Lee
Twelve-year-old Sora and her eight-year-old brother, Youngsoo, must try to escape North Korea's oppressive Communist regime on their own in 1950. This one is full of historical notes, photographs, and a glossary of Korean words.
Houdini and Me by Dan Gutman
My girls were absolutely transfixed by this book. They didn't know much about Houdini before this and we all loved the photographs of the real Houdini scattered throughout the book. In this story, Harry is a young boy who lives in the house Houdini once inhabited and loves learning more about the famous magician. But things take a surprising turn when he discovers an old flip phone and it starts receiving texts from someone who claims to be the real Harry Houdini.

The Wonderful Wizard of Oz by L. Frank Baum
A true classic, but prepare to be shocked when the ruby slippers are actually silver!

Emily of New Moon by L.M. Montgomery
I love me some Anne of Green Gables, but I have a special place in my heart for Emily (L.M. Montgomery herself said Emily was her favorite heroine she wrote).

The Case from Outer Space by James Preller
Theodore "Jigsaw" Jones and his partner Mila are hunting for clues or the "missing puzzle pieces" as they investigate missing animals, smelly sneakers, and even haunted houses. These top-secret detectives are ready to take on a new case.
National Geographic Kids Chapters: Horse Escape Artist and More True Stories of Animals Behaving Badly by Ashlee Brown Blewett
This one is bound to create some laughter and shocked faces. It's all about animals causing chaos including Mariska, the horse escape artist, Milkshake, the charging cow, and Pony, the runaway goat.
The Chicken Squad by Doreen Cronin
When you think chickens, you might think of birds pecking in the dirt. What you SHOULD be thinking is crime fighters and mystery solvers.

And if you'd like a printable copy of this list of the best books for kids on Audible that you can take a screenshot of on your phone for easy access, just pop in your email address below and it'll come right to your inbox!
if you liked this post about audible books for kids, you might also like these other posts: