Are you familiar with Audible Originals?
They're audiobooks produced by Audible that aren't available anywhere else (so you won't find them in your library's Libby catalog or Scribd or elsewhere).
Sometimes Audible Originals are stories written exclusively for Audible (like Call Me Maybe), sometimes they're celebrity readings of classic books, and sometimes they're an audio version of a popular book that only Audible produces (like Born a Crime).
The excellent news is that MANY Audible Originals are included with your Audible subscription and you don't have to use a credit to listen to them.
Instead of saying "Add to Cart" or "Buy with 1 Credit," it'll just say "Add to Library" and it's yours for the price of free (until you cancel your membership, at which point you'll lose access to it).
On the Audible website, you can just search "Audible Originals" and they'll all pop up.
In the iPhone Audible app, press the "Discover" button at the bottom of the home screen and then you'll see the option to click "Originals" which will show you all the options too!
Here are some of my favorite Audible Originals: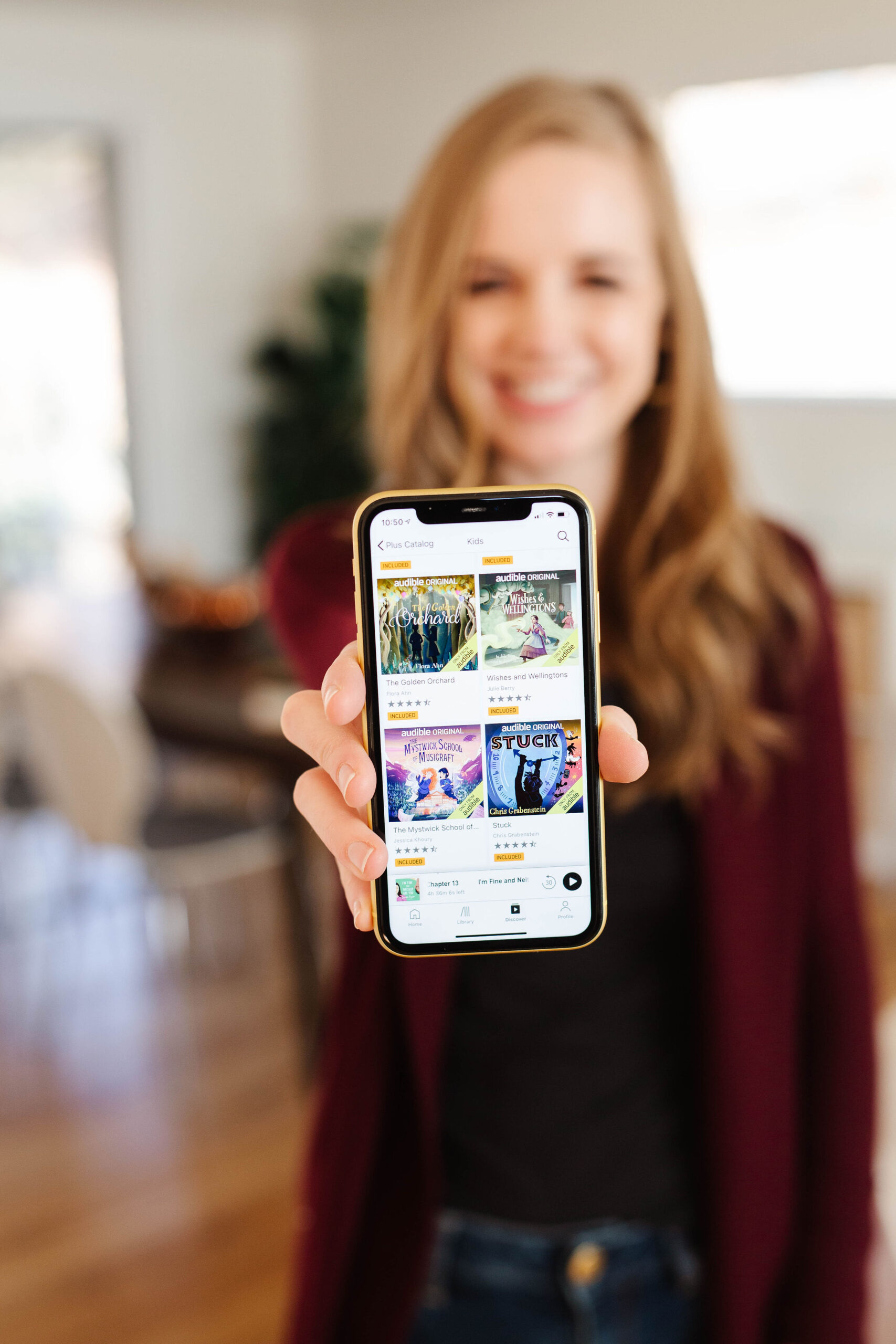 12+ Best Audible Originals
David Copperfield by Charles Dickens, read by Richard Armitage
If you've wanted to revisit (or experience for the first time!) some classic literature, Audible Originals are a fantastic way to go because they bring in SERIOUS rock stars to read them. This one, done by Richard Armitage, is stunning. And it'll keep you listening for a NICE long time because it's 36 hours long (good thing there isn't a due date!).
Pride & Prejudice by Jane Austen, read by Rosamund Pike
Are you one of those readers who revisits Pride & Prejudice every year? Whether you're a first time reader to this beloved story or diving in for the 20+ time, this is a magical way to watch Jane Austen's masterful work play out.
Emma by Jane Austen
DANG, this Audible Original is not to be missed – it's a full cast production and Emma Thompson leads out as Emma (but really the whole cast is star-studded). You can't help but love this version of Emma (I wish it'd been around when my book club read Emma years ago!).
Mystwick School of Musicraft by Jessica Khoury, read by Suzy Jackson
This magical middle grade book was the first one we listened to together after we joined Audible Plus – it's delightful! Amelia's lifelong dream is to attend the Mystwick School of Musicraft but after a failed audition, it looks like her dreams might be crushed. A lucky second chance gets her into the school but now Amelia is realizing that getting in might have been teh easy part.
Call Me Maybe by Cara Bastone
Told in alternating points of view, Vera has spent the last three hours on hold with customer service trying to get her website ready to launch her new business. Kal is the guy who finally picks up and thinks he can help her. As they spend hours together on the phone. . . it's possible that her website won't be the only thing that launches. There is also a sequel, Sweet Talk, which I'm hoping to get to soon.
Anne of Green Gables by Lucy Maud Montgomery, read by Rachel McAdams
I mean, just when you think Anne can't get better, they bring in Rachel McAdams to read it. If you love this fiery redhead, there couldn't be a more delightful way to experience the story than with this audio version. 

A Christmas Carol by Charles Dickens, read by Tim Curry
I love A Christmas Carol and I particularly love this narrated version. It is such a fun way to cozy up during the Christmas season and it's only about three hours long, so it's not a big time commitment. 

Born a Crime by Trevor Noah
This audible original is a must to add to your list. You might have seen Trevor Noah on The Daily Show, but his life began as a crime. He was the son of a multiracial marriage which during South Africa apartheid was illegal. This witty and honest memoir is the perfect book to add to any book club and it's one of those books that everyone mentions when they talk about books that are made 100x better by the audio version (naturally, it's read by the author). 
Sherlock Holmes by Arthur Conan Doyle, read by Stephen Fry
Do we all imagine Benedict Cumberbatch now as Sherlock? Just me? Sadly, he doesn't narrate this Audible Original, but Stephen Fry (who you may know as narrator for Harry Potter) isn't going to disappoint you. This is a BIG collection, clocking in at 62 hours so . . . .you may not want to do it all in one go. 

Wishes and Wellingtons by Julie Berry, read by Jayne Entwistle
You know I love Julie Berry (she wrote Lovely War) and this Audible Original is a really fun fantasy listen for kids. Maeve hates how strict her London boarding school is and when she's forced to sort through the trash as a punishment for bad behavior, she's delighted to find a sardine can with a grumpy djinni in it (he's less delighted to have a young girl as his master).
Lola Chick by Maria Escobedo, read by Susana Lopez Chavarriaga 
This little series is DELIGHTFUL. Tally and I listened to every episode last year when the big girls were at preschool and she just relistened to them all a few weeks ago during quiet time. Sweet little stories and charming music really make this Audible Original sing (I wish they'd make more!).
Laurie Berkner's Song and Story Kitchen by Laurie Berkner
I mean, you cannot go wrong with Laurie Berkner and this audio collection is delightful – it's not just songs but instead nearly five delightful hours of singing, storytelling, and all around fun. Highly recommended if you have a toddler or preschooler in the car with you!

Rivals! Frenemies Who Changed the World by Scott McCormick, read by Prentice Onayemi
This was a recommendation from several readers and we listened to it together. It's laugh-out-loud funny and also really informative – if you have a non-fiction lover, this is a slam dunk.  Heads up that it has a little bit of slightly crude humor.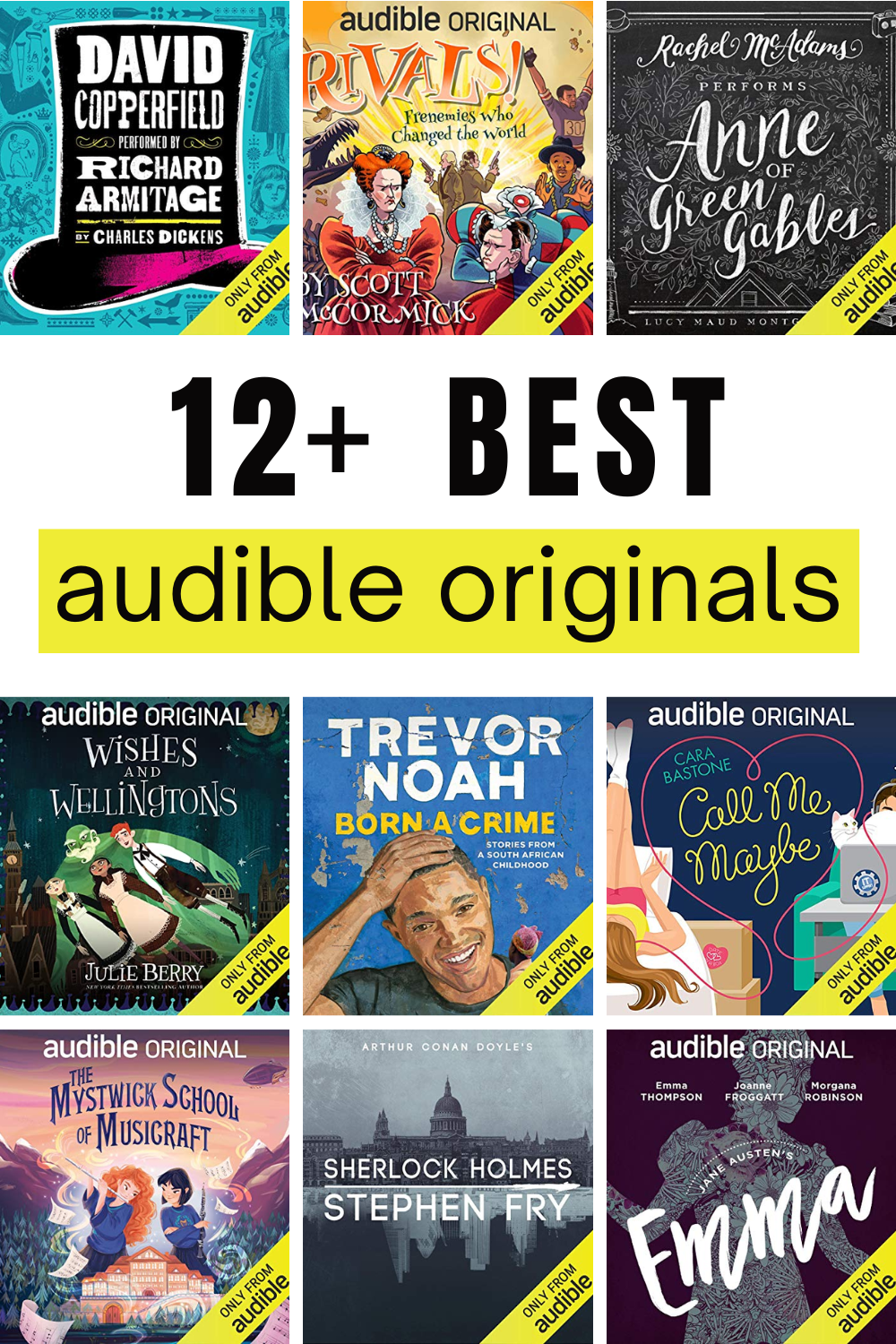 And when I asked for recommendations for best Audible Originals on Instagram, these were some of the most frequently recommended ones that I haven't yet read (but can't wait to listen to solo or with my kids!).
The Stand-In by Lily Chu (also The Comeback)
Gracie Reed is holding it together, even though she recently got fired by her boss and she is still trying to get her mother into a nursing home. Her life gets turned upside down when she is asked by a famous actress to be her stand in thanks to their almost unbelievably similar appearances. Gracie thinks the money will make it all worth it, but she might be wrong. . .
Caffeine by Michael Pollan
Michael Pollan explores the addicting substance of caffeine. He tells the history behind it and how it has become a staple in lives of millions of people all over the world. He goes even farther to tell how the effects of caffeine have changed politics, dominated economies and even won and lost wars. Who knew all that was in your morning cup of coffee?
Signal Moon by Kate Quinn
Lily Baines is a smart young woman in 1943 who has recently traded in her ball gowns and parties for a set of headphones and late nights transcribing radio communications. One night she picks up a transmission from an American ship under attack, but there must be some mistake because the radio channel says it's the year 2023. Can US officer Matt Jackson and Lily find a way to help each other over seas and decades?
Flying Flamingo Sisters by Carrie Siem
The Flamingo Sisters, Flo, Faye and Franny, join a flying circus after their pilot parents mysteriously disappear over the Pacific. They discover a mysterious map which they hope might lead them to their long lost parents, but only if they can escape the clutches of their devious Uncle Freidrich who thinks girls should never pilot aeroplanes.
The Set Up by Falguni Kothari
Aditi Gupta is a busy pediatric resident and doesn't have much time for dating, but in order to appease her grandfather she agrees to go on three dates. She plans to make herself seem very attractive and ineligible, until she goes on the first date with the very handsome Krishna Lal. She finds that just three dates might be harder than she thought and that maybe her heart is on the line.
Thicker Than Water by Tyler Shultz
Thicker than Water is a fascinating behind the scenes look into the Theranos scam with infamous CEO Elizabeth Holmes. Tyler Schultz had been employed by Theranos less than a year when he sent an email about his concerns with some of the company's practices. He was quickly let go but Tyler couldn't let this company ruin the lives of patients worldwide. He had to alert the authorities and ultimately expose the scam for what it was.
Float by Kate Marchant
Much to her dismay, Waverly Lyons ends up spending the summer with her aunt in Holden Florida after getting caught in the middle of her parents' messy divorce up in Fairbanks, Alaska. Beach life is quite foreign to her, but she decides she wants that to change after meeting the super cute boy next door Blake. She quickly fits in better than she ever has before and doesn't want the summer to come to an end.
Letters From Camp by Jamie Lee Curtis
This delightful eight episode podcast written and narrated by Jamie Lee Curtis tells the story of Mookie Hooper who investigates a girl who went missing from Camp Cartwright. It's funny and heartwarming and makes everyone relive that awkward tween stage just a little bit.
Zero G by Dan Wells
Zero is aboard a spaceship on its way to colonize a new planet. Everyone on board is in hibernation in order to survive the century long trip, everyone that is except Zero. Initially he is excited to roam the ship all by himself, until a family of space pirates tries to hijack the ship. Can he save the ship from being taken hostage?
Nothing Like I Imagined by Mindy Kaling
Mindy Kaling just spent almost $2,000 on an A-lister's dinner. But did they notice? In this book you get to follow her path from intern to mogul. Her witty writing and intriguing story is a fun listen and includes accompanying PDF bonus material.
The Big Lie by John Mankiewicz
This eight episode podcast follows FBI special agent, Jack Bergin, on his investigation of three blacklisted filmmakers. They are making a film that seems to be a recruitment tool for the Communist Party and Jack is going to do whatever it takes to shut it down.
And if you'd like a printable copy of this Audible Original list that you can take to your library or screenshot on your phone for easy access, just pop in your email address below and it'll come right to your inbox!
if you liked this post about the Best audible originals, you might also like these other posts:
Reader Interactions