I mentioned in passing earlier this year that Ella was doing part-time homeschooling. I never intended to write about it but I have gotten such an enormous volume of questions about it, that I figured I'd save myself the effort of re-writing it in my DMs almost daily and do a full post about it instead.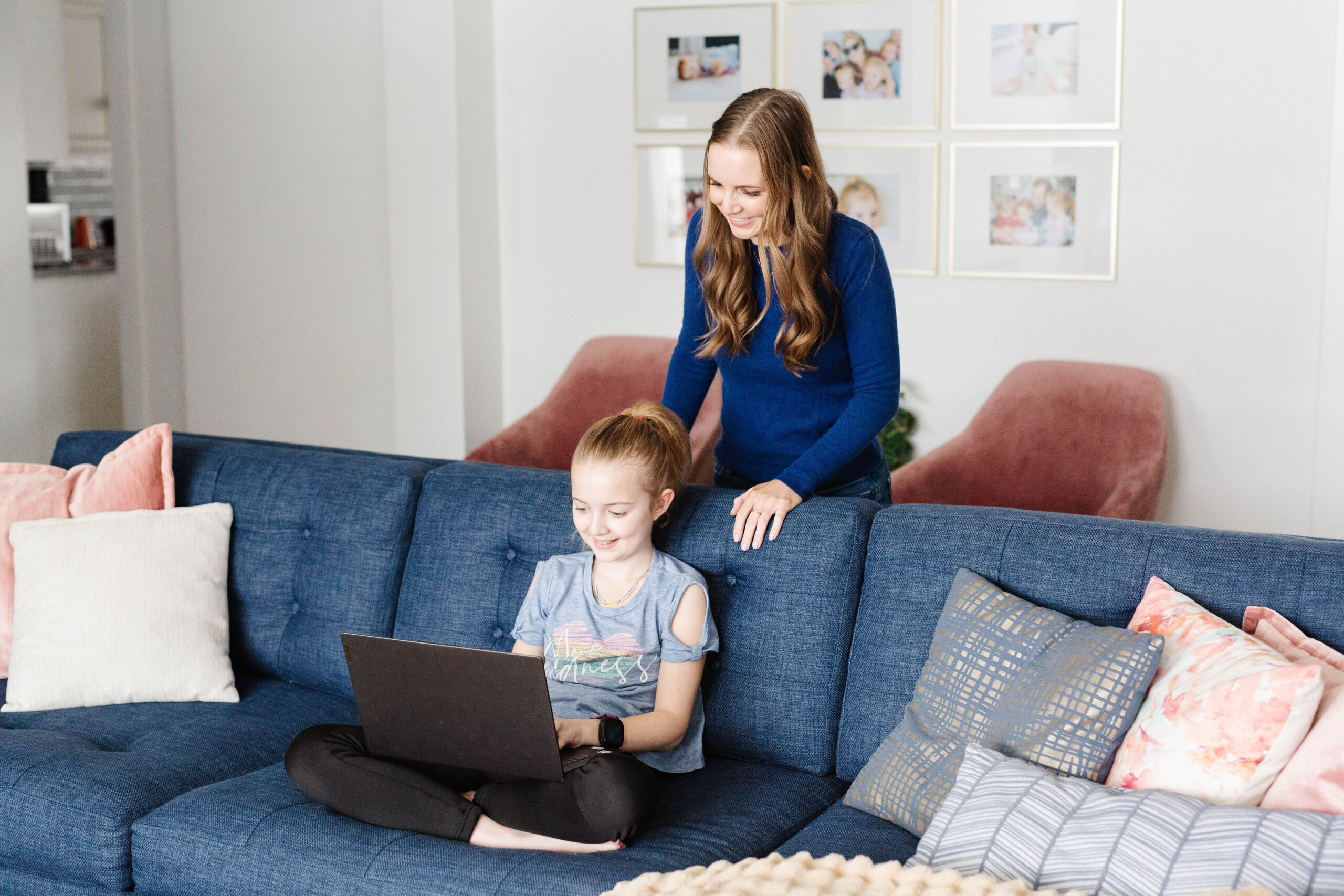 First, some background (get yourself a snack):
I did homeschool from the time I was in kindergarten until the end of eighth grade (my birthday is in mid-September and our Wisconsin school district was absolutely rock solid on the September 1st cut-off. Since I couldn't go to kindergarten the year I turned five, my mom figured she'd try out homeschooling for a year and if we didn't like it, she'd send me to kindergarten the next year as planned).
Homeschooling was a great fit for our family, but when I was getting ready to go into ninth grade, I felt like I really wanted to go to public school (at this point, we lived in Las Vegas). I went full-time for one semester but it felt like so much busy work and so much wasted time that near the end of the first semester, I went to a school board meeting and gave a little 90 second pitch to go part-time, which they granted.
I took two classes the second semester (Biology and Choir), then took three classes my sophomore year (English, Chemistry and Choir) and three class my junior year (AP English Language, Anatomy and Spanish). As a senior, you were allowed to take four or five classes instead of the usual six and so I took five classes which they considered a full-time schedule (Computer science, AP English literature, AP US Government, Spanish, and Speech & Debate).
I didn't graduate from high school because I didn't have enough credits, so I applied to college with my partial transcript and my ACT score (most universities are more than equipped to manage homeschool applicants) and got in with a four year, full tuition scholarship.
All of this is to say that I knew that, at least theoretically, part time homeschooling was an option.
A dozen years later, when Ella was getting ready to start kindergarten, we had just moved to Arizona and our school district only offered full-time kindergarten. Ella was already reading on a fourth or fifth grade level and I thought full-day kindergarten would be pretty dull for her, so I called up the district office and asked what I'd need to do to enroll her as a part-time student.
They said I'd need the principal's okay and there was a form to sign. I took the form in to our neighborhood school, had a three minute chat with the principal who said she was fine with Ella just attending in the afternoon and we went on our merry way. I homeschooled her in the morning and then took her over to the school at lunch time and she stayed through the end of the school day.
We ended up pulling her out to homeschool full time for first grade at her request but then in second grade she went back to school full-time (this time at another of the public schools in our district which had an accelerated STEM track, plus a really fantastic principal who had Ella tested during the first few weeks and when she scored off the charts in math, arranged for her to do math with a higher grade class each day). We loved that school and would have stayed there indefinitely if we hadn't moved out of state.
When we moved to Utah, Ella joined the Chinese language immersion program at the public school (two years late, since she was now in third grade and the program starts in first grade) and despite the principal's concern that she was too far behind to ever catch up, Bart convinced her to let Ella try it for a quarter with the promise that if she was slowing the class down or the teacher recommended she transfer out of the program, we'd do so without complaint (spoiler: she did fine and after a few weeks no one ever suggested again that she might not be able to handle the program).
She did third, fourth, and fifth grades as normal, but when sixth grade (still elementary school for us) rolled around, she was so far ahead in math that her teacher suggested we purchase one of BYU's middle school math courses for her to do online in the classroom while the class did sixth grade math. We did so and Ella would just sit in the back of the classroom on a laptop doing her math class during that segment of the day. After a few weeks of this, Ella approached us and asked if she could just do math at home so she wouldn't keep getting interrupted and then attend the Chinese language half of the day at school.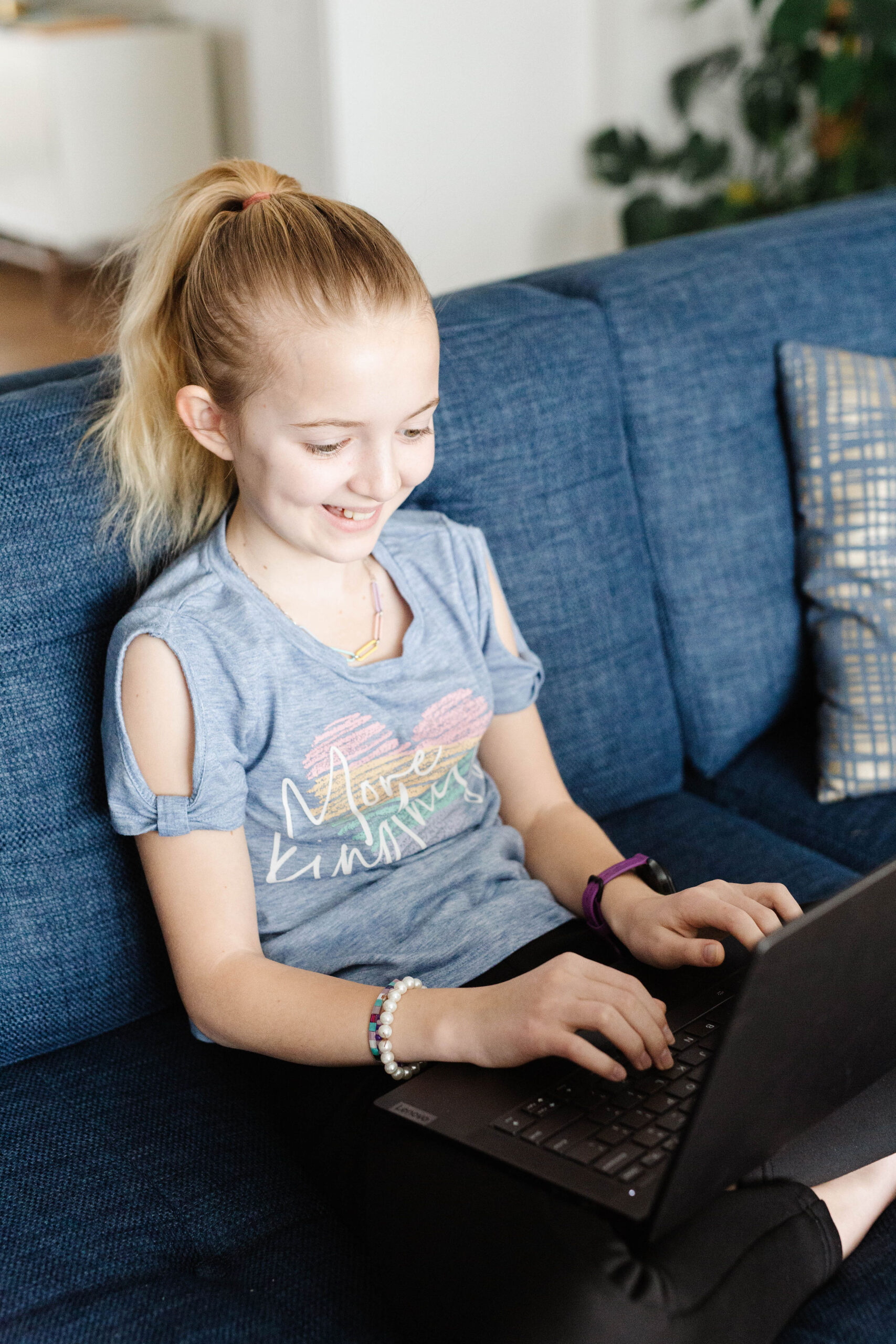 So like in Arizona, I went down to the district office and asked what I needed to do to enroll her as a part-time student. They handed me a form to fill out and then I took it to the principal's office and he signed it and within a day or two, everything was set up for her to stay home in the morning and do math and then she'd go to school for the Chinese half of the day.
We hadn't intended for it to go beyond that and our plan was for her to go to middle school as normal, but then over the summer, Bart's mom reminded us that she liked to teach 8th grade math to all the local grandchildren (she LOVES math and isn't a big fan of the school's math program and wants to make sure they go into high school math with a strong foundation). Ella was only going to be in 7th grade, but she was easily a year ahead in math and so Bart's mom thought it'd be nice to have her do it with her 8th grade cousin who was going to be doing it.
We'd need to enroll her as a part-time homeschooler so that she'd be able to leave school an hour early each day and go to Bart's mom's house for math.
Just as this was all happening, we got a letter from the district reminding us that Ella's school status was a part-time homeschooler for the upcoming year and that it would remain so unless we wished to change it. So . . . that was easy.
When it was time to go meet with her counselor to arrange her school schedule, he asked which classes Ella wanted to take as a part-time homeschooler and we suddenly realized we had full control over which classes she took at home and which ones she did at school.
Obviously, she wanted to keep doing Mandarin at school, so she registered for both a language and a Chinese culture class. She also chose musical theater, language arts, creative writing, and art.
The required music class was very elementary, so she opted out of that and continued taking private flute lessons and she also skipped the keyboarding class since she's already a very good typist. And it quickly became clear that the science class wasn't very good, so we signed her up for BYU's independent study 7th grade math class (which, frankly, has been not that great either. You win some, you lose some).
Her counselor arranged all her classes so that they're in a block (so we aren't going back and forth all day long – the same way my high school counselor did for me two decades ago) and so she stays home in the morning and does her homework, her online class, her flute practice and lessons, and other projects she's working on (she's been working on photography recently, for instance). Then she goes to school for her classes and leaves before the last hour of classes and goes with her cousin to my in-laws house to do math with Bart's mom.
This is not a heavy lift for me because Ella manages pretty much all her own school work, so I'm not doing any planning or prep for the homeschooling side of it. If she needs help with something, she'll let us know or she'll tell us she wants to start learning something and we'll help her find the resources or an online class to do it.
Utah's homeschooling laws are very open, so I don't have to submit anything about what we're doing at home – for all they care, she could be watching Bridgerton day in and day out. (Nevada and Arizona were about the same; if you decide to homeschool, they put the onus completely on you to make it happen with virtually no oversight).
I certainly can't speak to how it would work in all states or all districts, but in the three states I've done it in (Nevada, Arizona, and Utah), it's been pretty straight-forward and just required a call to the district office and permission from the principal.
It's very uncommon – as far as I know in all the schools we've done it in, we've always been the ONLY family doing this (except for my nephew who leaves the hour early to do math with Ella and my mother-in-law).
My goal is ALWAYS to be very easy to work with and make the school happy to have our family/child there, rather than a big pain that they wish would go away. Aside from only attending part-time, we try not to ask for special treatment or for them to work around our schedule. We donate supplies, attend parent-teacher conferences, and basically work to have a great relationship with the school and the classroom teachers.
If you plan to be a difficult parent to work with . . . maybe just choose to fully homeschool or fully public school instead and not make everyone's life miserable or ruin it for families that are trying to keep it simple and straightforward.
I don't know how the funding works here, but I know that when I was in high school, my school got full funding for me attending even though I was only there 1/2 or a 1/3 of the day, so they were happy to have me as a part-time student since I was using less resources but they still got the money as if I were there in six classes a day.
Also, when I was a part-time student in Las Vegas, the district would not allow me to participate in sports (which was fine by me) but I could do pretty much any other extracurricular activities. That is not the case in Utah where Ella would be welcome to do sports if she wanted (she doesn't do any school sports, but it's an option if she wanted it).
I don't know if my other girls will be interested in doing something similar as they get older – they all know it's an option, but so far none of them have expressed much interest in doing it themselves. We'll just have to see how it plays out! And Ella hasn't yet decided if she wants to do the hybrid homeschool in high school, but I assume she'll do it in eighth grade.
Any other questions about this hybrid homeschool? Let me know in the comments!
if you liked this post about our hybrid homeschool, you might also like these other posts: