Bart and I both grew up in families where we had a sit-down dinner together nearly every night.
Even when I was in high school and working at Cold Stone, my mom would often bring over a plate of dinner for me to eat so I wasn't subsisting entirely on cheesecake ice cream with raspberries.
So it was pretty natural for family dinner to be part of our routine from the time we got married and it's continued as we added kids to our family.
I make dinner pretty much six nights a week (usually on Saturday we do takeout or Bart and I go out) and we all sit down together, usually around 6 p.m. for family dinner.
Here are some of the things that help me make dinner happen on a regular basis: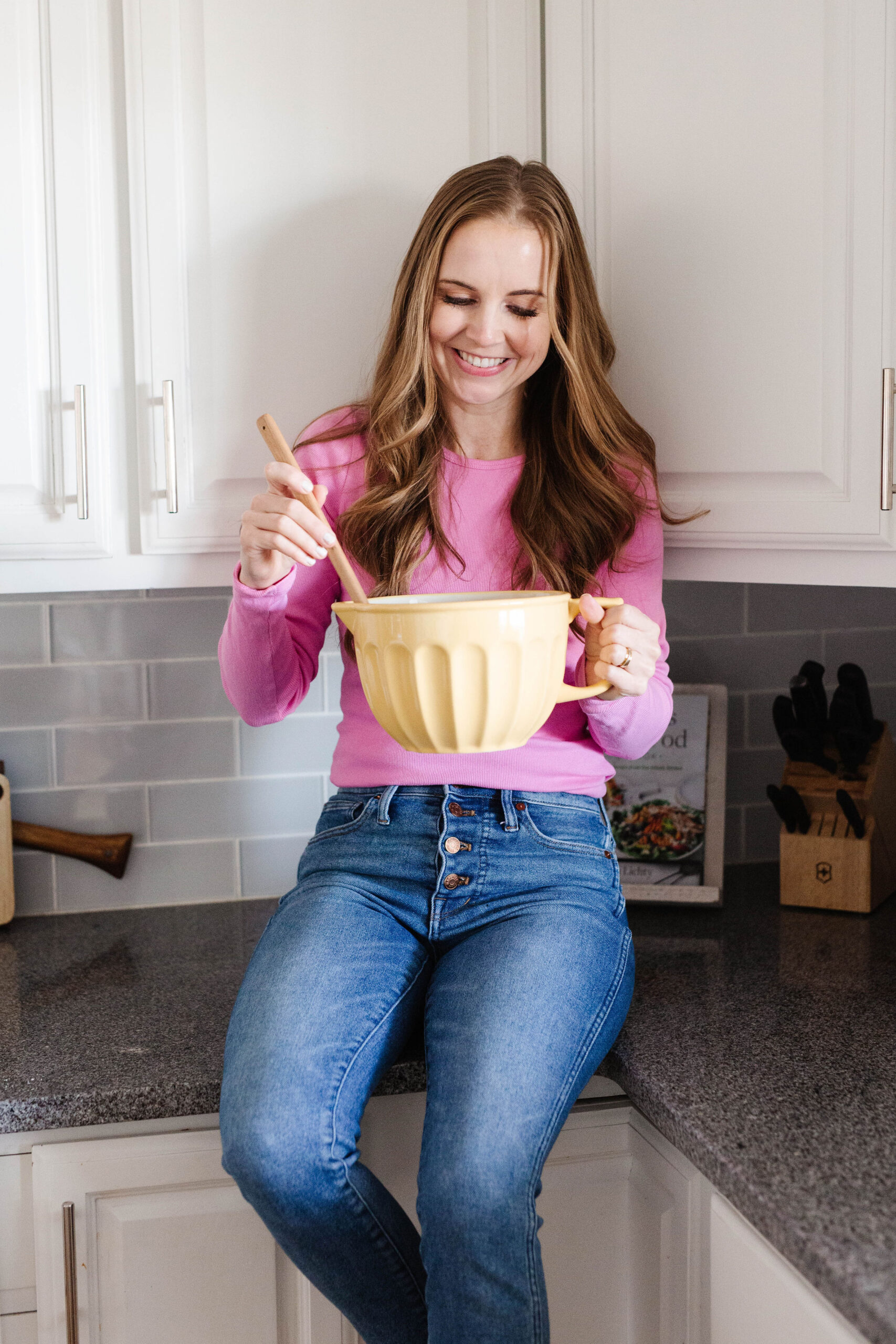 9 tips for family dinner
Decide what matters most about family dinner at this stage of your life. This is definitely a Lazy Genius tip (Name What Matters) and it's been really helpful for me to recognize that you can't have healthy, organic, cheap, gourmet, fast, interesting, kid-friendly meals all in one. You have to decide what you value most and then make your plans based around that. And what you value most will always be changing based on your family, your budget, your schedule, and lots more factors. For me, right now, what I value most is interesting meals – I don't want to make the same things over and over again. What makes dinner time more fun for me is trying new recipes and flavors and so I'm willing to give up some of the speed and kid-friendliness to make that happen. It's easier to plan for family dinner when you get clear on what matters most to you. If right now speed and price matters most to you, you'll be picking different recipes than if organic and gourmet are your highest values.
Set a specific time to meal plan and make a grocery list. Look, I hate to meal plan. But my whole week falls into place if I sit down after Sunday lunch and make the menu for the week and place my grocery order. I like this time because it's not rushed, we're basically always home at this time, and everyone else is in the kitchen, so I can ask what they need that week from the grocery store. Then I have my groceries delivered first thing Monday morning and I'm ready to start the week strong.
Find a few cookbooks or food blogs that work for your dinner values. Right now, I'm VERY into Half-Baked Harvest recipes. They're interesting and delicious and since that's what matters most to me right now, I'm fine that they're on the more complicated side. I remember looking at her blog five years ago and thinking, "These recipes are NOT for me" because at that period of my life, I just didn't have the bandwidth for those kinds of recipes.
Identify your weak points. Thursday night dinner is my downfall. I start the week strong, but by Thursday I'm flagging and I'm sick of making dinner. Once I noticed that this happened basically every week, I started adjusting my meal planning to have easier dinners on Thursday or crockpot meals.
Make a list of easy go-to meals. Some nights, I run out of time to make what I planned, or I'm missing an ingredient or I just plain don't want to make something more complicated. Having a list of go-to easy meals (you can see my list here!) that I can turn to when a more serious dinners is not in the cards makes it much more likely that we'll have family dinner, even if it's a quick and easy.
Find a pocket of time to prep ahead. For me, when my girls are eating breakfast or while they're having snack after school are both PRIME times for me to work on dinner a little bit. I'm in the kitchen anyway and it's a perfect time to thaw some meat, chop some vegetables, make a salad dressing, or start some bread rising while I listen to Ani report on what the fourth graders were debating at recess yesterday. Even just five minutes makes a huge difference when dinner time rolls around!
Have a time to be in the kitchen to make dinner. I am VERY MUCH someone who always has a mental schedule going in my brain, so this may not work for everyone, but a year or two ago I realized that if I wanted to have dinner on the table by 6 p.m., I pretty much needed to be in the kitchen getting things going by 5 p.m. Much like I know I need to start heading to the bedroom by 10 p.m. if I want to have lights out by 10:30 p.m., I know that when 5 p.m. rolls around, I've got to get myself in the kitchen.
Find something that makes prepping family dinner more appealing. For me, this is audiobooks. My kids are old enough now that they are often doing their own thing or playing together while I make dinner, so it's a great time for me to pop in my earbuds and listen to my latest audiobook while I work. When my kids were littler and all wanted to be in the kitchen at the same time, I'd turn on fun music or an audiobook for us to listen to together.
Know that starting is the worst part. This is basically my life motto and something I repeat to myself all the time. It is rare that at 5 p.m. I'm just dying to make dinner, but once I get started, it's not a big deal at all and I'm always so glad I put in the effort for a family dinner. So I just try to pick one small thing to get started on – I think "I'll just chop that onion" or "I'll just mix together the spices."
What helps you get family dinner on the table?
I'd love to hear! Let me know in the comments.
if you liked this post on tips for getting family dinner on the table every night, you might also like these other posts: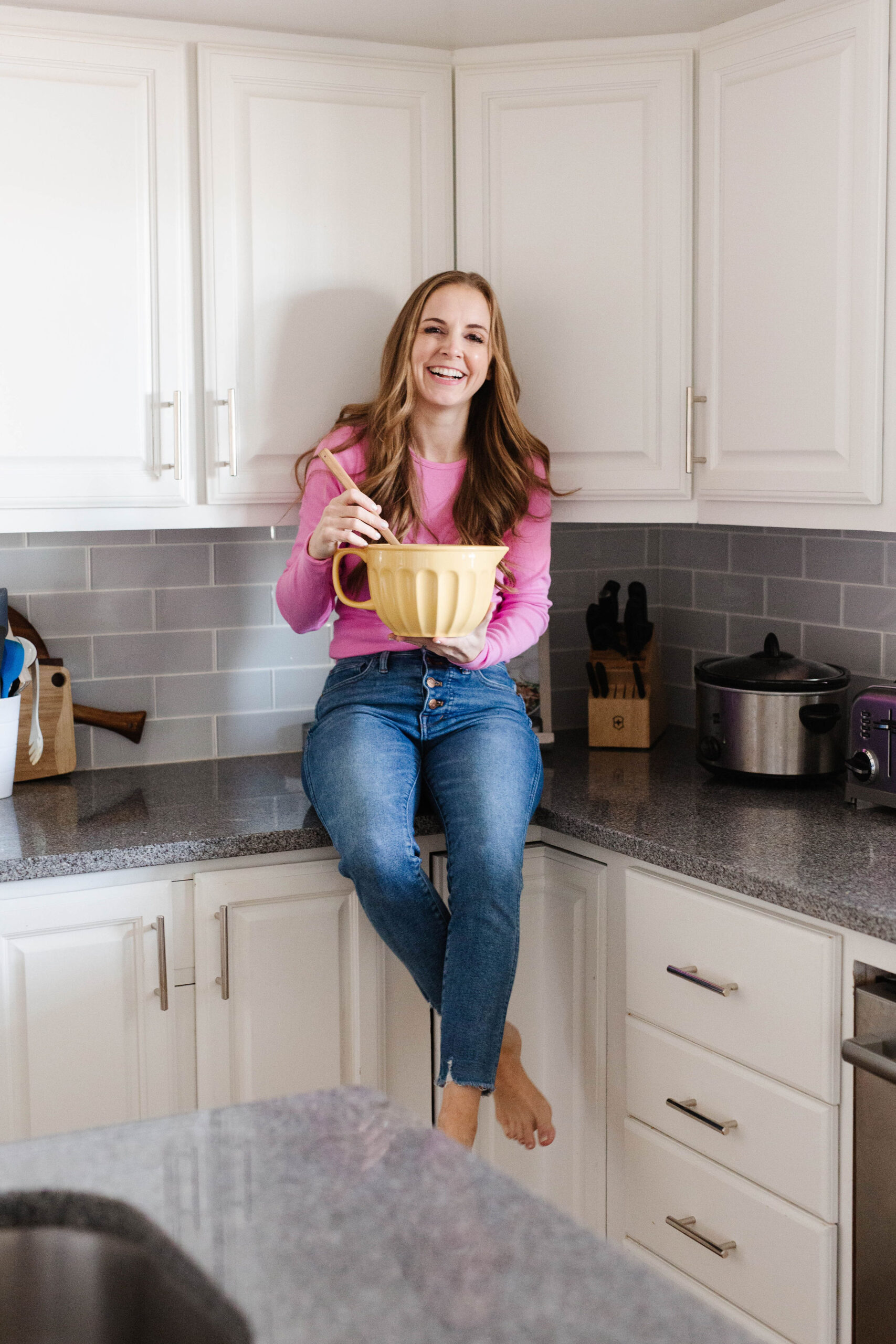 Photos by Heather Mildenstein