There's something so compelling about Greek mythology for both kids and adults.
Whether your child is just starting to get into Greek mythology or has become a super fan already and wants more stories about these gods and goddesses, these are some favorites.
Some of these, like
D'Aulaires' Book of Greek Myths, stick to the original storylines while others riff off those beloved stories and characters to create their own story.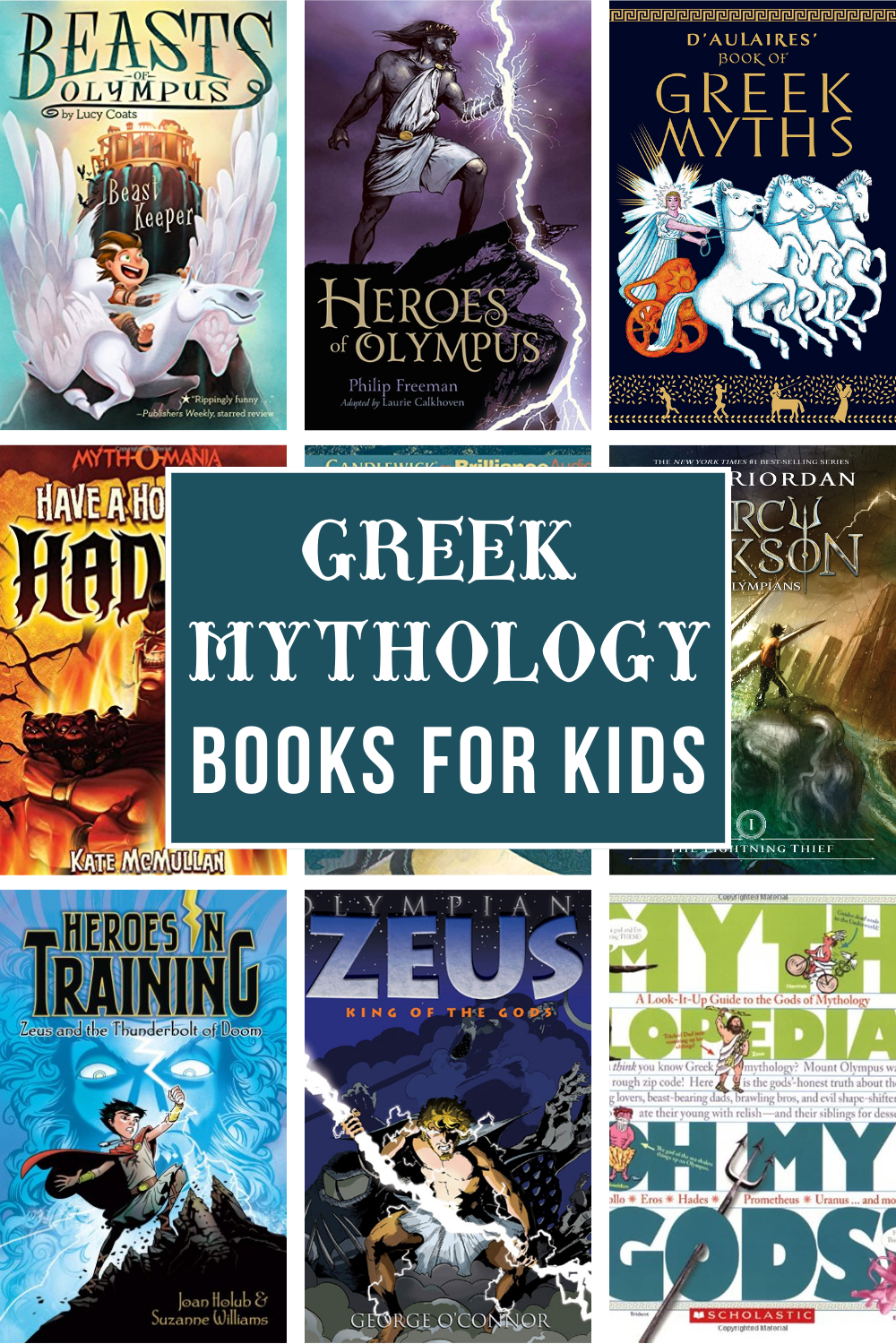 greek mythology books for kids
D'Aulaires' Book of Greek Myths by Ingri d'Aulaire and Edgar Parin d'Aulaire
This one has been around for a while and is such a classic when it comes to telling the stories from Greek mythology. From Zeus to the Titans and everything in-between, it has it all, including full color illustrations. If you want a phenomenal introduction to Greek mythology, you cannot get better than this book.
Heroes of Olympus by Laurie Calkhoven
We picked this book out at the library when Ella was looking for book about Greek mythology (for some reason, she's very resistant to books that are those large picture book size books but have 150+ pages) and this one caught her eye. It's a pretty chunky book and doesn't shy away from the violence and horrors of the original Greek myths but Ella LOVED it and spent a week telling us about every story whenever she had a chance.
Greek Myths by Ann Turnbull
The illustrations in this book are excuse enough to check it out… they are gorgeous and so unique! With sixteen of the most classic Greek myths, this is one you will not want to miss! (It's also available on Scribd if you want to listen to it).
Mythlopedia by Sophia Kelly
4 book series
This nonfiction series is so much fun! It's essentially an encyclopedia of all things Greek mythology. Every god, goddess, and mythical creature has their own profile page with pictures, facts, and more info than you would ever need to know. I bought this collection when I was a school librarian and I could NEVER keep it on the shelves.
Percy Jackson and the Olympians by Rick Riordan
5 book series
This is probably the best known Greek mythology riff – I grabbed my mother-in-law's copy of this book when we were living there and I suddenly found myself without a next book to read to the girls and they are SO INTO it. Seriously, there were shrieks of despair every night when I finished for the evening. I read it back in 2008 and it's fun to revisit – I enjoyed it MUCH more as a read aloud than I did when I read it solo! (Full review here).

Beasts of Olympus by Lucy Coats
8 book series
This illustrated chapter books series is all about Pandemonius who is in charge of taking care of the magical beasts on Mount Olympus. Did I mention he has the ability communicate with these magical beasts? This one is super funny and full of adventure and perfect for younger readers (they're each under 150 pages).
Myth-O-Mania by Kate McMullan
10 book series
Forget everything you know about Greek mythology. Zeus made everything up! But these gods and goddesses are ready to set the record straight. These books are a silly and fun introduction to Greek gods and goddesses, and there is even a little guide at the end to help with pronunciation and keeping characters straight.
Heroes in Training by Joan Holub and Suzanne Williams, illustrated by Craig Phillips
18 book series
Zeus the King of the Gods had to get his start somewhere right? This book tells the story of ten year old Zeus getting kidnapped by Titans, escaping, harnessing his power with thunderbolts and freeing his fellow Olympians from the evil Cronus.

The Olympians by George O'Connor
12 books series
These graphic novels retell classic ancient Greek myths like a superhero comic. They are action-packed, fast-paced, full of monsters, some drama, and maybe a few explosions. You will be shocked you are reading about Poseidon instead of Superman! (Heads up that these lean more young adult than middle grade).
P.S. If you have a Yoto Player, we also love the Tales from the Greek Legends card.
And if you'd like a printable copy of this Greek mythology book list for kids that you can take to your library or screenshot on your phone for easy access, just pop in your email address below and it'll come right to your inbox!
if you liked this book list of greek mythology for kids, you might also like these other posts: