I'll be the first to admit that I tend to be drawn to fiction picture books.
But when there is a good nonfiction picture book?
There's basically nothing better.
And many children prefer non-fiction to fiction in their reading life, so these nonfiction picture books are perfect for a child who wants to know how something works or who someone was or loves all the details about their favorite animal.
Here are some of the children's nonfiction books we love most at our house!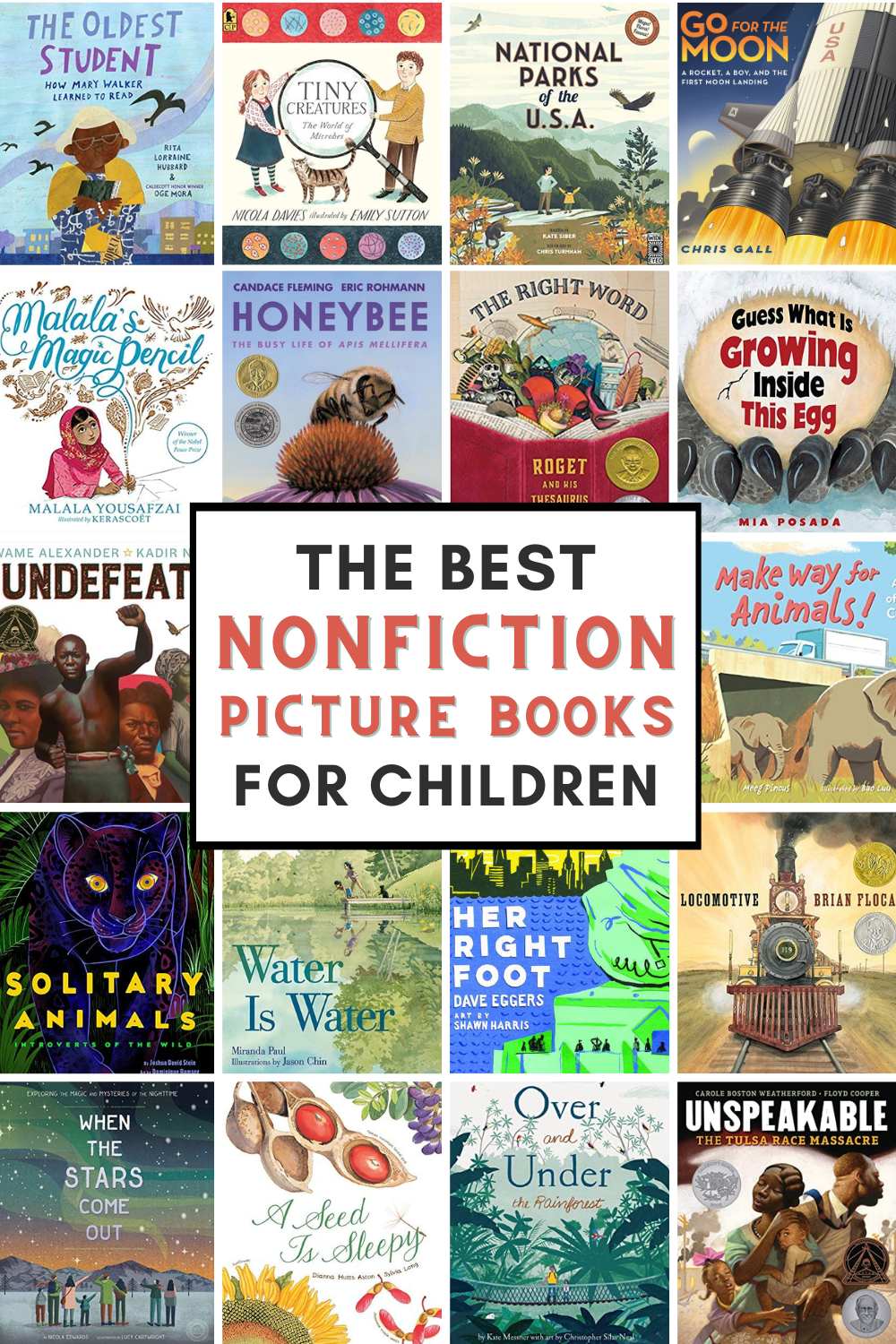 25+ Favorite Non-Fiction Picture Books
The Rainforest Grew All Around by Susan K. Mitchell, illustrated by Connie McLennan
The rainforest is one of the most densely plant and animal populated areas in the world and this book tells the life cycle of the rainforest in a fun lyrical voice. It tells the story of the life cycle in the primary text, but in the side margins of each page if offers cool facts about different plants and animals found in the rainforest.
Do Jellyfish Like Peanut Butter?: Amazing Sea Creature Facts by Corinne Demas & Artemis Roehrig, illustrated by Ellen Shi
Do Starfish sign autographs? Do trumpet fish play in marching bands? Do seahorses wear saddles? This book is written in a really fun question: answer format and provides all kinds of really fun facts about sea creatures.
Solitary Animals: introverts of the wild by Joshua David Stein, illustrated by Dominique Ramsey
This beautifully illustrated nonfiction book describes groups of animals and their unique names (a tower of giraffes, a dazzle of zebras, a fever of stingrays, etc.)  in contrast to animals that prefer to live in solitude. I am OBSESSED with this non-fiction children's book.
Guess What is Growing Inside this Egg by Mia Posada
Written in a rhyming verse, this book gives a hint about what kind of animal is growing in an egg before revealing the creature on the next page. It has some extra facts included at the end along with a drawn-to-scale size comparison of different kinds of eggs.
My First Day: What Animals Do on Day One by Steve Jenkins & Robin Page
Baby animals are pretty incredible. Some hatch and are on their own from day one while others stay with their mom for days, weeks or years. This book covers a variety of baby animals' first days ranging from giraffes to sea otters and even some animals I had never heard of before like a muntjac and a sifaka. It also includes a page in the back with some extra facts about each kind of animal.
Honeybee: The Busy Life of Apis Mellifera by Candace Fleming, illustrated by Eric Rohmann
This picture book, full of stunning illustrations, describes the life cycle of Apis Mellifera, also known as, the honeybee. There is so much detail and description that goes into this book. I bet you won't realize how little you knew about this little honeybee!
Make Way for Animals!: A World of Wildlife Crossings by Meg Pincus
Creative solutions have been found all over the world so that humans and animals can live (safely) together. There are underpasses in Africa for elephants to safely cross under the highway and narrow bridges over busy roads for squirrels to scurry across in Washington state. Plus lots more creative and innovative solutions!
National Parks of the U.S.A. by Kate Siber
I love this book and it would be a wonderful addition to any home library, especially for any outdoor enthusiasts. The illustrations have an almost vintage quality to them and they are absolutely stunning. It's a large book with so much to see on every page. It covers the National Parks by region and highlights several parks in each. The flora and fauna, and unique geographical features are discussed. It delights kids and adults alike and would make a really awesome gift.
Grand Canyon by Jason Chin
This gorgeously illustrated picture book by Caldecott Medalist, Jason Chin, has you hiking through the Grand Canyon. Not only does it explore the various landmarks and animals of the region, but it takes a trip back in time to show how geological processes created this wonder of the world! There are many diagrams and visuals accompanying each page to dive deeper into the science behind it all.
Over and Under Series by Kate Messner, illustrated by Christopher Silas Neal
An informative series that guides you through various habitats to learn all about what animals and parts of the ecosystems are "over and under" What flies over the desert? What burrows deep in the snow? The back of the book is filled with additional facts about each animal found in that ecosystem.
The Right Word: Roget and His Thesaurus by Jen Bryant, illustrated by Melissa Sweet
If you didn't know how the thesaurus came to be, this book will explain just that! Peter Roget started making lists at a young age, lists from his Latin lessons, lists of animals he found exploring at the park, and eventually lists of synonyms. His lists grew and became the important reference book that we still use today, when you are searching for just the right word.
Locomotive by Brian Floca
Learn what it is like to ride on the transcontinental railroad in the 1860s! This book is perfect for train lovers and is packed full of information about the various parts and mechanics of a train, the tasks of the crew members, and the locations these first trains passed through. This book is pretty lengthy, so it may not hold the attention of your littlest readers.
A Seed Is Sleepy by Dianna Hutts Aston, illustrated by Sylvia Long
Who would guess that a seed as small as a freckle would grow into the world's tallest tree? A true introduction to seeds and plants, this picture book takes you on a journey to get to know different seeds. Some are adventurous, some are clever, and some are generous. I also love the little hint of cursive included in the text.
Moonshot: The Flight of Apollo 11 by Brian Floca
I love Brian Floca and I think Moonshot does a magnificent job of capturing the wonder, the excitement and the nervousness of that very first moon landing in both text and illustrations. There is also a new edition that just came out in celebration of the 50 year anniversary.
Sleepy Solar System by Dr. John Hutton, illustrated by Doug Cenko
A very simple introduction to the solar system as you help each planet get ready for bed. This book is perfect for toddlers and gives plenty of room for discussion. There is also a simple solar system diagram at the back of the book.
Go for the Moon: A Rocket, a Boy, and the First Moon Landing by Chris Gall
This book has such a fun format. While you watch a young enthusiast launch his own at-home rockets and prepare to see the launch of Apollo 11 on his television, you are getting a step-by-step explanation of how the spacecraft is prepared, works, and takes its mission to the moon. This would be a great book to enjoy with a glass of Tang!
When The Stars Come Out by Nicola Edwards
This is a large coffee table size book with really gorgeous illustrations. Its written more like an illustrated encyclopedia with a different topic relating to night time on each page. It covers topics like constellations, the cycles of the moon, and what night time is like in different ecosystems of the world. It's a great book to skim through or take time on just a few pages at a time.
Tiny Creatures: The World of Microbes by Nicola Davies, illustrated by Emily Sutton
There is so much around us that we cannot see, but Davies makes the world's smallest organisms visible to readers big and small. And, all these tiny microbes that live on us, in us, and everywhere around us, have different jobs. You will be ready to break out the microscope after this one.
Malala's Magic Pencil by Malala Yousafzai, illustrated by Kerascoët
Wouldn't a magical pencil be. . . magical? That's what Malala wishes for as a child, but as she grows up she discovers that, even without a magic pencil, she can make the world a better place and that her hard work, not a magical pencil, can make her dreams into reality. This picture book version of Malala's famous story is so sweet and empowering.

Water Is Water: A Book About the Water Cycle by Miranda Paul, illustrated by Jason Chin
I've read my share of water cycle books in my time, but this is one of the best. It's so simply explained in everyday terms and situations and the illustrations just blow me away. I took a photo of one page for Instagram, but it was seriously so hard to pick just ONE page.
The Undefeated by Kwame Alexander, illustrated by Kadir Nelson
This book won the Caldecott for best illustrations and I can't think of anyone who deserves it more (I showed it to Bart and he looked through the pages and said, "What would it be like to be able to create art like this?!"). It's the perfect introduction to so many incredible men and women who have fought for freedom and equality, excelled in their fields, and dreamed of better for themselves and others.
The Oldest Student: How Mary Walker Learned to Read by Rita Lorraine Hubbard, illustrated by Oge Mora
I love Oge Mora and I love reading, so of course I love this book about Mary Walker who was born into slavery and 100 years after she was freed as a teenager, she learned to read. I'm not crying, you're crying.
What Do You Do With a Tail Like This? by Steven Jenkins & Robin Page
There is more to this book than just tails! What would you do with a nose like that? Ears like that? Eyes like that? This fun book has you guessing what animals do with these body parts – some of them you might even be shocked by! Toddlers through elementary age students will really enjoy this one.
Sit-In: How Four Friends Stood Up by Sitting Down by Andrea Davis Pinkney Dr. King encouraged peaceful protests against inequality and four young men took him at his word, staging a sit-in at the white only counter in Woolworth's. Who would have guessed such a simple action would become such a defining moment?
Unspeakable: The Tulsa Race Massacre by Carole Boston Weatherford
This historical picture book snagged about a million awards in January during the ALA awards, including a Caldecott Honor, the Coretta Scott King author book award,  the Coretta Scott King illustrator award and a Sibert Informational Award honor. Don't miss this one!
Her Right Foot by Dave Eggers, illustrated by Shawn Harris
This non-fiction book garnered approximately forty million awards when it came out a couple of years ago and for good reason. This look at the Statue of Liberty and what she represents with her right foot walking forward is so touching. You can watch a little book trailer here to get a feel for it.
And if you'd like a printable copy of this children's nonfiction book list that you can take to your library or screenshot on your phone for easy access, just pop in your email address below and it'll come right to your inbox!
if you liked this post about children's nonfiction books, you might also like these other posts: