I'm pretty sure the biggest draw of this new house for Bart was the home gym.
In our previous two houses, Bart's office was combined with our home gym and to have a house with a dedicated gym space felt magical.
Bart works out from home most days and I do about half the time (I alternate with going to a gym class in the winter and in the summer, I run outside), so it gets a lot of use.
The previous owners had it set up as a gym too, so it was an obvious choice to keep it that way (it opens onto the back porch and has no closet, plus Bart's office opens off it, so it wouldn't make sense as a bedroom).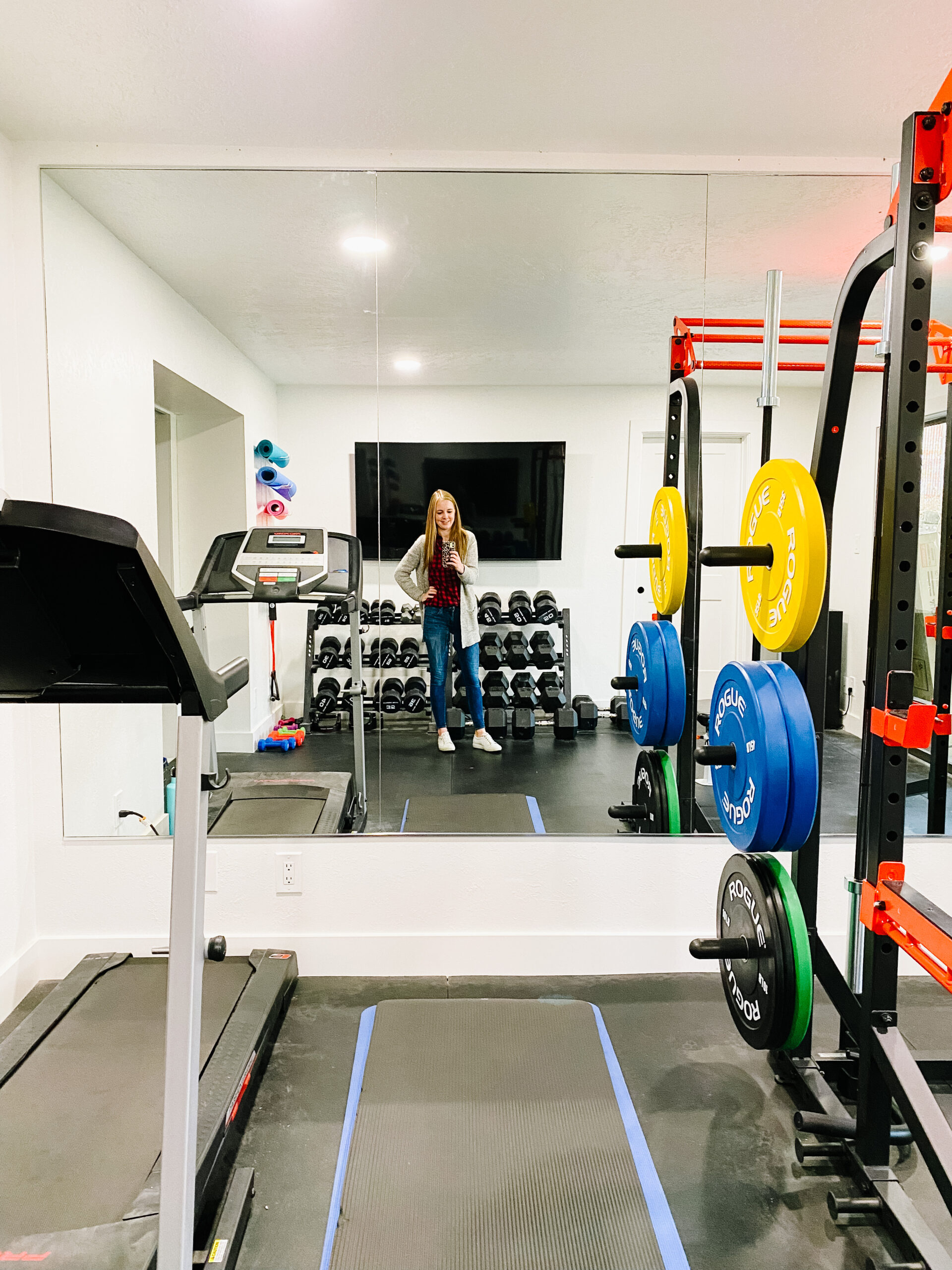 The flooring was not great before (it didn't reach the edges of the room and definitely looked very DIY) and we wanted something that could stand up to a lot of use.
The designers we worked with, Rye Interiors, suggested we use horse stall flooring because it's super robust and also really inexpensive – I think it was less than $300 for the whole room.
We bought it at the IFA store in Provo (we waited quite a while for it to come into stock) but it looks like you can buy it pretty much anywhere.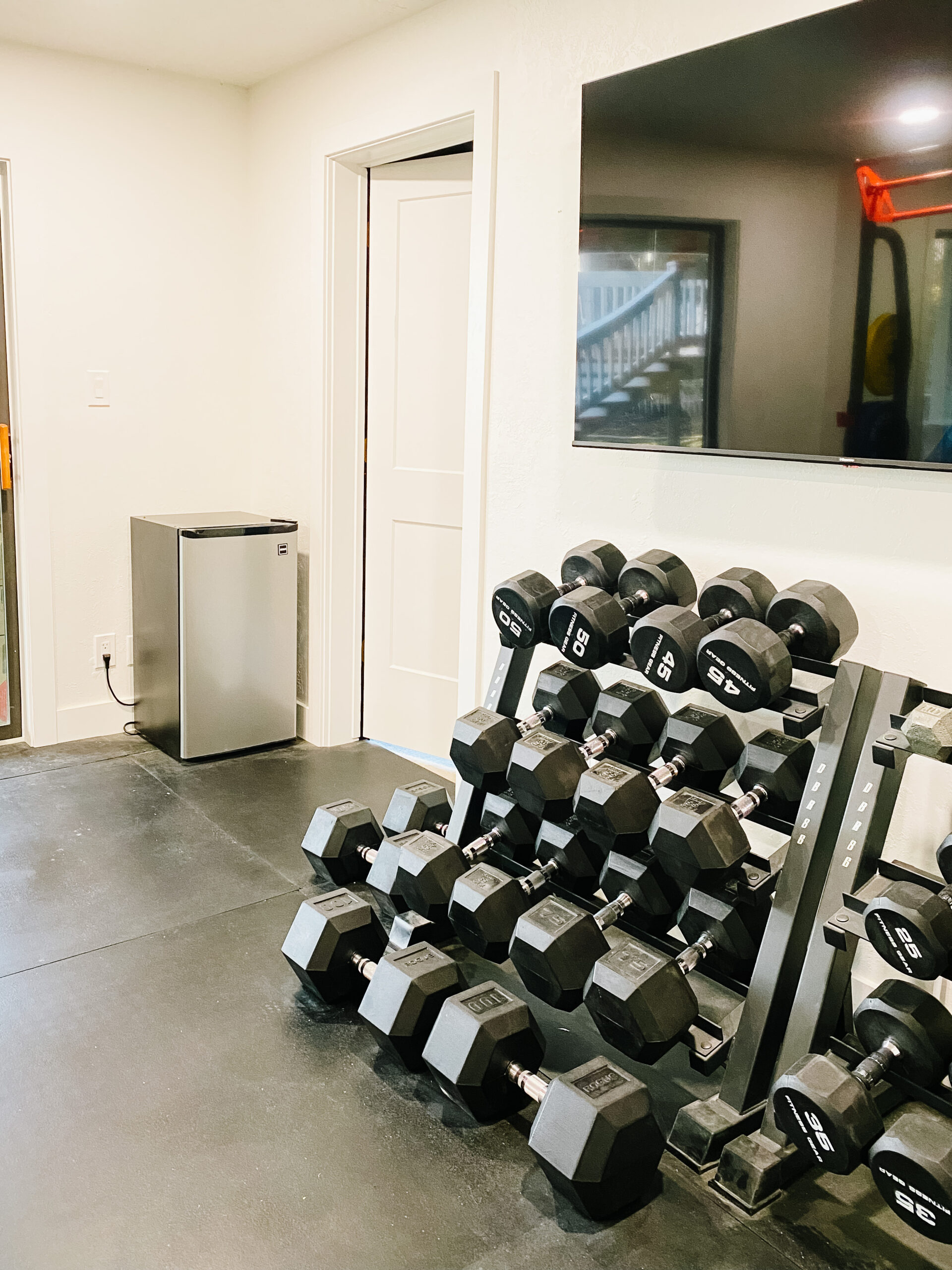 Our contractor cut them to fit in the room and you'd never guess that they aren't glued down and can be pulled up as needed.
The previous owners left their treadmill but we ended up just giving it away on Craigslist because it was MASSIVE and we simply didn't have room for two treadmills and it seemed better to keep the smaller one that my parents had given us as a hand-me-down a few years ago.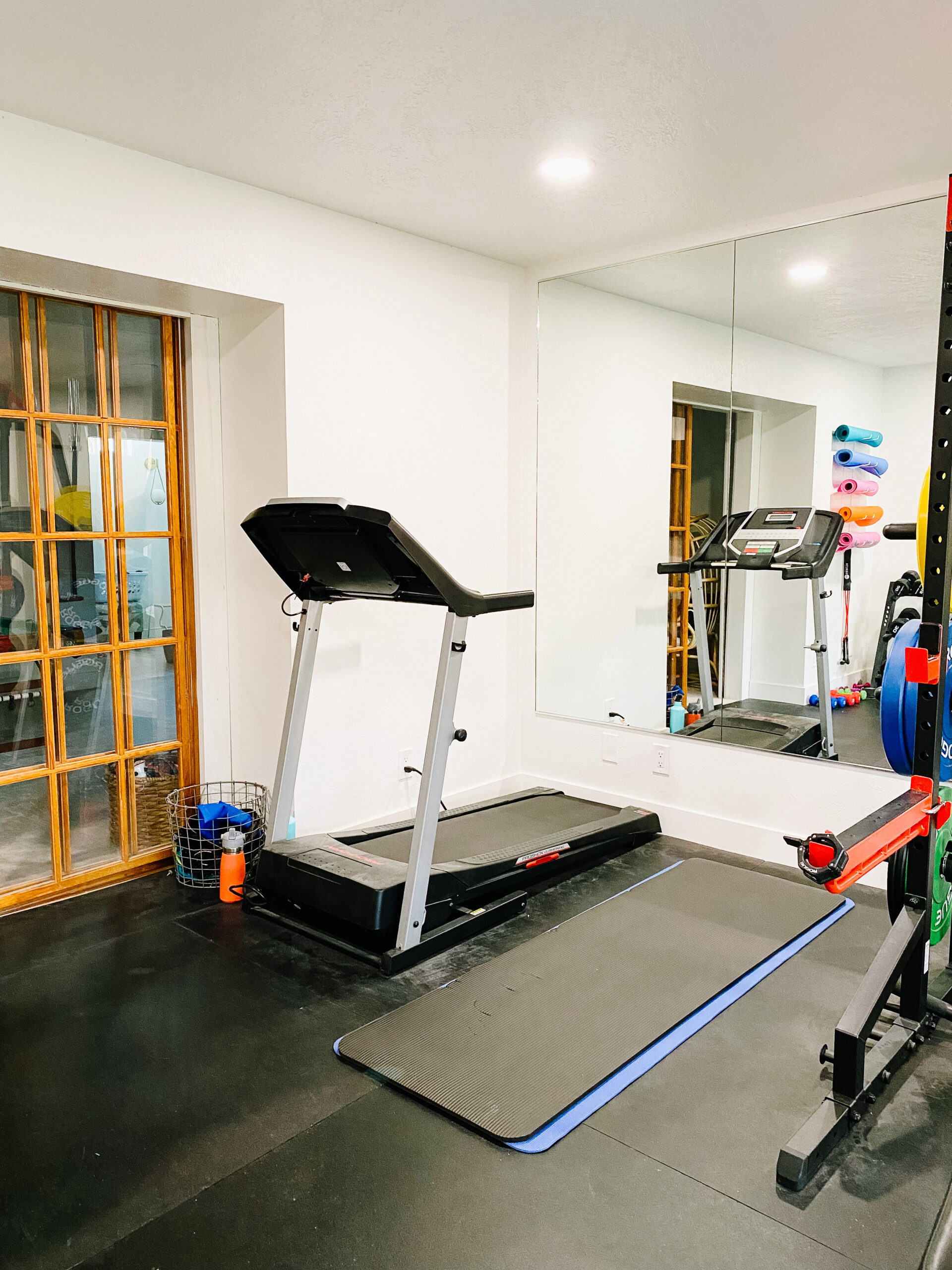 After we'd ripped out the sliding closet in our bedroom, we set aside the mirrored doors and our contractor cut the mirrors out and mounted them in the gym, which has been GREAT. Having a full wall of mirrors for only the cost of the J track to hold them in place and our contractor's hours felt like a steal when mirrors – especially of this size – can be super expensive.
We already had the weight racks and all the free weights (which we've been slowly collecting over a period of about five years) and then we mounted a TV above the weight racks so we could watch a show while we run on the treadmill or watch a workout video on a screen bigger than a phone.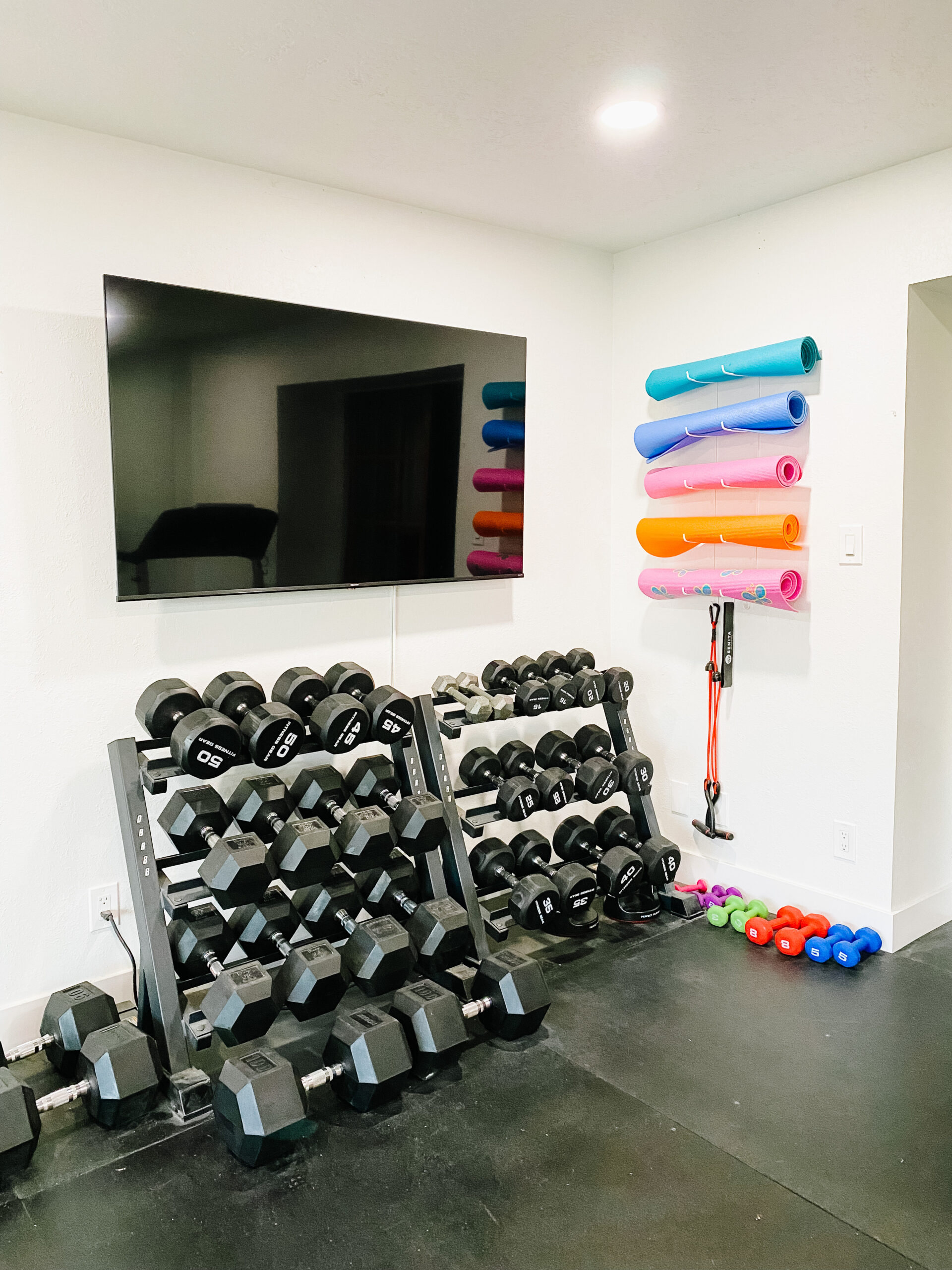 Our girls each have their own yoga mats so we were drowning in those and I was delighted to find this inexpensive yoga mat holder that makes it easy for them to all have a spot off the floor.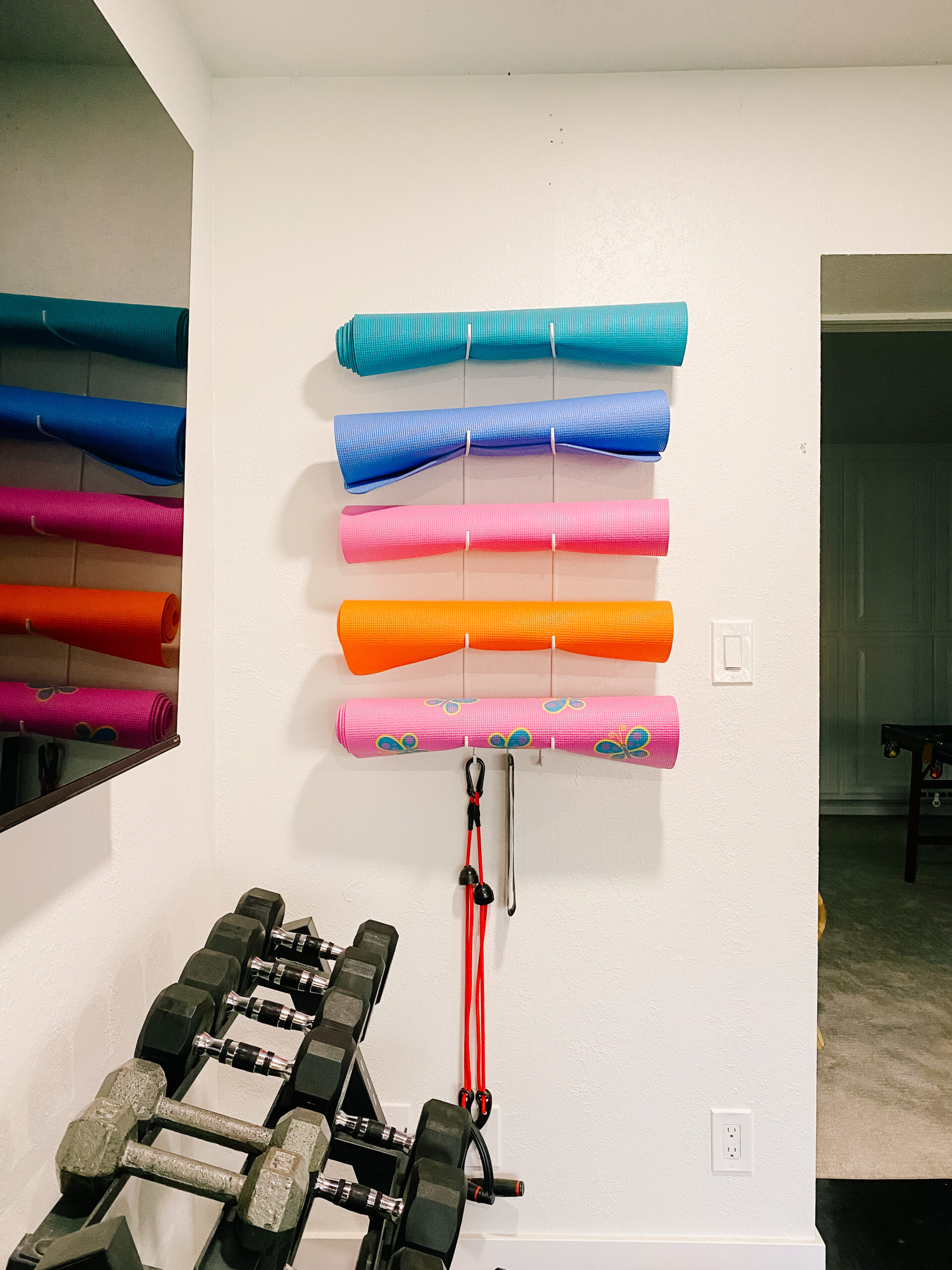 Last Christmas, I bought Bart a mini fridge for his office/gym and then we discovered that his office had only a single outlet (which was already being used for his entire computer setup) so it sat in the box until we moved into this house. It's fun for it to finally have a home and get used!
The biggest splurge for the home gym was the weight cage and barbells, but Bart has LOVED it (I've used it zero) and the good news is that weights really don't lose their value so you can always resell them for close to what you bought them for.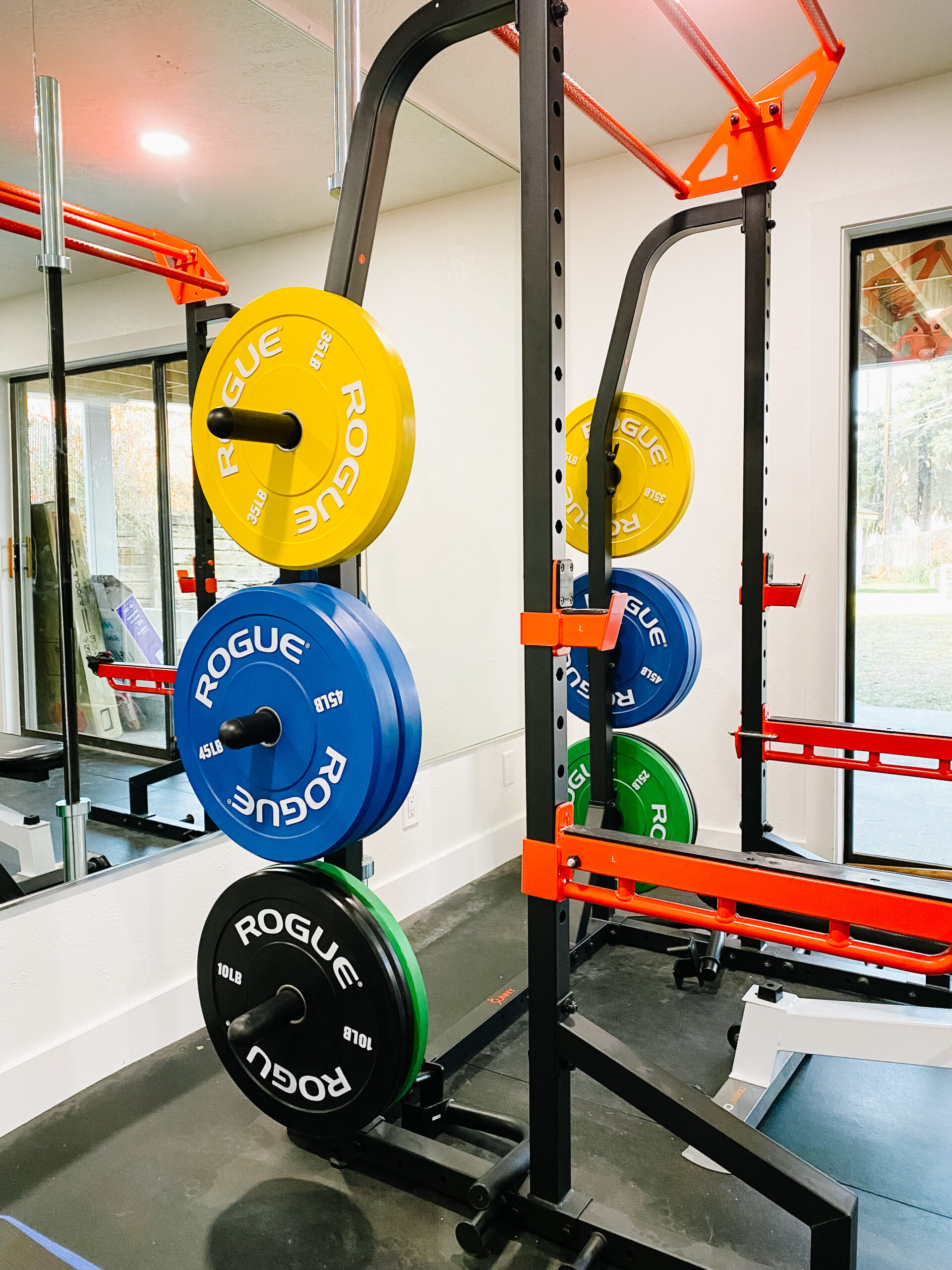 I can't wait for warmer weather when we can open the doors and enjoy the fresh air while we're working out, but for now I love that I don't have to leave the house when it's cold and dark to work out!
Any questions about our home gym setup? I'm happy to answer!
HOME GYM SOURCES: 
Weight Bench
Weight Cage
Weight Plates
Weight Racks
Free Weights
Yoga Mat Rack
Television
Treadmill
Flooring
Mini Fridge
If you liked this post about our home gym setup, you might like these posts too: