Right when I hit the six-week mark after Star's birth, I told Bart, "I hope I haven't lost all my running stamina."
There was a long pause and then he asked, "The stamina you built up while you were pregnant with Ani?"
Sadly, he was totally right.
When I was pregnant with Ani, I started running with two friends who lived in my apartment complex, and we went three times a week.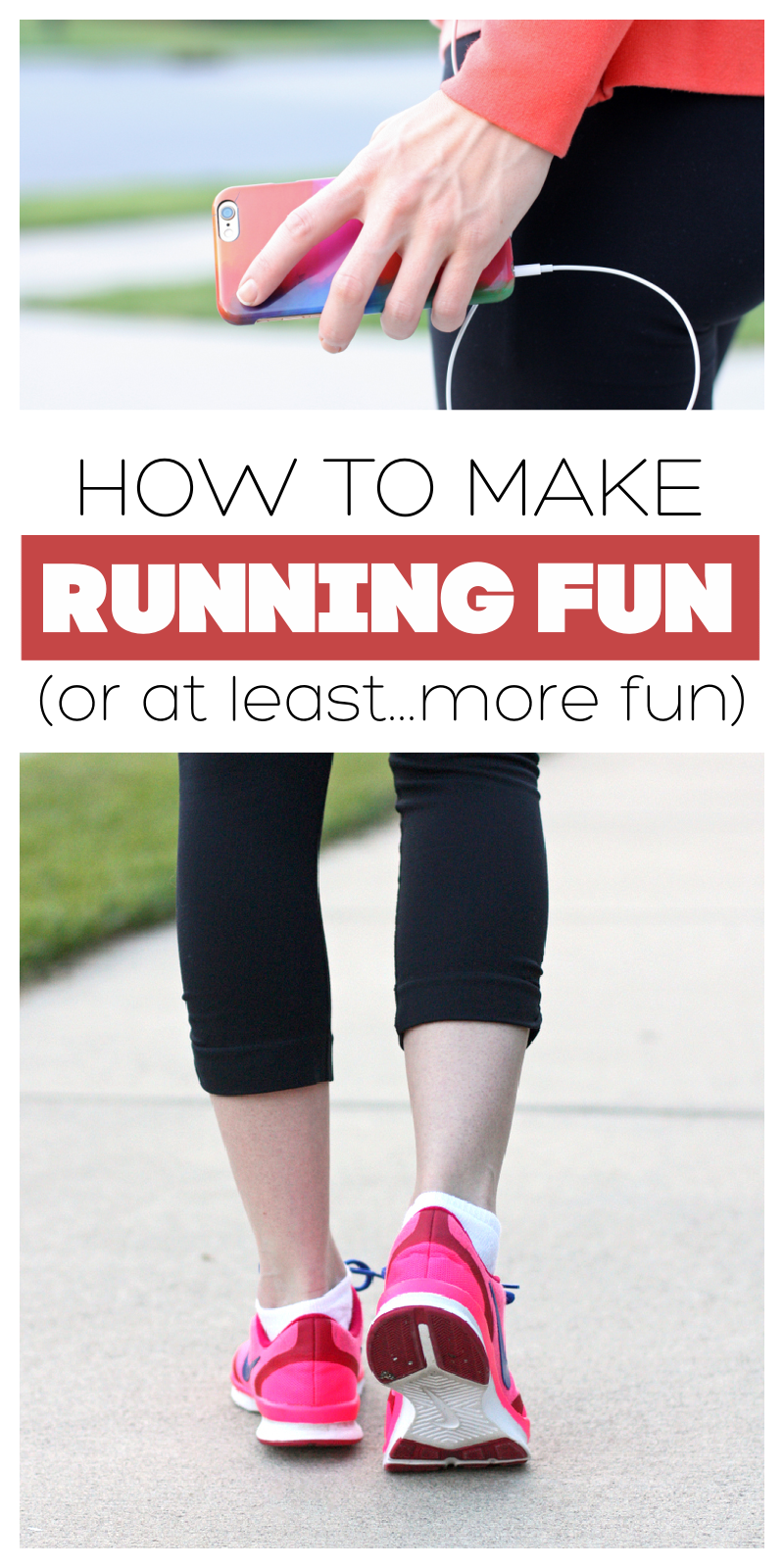 It was the BEST – there was basically no extra time required except for actual exercise time because we met right outside my front door, all three of us were very prompt (no waiting around!), and we would run three miles and then be done. It was such an efficient way to get in exercise, plus it was (reasonably) fun because I could visit with some of my favorite friends while we ran.
Then Ani was born, and we moved, and I never really got back into the running routine.
But now, two and a half years later, I'm getting back into the groove. Here are four ways I'm making it a little more enjoyable.
how to make running fun
Pick a Time that is Realistic. When I went running with my friends, we went at 7 a.m. It was early enough that Bart was home with Ella, and I didn't have to get ready for the day twice. Now, I go in the evenings, the instant the girls go to bed. At this time of year, it's still light, Bart's almost always home, and it's cooler than during the day. If you know you won't maintain a 5 a.m. habit for more than a week, pick a different time.
Find Something to Listen to. As you know, I'm a mega-fan of audiobooks (25 of my favorites here). I also love podcasts (recently, I've been listening to Gretchen Rubin's new podcast, Happier) and I alternate between the two when I run, which makes the time got a lot faster. It feels like my own little alone time in the evenings and I actually look forward to going rather than dreading it.
Wear Something Decent. I am not one of those people who can wear an XXL t-shirt I got for free at Duke. I know it doesn't actually matter, but I prefer working out a thousand times more when I don't feel totally frumpy and ugly when I'm exercising. Over the last few years, I've thrown away every item of athletic clothing that makes me feel homely, and replaced it with things I actually like. I love Zappos not only because they are a Las Vegas-based company, but because they have tons of athletic gear and free two-day shipping, which means when I realized my old running shoes were threatening to take off all my toenails, I could have a new pair in time for my next Zumba class.
Train for a Race. The most racing I've ever done is at the $1 5Ks they used to do once a month in Texas, but now that I'm missing my running buddies, I've decided that once we move, I'll pick a race and train for it to give me something to work toward (otherwise, I end up walking more than I run because, hey, I'm lazy). Too bad I don't live in San Francisco because this race looks super fun. For now, I'll content myself with running loops through my neighborhood – totally almost the same.
I feel like right now I'm loving running more than I ever have because it just feels so luxurious to have 30 minutes by myself at the end of the day to be on my own and listen to whatever I want without interruption.
Plus, even if I come home and spend the rest of the evening looking at the Internet, at least I've done one productive thing.
if you liked this post on how to make running fun, you might also like these posts:
I was selected for this opportunity as a member of Clever Girls and the content and opinions expressed here are all my own.