You know those products that do their job so well that it makes you feel like writing a little gleeful Facebook update every time you use them?
These are six items that are making me that happy.
And one of them is a vacuum. I don't know what that says about me.
Probably that I'm too boring to be allowed on Facebook.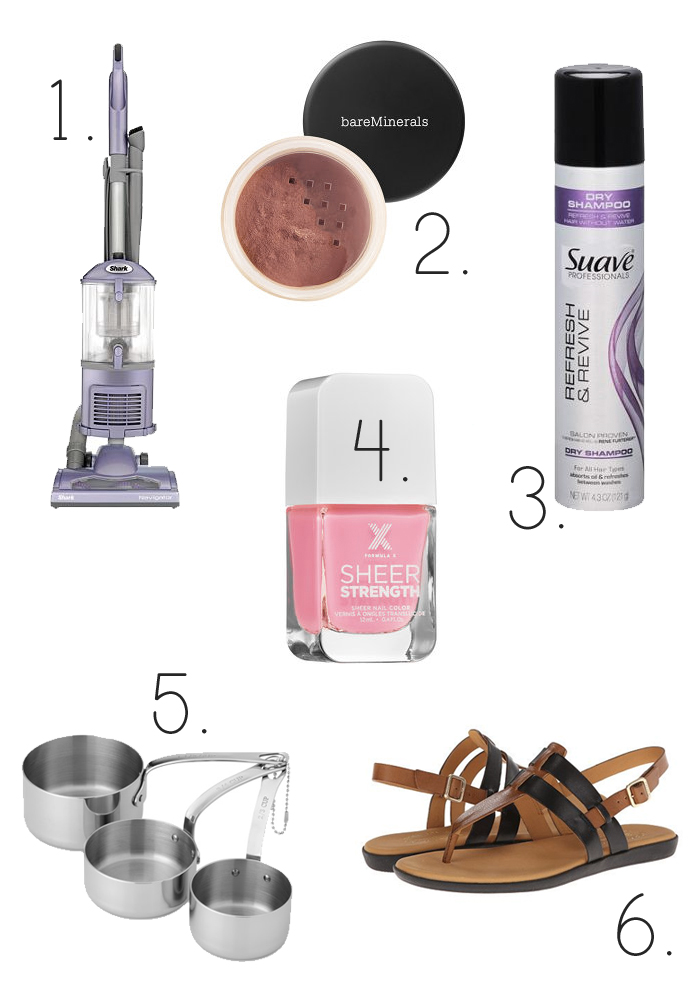 1. Shark Navigator.
When we got married, we got the cheapest vacuum Target sold and used it for about five years. Then we bought another cheap vacuum. And the belts were always snapping, they didn't work particularly well, and using them was basically just a bother. Then Landen bought a Shark Navigator and raved about how great it was and when our second cheap vacuum died (the day that we had company arriving, of course), I finally just threw caution to the wind and bought a real vacuum. I LOVE this vacuum. I seriously feel joy every single time I use it. And I never have to buy a vacuum bag again. I've used three different Dysons (two borrowed when my various vacuums died and it was a vacuuming emergency and one was the vacuum in our London flat) and I'm less than impressed by them. In my opinion, the Shark is far superior and half the price. And when you've just written a whole paragraph about how much you love your vacuum, I think you can just go right ahead and turn over your cool card. Except then you realize you never had one to begin with.
2. Bare Minerals All-Over Face Powder in Glee. 
I got a free sample of this in a makeup kit over a year ago and was kind of skeptical about it. But then I ran out of my blush when we were in London and so I started using this and then I ran out of my powder so I started using this to keep my foundation on (apparently the key to trying new things for me is running out of other things and refusing to buy new stuff). And now I don't know how I'd go back. It's possible I might actually, I don't know, purchase some of my own when mine runs out.
3. Suave Professionals Refresh & Revive Dry Shampoo.
I've never used dry shampoo because my hair doesn't get very greasy (I usually only wash my hair once a week and I still don't need to use dry shampoo), but then Merrick used some on my hair before graduation and I realized the point of dry shampoo – at least in my case – isn't to get rid of grease, it's to get rid of FLAT, which I definitely struggle with. And it's super cheap and smells awesome.
4. Formula X Sheer Strength Nail Polish. A bunch of the MBA wives have a girls day every year at the end of the school semester. This year, one of the things we did was get our nails done. I tried to be super careful with mine but then I smudged one them on Star's carseat when I was trying to get it out of the car super fast in the pouring rain. After lunch, I went back to get it fixed and then, 15 minutes later smudged it AGAIN. So I stopped by Sephora at the mall, found one of these sheer nail polishes that was super close in shade and did one coat. Then I walked around the mall (with only a sleeping baby! like heaven!) and then circled back and did a second coat. That nail polish held up better than any of the other fingers (which were Essie) and dried fast and even though it's pretty expensive, I'm tempted to go buy my own bottle. It just looked so dang good and it lasted for a week, which is basically forever in nail polish time. Or I guess I could keep dropping by the Sephora store every time I need a new coat of nail polish. Not weird at all.
5. Odd-Size Measuring Cups.
This is one of the best wedding gifts we got. I still remember the card which said something along the lines of "This gift is not meant to insinuate that we think you are odd." Our set has a 2-cup, a 1 1/2 cup, a 3/4 cup, and a 2/3 cup and I use them almost daily. I also have the odd-size measuring spoons. The sets available now appear to only have 3 cups or spoons instead of 4 which is a bummer. But still worth owning if you cook much.
6. Kork-Ease Sandals.
I love shoes, but the older I get, the harder it is for me to wear really cheap shoes because my feet start hurting basically immediately (old person alert!) and also my feet appear to be a fairly odd shape because lots of pairs of shoes look terrible on me. I got a pair of these from thredUP and I'd never heard of the brand, but then about four people told me how much they LOVE Kork-Ease and I've worn my pair almost daily for the last month including traipsing all around Charleston and Savannah this week without any trouble, so I'm a total convert. I just ordered this pair and I'm hoping I love them just as much as my thredUP pair.
I'm feeling very product-happy lately. So you should probably tell me what things you're loving so I can go try those out too.