The main thing I want to say about exercising when you have little kids is that there are times that are nearly impossible to fit in exercise.
When I had tiny babies, my biggest priority was getting sleep, not leaping out of bed at the crack of dawn to pound out a couple of miles of running.
Now that my youngest is four, it's a whole different ballgame for me.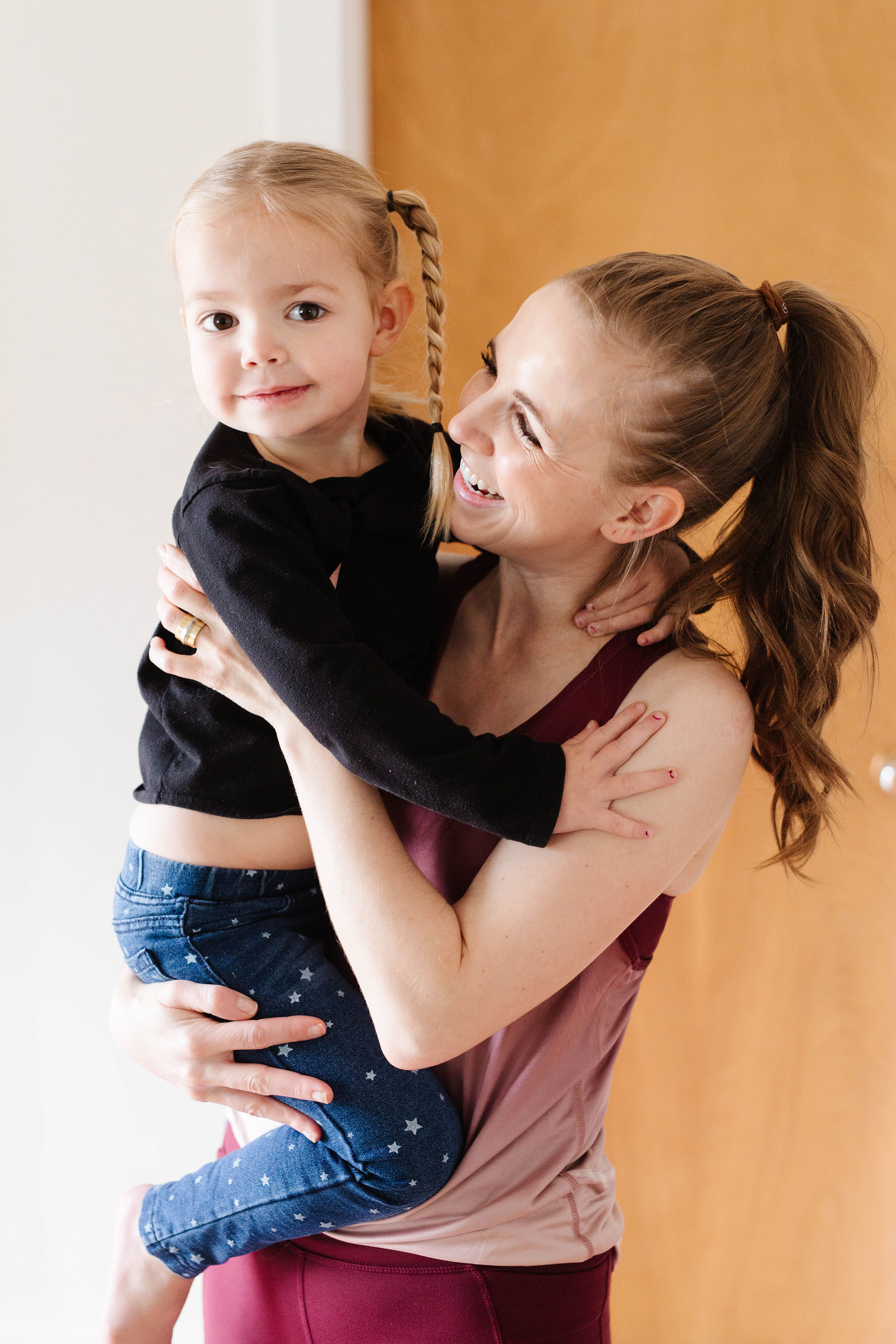 So if you're in a season of life where fitting in a workout feels as likely as you winning an Olympic gold medal in gymnastics, know that this season won't last forever and don't feel guilt about it not being the moment to prioritize training for a triathlon.
I also read something a few years ago about how the exercise that makes the most impact is the difference is between no exercise and any exercise at all. You don't have to run a marathon to improve your health – just going for a daily walk or adding some movement to your routine is so much better than nothing at all.
In my case, I'm not trying to become a mega-triathlete – I'm just trying to close my laptop and put on my athletic clothes more consistently and get my heart-rate up for a little bit. Fitting in any kind of exercise is a win.
Of course, having little kids makes that more difficult, so instead of trying to pretend I don't have kids and then being frustrated when it's hard to fit in exercise, I'm trying to make my fitness plans that take into account their schedules and my life as a mom.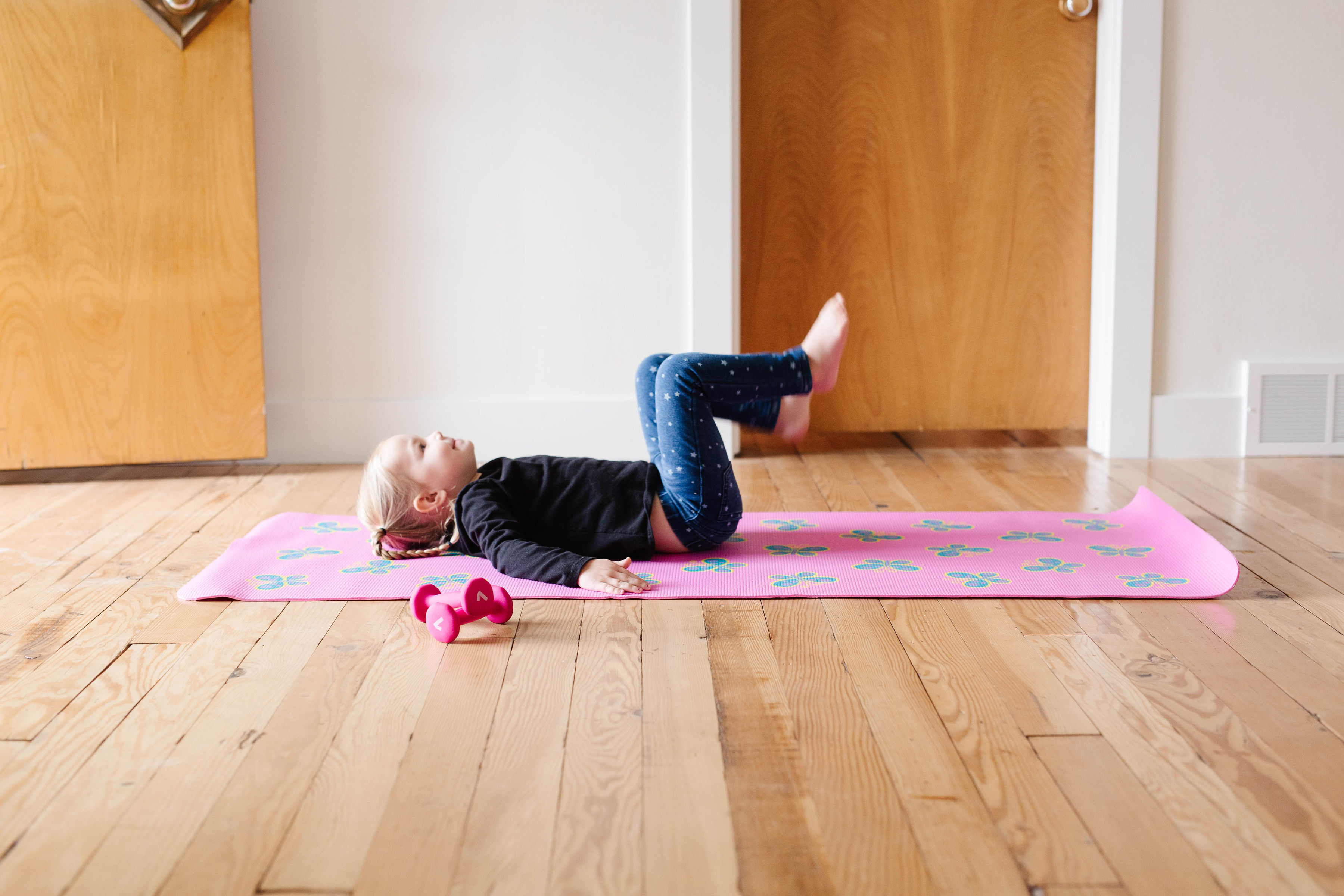 And the weather can make things tricky too. In some climates, it's nearly impossible to go outside for a workout in the winter and in other places, the summer is too blisteringly hot to be outside (I've lived in both of those climates!).
Basically, exercising when you have kids is basically the farthest thing from "one size fits all" that there could possibly be.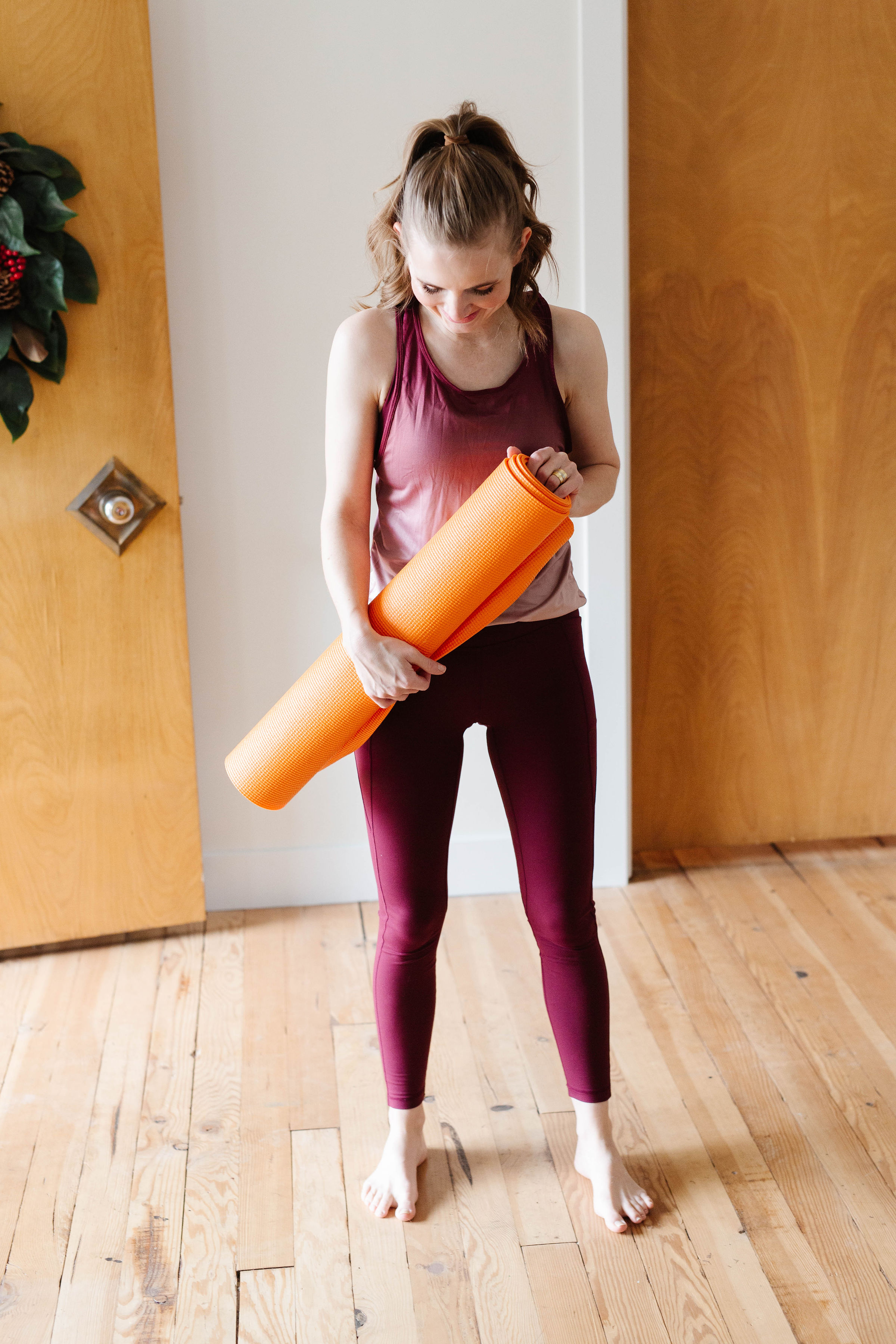 Here are Six things that have worked for me over the years:
Think outside the clock, er, box. Waking up earlier just may not be in the cards for you right now. But there are lots of other times you can exercise during the day. Maybe a quick brisk walk with a stroller before dinner works for you. Maybe a 20 minute online class after your kids go to bed before you snuggle in with Netflix. What works for someone else's schedule might not work for yours – find something that fits your schedule.
Pick something that works for you NOW. Maybe in a year or two, it'll work for you to go to a class at a gym. Or run while your child rides their bike alongside. Or go for a power walk with a friend after your kids go to school. But none of that does you any good if it doesn't work for you NOW. Right now, an app with on-demand classes like OpenFit might work for you. Or doing pull-ups at the park while your toddler runs around. That doesn't mean you have to do it forever. But choosing something that works with your current reality is better than trying to make something work for a hypothetical life you don't actually live.
Involve your kids. My girls think it's really fun to exercise along with me. I'm pretty sure my girls have done the 7 Minute Workout with me at least 50 times over the years and it's both darling and keeps everyone engaged. Bart bought them a few tiny weights (1 and 2 pound sets) a couple of years ago and they LOVE doing exercises alongside us.
Do a kids exercise. We are big kid yoga fans in our house and just because it's aimed at kids doesn't mean you can't do it with them! YouTube has a bunch of fun kid exercise videos and doing them together is a great way to pass 20 minutes on a cold winter day, wear out rambunctious kids and get your workout in all at the same time. Win-win-win!
Swap with your spouse. Bart and I are both committed to making exercise part of our daily routine and we're also committed to making sure we can both get our workouts in. When the weather is nicer, we switch off days going running outside while the other one works out at home and stays with the kids. Also, knowing that if I don't go, I can't go the next day, makes me WAY more likely to get out when it's my day.
Pick something FUN. When I started taking classes at our local rec center, I quickly discovered that yoga wasn't my favorite, but that weight lifting was surprisingly fun for me. Doing something that feels at least a little bit enjoyable makes a huge difference in my willingness to actually do it! I also try to stack exercise with fun things – if I'm on the treadmill, I watch a show on Netflix. If I'm running outside, I listen to totally fun, fluffy audiobooks. That makes it feel a lot more enjoyable and something I look forward to, even if the actual running isn't really that fun for me.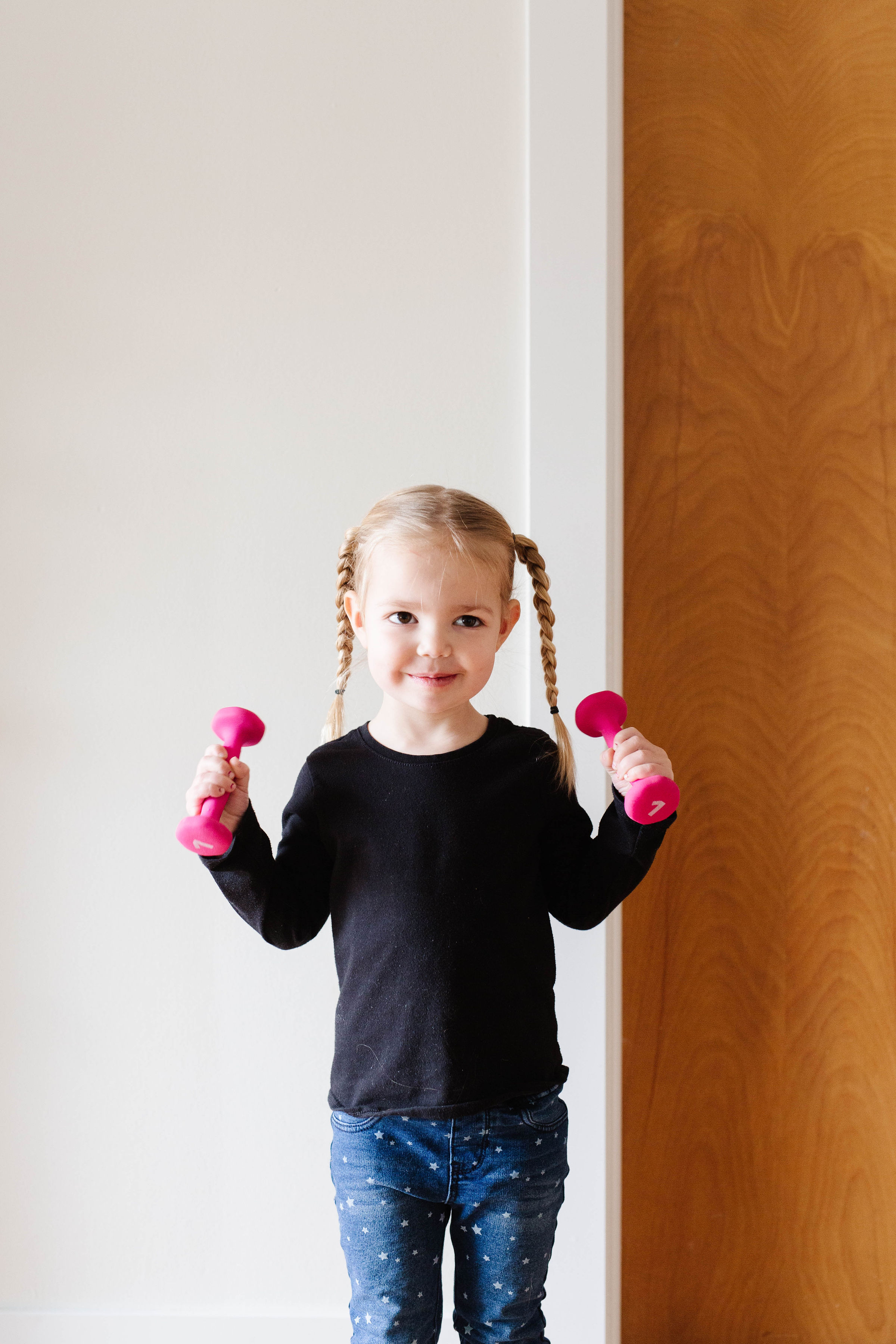 As far as fitness goes, it really is the small and consistent actions that make the most difference for me, especially when it's something I can keep up long-term, even if it means adjusting frequently for school and work schedules, weather, and holidays.
I don't want exercising to be something that's stressful or frustrating for me; I want it to be a part of my life that I really enjoy and that makes my life better.
And I want that to be something that my girls see me doing too.
If you have tricks for fitting in exercise when you have small children, I'd love to hear them!
P.S. This tank and workout leggings are from Senita Athletics (they also make my all-time favorite sports bras).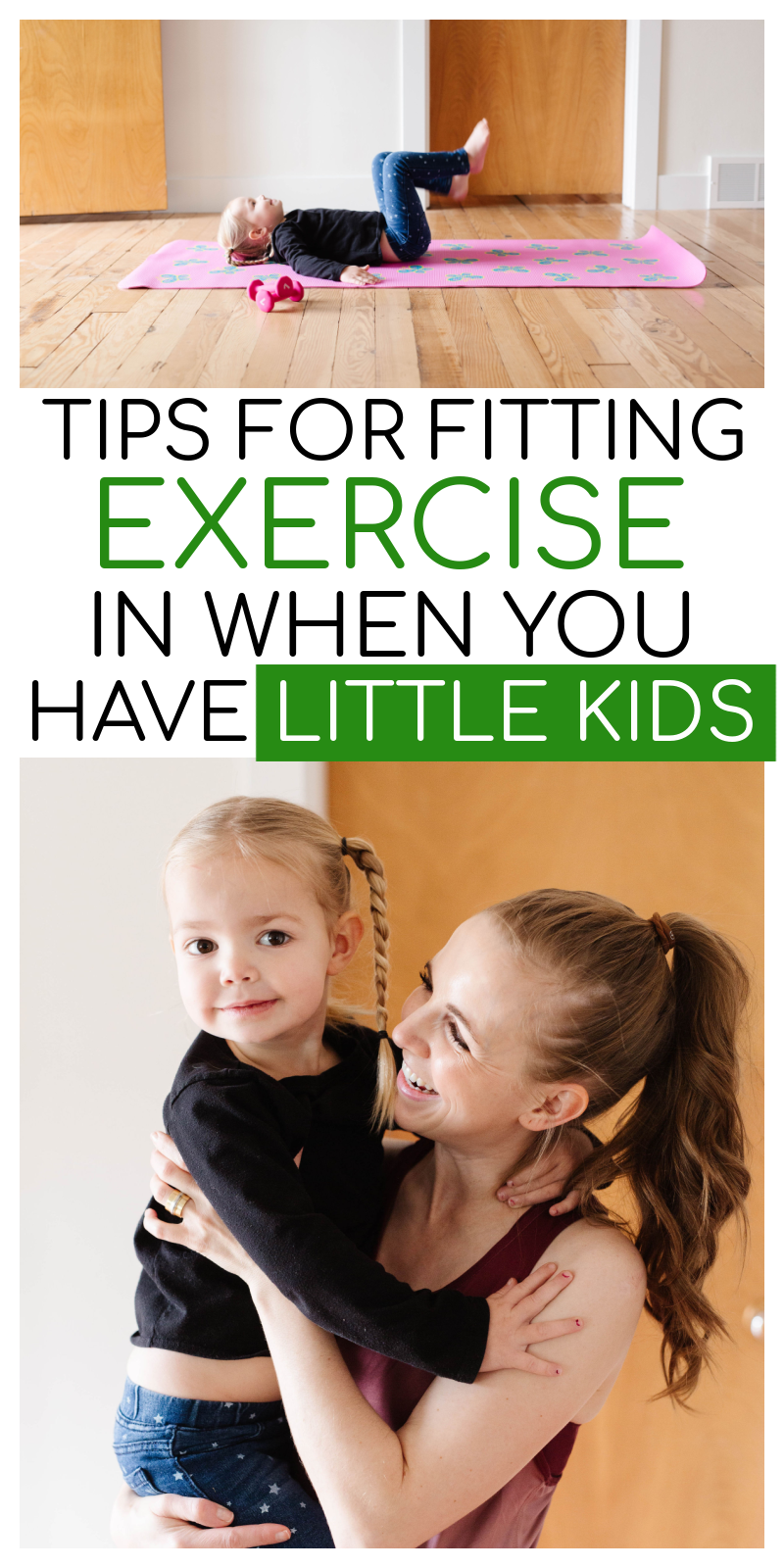 If you liked this post about exercising with kids, you might like these posts too: