When we bought this house in January of 2021, we knew from the start that we'd be making a LOT of changes to it.
We've done plenty of upgrading to our two previous houses, but it'd never been on this level before.
In our previous houses, the changes were entirely cosmetic, but this house was going to get a major remodel because although it's a pretty good-size house, the use of space was pretty abysmal with small living areas and only three bedrooms (and no office space).
We knew we wanted to make the living spaces bigger, improve the usability of the spaces, and get to five bedrooms plus an office.
That was . . . a lot.
Before we'd even closed on the house, Bart suggested we work with a designer to help us with the millions of decisions that needed to be made along the way and help the finished spaces to feel cohesive and beautiful.
I was immediately on board and we reached out to Melissa from Rye Interiors.
I'd met Melissa back in 2015, when we came back to North Carolina from our semester in London. We hit it off quickly and she was such a generous friend to me, frequently watching my two older girls while I had doctors appointments for Star's pregnancy, including the dreaded 3 hour glucose test after I failed the first one.
Several years later, when we moved to Utah, she reached out again – her family had moved to Utah a few years earlier – and invited me over for playdates and encouraged me to join her favorite workout class at the local gym.
I knew early on that Melissa had fantastic taste and I loved watching the projects she and her partner (who I also knew from this workout class!) did after they launched Rye Interiors.
So she was an obvious choice – I knew her taste aligned with mine and I knew she'd be easy to work with.
The day after we got the keys to the house, Melissa and Kara came over to walk through it with us and we immediately knew we were in good hands.
(We ended up working almost entirely with Melissa – they work together on some projects and then individually take on others).
I cannot tell you how GREAT it was to have someone to manage all the decisions and details. She kept us on track, making sure we picked paint colors on time, ordered light fixtures, and basically had an all around vision for the house so that it ended up cohesive and beautiful.
The house isn't 100% finished yet, but there are so many lovely aspects that I'm so grateful to Melissa for bringing to life and I can't wait until it's COMPLETELY done.
I asked on Instagram if you had questions about working with an interior designer and they came FLOODING in. If you're considering working with an interior designer, I hope you'll find this helpful!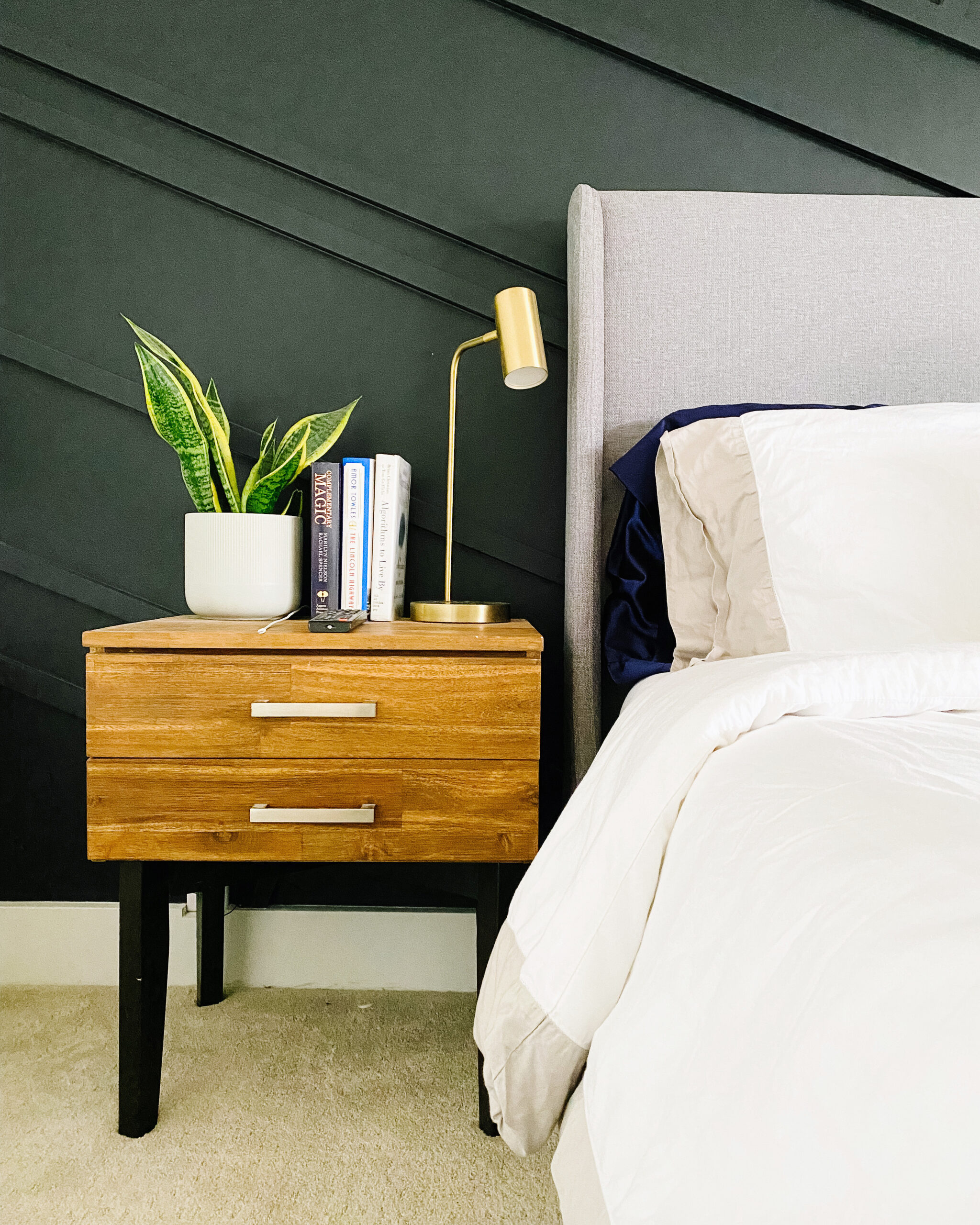 Where do you start? 
I'd ask for recommendations on Instagram or locally – let people know you're looking! And as you start to look at interior designers, focus on ones where you like their style and want your house to have the same feel.
How does pricing work? 
The pricing is going to be different for every interior designer – some will be more expensive and some will be less expensive. I felt like Rye Interiors was fairly mid-range. If you're looking for the cheapest option, they probably aren't for you. It's $175 for the first hour (which includes a consultation & follow-up plus a bid for the full project) and then is $95/hour.  One thing I love about Rye Interiors is that they really stick to the bid – if they tell you it's a 10 hour project, it's not going to suddenly be a 40 hour project.
How to communicate your style to them and give feedback to make recommendations right for you
I'd put together a Pinterest board or an IG collection of 20-30 spaces you really love. They're professionals so they'll be able to take that collection of mismatched photos and understand the kinds of things you're drawn to and what feel and look you want. And then as they make suggestions, if you're quick to point out the ones you love and the ones you hate, it'll help them make better suggestions. Bart made it clear very quickly that green anything is NOT for him (no green paint, no green furniture), so that made it easy for them to avoid those.
Did you feel like it was worth the money?
Having done plenty of house projects and updates over the years, the hard truth is that most home things are expensive. And if you make a mistake, it's expensive. So for me, to have someone hold my hand to avoid those costly mistakes and save me so much time was absolutely worth it. Not to mention that I think we ended up with a way better house end result because of them. But like any question of "worth the money," only you can decide what your priorities are based on your own budget.
Were there any unexpected costs? 
Our remodel, of course, had plenty of unexpected costs. But working with Rye Interiors didn't – no surprises there.
Did they help you with layout and flow or specific pieces?
Both! That's one thing that I love about an interior designer – they're looking at the whole picture. How to make your space work for you AND what to put in it.
How much input do you need to give?
As much or as little as you want! Melissa said some clients want to pick EVERYTHING from options and others want Rye Interiors to just do it all and not bother them about it. And there are plenty in between. I had things I cared about a lot and had a lot of input on. Other things where I was like "just tell me which to order."
How do you tell them you don't like something they've picked?
I think a lot of people are worried about this portion of working with an interior designer, but I didn't feel like this was an issue. Melissa told me "we WANT to know what you don't like – that helps us make better recommendations and narrow in on your style." They're not going to cry themselves to sleep because you don't like a couch they suggested – this is their job! The thing I loved about working with Melissa is that I felt like she had no ego attached. If I was like "mm, not for me," she wasn't at all offended and was happy to find new options or make new recommendations. She always said, "This is your house! You're the one who has to live here." If you have an interior designer that you can't push back against without them getting their feelings hurt, you should pick a new designer.
How to make the most of their time and services?
The more prepared you are, the less time that will be required of them (which means the less you'll pay). If you have a pretty clear idea of what spaces you're doing, have several inspiration photos picked out, and know what feel you're going for beforehand, it'll be faster. If you have clear expectations of your interior designer (i.e. I want help picking out a paint color, rearranging the furniture and choosing art and a light fixture), you'll be the most efficient. Similarly, knowing if you want to make the choices or if you want them to pick everything for you will help them know how to spend their time – should they pick eight or nine lights to look at or two? Or just order it for you?
A list of pros/cons for why to work with a designer? 
For me, it's basically all pros. It's so nice to have fresh eyes on your space, especially eyes that have worked on tons of houses and know what mistakes to avoid or what things to think about. They also are going to be less bogged down by the details and can manage both the big picture and the tiniest details, and they'll have new ideas.
Melissa also is a goldmine of subcontractor referrals. She hooked us up with the best blinds/window coverings guy who did our rolling shades for almost half what our other quotes were. She connected us with the company that did our closet which was MUCH less expensive than I anticipated. This alone was worth its weight in gold.
Do you start working with designer before a contractor? How does that relationship go?
You could go either way, but we started with Rye Interiors and then found a contractor after that. They worked really well together and have done a bunch of other projects together since then (they didn't know each other before we introduced them)! We all texted a bunch and Melissa and our contractor worked together to keep things moving.
Do you give them price points for decor?
Yes! I asked Melissa about this and she said virtually every client knows what their budget is like – they know if they're shopping Target and Wayfair ranges or if they're going Rejuvenation or high-end designers. It won't be a surprise to anyone – if you're on a tighter budget, they won't be suggesting you get $500/panel wallpaper.
Will I feel pressured to buy vs reusing what I already own?
Obviously, I can't speak for every interior designer, but I didn't feel that way at all. We re-used probably 80% of what we already had and only bought things we really needed for a different space (like our dining room – our old house didn't have a dining room so we didn't have any chairs or table for one).
Were you able to get better deals on furniture/purchases by purchasing through a designer?
Yes – Melissa always told me when she could get a better price (for instance, on our light fixtures) than I could get myself. When that was the case, she ordered them. If the price was the same either way, I purchased them.
How to stay in budget? Afraid they'll recommend amazing things I love but that are too expensive.
The budget talk will be one of the first things you do. They're not going to suggest $10,000 couches if your budget is $3000 for the whole room. Melissa was also really great about giving higher end and lower end options for pretty much every item AND she was always quick to say "this is a place where I think you might want to splurge" or "this is a place where you can go with a budget item and no one will ever notice."
The best things they did for you that you wouldn't have done for yourself?
The first one that comes to mind is the desk in Ella's room. Melissa suggested we make the closet a little smaller and put in a built-in desk with floating shelves and it's been the BEST use of space – way better than an extra 3 feet in the closet.
Do they pick out furniture with you or give suggestions?
In our case, Bart and I both have strong opinions, so everything was a suggestion. She'd pick three or four light fixtures or paint colors or furniture suggestions and then we could easily say which ones we loved or hated and move on from there. But they have other clients where they pick everything out and the client just wants it to happen.
Do you feel like having a designer made it easier in regards to decision fatigue?
YES! This was my biggest reason for wanting to work with an interior designer. For instance, picking paint out for the whole house (we repainted 90% of the house) sounded like a nightmare to me. Having someone to suggest color schemes and then pick out a couple of choices for each color made my life so much easier. Same things for light fixtures – looking at Etsy's four million light options is overwhelming. Having Melissa show me 8 light fixtures made it really easy to say "I like this one. Hate this one." etc.
Should I know my personal style before hiring a designer?
I don't think it's necessary – that's what a designer is for! I put together a collection of house photos I loved and that was helpful for Melissa to quickly get an idea for what I liked and what sort of things appealed to me.
What was the top thing you felt like they helped you with?
Paint colors was a huge one – I've picked so many paint colors in my life and it's so hard! Picking for a whole house felt like a nightmare to me and to have someone else comb through a million shades of blue and suggest the perfect white was a huge weight off my shoulders. I also felt like flow and space usage was a place they really excelled at – they suggested we make the closet in Ella's room a little smaller to make space for a built-in desk which turned out to be one of the BEST features of that room.
Did they do your whole house or just a few rooms?
We had them help with our whole house!
If you're looking to do a single room, do you prefer the personal designer or modsy?
Having done both now, I'd for sure go with a personal designer. Modsy is great, but I prefer a real person.
Any other questions about working with an interior designer? I'm no expert but happy to answer any questions I can!
if you liked this post about working with an interior designer, you might like these other posts: